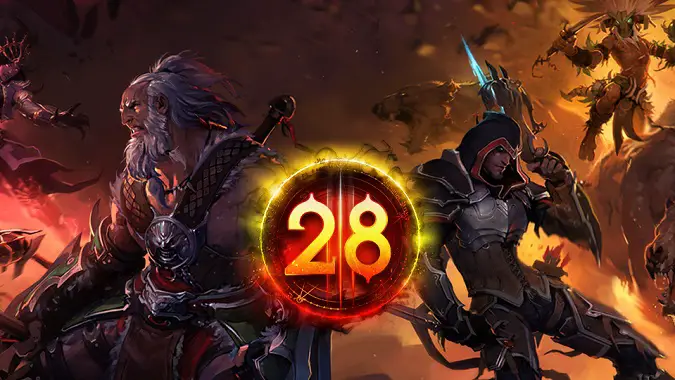 Diablo 3 Season 28: Rites of Sanctuary, going live later today, introduces the Altar of Rites to New Tristram, granting incredible (account-wide) boons. But in classic Diablo way, we have to sacrifice to achieve these miraculous boosts. As we progress through the ranks of the Altar of Rites, the first sacrifices will be small — early ranks will cost a few resources that we'll have loads of within the first few weeks of the Season.
But earning the last few ranks are going to hurt, as later abilities have enormous costs, such as the Staff of Herding. Crafting the staff alone is a huge time investment, and it's not the only thing you'll have to sacrifice to earn all of the powers the Altar of Rites offers. And you're just going to destroy these things to power the altar.
But you have a choice to how you start progressing down Altar… and you'll want to make the most of those early choices, because they cost the least. Let's take a look at the earliest ranks on the Altar of Rites and talk about where to get started with your first sacrifices in Diablo 3 Season 28.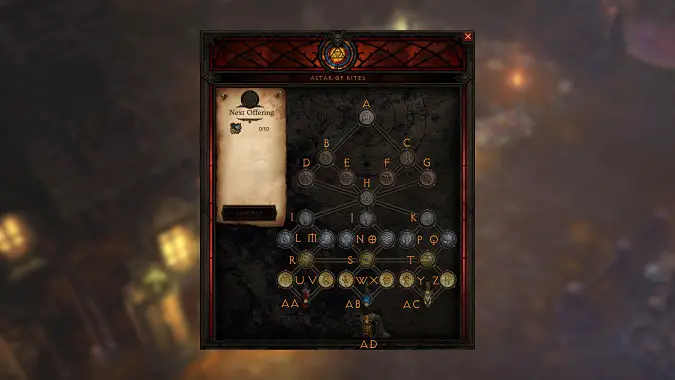 Your first points in the Altar of Rites
Your starting point on the Altar of Rites is incredibly obvious, because there's only one point you can pick first: node A in the Altar, aptly named "Gateway." You unlock it for 10 Reusable Parts, which you'll be able to collect pretty quickly by salvaging white gear.
First Point: Gateway doubles your Kill Streak timer from two seconds to four, as well as doubling your massacre reward bonus. Four seconds doesn't sound like a lot initially, but when you're teleporting into another room it can make a radical difference in how long you can maintain your kill streak.
And remember, the bigger the streak number, the larger the bonus:
10 kills, Massacre: 1.5x
20 kills, Vengeful Massacre: 1.75x
30 kills, Dominant Massacre: 2x
40 kills, Crushing Massacre: 2.25x
50 kills, Brutal Massacre: 2.5x
75 kills, Savage Massacre: 2.75x
100 kills, Ruthless Massacre: 3x
150 kills, Vicious Massacre: 3.25x
200 kills, Bloodthirsty Massacre: 3.5x
400 kills, Diabolical Massacre: 4x
You're getting a good power boost from that first point.
But from there, you have choices to make. The second rank in the altar is your first choice point. You can go to node B (Mirror) or C (Anointed): my advice is to go with Anointed.
Second Point: Anointed removes item level requirements across the board — just like one blanket cube application of Gem of Ease — for a cost of 1 Flawless Diamond (or greater), 15 Arcane Dust, and 20 Resuable Parts. Flawless Diamonds can be crafted with two basic diamonds at the jeweler, and you can farm these early from Act bosses such as Leoric the Skeleton King. Pick a boss that has a short, easy run and get to work — it shouldn't take long.
Again, your third point presents a choice. You might think you would unlock Mirror next, but you can choose to keep progressing down the tree instead, and we recommend node F (Exodus).
Third Point: Exodus adds +25% Movement Speed (Uncapped), meaning there's no impact to movement speed from your future paragon points or gear. It costs 1 Greater Rift Keystone and 10 Death's Breaths, so it's still fairly inexpensive and its buff will be a big help as you speed through rifts, bounties, and conquests (looking at you, Speed Demon).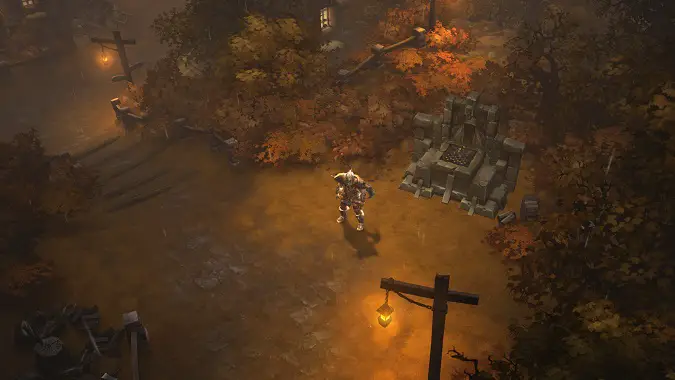 At this point, there are a lot of different ways to progress through the Altar of Rites. By the fourth node, there are five choices available. Instead of looping back around, press on to node H (Blood). This point marks your first major item sacrifice — any class-specific set helm — but it's worth it.
Point Four: Blood grants a 7-second shield for 5% of your maximum health when you pick up a health globe (capped at 5 stacks). So you'll get 25% of your health in a shield when you're chasing after healing, which is always a good thing. And staying alive longer will help you speed through content and keep racking up those kill streaks.
Blood is also the gateway to three new — and powerful — choices. Again, we advise that you keep moving down the tree instead of fleshing out any of the options above. That means grabbing node J (Nature).
Point Five: Nature increases your highest elemental skill damage bonus by 10%. This unlock is your first experience with a big resource sacrifice — it costs 20 Forgotten Souls, which you earn from salvaging legendary items or as drops in bounties, as well as 10 of each bounty-specific resource (Khanduran Runes, Caldeum Nightshade, Arreat War Tapestry, Corrupted Angel Flesh, and Westmarch Holy Water). Just keep grinding through each act's bounties until you have what you need.
Important note: Nature won't help if you don't have any elemental skill damage bonuses (as you may not early on), but it's a strong long-term investment and opens up some incredible future choices (like double bounty caches).
And that's your first five nodes! While this starting path provides good buffs that will help you kick off Season 28, from here there are a lot of options available and you'll want to pick and choose based on your preferred playstyle.
Diablo 3 Season 28 starts tonight and the theme is a loving build up to the next title in the franchise — Diablo 4, releasing June 6. Dive into this version of Sanctuary at least one more time, enjoying the incredible power ups and blasting your way to a shiny angelic dragon pet. Happy hunting!