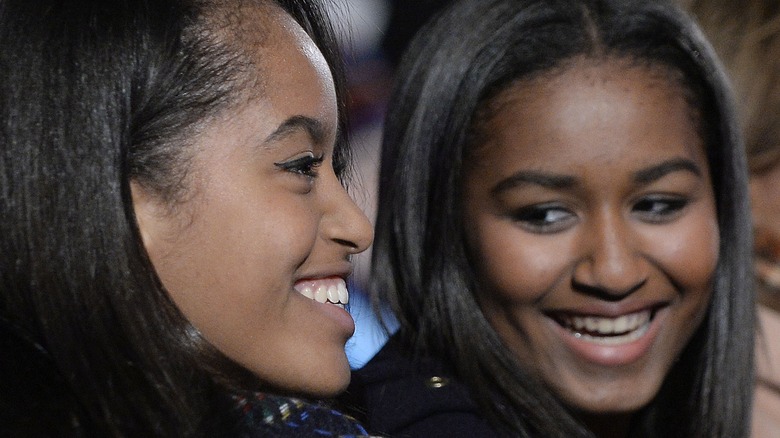 Malia and Sasha Obama are two of the most recognizable young women in the world. The girls were catapulted into the global spotlight when their father, Barack Obama, was elected as the 44th president of the United States in 2008. Since then, we have watched the Obama sisters grow from adorable, shy, young girls to beautiful and intelligent young women on the path to success.
Though they've mostly kept their personal lives private, the former first daughters' impressive careers and stylish paparazzi candids have kept the world interested, and the girls only seem to be doing more with each passing year. Under the protective guidance of their mother, former First Lady Michelle Obama, and their presidential father, Sasha and Malia attended prestigious universities where they would learn the skills to snag opportunities and television and film alike. From college parties to state dinners and jet setting across the globe, Sasha and Malia have lived incredibly rich lives — and this is only the beginning. Let's take a look at how they've evolved through the years.
The Obama sisters were a colorful crew on their first inauguration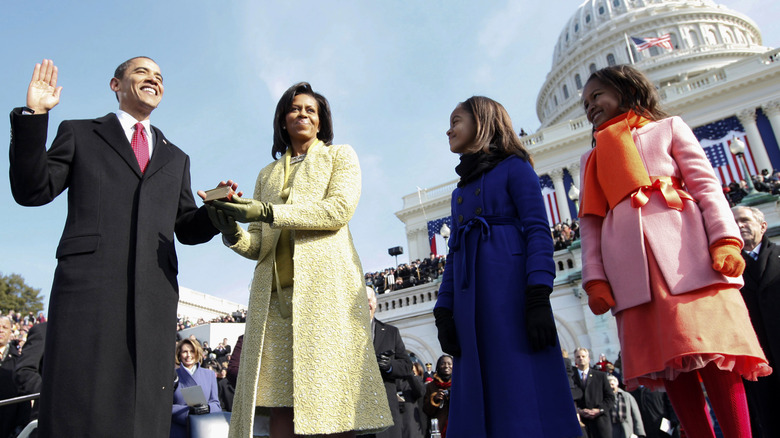 Malia and Sasha Obama were just 10 and 7 years old, respectively, when their father, Barack Obama, was elected president of the United States. Sasha became the youngest person to live in the White House since John F. Kennedy Jr. and Caroline Kennedy in 1961 when her father was elected. In July 2008, the girls made their first endearing television appearance as part of an Access Hollywood segment on the Obama family. Barack would later express regret over the interview, as he wished to keep his kids out of the spotlight. "I think that we got carried away in the moment," he said on "Today." "I didn't catch it quickly enough. I was surprised by the attention it received." A month later, Sasha and Malia joined their parents at the Democratic National Convention in hues of pink and magenta.
For Barack Obama's first inauguration, Sasha and Malia donned tailored wool coats made by J. Crew. The blue and pink ensembles included scarves and gloves straight from the brand's Crewcuts line, and the looks were designed just for them, according to The New York Times. Following the inauguration, NYT reported that J. Crew's website temporarily crashed due to the overwhelming volume of traffic looking to copy the first family's style. The first lady and her kids would continue to collaborate with the iconic brand for years to come, always bringing the high-end glam while wearing the relatively affordable pieces.
The Obama sisters looked like a million bucks… on a budget
Throughout their father's first term, the Obama sisters were frequently photographed in the most stylish fashions. As mentioned previously, the girls were styled by J. Crew for the 2009 inauguration, and this was only the beginning of their stylish fashions. While the girls definitely dabbled in their fair share of designer pieces, Sasha and Malia also rocked budget-friendly clothing. On the first presidential trip to Cuba since 1928, the then-teens were pictured in trendy dresses from ASOS and Shoshanna. Later on, the girls accompanied their parents to a public library ceremony and then a basketball game: Sasha Obama paired a lacy Tory Birch skirt with a striped blue and orange top and aviator sunglasses, while her sister Malia Obama rocked a red lace Alice + Olivia dress. The girls looked effortlessly stunning and polished without breaking the bank, and perfectly matched their mother, who wore a floral dress.
The Obama girls always managed to look relaxed and effortlessly chic even while traveling and navigating the limitations of a presidential-approved wardrobe. For instance, Sasha has been pictured in everything from Flowers by Zoe, to Charlotte Russe and Justice. In 2016, Malia was seen out and about in a comfortable white Everlane shirtdress that we all wanted to cop. During this time, the girls experimented with trendy, feminine, and achievable looks that would lay the foundation for their style after the presidency.
Looking chic for the second inauguration
By the time Barack Obama's second term rolled around, Sasha and Malia Obama were no longer the little girls from the 2008 election, but blossoming into young women. As they grew, so did their style. The girls, who mostly lived a private life, brought the fashion to the Democratic National Convention of 2012, where they were all smiles as they supported their father. Malia, who was 14 at the time and just starting high school, looked like the split image of her mother as she donned a French navy blue dress. Sasha, now 11, looked adorable with loose curls and a black and white checkered dress that she paired with a yellow belt.
For the inauguration of 2013, Sasha and Malia stole the show yet again. The family's go-to brand, J. Crew, styled Malia in a magenta coat similar to the one she wore in 2009. She paired it with a navy blue dress. Meanwhile, Sasha wore a purple Kate Spade coat over a chunky white necklace and a striped dress. The girls giggled, yawned, and took selfies (with Sasha's turtle phone case) while their father addressed the nation. When the temperature dropped, both girls polished off their fits with chic scarves and gloves to match.
Giving thanks for dad jokes and stylish looks
Every year, the president of the United States hosts the National Thanksgiving Turkey pardon ceremony at the White House. 2015 was no different as Sasha and Malia Obama joined their father in the Rose Garden in their cutest fall fits. The girls both looked sharp in American Apparel as they watched Barack Obama and National Turkey Federation Chairman Jihad Douglas pardon Abe the Turkey. Sasha, who was 14, paired a comfy cream sweater with a jean skirt, tights, and studious glasses, while Malia, 17, wore a color-blocked jacket with leggings and boots.
The girls were all smiles as they endured a few rounds of "dad jokes," and consequently made headlines for how much they'd grown. By now, Sasha had started high school and Malia was gearing up to go to college, and both girls were definitely feeling the pressure to look a certain way, especially hair-wise. As their dad noted in an interview with American Ballet Theatre principal dancer Misty Copeland and Time reporter Maya Rhodan, "That pressure I think is historically always been harder on African American women than just about any other women… And so Michelle and I are always guarding against that." He continued, "Malia'll talk about black girl's hair and will have much opinions of that. And she's pretty opinionated about the fact that it costs a lot, it takes a long time, that sometimes girls can be just as tough on each other about how they're supposed to look."
The girls attended their first state dinner
In March 2016, Sasha and Malia Obama attended their first state dinner in honor of Canadian Prime Minster Justin Trudeau and Mrs. Sophie Grégoire-Trudeau. The formal event required them to wear something a little more sophisticated than their usual budget-friendly fits, and the girls certainly did not disappoint. The first daughters looked super glamorous as they accompanied their parents in dresses designed by Naeem Khan. Malia donned a strapless champagne-colored gown with a sweetheart neckline and beaded detailing; Sasha wore a dark, mesh, sleeveless dress with red embroidery on the bodice and a hint of white lace.
"It's touching to meet Malia and Sasha, who are here at their first state dinner," Trudeau said in a toast. "I admire you very much, both of you, for your extraordinary strength and your grace, through what is a remarkable childhood and young adulthood that will give you extraordinary strength and wisdom beyond your years for the rest of your life." He finished off his acknowledgements by giving kudos to their parents for raising such graceful daughters. "The one thing that you have received from your extraordinary parents is the tools to be able to handle the challenges and the opportunities in front of you. So thank you very much for joining us tonight," he said.
They took on schoolwork and first jobs
Sasha and Malia Obama moved into the White House when they were children. By the end of their father's second term in 2017, the girls had blossomed into beautiful and impressive young women ready to take on the world and continue their father's legacy. However, the girls were still determined to live somewhat normal lives. That meant their studies came first, even if there was a big White House event to attend. For example, when Sasha missed her father's farewell address in early 2017, the whole world wondered where she was — until CBS News correspondent Mark Knoller tweeted that she was preparing for an exam.
What's more, Sasha also started working when she was still a first daughter. The summer before the end of her father's term, she landed her first job at Nancy's, her family's favorite seafood restaurant in Martha's Vineyard. According to the Boston Herald, the 44th president's daughter went by her full name, Natasha, and was protected by six Secret Service agents on standby as she worked the takeout window.
Malia, meanwhile, got ready for college. In May 2016, Barack Obama announced that his eldest daughter had been accepted to Harvard University, but that she would be taking a gap year. The year before, she stayed busy interning on the set of HBO's "Girls"; during her gap year, Malia interned at the New York office of The Weinstein Company, where she learned the ins and outs of the film industry.
The Obama sisters headed to university
Before long, the two little girls who moved into the White House in 2009 were off to college. First, Malia Obama headed to Harvard University after her gap year. Sasha, who was a sophomore at the end of Barack Obama's presidency, spent her last two years of high school at the Sidwell Friends School in Washington D.C., where she would attend prom and the photos of her with her date would go mega-viral. A couple years later, Sasha would go to college as well: first, she was accepted to the University of Michigan before ultimately transferring to the University of Southern California. Sasha might've made the switch to be closer to her sister, who moved to Los Angeles after graduating from Harvard in 2021. Rumor has it Malia headed to LA to continue working in the entertainment industry.
As Michelle Obama told "GMA" host Robin Roberts in March 2021, the two little girls we met at the start of Barack Obama's presidency are all grown up, with powerful thoughts and opinions of their own, ready to thrive in a university setting. "If you sit around the dinner table, me and Barack, we can't get a word in edgewise and we like it like that," the former FLOTUS said, explaining that the Obamas have always encouraged the girls to be independent thinkers. "We want to hear their thoughts and their opinions, and that's where it begins."
Sasha and Malia Obama stay cool in California
In the years since their family left the White House, Sasha and Malia Obama have continued to tap into their personal style. We've watched their personal style evolve from cute and presidential to edgy, and moving to California only seemed to bring out their inner fashionistas even more. Even without social media, these sisters and roommates perfectly embody the eccentric Gen Z style that floods our feeds. Sasha in particular has been spotted around USC's campus in the coolest fits, from oversized overalls to chunky grandpa sweaters and over the ear headphones. She also carries a chic massive Telfar bag, proving her finger is always on the sartorial pulse. Understandably, her fashion is constantly in the headlines for being trendy but personalized, cool and comfortable — perfect for her chill California lifestyle.
After the presidency, Sasha and Malia weren't the only ones relishing in their newfound freedom. Their mother, former first lady Michelle Obama, of course was under a lot of pressure, too. In a rare interview for her mother's Netflix series based on her memoir, "Becoming," Malia seemed excited for the former FLOTUS to exist freely (via Entertainment Tonight). "No longer facing that same scrutiny… being able to let all of that leave your mind creates so much more space." Sasha agreed with her sister, adding, "I'm excited for her to be proud of what she's done, because I think that that's the most important thing for a human to do, is be proud of themselves."
Malia and Sasha Obama's activism during the pandemic
The summer of 2020 will long be remembered for the Covid-19 lockdowns and the nationwide demonstrations against police brutality. The protests aligned perfectly with the Black Lives Matter movement, which has been in motion since Trayvon Martin was shot and killed in 2012. During a sit down chat with People, Barack Obama revealed that Malia and Sasha, 22 and 19 at the time, were determined to join the protests following the killings of George Floyd, Breonna Taylor, and other Black Americans. "I didn't have to give them a lot of advice because they had a very clear sense of what was right and what was wrong and [of] their own agency and the power of their voice and the need to participate," the former president said. "Malia and Sasha found their own ways to get involved with the demonstrations and activism that you saw with young people this summer, without any prompting from Michelle and myself, on their own initiative." And don't it twisted, the girls were not looking for fame or attention, as their father made abundantly clear. "They were very much in organizer mode. I could not have been prouder of them," he said.
In a 2021 interview with CNN's Anderson Cooper, the former president again praised his kids' activism efforts and overall intent. "My daughters are so much wiser, and more sophisticated than I was at their age," he said. "They're not just interested in making noise, they're interested in what works."
The Obama girls continue to thrive
Once upon a time, they were little kids living in the White House, but nowadays, Malia and Sasha Obama are now young women blazing their own paths in the world. And as much as they'd like to keep their private lives private, their romantic relationships have made some headlines. "They loved the Jonas Brothers. Now they are bringing grown men home, " Michelle Obama joked on "The Ellen Degeneres Show" in 2022. "Before it was just, like, pop bands. Now they have boyfriends and real lives."
Their father, former President Barack Obama, also had a few things to say about his daughters' dating lives. "The truth is, I'm pretty relaxed about it for two reasons," he explained in a 2016 interview with WDCG (via ABC11). "One is Michelle — she's such a great example of how she carries herself, her self-esteem, not depending on boys to validate how you look or not letting yourself be judged by anything other than your character and intelligence."
As for their professional lives? Malia is a writer on a new series headed for Amazon Prime Video, produced by Donald Glover. The "Atlanta" creator spoke fondly of the former first daughter, telling Vanity Fair, "I feel like she's just somebody who's gonna have really good things coming soon. Her writing style is great." Sasha, on the other hand, is set to graduate from USC in 2023 with a degree in psychology.