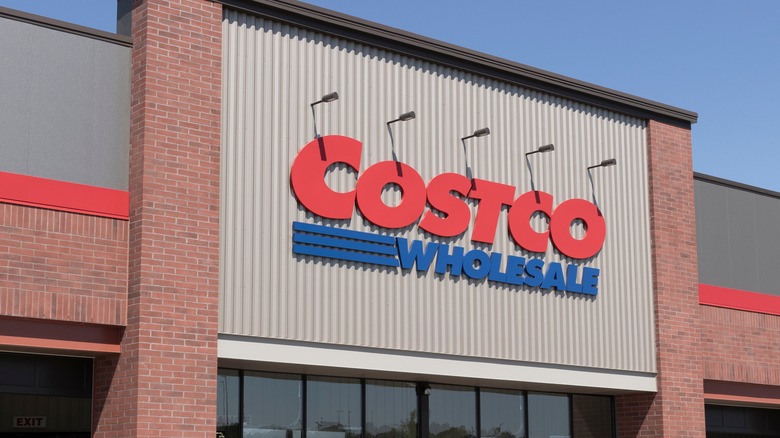 If there's one grocery store that most people can agree is always offering great deals on food items — even during challenging financial times — it's Costco. The wholesale store has been giving discounted deals on grocery items in bulk since 1983, and loyal customers have been signing up for memberships in flocks ever since. And while there's a lot that Costco does right — the free samples and $5 rotisserie chicken come to mind – that doesn't mean the store is perfect.
In fact, there are quite a few times when Costco has sold food items that weren't up to par with their usual inventory, and customers noticed. Whether it was food court snacks, one of their premade food offerings, frozen food items, or even drinks, there have been several blunders. Unfortunately, those fails, and the resulting complaints, don't always lead to Costco removing those items from the shelves. So the next time you head out for your bulk grocery run, make sure you know which foods Costco customers are always complaining about so you can avoid them.
1. Food court pizza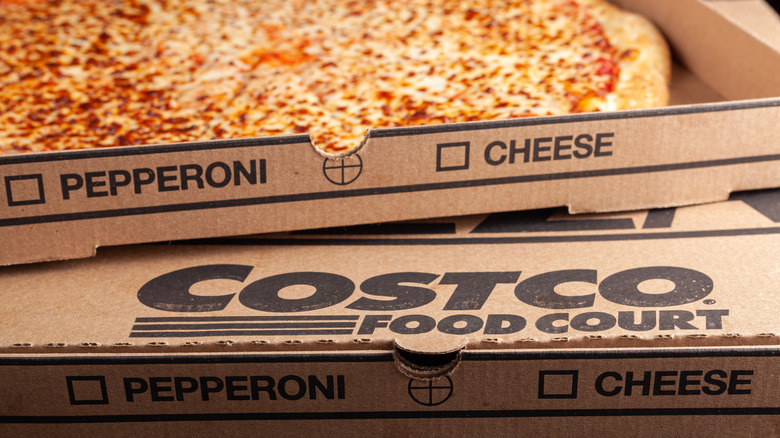 grandbrothers/Shutterstock
One of the most popular aspects of shopping at Costco is definitely the store's food court. Whether you want to fuel up before or after you hit the aisles, customers love being able to have a delicious meal while getting their grocery shopping done. And while the Costco food court doesn't offer a ton in terms of variety, their pizza is pretty iconic.
However, in January of 2023, customers started to notice that the pizza wasn't as good as it used to be. Taking to Reddit, customers listed many complaints after having their most recent slice of pizza. "Usually the edge crust is much softer and bubblier. This one felt like it had no rise at all," the original poster noted, adding later, "the crust texture was totally different. Very soft (wiggly) and the pizza tasted 'wetter' if that makes any sense. Overall very soggy." Soon, others started chiming in with their own complaints. "Costco pizza is overrated. It's always been floppy, too thin in the center, greasy, cheap cheese," someone said. "Yes it definitely has changed for the worse," another added. So if you think you're looking forward to a slice of pizza at Costco, you might want to prepare for potential disappointment.
2. Kevin's Korean BBQ
Most Costco customers know that the store will often put different items on sale for a pretty good amount, even offering $5 off their already discounted prices. That alone might cause someone to want to try something new, but before you do that just beware that one certain brand at Costco is known by customers to be pretty bad.
Taking to Reddit, one Costco customer posted a warning for others not to fall prey to the sale on Kevin's Korean BBQ-Style Chicken, which they stumbled across at their local Costco. "It tastes horrible in my opinion. The sauce does not have enough flavor or sweetness to taste like bulgogi and the meat texture is horrific." Another shopper chimed in that they "found all the Kevin's stuff we've tried from Costco to be incredibly disappointing … mostly just very bland. Definitely not going to try anything else of theirs." It would seem that anything you see at Costco from the brand Kevin's isn't worth your time, no matter how deeply discounted it might be.
3. Sambazon Dragon Fruit Juice
Perhaps one reason people love Costco so much is that they are always changing up their inventory and selling new products at great prices. But as fun as it might be to try new things, it can also be hard to know whether something is worth it. So when one Costco member took to Reddit to ask whether a new drink they found at their store was worth it, other customers were more than happy to give their input, and let's just say it wasn't a 5-star rating.
The Sambazon Dragon Fruit Juice got some mixed reviews, but most could agree it wasn't anything special. "Personally, I think the ginger taste is too strong and not enough dragon fruit flavor," one customer said. "I thought it was kinda bland also. I think the acai one has more flavor," another added. "It's a bit too gingery for my liking and has a Stevia after taste. It's also more like a dragon fruit cocktail as it is a mix of several different juices," another customer explained. So if you're looking for a healthy and great tasting juice option, this might not be your answer.
4. Junior's Mini Cheesecakes
There's really nothing quite like finding a delicious dessert you can enjoy from home, especially if you find one that comes in individual packages or smaller serving sizes. That way, you can enjoy a delicious treat whenever you want without having to open an entire gallon of ice cream, or bake a whole tray of brownies, or fight off the temptation to only eat one slice of cake. And Costco offers quite a few desserts that are perfect for a late-night sweet treat or even for hosting. But one of those desserts might be a bit of a letdown.
The Junior's Mini Cheesecakes look adorable and delicious, but in a social media post about the Costco item, users were quick to point out that these are not worth buying. "Nobody get these! I love cheesecake and these were a huge letdown. Not good at all," one user commented. "Walmart cheesecake has more flavor," another added. And the final nail in the coffin: "Not good. [They] taste really weird plus they don't have the crust which is the best part!!" A cheesecake with no delicious, crumbly graham cracker crust? No thanks! Definitely don't waste your money on these next time you're at Costco.
5. Chicken pot pie
One of the perks of shopping at Costco is the deli section in the back of the store, where customers can find freshly prepared meals that you can easily finish cooking at home. Everything from taco kits, meatloaf, pasta bakes, and more to make for a super easy dinner. And while most of those ready-made meals have proven to be quite tasty, there's one that you should probably steer clear of. If you're a fan of comfort food, you might be disappointed because Costco's chicken pot pie is something customers are always complaining about — and there's one pretty specific reason.
One Costco customer took to Reddit to explain their disappointment with their latest chicken pot pie purchase. "The family size chicken pot pie was so salty we couldn't eat it," they wrote. And a lot of other shoppers agreed. "My last Costco chicken pot pie was two years [ago] for the very same reason," someone added. "We used to get these all the time but had to stop after getting one that literally just tasted like salt," another customer chimed in. So unless you're craving pure salt, we'd recommend to stay away from these.
6. Milk jugs
There are quite a few items that people consider staples at Costco, such as the store's rotisserie chicken, giant packs of toilet paper, diapers, and so much more. But if you were hoping to save money by purchasing your family's milk from Costco, you might want to reconsider. While the milk might be a good buy and make sense economically, there's a recurrent issue with the design of the milk jugs that customers have an issue with.
Specifically, Costco redesigned their brand's milk jugs back in 2008, to make them easier to ship and cheaper to produce. But doing so also made them harder to pour from. The more square-shaped design is much more prone to leaking and spilling out while consumers are trying to pour milk into their cups, coffee mug, or bowl of cereal. Fortunately, in January 2023, the store announced they would address the spilling issue, but not all store locations are seeing those improved designs. So just be aware that the milk from Costco might be more trouble than it's worth.
7. Chomps Beef Sticks
There are so many healthy snack options that Costco rotates through, it's no wonder some of them don't always work out. And while most of the chip bags, granola bars, and nuts and seeds seem to be safe and snack-worthy, one item at Costco has had some pretty disgusting feedback from customers. The Chomps Beef Sticks, which are marketed as a healthy beef jerky option, have been known to appear green and spoiled, causing some to wonder if they are moldy in the package.
According to one Reddit thread, several customers have had the same issue with their Chomps Beef Sticks purchased at Costco. "I found a special green beef stick in my Chomps Beef Stick pack," one user shared, along with a photo of two normal-looking beef sticks beside one that was obviously green. And other customers shared they have also had this experience. "I've had this in two previous Chomps packages," someone shared. "I stopped buying Chomps for this reason. It seemed like I was always finding one or two that were off/moldy," another added. For your own health, beware of these beef sticks.
8. Pulmuone Tonkotsu Miso Ramen
A lot of Costco customers look to the store to try and find easy and simple meal solutions in the refrigerated and frozen food sections. And there is certainly no shortage of options at Costco stores all over, but not all meals are created equally. And one Asian-inspired offering, the Pulmuone Tonkotsu Miso Ramen, seems to be a bit of a letdown to many people who have tried it.
"These Tonkotsu Miso Ramen's aren't that great without doctoring them up yourself," one Reddit user explained when another user asked if the ramen was worth buying. "My wife bought it once or twice and added so much to it she figured it wasn't worth buying anymore," they continued. "Smell of pork was so terrible that it was not edible for me," another customer added. "The bamboo shoots have a very strong flavor that smells kinda like a barn. Other than that, not worth it at full price," yet another commented. We say save your money and go eat at a ramen restaurant instead.
9. Phillips Crab Cake Minis
One of the smartest ways you can use your Costco membership is to buy food for a party. For a lot of people, the food at Costco comes in packages too large to eat before they go bad, but if you're throwing a party, Costco is the place to go. Their selection of party and appetizer foods is impressive, but there's one app-style item that people aren't a fan of.
Costco sells packages of Phillips Crab Cake Minis, but it turns out these frozen crab cakes are not crowd pleasers. "The frozen crab cakes from Costco are one of the worst-tasting foods I have had in my life. I took two bites and had to throw out the whole box ," one Twitter user complained. "Regretting trying Costco's crab cakes," another shopped lamented on Twitter. "They are mushy and don't have much — if any — lump meat," a Reddit user also wrote on a thread about the frozen crab cakes. Clearly, these crab cakes aren't authentic or all that tasty and should not be invited to your next party.
10. Ling Ling Chicken and Vegetable Potstickers
The freezer section at any Costco is huge, filled with frozen meats, snacks, treats, and even meals that you can heat up or cook at home whenever you need to. And while the convenience of that might make some frozen options more appealing than if there was more effort required to make the dish, that still doesn't mean they're all great. For instance, the Ling Ling Chicken and Vegetable Potstickers might seem like a quick meal or snack option, but customers who have tried them say they're severely lacking in flavor and have a pretty weird texture no matter how you cook them.
As one Twitter user put it, the potstickers are the "worst food there is," at Costco. And other shoppers agreed. "Hard pass on this one, wrapper is so thick," one customer explained on Reddit. "We aren't fans of this brand. In the air fryer they puff up and come out like empanadas. If that's what you are going for then let it rip, but we were disappointed," another added. Plenty of other customers also explained that there was no cooking method that seemed to produce consistent results for these frozen potstickers, resulting in plenty of complaints.
11. Real Good Foods Chicken Enchiladas
Costco tends to offer a pretty decent selection of healthier items throughout the store. There's plenty of organic produce, lighter snack options, protein drinks and bars, and even frozen meals that are macro-friendly, such as the Real Good Foods Chicken Enchiladas. But if you were hoping that these enchiladas would make meal prep easier for you, think again. Because they are one of the most unpopular items at Costco by far.
"We have a new winner in the 'worst thing I've ever purchased at Costco' category," one Reddit user declared. And plenty of other Costco customers agreed wholeheartedly. "These were disgusting. I tried cooking them many ways. All gross," one said. "It's really not that bad, if you like the taste of cardboard," another joked. "Both the flavor and texture are terrible," yet another chimed in. And the complaints just kept rolling in, with hundreds of commenters all mostly agreeing with the sentiment that these are not real good at all. As appealing as the low-carb meal might look, clearly it's not worth it.
12. Food court French fries
Another item at the Costco food court that isn't always what it's cracked up to be is the french fries. While not all Costco locations offer french fries, that might be for a good reason. After all, they seem to garner a good amount of complaints, with customers claiming that they're not very good and inconsistent in texture, too.
Specifically, Reddit users explained that the french fries at their Costco food court were one item they would consider to be the worst you can get at the food court. "Sometimes the workers pre-package the french fries (put in the bowl, covered in foil to keep it [warm]), but this makes the fries soggy and not as good," one customer said. "The fries are meh," another simply added. And on Twitter, another shopper also seemed to notice that the fries had gone down in quality recently, writing "downfall of costco french fries," alongside a photo of some pretty sad-looking fries.
13. Kirkland Signature Ready-to-Freeze Vodka Cocktails
When it starts to get warm outside, and it stays lighter outside longer, you can't help but be excited for summer and all that it represents. And Costco is definitely the place to stock up when it comes to summer items. Swimsuits, towels, sunscreen, even pools, lounge chairs, and patio furniture are all things you can easily buy in the store once the weather warms up. But when it comes to seasonal food items, there's one summer treat at Costco that customers have been seriously disappointed by. The Kirkland Signature Ready-to-Freeze Vodka Cocktails sound fun and delicious, but apparently they are anything but.
Specifically, some Reddit users cited the purchase as their worst food buy from Costco, which is definitely saying a lot. "The vodka icicles. I had such high hopes," said one customer. "The original ones are sooooo delicious. But the Kirkland ones were ugh," another chimed in, making it seem as though the previous item that wasn't the Costco name brand was much better. "Most of the vodka ones are blech," yet another user complained. When you're looking for some fun cocktails for the summer, you might want to avoid these or wind up disappointed.
14. Hannah Foods Organic Falafel
One of the most popular Middle Eastern dishes is also one of the most delicious you can find. Falafel is warm, savory, moist, with just the right amount of crunch on the outside and bursting with flavor on the inside. And Costco actually sells some refrigerated falafel so you can enjoy the dish whenever you want, without having to break out the food processor and peel the skin off a ton of chickpeas. But are they good? That's questionable.
In fact, some people have complained so much about the Hannah Foods Organic Falafel from Costco that they claim it's the worst food item they've ever purchased at Costco. "They were mealy and bland. You have to eat them all within five days of opening them. I threw a lot of them out," one customer complained. "We bought those and were super disappointed. We couldn't finish them either," another added. Clearly, it seems as though there was no right way to cook them, and no matter what, they turned out bad. "I tried putting them in the air fryer to at least get them a little crispy, tried the oven and tried pan frying them too, but they were just mealy and dense and bad," another customer lamented. No matter how much you're craving falafel, just know the brand carried at Costco probably isn't going to cut it.