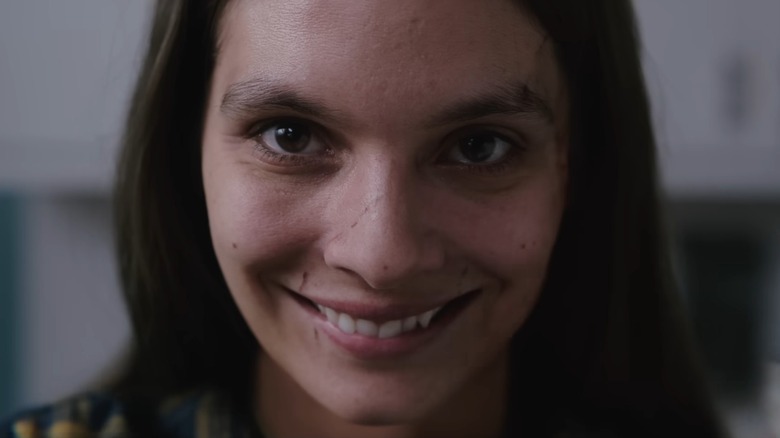 There's nothing like a well-written horror flick to offer the catharsis of a good scare. From complex psychological terror to good old-fashioned jump scares, there's something purely delightful about getting goosebumps over a movie monster. And with more than a century of horror films to choose from and dozens of subgenres from vampire horror to supernatural demonic thrillers, there's something for everyone. Whether you love a good slasher film or you prefer your horror more subdued, there are some fantastic frightening films available for your enjoyment. We're sharing the 55 best horror movies you can catch streaming right now so you don't miss out on a single chill.
Updated on March 1, 2023: Streamers like Netflix, Hulu, Prime, and Shudder make regular changes to their catalogs each month. We'll be updating this list regularly to reflect those changes, so be sure to check back each month for more great horror!
47 Meters Down: Uncaged – Netflix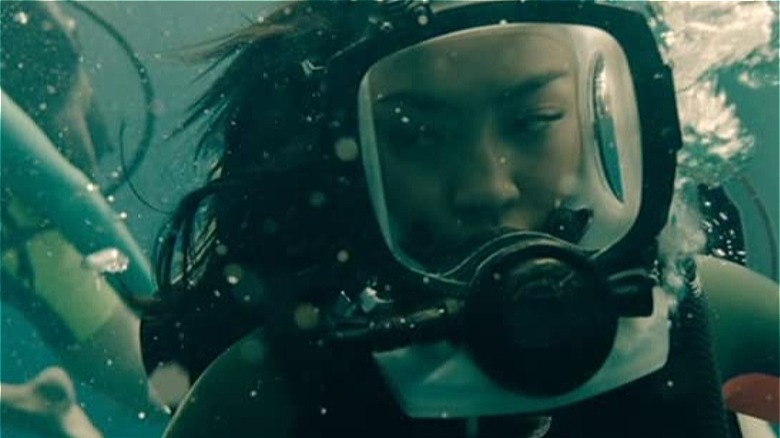 Entertainment Studios Motion Pictures
The sequel to "47 Meters Down," "47 Meters Down: Uncaged" is a shark-themed horror movie in the vein of "Jaws" and "Deep Blue Sea," with the claustrophobic energy of "As Above, So Below." For reasons only the streaming video gods can understand, the film inexplicably went viral in February 2023, hitting Netflix's top 10 movies chart and making a splash on Twitter. Hoping to help teen stepsisters Sasha and Mia find some common ground, their dad Grant sends them on a glass-bottom boat ride to see great whites in their natural habitat. When they ditch the tourist trap to scuba dive in a secret lagoon containing a submerged Mayan city, they run afoul of a toothy foe with a taste for human flesh. While it's hardly a genre-defining masterpiece, this anxiety-inducing, jump-scare-laden shark tale is a must-watch for every fan of the genre.
An American Werewolf in London – Tubi, Plex, Vudu
When American backpackers Jack and David are warned by Yorkshire tavern-goers to stick to the road and stay off of the moors, they immediately do the opposite and get themselves attacked by a werewolf. Jack, who is killed but cursed to live on as long as the werewolf's bloodline does, begs the bitten David to take his own life. Instead, David moves in with a cute nurse and goes full werewolf while his undead pal gradually rots in this witty comedy-horror film. Both hilarious and upsetting, "An American Werewolf in London" features perhaps the greatest sequence in the history of practical effects, with a werewolf transformation that's pretty much unrivaled to this day.
If you or anyone you know is having suicidal thoughts, please call the National Suicide Prevention Lifeline​ at​ 1-800-273-TALK (8255)​.
The Babadook – AMC+, Kanopy, Tubi
A gloomy, artful Australian psychological horror flick, "The Babadook" finds grieving widow Amelia struggling to raise her 6-year-old son Oskar alone after losing his dad in a car accident on the day she gave birth. After reading Oskar a frighteningly Burtonesque pop-up story called "Mister Babadook," Amelia finds herself plagued by mysterious occurrences resembling details from the book. This beautifully dark story offers layers of symbolism as a metaphor for grief. And in an interesting twist, Mister Babadook has even emerged as an unlikely LGBTQ+ icon, with Vox calling the top-hatted Jack White dupe "queer in the most empirical sense."
Barbarian – HBO Max
20th Century Studios
One of several recent films to fall under the growing subgenre of Airbnb nightmare horror, "Barbarian" taps into the growing public awareness that trips booked in this largely unregulated sector of the hospitality industry should come with a caveat emptor warning. When Tess Marshall rolls into an Airbnb located in Detroit's troubled Brightmoor district, she's dismayed to learn it's been double-booked, but short on options, she decide to share the rental with Keith — a man who's almost trying too hard not to act suspicious. As the night goes on, Tess will make a frightening discovery that may extend her stay … whether she wants to stick around or not. The completely absurd horror that follows is a heckuva ride.
The Birds – Criterion Channel, Peacock
Universal Pictures
Widely considered one of the most influential and iconic horror films, as well as a crucial entry in suspense master Alfred Hitchcock's catalog, "The Birds" follows complicated socialite Melanie as she pursues lawyer Mitch Brenner to his coastal hometown after a pet store flirtation, using a gift of love birds as a ruse for her somewhat stalkery pursuit. Upon her arrival in Bodega Bay, she discovers the local avian population has become surprisingly violent, with birds divebombing, terrorizing, and killing the locals. Using cutting-edge special effects for the time and an eerie lack of score that highlights the growing dread, the film establishes just how terrifying the natural world can be while exploring themes of sexuality, gender relations, and our dangerous relationship with the natural world.
Bird Box – Netflix
"Bird Box" explores one of the most terrifying prospects in the horror and sci-fi genres — trying to keep kids alive in the post-apocalypse. Set in the aftermath of civilization's collapse, the story imagines a world where invisible entities cause anyone who sees them to become infected and die violently by their own hands. In this madness, we follow the pregnant Malorie, who eventually gives birth and must keep her family alive in a world where one wrong glance can lead to death. "Bird Box" blew away Netflix streaming records upon its release, and it's easy to see why (assuming you aren't wearing a blindfold). It's a creepy apocalyptic survival story, one filled with dread, and certainly worth watching thanks to Sandra Bullock's lead performance.
The Black Phone – Amazon Prime
When Denver child serial killer "the Grabber" kidnaps a bullied child named Finney, a supernaturally charged phone and his sister's psychic visions are the only things standing between him and the Grabber's dark plans. The film is adapted from a short story by Joe Hill and bears the influence of his horror master dad, Stephen King, in the storytelling craftsmanship. In an interview with Filmmaker Magazine, cinematographer Brett Jutkiewicz explained he used a limited but not desaturated color palette that adds a dark, nostalgic feel to the storytelling. It's a perfect fit for a rare presentation of the late 1970s not as the upbeat simpler time it's often portrayed as in film and television today but as the uncertain period when bullies ruled their schools and many American communities were plagued by rampant crime and an uptick in serial killers.
The Blair Witch Project – Plex, Pluto, Redbox, Tubi
Artisan Entertainment
When "The Blair Witch Project" was released in 1999, it was something of a game-changer for the horror genre. Using a bare-bones script, minimal natural sets, a handful of cameras, and some improvisational acting, the film was instrumental in pioneering the found-footage technique with absolutely chilling results. Told through the supposedly "recovered" footage of three film students who went camping deep in the woods in search of the legendary Blair Witch, the story relies on dark images, unsettling sounds, shaky cameras, and strange artifacts found in the woods to tell its tale. Menaced by unseen forces, the students become lost, seemingly trapped in the supernatural snare of the Blair Witch.
Candyman – Amazon Prime, Paramount+
Universal
A direct sequel to the 1992 slasher "Candyman," this supernatural horror film boasts a writing team that includes Jordan Peele and a cast that includes DC Universe's Black Manta, Yahya Abdul-Mateen II, MCU's Teyonah Parris, Colman Domingo of "Fear the Walking Dead," Vanessa Williams, and Nathan Stewart-Jarrett of "Misfits."
When a Chicago artist encounters the urban legend of Candyman that states anyone who says the word "Candyman" five times while looking in a mirror will summon the supernatural killer's evil spirit, he laughs it off, dismissively performing the ritual himself and then creating an art piece based on the tale. As he becomes increasingly obsessed with the Candyman, he physically and mentally undergoes a dramatic transformation as someone else plots to bring back — and weaponize — the Candyman's hive. The film is exceptional in its genre as one of the few horror films to have been up for Oscar consideration over its score, penned by composer and electronic musician Robert Aiki Aubrey Lowe.
Cargo – Netflix
While surviving on an Australian houseboat after a zombie virus wipes out most of the human race, the Rose family runs into trouble after going ashore on a food run. After his wife his bitten and impaled, the also-bitten Andy must find someone to care for their infant daughter, Rosie, before turning with the help of an Aboriginal child named Thoomi. The Australian setting and emotional story bring a fresh perspective to the zombie genre, with Martin Freeman's lead performance further elevating the storytelling.
Carrie – Paramount+
United Artists
Life as a teenager can be hard under the best of circumstances. But it's even harder when the teen in question is a horrifically abused telekinetic with a religious fanatic parent and whose only escape is a high school full of vicious bullies. In other words, sweet, homely Carrie White has got it pretty rough, and things only get worse on prom night … much, much worse. Adapted from Stephen King's first published novel, "Carrie" is a terrifying and heartbreaking film that has just as much relevance today in the age of internet bullying and rampant spiritual abuse as it did in 1976.
The Changeling – Peacock, Plex, Tubi, Vudu
A film that's absolutely brimming with spooky atmosphere, "The Changeling" is a haunted house film for the age. When composer John Russell leaves Manhattan for a Seattle mansion after unexpectedly losing his wife and child, he begins to encounter the resident spirit, which leads him into the heart of a mystery, one involving a high-profile politician and an enigmatic child. If you're a fan of stylish ghost stories a la "The Haunting of Hill House," then "The Changeling" is the perfect movie to send shivers up your spine.
Children of the Corn – Amazon Prime, AMC+, The Roku Channel, Shudder, Tubi
Don't be fooled by the terrible Rotten Tomatoes rating — "Children of the Corn" falls under the horror film sub-category of "so bad it's good." Based on the 1977 Stephen King short story of the same name, "Children of the Corn" has a pretty terrifying premise: A town full of rural Nebraska kids have created a cult under the deity "He Who Walks Behind the Rows," and their religion involves a whole lot of human sacrifice that kicked off with the mass murder of every adult in their town. There's just something utterly chilling about the idea of feral children riled up under a cult of personality, even if the acting does get a bit corny at times. Pun intended.
The Conjuring – Netflix
Loosely based on the experiences of Ed and Lorraine Warren, the paranormal investigators connected to the famous Amityville case, "The Conjuring" follow the Warrens as they investigate a Rhode Island farmhouse haunting where the creep factor runs amok at 3:07 each morning. With its atmospheric storytelling and paranormal themes, "The Conjuring" is a thrilling ghost story in the spirit of supernatural classics like "The Omen" and "The Amityville Horror." It's also the first film in the "Conjuring" universe, which is quite the franchise for fright fans.
Crimson Peak – Netflix
Universal
If you're craving "Bridgerton" but with more ghosts and wanton violence, "Crimson Peak" is a solid bet. This film has everything a gothic horror lover could want — a dreamy but haunted manor tucked away in the remote hills of Edwardian England, a murder mystery, Tom Hiddleston, disturbing family dynamics, and plenty of delightful gore. Joe Hill called "Crimson Peak" a "blood-soaked 'Age of Innocence,'" while his dad Stephen King tweeted that the film was "gorgeous and just … terrifying."
The Dark and the Wicked – AMC+, Shudder
RLJE Films
Shortly after Texas siblings Michael and Louise return to the family farm due to their father's failing health, their mother amputates her own fingers and hangs herself. They soon begin to realize that a dark, demonic force is lurking on the property, tormenting the family to madness and taking lives. If you're looking for a good old-fashioned demon possession flick with plenty of solid thrills, "The Dark and the Wicked" is a solid bet.
Eraserhead – Criterion Channel, HBO Max
Libra Films
"Eraserhead" is David Lynch's surrealist horror trip through fatherhood. More of a Kafkaesque nightmare than a traditional horror film, this black-and-white film finds Henry Spencer struggling to accept responsibility for a monstrous child he has with his girlfriend. Like everything Lynch creates, the film is meant to be engaged with and analyzed but seems to indicate that the true horror is getting saddled with a family.
Eyes Without a Face – Criterion Channel, HBO Max
Lux Compagnie
Psychological and body horror come together in the French-Italian "Eyes Without a Face." When Christiane is disfigured in a terrible car accident, her father goes full mad scientist and tries his hand at DIY facial transplant surgery. Haunting and understated, this film proves that some of the best horror can be executed without drenching the screen in gore.
Fear Street Part Three: 1666 – Netflix
Xennials who loved the R.L. Stine "Fear Street" book series as teens will find the Netflix trilogy a fitting tribute with its poppy slasher feels, but it's a fun ride in its own right even sans nostalgia. The final installment in the series following "1994" and "1978," "1666" takes viewers back to the origin of the "Fear Street" saga through the tale of accused witch Sarah Fier, who lived in the Union colony before it split into Sunnyvale and Shadyside. Grab an extra-large popcorn and binge the entire series, which was dubbed "'The Crucible' meets 'The Witch' meets 'It' meets 'It' Follows meets the trilogy's ultimate overarching influence 'Scooby-Doo'" by The Guardian's Benjamin Lee.
Final Destination – Tubi
Fans of "The X-Files" may recognize "Final Destination" director James Wong from writing many of the series' best episodes, as well as the prestigious honor of becoming the first Asian-American to earn an Emmy nomination for directing. In fact, according to an interview with film creator Jeffrey Reddick in Bloody Disgusting, "Final Destination" originated as a script for the paranormal sci-fi series. Originally titled "Flight 180," the story was expanded into a full-length feature film about a group of teens who initially seem to cheat death thanks to their pal's pre-flight premonition, but they find out they can't outrun fate in the end. While short on any kind of cinematic depth, the story serves its purpose as a teen scream horror film replete with decent thrills, jump-scares, and surprises.
Friday the 13th – Amazon Prime
Paramount
A classic summer camp slasher film, "Friday the 13th" introduced the world to masked serial killer Jason Voorhees. His murderous shenanigans target the doomed inhabitants of Camp Crystal Lake, who are hunted down one by one in terrifyingly memorable fashion. Though it's more beloved by fans than by critics, this film would be the beginning of a successful franchise, which includes a "Nightmare on Elm Street" crossover.
Halloween – AMC+, Redbox, Shudder
The first film in the long-running Michael Myers series, "Halloween" is John Carpenter's classic slasher film. It might not have been the first slasher, but it definitely put the subgenre on the map. After 6-year-old Michael kills his older sister on Halloween, he spends 15 years in a mental institution before escaping. Free to wreak havoc, Myers dons a white William Shatner mask and sets out to kill a bunch of unlucky teens, including Jamie Lee Curtis' Laurie Strode. As he menacingly stalks down our young cast, we're treated to a film that set the bar for what a slasher should be — lean, mean, and white-knuckle scary.
Hannibal – HBO Max
Set years after Hannibal Lecter's escape in "The Silence of the Lambs," "Hannibal" finds FBI Agent Clarice Starling crossing paths with him once more. Bent on revenge for his disfigurement and paralysis, affluent pedophile and Dr. Lecter survivor Mason Verger concocts a scheme to draw out the famed cannibal using Agent Starling as bait. After tracking him down to Italy, she stumbles onto Verger's plot, ultimately finding herself the guest of honor at a very special dinner party. Although "Hannibal" doesn't hit nearly as hard as "The Silence of the Lambs," it relishes its campy Hannibal Lecter moments. There are enough of them to make this an enjoyable entry in the canon of Thomas Harris adaptations.
Hellraiser – Amazon Prime, Pluto, Shudder, Tubi
Entertainment Film Distributors
A fairly disturbing supernatural horror thriller, "Hellraiser" is film that gave the world Pinhead, the iconic, otherworldly demon. When sadomasochist Frank Cotton purchases a mysterious puzzle box in Morocco, he unlocks the portal to Hell where the Cenobites dwell. The Cenobites, who cannot differentiate between pleasure and pain, are part of a religious order that specializes in sadomasochism. And eventually, they cross paths with Frank's innocent niece, Kirsty, a poor young woman who also has to deal with Frank when he comes back from the dead. With its themes of torture and degradation, this film is one of the more controversial and divisive on the list.
Hereditary – Pluto, Tubi
A24
A terrifying exploration of parenting, family, and grief, "Hereditary" follows the Graham family as they suffer a series of unbearable losses and learn about a dark secret while struggling to cope with the family history of mental illness. Shocking and disturbing throughout, the film features a standout performance from Toni Collette and more than its share of surprises, which we won't even hint at here.
House on Haunted Hill – AMC+, Amazon Prime, Kanopy, Shudder, The Roku Channel, Tubi
"House on Haunted Hill" finds eccentric millionaire Frederick Loren throwing a party for his fourth wife, Annabelle, in a haunted house. To make things interesting, he invites five strangers, offering them each a cool $10,000 if they can make it through the night in the house. When someone turns up dead and the house starts to get freaky, the guests start to believe the house may truly be haunted. The film is a ton of fun, largely thanks to the master of fright himself, Vincent Price.
The Invisible Man – Freevee
Universal
A modern interpretation of the classic H.G. Wells novel, "The Invisible Man" reimagines the story through the lens of domestic abuse. Not long after escaping from her controlling partner, Cecilia Cass is notified of his death, receiving an inheritance from his estate. But she begins to suspect that she isn't alone and that her ex faked his own death, using his optics genius to become invisible and torment her. A brilliant performance from Elisabeth Moss takes this sci-fi thriller to the next level.
It – Netflix
One of the best adaptations of a Stephen King novel, 2017's "It" looks at a terrifying force that descends on the small town of Derry, Maine, in 1989. A beautifully executed nostalgia piece, coming-of-age story, and psychological horror all in one, "It" has more than enough tension and mystery to generously fill its lengthy runtime. The story begins when 6-year-old Georgie chases his paper sailboat into a storm drain and is attacked by the murderous clown Pennywise. The following summer, his older brother Bill and Bill's group of friends find themselves tormented by the same dark entity.
The film features a haunting performance by Bill Skarsgård as the clown who's anything but comical. And as it's the first film in the "It" series, it's best viewed together with "It Chapter Two." The combined films make up the entire adaptation of the King novel and are ideally viewed together as part of a marathon.
It Follows – Netflix
RADiUS-TWC
"It Follows" is about the ultimate high school horror — a sexually transmitted evil entity. After she and her new boyfriend go "parking," high schooler Jay learns that her guy has passed a shape-shifting supernatural creeper to her when they did the deed. If the spirit catches Jay, it will kill her and then work its way backward through the chain of past partners. To boot, no one can see it but the afflicted, and the creature is practically invulnerable to damage of all kinds. Ripe for subtext analysis and brimming with suspense, "It Follows" is one of the best horror films on the list when it comes to legitimate white-knuckle scares.
M3GAN – Peacock
Universal Pictures
"M3GAN" is a satirical science fiction horror film built for an age in which kids spend more time than ever glued to screens and A.I. inches ever closer to the technological singularity. Robotics engineer Gemma is charged with developing hot toys. After a devastating car accident, she also becomes responsible for raising her niece, Cady. Overwhelmed, Gemma finds a novel way to reduce Cady's emotional burdens and her own responsibilities: She pairs the child with M3GAN, an advanced robot with incredibly advanced A.I. Interweaving just enough over-the-top violence to qualify as a satisfying slasher film with plenty of deliciously silly one-liners, "M3GAN" explores the way technology impacts kids' psychological health. It's a must-see for fans of "Child's Play" and "Black Mirror" alike.
The Menu – HBO Max
Searchlight Pictures
Featuring an outstanding cast that includes some heavy A-list hitters and an incredible supporting cast (e.g. Hong Chau, Janet McTeer, and John Leguizamo, among others), "The Menu" is a black comedy horror that touches on themes of empty affluence that's familiar to "White Lotus" and "Servant" audiences. The story centers around a highly exclusive restaurant located on a private island where a celebrity chef has grown disenchanted with serving up pretentious fare to ungrateful elites. When his final seating takes a slice at consumption, classism, and hypocrisy, things turn more absurdly bloody with each ensuing course. Atmospheric, decadent, and bizarre, the violent delights of this satire are just thoughtful enough to not fill you up on empty calories.
Midsommar – Kanopy, Paramount+, Showtime
A24
"Midsommar" is a trippy, beautiful, folk horror freakshow of a film. Haunted by the death of her loved ones, Dani joins her not-so-great boyfriend and his buddies as they journey to rural Sweden to attend the communal midsummer festival. They end up shrooming with the locals and quickly realize they've stumbled into a violent pagan cult where human sacrifice is part of the summertime festivities. More gory than terrifying, "Midsommar" is a vivid, intelligent head trip through gorgeous Nordic scenery.
Night of the Living Dead – Amazon Prime, HBO Max, Peacock, Tubi
Continental Distributing
"Night of the Living Dead" is considered by many to be the first modern zombie film and the genesis of the genre as we know it. One of a few hundred films that have been added to the Library of Congress National Film Registry for its cultural significance, "Night of the Living Dead" finds a group of survivors under siege thanks to an undead epidemic, with the recently deceased reanimating and transforming into ravenous flesh-eaters. Dark and terrifying, the film offers up a gritty realism that was rarely seen in horror films at the time.
Nope – Peacock
Written, directed, and co-produced by Jordan Peele, "Nope" is a beautifully filmed psychological sci-fi horror story that weaves the strange, surreal qualities of a David Lynch tale into a wild yarn with big Amblin energy. Filmed in the Agua Dulce desert, the 2022 horror film follows OJ Haywood Jr., a man who trains horses for Hollywood films. When his father is mysteriously killed, OJ believes a UFO might be to blame, so he teams up with his sister, Em, to film the craft and make a truckload of money to save their failing business. As you might expect, nothing goes according to plan. Funny, whimsical, and exactly the right amount of scary, "Nope" is a reminder that good horror doesn't have to be overly disturbing to pack a punch, and like everything Jordan Peele does, it's intelligent and layered without being didactic with its nuanced analysis of the relationship between audience and spectacle.
Nosferatu: A Symphony of Horror – AMC+, Pluto TV, The Roku Channel, Shudder, Tubi
Film Arts Guild
The unofficial German expressionist adaptation of Bram Stoker's "Dracula," "Nosferatu" is a 1922 silent film that would serve as the genesis of the vampire film genre and popularize much of the vampire lore we know and love today. Set in 1838 Germany, the film recounts many of the details from Stoker's story, replacing the names of Jonathan Harker with Thomas Hutter, Count Dracula with Count Orlok, and Mina with Ellen. However, where it really shines is its monstrous depiction of Orlok, from his rodent-like facial features to his long, eerie shadow stalking through hallways.
The Old Ways – Netflix
When L.A.-based Mexican-American reporter Cristina Lopez visits her hometown looking for a story on witchcraft — after watching her own mother perform an exorcism as a child — she ends up getting closer to the story than she intended. After arriving near the La Boca ruins near Veracruz, Cristina is kidnapped by locals, including a Nahua bruja, who believe her to be possessed. A horror metaphor for second-generation Americans' experience balancing the complexities of heritage and identity, "The Old Ways" is as beautiful as it is terrifying.
The Pale Blue Eye – Netflix
"One of his eyes resembled that of a vulture — a pale blue eye, with a film over it. Whenever it fell upon me, my blood ran cold." This famous line from gothic horror master Edgar Allan Poe's "The Tell-Tale Heart" was the inspiration for Louis Bayard's novel "The Pale Blue Eye," which imagines a serial killer on the campus of 1830 West Point and an investigation involving contemporary West Point cadet Edgar Allan Poe. Something of a melodramatic police procedural embedded with supernatural elements, the tale will be enjoyable for most fans of crime stories, gothic horror, or just a generally chilling atmospheric horror ambience.
Parasite – Hulu, Kanopy
CJ Entertainment
"Parasite" is a black comedy horror film that serves as a keen commentary on South Korean class conflict, late-stage capitalism, and wealth disparity. When the penniless Kim family scheme their way into legitimate jobs for the affluent Parks at the expense of others, things seem to be going swimmingly at first. But as the story unfolds, we begin to learn some disturbing truths about this home, and things take a violent turn. To say anymore would be to spoil the game, so check out the film that made history by being the first foreign-language film to win a Best Picture Oscar.
Piggy – Hulu
Set in rural Extremadura, Spain, "Piggy" follows a severely bullied teen whose life takes a turn for the strange and violent after a mysterious stranger rolls into town. The girls who make Sara's life miserable are taken right in front of her eyes by an enigmatic kidnapper. Soon enough, bodies start piling up. Others suspect Sara knows more than she's letting on, but no one has all the answers — except the strange figure spiriting people away. "Piggy" has received praise for its complex portrayal of Sara and drawn favorable comparisons to "Carrie." Although dark in its exploration of isolation and cruelty, "Piggy" is a surprisingly hopeful — if deliciously twisted — tale of a young woman finding her power.
Prey – Hulu
The long-awaited prequel to the "Predator" franchise, "Prey" depicts the early arrival of the Predator on Earth, where he comes into contact with a tribe of Comanches and a handful of French voyageurs. Set in 1719 in the North American Great Plains, the story is told from the perspective of Naru, a young healer who longs to become a hunter, surpassing contemporary Comanche gender roles. Released in English with a Comanche dub, the film is a stripped-down story featuring a strong female hero with a firm grounding in the "Predator" mythology. As David Fear of Rolling Stone put it, "It's something close to a B-movie masterpiece, a survivalist thriller-slash-proto-Western-slash-final-girl horror flick that, like both its iconic alien and its indigenous Ripley 2.0 heroine, is extremely good at what it sets out to do."
Prometheus – Hulu
20th Century Fox
A prequel to the "Alien" saga, "Prometheus" is by no means the most gripping or well-formed tale in the series. But what it does well is expand the worldbuilding of the "Alien" universe while establishing a more clearly outlined explanation of the lore behind the Xenomorphs' physiology and purpose.
The story centers around the Weyland Corporation-funded expedition to a remote moon in search of answers about the Engineers, which archaeologists believe may be the progenitors of humanity. Their curiosity leads them into an ancient civilization of biotech-wielding planet builders comfortable with destroying and replacing entire worlds as easily as one might wipe a hard drive. Against a backdrop of beautifully dark imagery, "Prometheus" delves deeply into existential and mythological themes and is a must-see for any fan of space horror or the "Alien" series.
Psycho – Peacock
Paramount
"Psycho" is one of the most iconic horror films ever made, with an immeasurable influence on films, television, and pop culture in general. It begins with Marion Crane, a secretary who rashly decides to take off with $40,000 she's meant to deposit for her employer. While on the run, she finds herself at the Bates Motel, a roadside joint run by a friendly but troubled young man named Norman. Norman claims to live with his controlling mother, but as Marion discovers, there's more to their bizarre situation than meets the eye. Anthony Perkins' haunting performance as Norman Bates still resonates, all these decades later.
A Quiet Place – Paramount+
Paramount
Intelligent, tense, and emotional, "A Quiet Place" explores the frightening premise of parents simply trying to keep their children alive when danger is all around. The film follows the Abbott family's struggle for survival in a post-apocalyptic world where a violent invasive species of bulletproof alien predators has somehow taken up residence on Earth, wiping out most of humanity. The improbably fast but sightless creatures use echolocation to find and quickly eliminate humans who make even the smallest sounds. Having survived partly through their use of ASL to communicate with deaf daughter Reagan, the Abbotts face a frightening challenge as they plan for the birth of a new child.
The Ring – Paramount+
Dreamworks Pictures
"The Ring" is one of those horror films that resonates through pop culture, where it is endlessly referenced and parodied. When a cursed videotape that kills anyone who watches it pops up in Seattle, one woman decides to uncover the mystery behind the murders. While it's not the scariest horror flick on streaming video, "The Ring" — along with the original 1998 Japanese film — gave the world one of the most iconic horror images in the form of a vengeful spirit with long, stringy wet hair. And the film does feature some fairly creative deaths.
Rosemary's Baby – Amazon Prime
Paramount
Based on the 1967 Ira Levin novel, "Rosemary's Baby" is a slow-burn psychological terror trip that should be on every horror lover's must-see list. Plus, it's an excellent reminder that getting to know the neighbors isn't always what it's cracked up to be. Soon after Guy and Rosemary Woodhouse take up residence in a gorgeous historic Manhattan apartment, their eccentric elderly neighbors quickly become a little too familiar, taking an overzealous interest in the young bride's pregnancy. As Rosemary begins to suspect there's a Satanic conspiracy afoot, she learns just how truly hellish the price of New York housing can be. The wonderfully aesthetic film explores the relationship between gaslighting and paranoia in a chilling meditation on women's bodily autonomy.
The Silence of the Lambs – HBO Max
Orion Pictures
The critically acclaimed psychological horror that gave rise to dozens of meme-worthy quotes like "hello, Clarice," "fava beans and a nice chianti," and "it rubs the lotion on its skin," "The Silence of the Lambs" cleaned up at the 1992 Academy Awards with a whopping five Oscars. Based on the bestselling Thomas Harris novel series and scored by acclaimed composer Howard Shore, the film details Quantico student Clarice Starling's acquaintance with serial killer Hannibal Lecter. A gifted psychiatrist with a taste for the finer things in life and the other, other white meat, Lecter proves useful in the investigation of serial killer Buffalo Bill but at great cost to Clarice's own personal and psychological security.
Smile – Amazon Prime, Paramount+
Paramount
Adapted from Parker Finn's 2020 short film "Laura Hasn't Slept," this psychological horror film follows the mental unraveling of a therapist named Rose. A troubled patient tells Rose that there's an evil entity stalking her — one that causes its victims to eerily smile right before forcing them to commit suicide. And then, that's exactly what happens in Rose's office. Traumatized by her patient's death, Rose begins seeing horrific visions herself, with the lines between reality and imagination become blurred in a confusing, insomniac haze of psychological trauma and terror. Playing on the pay-it-forward curse trope explored in films like "It Follows," "Smile" is a dread-filled — if occasionally formulaic and jump scare-laden — and suspenseful example of a fresh take on a time-honored horror trope.
If you or anyone you know is having suicidal thoughts, please call the National Suicide Prevention Lifeline by dialing 988 or by calling 1-800-273-TALK (8255)​.
The Stepford Wives – Tubi
Columbia Pictures
Based on Ira Levin's 1972 novel, "The Stepford Wives" is a satire about a suburban community where the wives seem to be just a little too perfect. After photographer Joanna moves from Manhattan to Stepford, Connecticut, for her husband's new job, she is quickly taken aback at the stark gender roles in the community, with her own husband joining up with the exclusive Men's Club. As for the women, they only want to cook and talk about cleaning, and slowly but surely, Katharine suspects something is very wrong … and she starts fearing for her own safety. Eerie and offbeat, this film is still just as relevant today as a feminist commentary on misogyny and gender constructs.
Tales From the Darkside: The Movie – Amazon Prime, Paramount+
Paramount
"Tales From the Darkside: The Movie" is a super campy fright film that no horror lover should overlook. And like some of the best horror, it's more of a fun ride than an award-winning masterpiece. With a surprisingly prestigious cast and George Romero on the writing team, this comedy horror anthology film based on the "Tales From the Darkside" TV series finds a witch's young victim telling her three horror stories to stall as she cooks him for dinner. Each of the three stories-within-the story are from a different piece of horror literature, with the first from Sir Arthur Conan Doyle's "Lot No. 249," the second from Stephen King's "The Cat from Hell," and the final story from Lafcadio Hearn's "Kwaidan: Stories and Studies of Strange Things."
The Texas Chain Saw Massacre – The Roku Channel, Tubi, Peacock, Pluto TV, Plex, Vudu
Bryanston Distributing Company
The first film in the long-running franchise, "The Texas Chain Saw Massacre" introduced the world to the human skin-wearing serial killer Leatherface. A fairly straightforward slasher film, albeit one that hits ridiculously hard, "Massacre" follows a group of teens who wind up crossing paths with a cannibalistic family. The film is pure terror through and through, and it exploits the frightening setting of the Texas woods at night while offering up plenty of blood, gore, and shocking levels of violence.
Things Heard & Seen – Netflix
Netflix
While "Things Heard & Seen" drew criticism for its messy storytelling, it's still a decently entertaining ghost story with a slew of excellent performances. Set in 1980, the film follows a Manhattan family relocating to a deliciously spooky old farmhouse in upstate New York. Inside this home, they encounter echoes of a violent past with frightening implications for their own marriage and lives. While easily read as a lo-fi study in gender politics and marital discord, this slow-moving supernatural thriller is also a worthy watch for fans of "The Amityville Horror" and "The Others."
Train to Busan – Amazon Prime, Peacock, The Roku Channel, Tubi
What could be more terrifying than a zombie apocalypse? Dealing with a zombie apocalypse while trapped on a speeding South Korean train. Workaholic finance manager Seok-woo and his daughter are en route to Busan for the girl's birthday when the zombie outbreak kicks off, spreading through the train rapidly. But after attempting to disembark, they quickly realize that things are even worse outside. Dark and frightening, "Train to Busan" is a gleefully frightening ride.
The Village – Peacock
"The Village" is a frightening period film that defies genre classifications. It all starts in the 19th-century village of Covington, Pennsylvania. A deeply religious community, its inhabitants live in complete isolation from the rest of the world. Although they enjoy a fairly bucolic existence, it's soon revealed that the forest surrounding their community is filled with creatures the townspeople go to great lengths to avoid. As the danger escalates, Covington's secrets begin to unravel. Things are not at all what they seem.
"The Village" is mandatory viewing for Shyamalan fans, even if the signature twist at the end is its weakest point. Despite these shortcomings, the film's moody cinematography, outstanding cast, and soulful score make it an enjoyable popcorn flick.
Village of the Damned – HBOMax
Loew's
A must-watch for fans of classic psychological horror, "Village of the Damned" is a beautiful example of atmospheric terror. When an entire community suddenly goes unconscious, it's clear something dark is afoot. As the sleepers of Midwich eventually wake up, they learn that all of their women are pregnant — even the virgins. Soon, the resulting children begin to manifest superhuman abilities and sociopathic tendencies, placing the entire community under siege. Opening with eerie images of an entire community suddenly out like lights, leaving the instruments of civilization humming away, this classic film taps into cultural anxieties about mass hysteria and out-of-control children — a combination that's just as chilling today.
X – Showtime
A24
Set in 1979 and drawing influences from a broad range of beloved classic psychological horror and slasher films, "X" follows the story of aspiring star Maxine Minx, who, along with her film producer boyfriend and their actor pals, decide to get in on the profitable 1970s porno industry with their own production. Upon their arrival at a Texas farm to shoot their film "The Farmer's Daughters," the crew's interactions with the elderly farm owners, Howard and Pearl, juxtapose youth and vitality against regret and yearning, a volatile mixture that culminates in a desire-fueled murder spree. Goth plays dual roles as Maxine and Pearl, reprising the latter role in a prequel shot back-to-back with "X," and her double performance is absolutely mesmerizing.