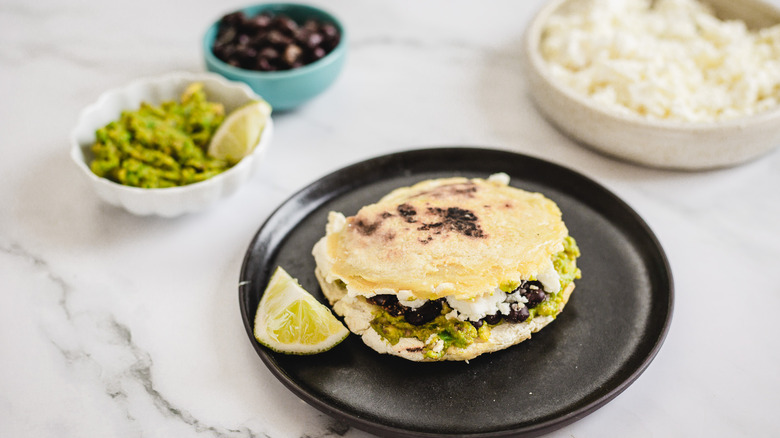 Lightly charred on the outside and gooey and buttery on the inside, freshly made bean and cheese gorditas are like thick Mexican tortillas that are then filled with lightly seasoned black beans, salty Cotija cheese and ripe avocado slices. In some parts of Mexico, gorditas are stuffed and served with toppings, similar to arepas, while in other regions gorditas are made into tiny cakes and served under a blanket of salsa. In Tex Mex cuisine, gorditas are deep fried, which is another beast altogether.
According to food Blogger Ksenia Prints of At the Immigrant's Table, the winning combination of lightly seasoned black beans and salty Cotija cheese is often paired with gorditas across the country. We opted to add in a couple of slices of avocado, to give this dish a creamier feel. So before you reach out for your next sandwich, take your lunch to another level with freshly made stuffed bean and cheese gorditas. These Mexican pockets of joy will leave you full and satisfied for hours to come!
Gather the ingredients for bean and cheese gorditas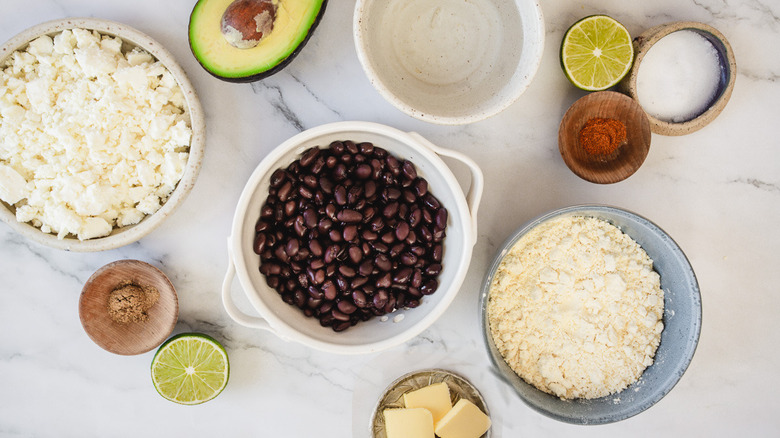 To make gorditas, you will need a few very simple ingredients. First, make sure you buy finely milled instant corn flour. This is not to be confused with masarepa, which is used for making arepas and is already pre-cooked.
For the filling, you will need a can of black beans, cumin, paprika, salt, lime juice, avocados, Cotija cheese or feta cheese. You may also want a teaspoon of butter.
Make the masa
In a large bowl, mix together corn flour and salt. Slowly pour in the water and mix with a wooden spoon. When dough starts to come together, continue kneading with your hands until a dough-like mixture is achieved. If a bit more water is needed, add it 1 teaspoon at a time.
Shape the gorditas
Divide the dough into four balls. Cut out two pieces of parchment paper, about 6 inches in diameter. Lay out one square of parchment paper on the table and place a dough ball on top. Cover with the second square of parchment. Top with a casserole dish or a baking sheet with a flat bottom, and apply light pressure to squish the gorditas slightly, until about 1-inch in thickness. Transfer prepared gordita onto a baking sheet until frying, and cover with a clean kitchen towel to avoid drying out. Repeat the process with the remaining dough.
Fry the gorditas
Heat a pan to high heat. Without adding oil, add the gorditas to the pan. Cook 5 minutes per side, until black spots appear and the gorditas turn slightly golden. Then turn the gordita over again, cook for 1-2 minutes more, and turn over again for another 1-2 minutes. Covering the gorditas with a lid during cooking helps them puff up to their name, as does the second round of cooking.
Season the beans
Serve the gorditas stuffed with beans, cheese, and avocado
Congratulations — it's time to dig into those freshly cooked gorditas! While they're still warm, cut into each gordita with a butter knife and if desired, add 1 teaspoon of butter into the center. Close the gordita until the butter permeates everything, about 5 seconds. This enriches their taste and makes them feel silkier and more luxurious.
Stuff each gordita with black beans, avocado slices, and cheese. Serve immediately. You may want to add hot sauce, or even your choice of salsa.