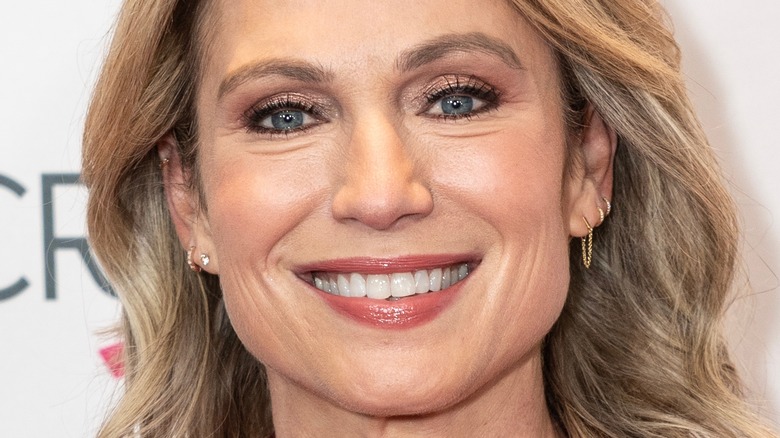 On November 30, 2022, Amy Robach and TJ Holmes' world as they knew it began to slowly crumble around them. That was the day when Daily Mail broke the news that the "GMA3" co-anchors were involved in a secret romance after spotting them getting cozy on numerous occasions. The intimate photos didn't lie and, according to insiders, their friendship had begun turning into something more months earlier. One source told the outlet that the shift was first noticeable "when they were in London together filming the Queen's Diamond Jubilee for ABC and staff were buzzing about the intimacy between them." Both Robach and Holmes were legally married at the time, although there was speculation they may have been separated from their spouses when they got together.
Whatever the actual timeline was, the revelation affected all aspects of the co-anchors' lives. It reportedly alienated them from fellow ABC News anchors, sparked a closer look at Holmes' alleged previous office affairs, and, in the end, it got them the boot from "Good Morning America." Simply put, the romance has cost Robach and Holmes a lot and the question is, was it worth it? And will it last? These red flags suggest their costly union may be doomed.
The relationship has cost them their careers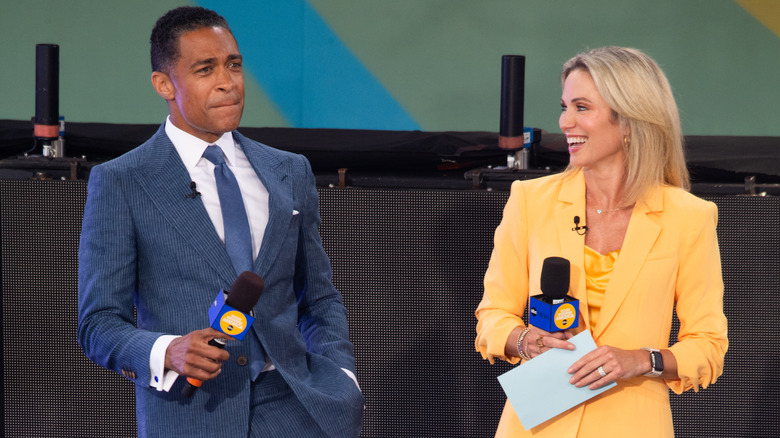 When news of Amy Robach and TJ Holmes' relationship first broke, the pair made light of the situation on-air. While hosting "GMA3" on December 2, 2022, Holmes joked, "It's too bad it's Friday, it's been a great week." Perhaps he did think it was funny or maybe they were sure they'd face no repercussions, but that's not how things played out. As Daily Mail reported, staffers urged the network to take action and fire both anchors. "We're a family friendly network and these two are not displaying family values or Disney's values," argued one employee.
Execs took note and both Robach and Holmes were pulled from the air. ABC News' President Kim Godwin told staff, per TMZ, "While that relationship is not a violation of company policy, I have really taken the last few days to think about and work through what I think is best for the ABC News organization." In the end, Godwin decided to temporarily replace them until an internal review was completed. On January 27, 2023, an ABC spokesperson confirmed to USA TODAY that the review was done and Robach and Holmes were out. "After several productive conversations with Amy Robach and T.J. Holmes about different options, we all agreed it's best for everyone that they move on from ABC News," they revealed. Both anchors received nice payouts and reportedly want to make a comeback with their own TV show, but their brand may be tarnished for good, which could very well lead to resentment down the line.
Amy Robach and TJ Holmes' union may be based on a lie
Amy Robach and TJ Holmes haven't spoken about their relationship, but according to one source, they have nothing to be ashamed of. Apparently, they both broke up with their spouses in August 2022 and didn't begin a romance until later. "They were both separated so they felt very comfortable dating in the open after that," an insider told People. "Their spouses had moved out even, so they were not hiding anything." However, others tell a different story. Another source told the outlet that rumors of an affair between Robach and Holmes had been swirling for at least a year because of their visible chemistry. Indeed, even Robach herself spoke about their special bond, saying, "The moment he started at ABC, I think we just clicked."
So was it an affair or not? We may never know for sure, but what we do know is that Robach's husband, Andrew Shue, reportedly moved out earlier that summer following years of drama. Interestingly, though, the pair didn't get close to finalizing their divorce until after the scandal broke, per Page Six. As for Holmes' wife, Marilee Fiebig, insiders claim she believed they were simply taking a break and working things out. "She's devastated," a source told Page Six. "She had no idea." Meanwhile, another insider told Page Six, "She never thought about [him] with Amy because they were friends." As Robach once told People, they were incredibly close. "We've gone on tons of double dates with our spouses and my daughters babysit his daughters," she gushed.
Is TJ Holmes a serial cheater?
Amy Robach may not be the only co-worker that TJ Holmes has been involved with. In December 2022, Page Six learned that he reportedly had a three-year affair with married "Good Morning America" producer Natasha Singh. Their relationship allegedly began in 2016 and only ended in 2019 after Holmes' wife, Marilee Fiebig, discovered incriminating emails. Holmes quickly called it quits to rekindle his marriage, but according to one source, he and Singh had been serious: "He had a key to her apartment."
Another indiscretion came to light in January 2023 when Daily Mail discovered the story of Jasmin Pettaway. Pettaway was a 24-year-old intern at ABC when, in 2015, she reached out to several staffers looking for a mentor. Holmes is said to have agreed and at first, things were professional. Then, one day, Pettaway was allegedly called to Holmes' office where they had sex shortly before he went on-air. "He just didn't seem to care," a source said. "He's wearing his ring, he has a wife, he has a relatively high-profile job, but he wasn't acting like he was concerned about either of those things at the time." The relationship reportedly lasted a few months before Holmes called it off. "He had it all on his terms," the insider claimed. "He was a predator who took full advantage of his position, and he was reckless." Interestingly, an ABC insider validated the allegations, telling Page Six, "There is already an internal investigation underway into if anything happened between T.J. and Jasmin Pettaway."
Their friends and colleagues don't approve
Amy Robach and TJ Holmes' romance isn't getting much support and they may soon find themselves caving to outside voices. Especially since many of those detractors happen to be their friends. According to Page Six, a lot of Robach's BFFs have some strong anti-Holmes opinions. "There are people who are super close to her saying, 'What are you doing? Maybe you should think about this?'" a source told the outlet, adding, "No one wants a part of their mess." One of Robach's friends even told Radar, "[We] are really trying to get through to her," but she's not listening. "It feels like Amy threw away her career. She's talented. She's so good. Why did she do this? How long is it going to last?"
And it's not just personal allies they've alienated. "Amy and T.J. have lost a lot of friends who are coworkers over this," a source told Us Weekly. "They can't talk to them or trust them." Indeed, fellow news personality Megyn Kelly had no qualms about unleashing a tirade on the couple on her Sirius XM show. "They cheated on their spouses; They cheated on their children," Kelly slammed. "Act like it's sad. Stop projecting 'I don't give a s*** about anybody who I hurt.'" And yet, that's what they've been doing. Robach and Holmes appear unfazed by the drama and just hours after they were fired, The U.S. Sun obtained photos of them showing off major PDA with Robach actually straddling her flame.
How are their kids taking it?
Amy Robach And TJ Holmes have lost their friends' support and they're not faring much better in the family department. Holmes has one daughter with Marilee Fiebig, Sabine, and as Fiebig's divorce attorney, Stephanie Lehman, told Daily Mail, "Marilee's sole focus has remained on the overall best interest of her 9-year-old daughter." Given the public and dramatic nature of her parents' split, it's not hard to imagine that Sabine would find the news even more difficult to process. Indeed, Lehman slammed, "We continue to be disappointed by T.J's lack of discretion, respect and sensitivity toward Marilee and the party's daughter." In January 2023, Fiebig shared an Instagram post to her Stories titled "What to do when a child is worried," which many thought may be a cryptic message about Sabine.
As for Amy Robach, she and Andrew Shue didn't have any children together, but their kiddos from previous relationships had very different reactions to their split. Robach's two daughters with ex-husband Tim McIntosh — Ava and Analise — apparently aren't letting the saga affect them and, as Hello! pointed out, their Instagram posts have continued to be fun and carefree. Meanwhile, Shue's eldest son with ex-wife Jennifer Hageney, Nathaniel, appears to be using Instagram to post veiled slights at Robach. As Us Weekly noticed, he posted a GIF of Jimmy Fallon captioned "Let's just move on!" and U.S. Sun also spotted him sharing a clip from "The Notebook" in which Allie (Rachel McAdams) proclaims, "My mother is unconscionably rude."