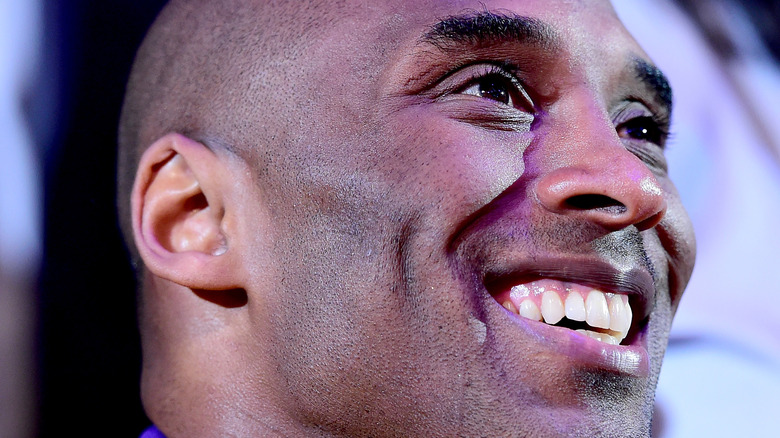 It is easy to go in circles arguing, debating, and brawling over the greatest players in the history of the National Basketball Association — a fruitless argument that has likely led to the end of countless friendships and marriages. It's perhaps more interesting and nuanced to break down the statistical leaders across the numerous categories throughout the history of the league.
Examining the historical leaders in assists, rebounds, blocks, and steals helps one understand the game of basketball from different perspectives. And while points scored in a single game doesn't necessarily equate to "greatest" overall, it is still fascinating to see the list of those who are part of a rather exclusive club: those players who have scored 70 points or more in a single game. It's a feat that has only been accomplished by seven players throughout the entire history of the NBA, beginning with the first in 1960 and the latest occurring in 2023. Here are the only NBA players to score 70 points in a game — and one who surprisingly didn't.
Donovan Mitchell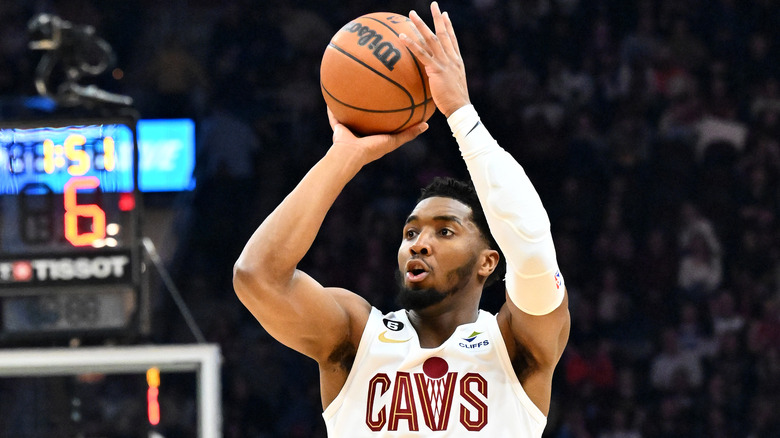 While playing in a heated overtime match against the Chicago Bulls in January 2023, shooting guard Donovan Mitchell of the Cleveland Cavaliers became the latest and only seventh-ever NBA player to score 70 or more points during a single game (and only the twelfth to reach that total ever).
Leading up to the history-making game, the former Utah Jazz star (a 2018 All-Rookie in 2018 after being drafted in the first round out of the University of Louisville, per ESPN) already had a solid start to his career, averaging over 20 points per game in each of his first five seasons. In his first season with the Cleveland Cavaliers, Mitchell was putting up career-best numbers before the night that he exploded for 71 points, helping lead his team to a 145-134 win.
Afterward, Mitchell himself even had trouble believing it. "This is nuts," he said after the game, according to Fox Sports, adding that he was "blessed and humbled" to enter the record books, but that he still had work to do (and a championship to help his team win).
Devin Booker
The Phoenix Suns shooting guard Devin Booker joined the ranks of the 70-point club on March 24, 2017. During the game against the Boston Celtics, Booker scored 70 points even, also pulling down eight rebounds with six assists. This made him only the sixth player in the history of the NBA to score at least 70 points in a single game. According to Bleacher Report, he was also the youngest to do so, being only twenty years old. At the time of this accomplishment, according to NBA.com, that made him the only active player in the NBA who had scored 70 points in a single NBA basketball game.
Booker nailed 24 out of 26 shots from the free-throw line (per ESPN), an accomplishment worthy of praise by itself. And while he had a solid first half with 19 points, it was during the second half that he exploded from the field, scoring the other 51 of his points (per The Sporting News). As reported by AP (via CBS Sports), despite Booker's success at the bucket, they still lost the game to Boston with a score of 130-120, due in part to Boston scoring prolifically from behind the three-point line.
Kobe Bryant
It was a Sunday night home game in Los Angeles when Kobe Bryant of the Lakers scored an astonishing 81 points in a single regulation game. It was a game in which the Toronto Raptors managed to stay ahead through most of the first three-quarters of the game (per ESPN), but ultimately couldn't keep up with the Lakers as the game neared its end — and Bryant played so explosively. As reported by AP at the time, Bryant had only 26 points at half time, before following it up with 27 and 28 points respectively over the next two quarters.
As described by Yahoo! Sports, Bryant also accomplished this feat at a time before there was a better understanding of efficiency on the court, and had he taken some of his shots from more efficient locations (giving him more three-point shots or increasing his likelihood of being fouled), Bryant could have cracked 90 points that evening. Nonetheless, he ultimately made 28 of his 46 field goal attempts and 18 out of 20 field goals, along with six rebounds, three steals, and two assists, according to ESPN. It was a remarkable performance, and remains the second-most points ever scored by a player in a single game.
David Robinson
San Antonio Spurs center David Robinson, nicknamed "The Admiral" during his tenure in the NBA, has been described by NBA.com as one of the game's "greatest big men," a powerful player who during his first six years in the league won award after award including (but not limited to) Rookie of the Year and the league's Most Valuable Player.
It was during an away game against the Los Angeles Clippers on April 24, 1994, though, that granted him another tally to his many accomplishments: becoming the fourth player to score 70 or more points in a game. In the game, Robinson scored 71 total points – a feat not accomplished since 1978 – scoring 26 out of 41 shots from the field, and sinking 18 of his 25 foul shots (per ESPN).
As described by The Sporting News, the season was near its end, and Robinson was in a battle for the scoring title with Orlando Magic's Shaquille O'Neal. Ultimately, with the support of his team and coach to take the needed shots, it was enough for Robinson to outscore Shaq during the regular season by a mere six points (per Bleacher Report). "He was on a rampage," ESPN's Stuart Scott said of Robinson afterwards (per San Antonio Express-News).
David Thompson
Forward David Thompson of the Denver Nuggets became the third player to join the 70-point club on April 9, 1978, when he helped lead the Nuggets to a victory against the Detroit Pistons. Scoring 73 points with an absolutely astonishing 28 of his 38 field goal attempts hitting home, he also successfully made 17 out of 20 free throws (per Basketball Reference).
As described by NBA.com, Thompson was vying for the season-scoring title against George Gervin of the San Antonio Spurs. With this motivation, and the full support of his coach, Thompson exploded on the offense that game. While he still came up short on the scoring title — closer than anyone in NBA history, per the Naismith Memorial Basketball Hall of Fame (into which he was inducted in 1996) — he still etched his name into the history books.
Decades later, Thompson still considered his one-on-one skills to have been nigh unbeatable in his prime, claiming in 2013 that he could have taken on the best that successive generations produced, including the 21st-century star LeBron James. "We all would think we would win," he said (per Bleacher Report). "I'm the same way. I was really good at one-on-one."
Elgin Baylor
Small forward Elgin Baylor was the first-ever player in the NBA to score 70 points in a single game. The November 15, 1960 match was between Baylor's Los Angeles Lakers on the home court of the New York Knicks: the legendary Madison Square Garden. Baylor scored 15 out of his 19 free throws, and the rest of his score was evenly split between field goals and rebounds. As explained by The Sporting News, Baylor was having a phenomenal month on offense, averaging nearly 40 points per game in November, while eventually completing the season with an average of 34.3 points per game.
While he may not be the household name of other NBA superstars, Britannica states that Baylor is considered one of the NBA's best-ever forwards, a recognition shared by the Hall of Fame with his induction in 1977. According to the Naismith Memorial Basketball Hall of Fame, his unique and competitive offensive playing style influenced two other future hall-of-famers: Julius Erving and Michael Jordan.