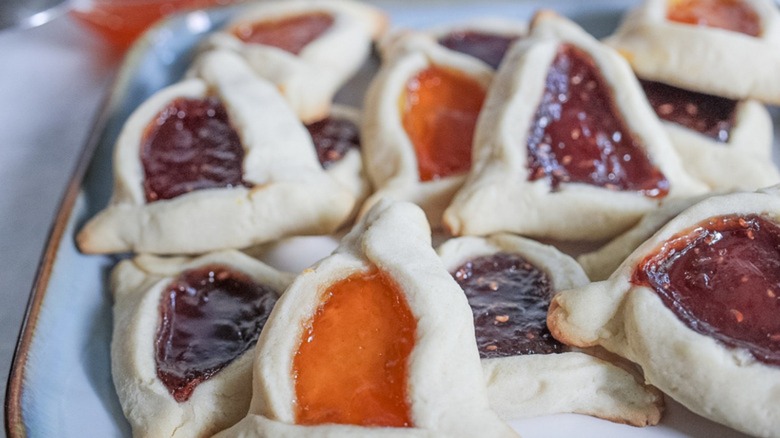 Purim may not be the biggest Jewish holiday, but it's certainly one of the most fun to celebrate. It's meant as a time to commemorate the heroic exploits of Queen Esther, a nice Jewish girl who became Queen of Persia and thwarted a plot by biblical bad guy Haman to make away with her co-religionists. On Purim, people will often gather in synagogues to hear the Book of Esther read aloud, but it's hardly a solemn occasion. If you think about it in terms of viewer participation, Purim services may have been the original "Rocky Horror Picture Show." Not only do some audience members dress up in costumes, but they also employ props such as the noisemakers (called "groggers") used to drown out Haman's name whenever it comes up in the narrative.
Food, of course, also plays a major part in Purim festivities. The typical menu at a Purim seder may vary by location, but will often include such traditional Jewish and/or Eastern European dishes as challah bread, cabbage rolls, and the ubiquitous brisket. Purim is also a time for eating beans, nuts, and seeds as these were the only foods Queen Esther could eat in order to could keep kosher in ancient Persia. If there's one single food that symbolizes Purim, though, that would be the triangle-shaped cookies known as hamantaschen. Of course, we have a recipe for these, as well as for everything else you'll need to throw an epic Purim feast.
1. Classic Jam-Filled Hamantaschen Recipe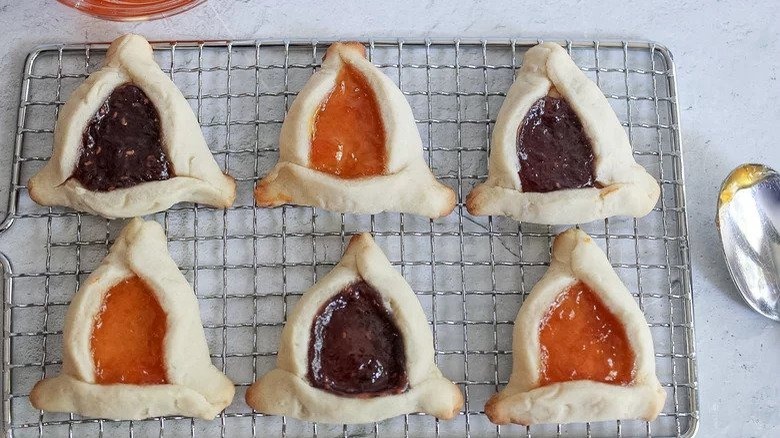 Hamantaschen, as one story goes, are shaped like triangles in order to remind us of the pointy hat that Haman may (or may not) have worn. The original pastries were filled with poppy seeds as the seeds are not only reminiscent of Queen Esther's seed-heavy diet, but also of the coins that filled greedy Haman's pockets. The cookies in this recipe, however, have apricot and raspberry jam centers, although you can easily swap these out for canned poppy seed filling or go non-traditional with something like Nutella if you prefer.
Recipe: Classic Jam-Filled Hamantaschen
2. Cabbage Rolls
Cabbage rolls are a popular dish throughout Eastern Europe, but in Poland, Hungary, and Lithuania they are considered a must-have for the Purim spread. They may even have symbolic value, as the filling inside the rolls is seen by some as a metaphor for God's undercover miracles (working in mysterious ways and all that). Our recipe is a fairly traditional one as it uses a mixture of ground beef, pork, and rice to stuff boiled cabbage leaves. It then bakes the rolls in a sweet and tangy tomato sauce. If you have leftover cabbage, you can always use it to make the cabbage and noodle dish known as haluski (see below).
Recipe: Cabbage Rolls
3. Polish Haluski
While haluski isn't a Purim-specific dish, it does make a great way to use up some of the leftovers from making stuffed cabbage. Eaten on its own, this dish of butter-sauteed cabbage and onions mixed with egg noodles can make for a cheap and filling side dish that will complement many a main course. If you like, however, you can also convert it into an easy entrée by adding a sliced-up smoked sausage such as kielbasa.
Recipe: Polish Haluski
4. Beef Brisket
You simply can't have a Jewish holiday meal without brisket … well, unless the rest of the menu involves a lot of dairy products and you're keeping kosher, since the laws of kashrut forbid eating both meat and milk products in the same meal. Assuming you're going the fleishig route with a meat-centric meal, though, or else you adhere to a reform doctrine without strict dietary laws, this slow-roasted brisket in onion gravy will make the perfect centerpiece for your Purim seder.
Recipe: Beef Brisket
5. Challah
Certain Jewish communities, particularly in Russia, have special challah recipes just for Purim, including a super-sweet dessert-like bread and a crown-shaped one filled with poppy seeds. While this recipe is for the standard type of challah bread and is only slightly sweet, this means that it should pair nicely with brisket, chicken, or whatever else is on the table at your Purim feast. Please note, though, that this braided yeast bread is not for amateur bakers! You might need to practice making it a few times before you produce a loaf that's ready for public consumption.
Recipe: Challah
6. Slow Cooker Boston Baked Beans
Back during the time of Christ (who was, as you will recall, a Jew), one popular sabbath meal was a slow-cooked bean dish known as cholent. In fact, some speculate that cholent could have been featured on the menu at the Last Supper and if it had only been around in ancient Persia, we feel sure that Queen Esther would have been a fan. Boston baked beans, believe it or not, may be a somewhat more modern descendant of this ancient dish. One theory behind their origin is that they were adapted from a recipe that the Pilgrims learned from Sephardic Jews during their mutual exile in The Netherlands. Venerable as these smoky-sweet baked beans may be, you won't need an old-timey beanpot to make our 21st-century version as we're opting for a slow cooker, instead.
Recipe: Slow Cooker Boston Baked Beans
7. White Bean And Kale Soup
While kale may be a super-healthy superfood, it's still not something everyone wants to see in their smoothie, and kale salads can admittedly be a bit hard on the digestion. When kale is cooked into a soup, however, it becomes softer, milder, and much more palatable. Pairing it with white beans adds some protein to the soup, while the addition of onions, garlic, and lemon juice ensures that there's plenty of flavor.
Recipe: White Bean And Kale Soup
8. Simple Falafel
As the primary ingredient in these falafel balls is chickpeas and they also contain sesame seeds, they'd probably have fit quite nicely into Queen Esther's diet plan. You can eat the falafel fresh out of the fryer with a drizzle of tahini sauce or a schmear of hummus – stick toothpicks into them if you're making up a party platter. Another way to eat them is to sandwich them in a pita pocket or a flour tortilla and top them with lettuce, tomatoes, onions, and maybe some pepperoncini.
Recipe: Simple Falafel
9. Caramelized Onion Hummus
If you'd like a little sauce or dip for that falafel, may we suggest this homemade hummus flavored with caramelized onions? Yes, it will take some time to caramelize the onions — while the recipe directions call for 25 minutes, many experts say it takes more like 45 minutes to 1 hour for true caramelization to kick in. Once the onions are done, though, the rest of this super-tasty hummus comes together in a flash, or rather, a whirr of the food processor.
Recipe: Caramelized Onion Hummus
10. Lentil And Spinach Salad
Lentils, an often underrated but nevertheless laudable legume, are here being used to top a tasty spinach salad in combination with feta cheese, black olives, and both raw and fried onions. While you could serve it as a side dish for your Purim dinner (omitting the cheese, of course, if you're keeping kosher), it's got plenty of protein and could be paired with the bean and kale soup above to make for a vegetarian entrée.
Recipe: Lentil And Spinach Salad
11. Brined And Smoked Turkey
Turkey may be traditional for Thanksgiving, but it's also eaten at Purim. The reason for this is that turkeys have long had a reputation for being not too bright, so this bird-brained bird is eaten in "honor" of King Ahasuerus, the ruler who failed to notice that his prime minister (Haman) was actually a pretty evil guy. The wet-brined and dry-rubbed smoked turkey here would do old King A proud – and yes, while smoking 15 pounds of meat generally does require doing it outdoors, you only need brave the cold weather every so often to check on this slow-cooking dish.
Recipe: Brined And Smoked Turkey
12. Easy Baked Rice Pilaf
Rice pilaf is a dish that may have originated in Asia, but variants have long since spread throughout the Middle East and Europe. This veggie-enhanced rice dish makes a great side for brisket, turkey, or any other Purim entrée. What we like best about this easy recipe, though, is that the rice bakes in the oven so there's no need to keep a close eye on a steaming pot on the stove.
Recipe: Easy Baked Rice Pilaf
13. Copycat Costco Almond Poppy Seed Muffins
During Passover, strict Orthodox Jews purge their pantries of chametz consisting of leavened foods, leavened products, and anything containing barley, oats, rye, spelt, or wheat. As Purim is the last pre-Passover holiday, people can take this opportunity to use up the last of the flour, baking powder, etc. by doing a lot of baking. Even if you're not Orthodox, the holiday still makes a great time to whip up a batch of these muffins. Not only are they delicious, but they're particularly Purim-appropriate due to the poppy seeds they contain.
Recipe: Copycat Costco Almond Poppy Seed Muffins
14. Classic Falafel Sandwiches
While the main Purim seder is likely to be a sit-down meal with a roast and all manner of sides, the holiday lasts all day, or rather from one sundown to the next. This means you may find yourself in need of a Purim-appropriate lunch, as well and these falafel sandwiches will fit the bill nicely. The falafel in this recipe is shaped into patties before baking, the easier to fit into pita pockets and have room left over for plenty of lettuce, tomatoes, onions, and tahini sauce.
Recipe: Classic Falafel Sandwiches
15. Homemade Pita Bread
If you really want to show off your kitchen skills, plus do some pre-Passover cabinet-clearing, you might like to try making your own pita bread for sandwich making or hummus-dipping. As it is a yeast bread, it will take some time and effort, but it's nowhere near as tricky as something like sourdough so you won't need expert-level baking skills to pull it off. What's more, once the dough has risen and been shaped into rounds, these pitas bake up in a matter of minutes.
Recipe: Homemade Pita Bread
16. Lemon Hummus
Sesame seed-based tahini and chickpeas are two of the main ingredients in hummus, but both have a flavor that is somewhat bland so there's also a need for additional flavoring agents. While hummus these days comes in many flavors, including fruit and chocolate, traditional hummus is usually made with garlic and lemon juice. In this particular recipe, we're sticking close to the classic version but doubling down on the lemony flavor with both zest and juice to make for an extra-tangy dip.
Recipe: Lemon Hummus
17. Best Instant Pot Chickpeas
While many hummus recipes start with canned chickpeas, the real DIYer will want to use dried ones, instead. Dried beans are cheaper and can easily be cooked in a pot on the stove, but should you happen to have an Instant Pot, you can use that handy-dandy pressure cooker, as well. The chickpeas in this recipe will be ready in about an hour and a half if you count the time necessary to heat up the pot and then release the pressure. Once they're cooked, you can use them not only to make hummus, but also to top a salad or stir into a soup or curry.
Recipe: Best Instant Pot Chickpeas
18. Slow Cooker Lentil Soup
Homemade lentil soup simmering in a slow cooker is a great dish to have on hand if you've got a houseful of guests for your Purim seder. If you start the soup in the morning, you'll have something to offer anyone who gets hungry a few hours before the evening meal. This specific recipe is vegan, too, so it's great for anyone who shares Queen Esther's penchant for plant-based eating.
Recipe: Slow Cooker Lentil Soup
19. Instant Pot Cornish Hen
If your Purim seder is a small one, you may not need an entire brisket or roast turkey. A cornish game hen, however, makes a perfect meal for just one or two diners. This fairly quick recipe involves dry-brining the bird for just 15 minutes, then searing and cooking it in the Instant Pot for approximately 15 minutes in all, plus however long it takes your appliance to pressure up and then release. No Instant Pot? You can still do the 15-minute brine, then roast the bird in the oven for about ½ hour. As game hens only weigh a couple of pounds, they don't require much cooking time no matter what method you use.
Recipe: Instant Pot Cornish Hen
20. Tabbouleh
Tabbouleh is a Middle Eastern dish that combines both starch and salad. This version is made with the traditional cooked bulgur wheat, with chopped mint and parsley. green onions, cherry tomatoes, green onions, and cucumbers adding the salad-like element. The resulting mélange is topped with a zingy dressing of lemon juice, garlic, and olive oil. The best part of this great-tasting dish is that you can make it well in advance of your holiday meal since the flavor will only improve after a day or so in the refrigerator.
Recipe: Tabbouleh
21. Homemade Pesto Hummus
This pesto hummus is the Mediterranean-slash-Middle Eastern mashup you've been waiting for. It's also quite a time saver since although both the pesto and hummus are made from scratch, you don't need to prepare them separately. Instead, you just combine the chickpeas, tahini, olive oil, garlic, and lemon juice for the hummus with the parmesan, basil, and pine nuts for the pesto and puree them all together in a food processor. In a matter of minutes you'll have a great appetizer for your Purim spread – just add crackers, crostini, crudites, or pita bread.
Recipe: Homemade Pesto Hummus
22. Easy Baked Samosas
Purim celebrations often include triangular-shaped foods reminiscent of the pointy little hat said to have been worn by Haman, the Book of Esther's pointy-headed villain. Hamantaschen are a prime example, as are kreplach, but for a slightly different spin on the tradition, these triangular samosas will also work quite nicely. They are really quite easy to put together as the wrappers are made from frozen phyllo dough, while the filling consists of curry-spiced boiled potatoes and peas.
Recipe: Easy Baked Samosas
23. Air Fryer Falafel
Falafel is often fried and can also be baked, but here we're taking the middle road by using an air fryer to cook it. The ground chickpeas used to make the falafel are spiced up with the addition of jalapenos. They also get some extra flavor from garlic, onions, cilantro, and lemon juice. While here the falafel mixture is shaped into patties, the better to facilitate tucking into pita pockets for sandwiches, you can also form it into balls if that's your preference.
Recipe: Air Fryer Falafel
24. Everything Bagel Chicken
Poppy seeds are often used in baked goods like hamantaschen, muffins, breads and bagels, but in recent years, everything bagel seasoning has helped to make the poppy seed even more popular by introducing this versatile ingredient to dips and main dishes, as well. Here a homemade version of this versatile seed and spice blend is used to make a deliciously crunchy coating for sauteed chicken breasts. These could be an appropriate entrée for a single-family Purim seder, although you'll need to skip the cream cheese filling if you're keeping kosher.
Recipe: Everything Bagel Chicken
25. Easy Challah
While this challah recipe is billed as easy, the multiple steps (there are 16 in all) might tip you off to the fact that there's still going to be quite a bit of work involved. Yeast breads, after all, take time and effort, while a challah loaf, furthermore, must be braided before it's baked. Still, this bread is a worthwhile project to tackle, particularly for a holiday such as Purim. If you do manage to pull it off, just think how impressed all your seder guests will be!
Recipe: Easy Challah