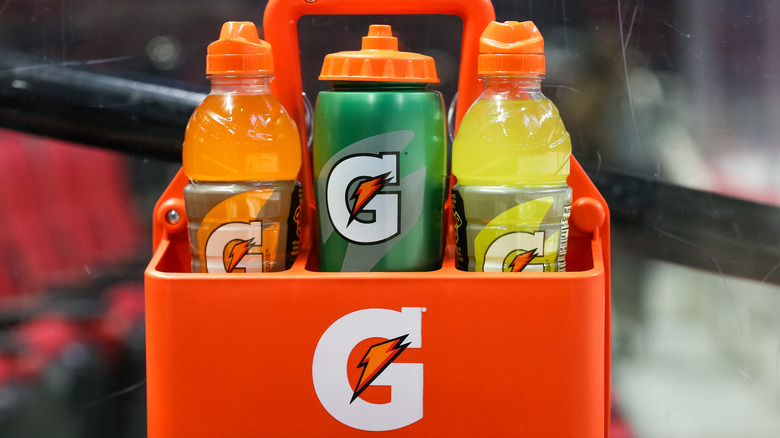 Since its inception, Gatorade has been the preeminent sports drink among athletes. Thanks to its tasty flavor and reasonable price, it's equally popular with the masses, too. Sold on multiple continents, Gatorade has a global presence, and its popularity doesn't appear to be waning any time soon. Perhaps part of what has made it so successful is its flexibility. The sports drink brand is constantly adapting and finding ways to stay relevant, whether it's rebranding or partnering with a celebrity.
Gatorade remains interesting thanks to another classic business technique. Currently, Gatorade has dozens of flavors, and every so often it announces a new offering. While the buzz is good for business, the creation of a new flavor often comes at the expense of another type of Gatorade. Over more than 50 years in business, Gatorade has discontinued several flavors. Many people enjoyed them while they existed, but now they're nothing more than a distant memory. Let's pay homage to the discontinued Gatorade flavors you'll never drink again.
Gatorade Rain Lime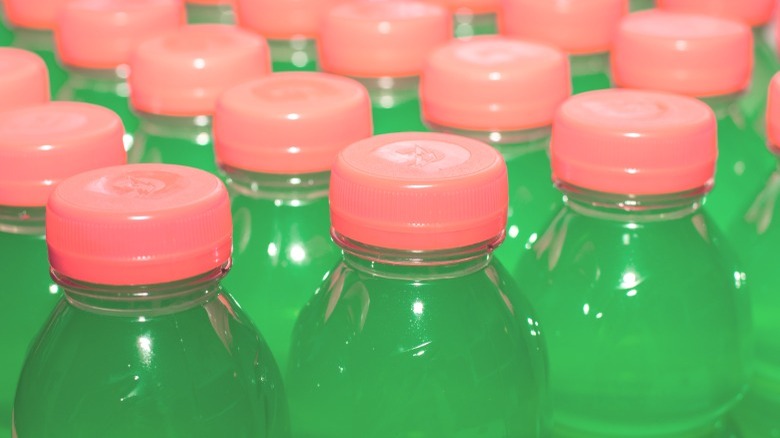 One of several bygone series, Gatorade Rain was once all the rage. The company produced several different flavors of it, presumably hoping to encourage more customers to try the new product. Rain Lime came in the standard Gatorade bottle (which has gone through several iterations itself), and it was a neon green color most of the drink's customers know well. Per the name, it had a citrus flavor and was in production for quite some time.
However, in 2016, the Gatorade social media team alerted a sorrowful customer via Twitter that the company had, in fact, discontinued the flavor. That being said, the employee assigned to replying to DMs assured the user they'd note their praiseful feedback.
The Twitter user isn't the only person who'd like to see Gatorade Rain Lime make a comeback. A man named Dan Ellis created a petition on Change.org urging the company to return the flavor to shelves, and it's garnered over 540 of the 1,000 signatures it's seeking. "Rain Lime was an amazing gatorade flavor […] I feel it should be on the permanent flavor roster alongside lemon lime, fruit punch, and all the other greats," the petition reads.
Gatorade Naturals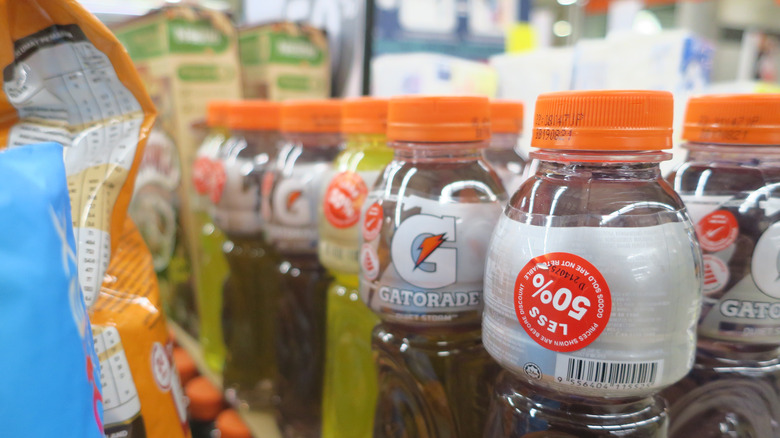 By and large, Americans are not a healthy group of people. A study conducted from 2009 to 2016 determined that only one in every eight American people "is achieving optimal metabolic health." During those same years, Gatorade discontinued its Naturals line of products. It had been created in an effort to meet the demands of consumers, as American people were seemingly growing concerned with health and fitness, particularly with the ingredients contained in their food and drinks. However, per PepsiCo's findings, after speaking with athletes regarding what they were seeking in a beverage, the Naturals drinks did not fit in with their needs.
The decision couldn't have been seen as that surprising since the health of Gatorade products has long been questioned. The company currently sells Gatorade Fit, a line that's supposed to be healthier than the regular sports drink. It too has been doubted for being as healthy as it purports. Gatorade also sells various plant-based protein products and supplements on its website, including several offerings from Muscle Milk and Evolve, and it has its own line of protein powder and bars. We'll let you be the judge on the health status of Gatorade products.