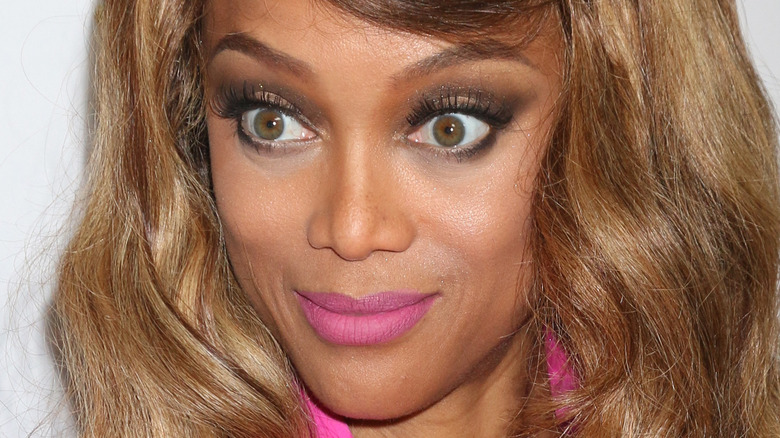 Celebrity feuds are nothing new — we saw plenty of them in the 1990s and in the 2000s — and although model spats don't make headlines as often, it seems models are far from immune to drama. From the '90s right up to today, a number of A-list supermodels have publicly dueled with one another and some of their altercations have become the stuff of legend. Whether it's model-turned-mogul Tyra Banks, OG diva Naomi Campbell, or next-gen supermodel Gigi Hadid, the catwalk can certainly get catty.
Indeed, the modeling industry is anything but easy. As CNN Money reported in 2016, models often work as independent contractors, which means they're not bound to receive minimum wage, benefits, or workplace protection. That means that making a living as a full-time model is seriously difficult. As the outlet notes, commissions, taxes, and other fees cut into profits and can slash a model's paycheck by over 50%. What's more, many still feel the industry is not at all inclusive and CNN Money also argued that it can be exploitative. Given such major struggles, those who do make it should be supportive and lift each other up, but often, they turn on one another instead. Case in point: These super famous models who could simply never get along.
Tyra Banks and Naomi Campbell's longstanding feud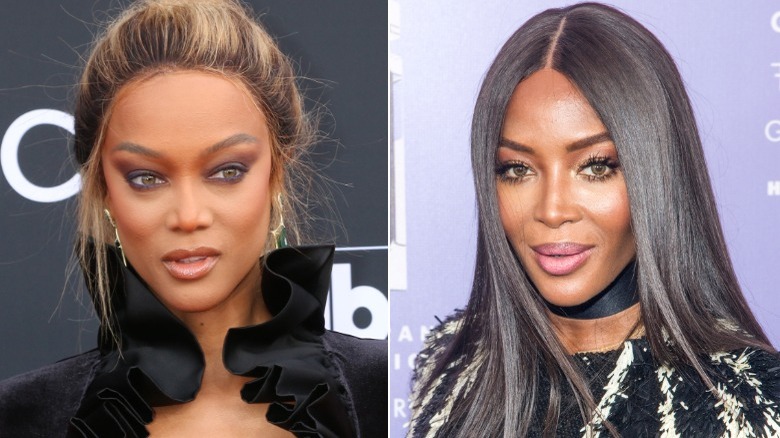 Tyra Banks and Naomi Campbell's feud is as legendary as the models themselves. According to Banks, it all began in 1991 when she arrived in Paris as a novice and not only scored magazine covers, but landed a historic 25 runaway shows. Then the comparisons started. "I did really well really fast, but then the industry was saying, 'Oh, look out Naomi Campbell, here comes Tyra Banks!'" Banks told Skavlan in 2016. Apparently, Campbell didn't appreciate that and turned on Banks. "To this day, I'm very scared of her," the "ANTM" star said. "It was very difficult — like some of my lowest times of my life — dealing with that." Speaking with The Wall Street Journal in 2019, Banks stated, "I was going home at night crying my eyes out because a woman that I was looking up to seemed like she just didn't want me to be there, and was doing everything in her power to make me go away."
They didn't speak for over a decade, but reunited on Banks' talk show in 2005 to hash things out. Banks accused Campbell of trying to sabotage her career and calling her names; Campbell said she remembered their interactions differently and flat-out denied some claims. In the end, however, she apologized. Even so, it seems their feud wasn't squashed. Per Page Six, in 2020, Campbell shared a TheThings article titled "Here's Why Fans Are Starting To Think Tyra Banks Is The Real Mean Girl, Not Naomi Campbell." Zoinks.
Elle Macpherson and Heidi Klum's title battle
Elle Macpherson was everywhere in the '90s and she was simply known as The Body. The moniker got its start when Macpherson landed on the cover of Time in the '80s and the publication gave her that nickname. She then fully embraced the title, even launching a line of intimates called The Body. Unsurprisingly, when Heidi Klum suddenly started using the nickname, Macpherson wasn't impressed and even considered taking legal action. It all started when, in a 2006 Victoria's Secret ad, Klum declared, "They call me The Body." She later argued it wasn't her doing. "It's not like I called myself The Body," Klum told Harper's Bazaar Australia (via the Daily Mail)."It wasn't like, 'Elle, I'm taking over this title.'" Even so, Macpherson's spokesperson told New York Daily News (via the Daily Mail), "We were initially flabbergasted." Listing the countless outlets that had referred to her client as The Body, she argued, "In terms of public record, that name belongs to Elle."
Adding fuel to the feud was a 2014 decision by lingerie brand Bendon to replace longtime creative director Macpherson with Klum. As the latter told Harper's Bazaar Australia (via Hello!), "It wasn't me knocking at the door saying I want to take over. It was offered to me." Yet again, Macpherson wasn't buying it. She quipped to The Telegraph, "Why would I be angry? That they took my clothes and ripped out the labels and put somebody else's in?"
Kate Moss regretted working with Mark Wahlberg
Back in 1992, a 17-year-old Kate Moss landed a Calvin Klein ad campaign that would help catapult her into the limelight. In one of the images, shared by Mirror, the future supermodel posed topless alongside a shirtless Mark Wahlberg and while the snaps were a hit, things were tough behind the scenes. "I was such a nervous wreck," Moss once said. "At the time he was such a d***head. He wasn't very nice." Even Calvin Klein admitted, "Oh my god, [Mark] and Kate couldn't stand each other."
At the time, Wahlberg wasn't exactly keen on playing nice in the public eye either. After they worked together, he took a dig at Moss' appearance, telling Nuts magazine (via Cosmopolitan), "She kind of looked like my nephew." Cut to 2020 when he insisted to The Guardian that there was never a feud between them, but did vaguely admit, "I think I was probably a little rough around the edges."
Indeed, Moss told Vanity Fair in 2012 she still regrets doing the shoot. "I had a nervous breakdown when I was 17 or 18, when I had to go and work with Marky Mark and Herb Ritts," she shared. "I felt really bad about straddling this buff guy … I couldn't get out of bed for two weeks." She later told BBC's Desert Island Discs in 2022 that she has no good memories of that project, noting that she didn't feel confident. "He was very macho, and it was all about him," she said.
Rebecca Romijn sparked Yolanda Hadid's wrath
There's been plenty of heated debate about how influencers have changed the modeling industry, and whether their presence is good or bad. Rebecca Romijn, for one, knows which side she's on. Back in 2016, the model told ET that she's not a fan of social media celebrities, like Kendall Jenner and Gigi Hadid, being booked as models. "No one has proven yet that numbers of followers translates to revenue, so it is frustrating," she said. "They are not true supermodels." She then turned on Vogue and other publications for fueling the shift. "I have been disappointed that fashion magazines have been supporting this trend of social media stars to set our style standards," she said.
Those bold comments sent Gigi Hadid's mom, Yolanda Hadid, into protective mama mode. Taking to Twitter, "The Real Housewives of Beverly Hills" star clapped back at Romijn, writing, "Kind, hard working and they accomplished more at half your age in the fashion industry." Instead of apologizing, Romijn told People, "I just couldn't believe that she got so involved." She then blamed the outlet for misrepresenting her words. "Her daughters' names never came into the original conversation," she said, clarifying, "I was speaking purely about how fashion shouldn't be following social media. Fashion should be leading the way." Romijn also took to Twitter to message Jenner and Hadid directly. Calling the story clickbait, she wrote, "Never talked smack about you. Both amazing & beautiful."
Stephanie Seymour brushed off Gigi Hadid and Kendall Jenner
Shutterstock, Larry Busacca/mtv1415/Getty Images
Rebecca Romijn's controversial comments may have upset Yolanda Hadid, but they did get support from one supermodel: Stephanie Seymour. When Vanity Fair asked Seymour whether she agreed that influencers shouldn't be considered supermodels, she mused, "They are completely different than we were." She went on to call Gigi Hadid and Kendall Jenner beautiful but said, "They need their own title." Her suggestion? "B***hes of the moment," she laughed.
Jenner wasn't impressed by the joke. Taking to her app (via E! News) the former reality star fired back at Seymour. "No one is trying to steal Stephanie Seymour's thing, or trying to be her," she wrote, noting that she used to look up to Seymour as a model. Jenner also wondered how Seymour would have felt if someone had said those things about her own daughter. "When I'm older, I'm going to be so nice to anyone who's trying to do the same thing as me," she added. "That's the classy way to behave."
Seymour then walked her comments back a bit. Taking to Instagram, she argued that her comments had been playful and insisted, "There were no names mentioned, and NO ill intent involved." She then tried to make nice, writing, "A supermodel is a supermodel. I respect and admire all these women in my industry, in particular Gigi Hadid and Kendall Jenner."
Janice Dickinson believes Tyra Banks doesn't like women
After "America's Next Top Model" made its way to Hulu, Tyra Banks' more questionable behavior in those old episodes came under fire. There was the time she put models in blackface, the instance where she mockingly told a contestant to close the gap in her teeth. and accusations that she shamed a runner-up for posing for Playboy. And according to Janice Dickinson's account, she wasn't just inconsiderate towards contestants. As Dickinson told Film On (via Digital Spy) following her exit, Banks was apparently rude to her on a regular basis during her four-season stint on the series. She also claimed Cover Girl had the final say in who won each season. Eesh.
Years later, Dickinson gave another shocking interview about "ANTM" — but not the bad kind of shocking. On a 2015 episode of "Oprah: Where Are They Now," she apologized for her prior remarks about Banks. "I was very hurt that I'd been fired and so I acted out," she shared.
Alas, it seems the water wasn't totally under the bridge. On a 2021 episode of the "Behind The Velvet Rope with David Yontef" podcast, she said, "Sitting next to Tyra for hours and hours can be daunting because she didn't really like me." Dickinson did appear to acknowledge that she dished it out a bit, too, noting that she didn't see Banks as her boss, but went on to claim that the series host and EP simply doesn't get along with other women in general.
Kristen McMenamy and Linda Evangelista locked horns
The '90s was the golden age of supermodels. There were seriously huge names taking the industry by storm — think Cindy Crawford, Christy Turlington, Claudia Schiffer — and two of the biggest were Kristen McMenamy and Linda Evangelista. However, despite all that star power, Donatella Versace told Love magazine in 2010 (via Independent), "It was a time when designers were afraid of models with fame." According to her, there was a question of whether or not the designs would be overshadowed, but she was ready to embrace the star power. As she put it, "Fame on fame means more fame!"
Gianni Versace was on board, and as Donatella told the outlet, she relished in the backstage drama between the supermodels. McMenamy and Evangelista were especially prone to catfights and Donatella was often asked to referee, which she did gladly. "Between [Kristen] and Linda, it was like watching a movie that never ends," she said to Love. The legendary designer remembered one spat in particular where the two supermodels apparently butted heads over the hair on their heads. "Kristen had arrived with black roots in blonde hair, and Linda arrived with black roots in blonde hair; and both of them went mad, both saying they were first," Donatella shared. Another time, it was about breast inserts. "[Linda] was about to put in her fake boobs and found one of them had been taken," she laughed. "I think it was Kristen — it was always Kristen."
Paulina Porizkova didn't mesh with Tyra Banks
Shutterstock, Shutterstock
When Paulina Porizkova was tapped to replace Twiggy on "America's Next Top Model" in 2007, she couldn't have imagined she'd be dropped just a year later. Porizkova herself broke the news on "The Late Late Show." "I wasn't aware of [my ego] until I was told by the producers that I have an ego problem," she said. The supermodel then told Access Hollywood that she had butted heads with Banks over punctuality. "I must admit I was having a little bit of an issue with Tyra being late for every judging," she lamented, noting that she didn't exactly hide her frustration on the set, either. What's more, Porizkova also claimed that Banks never once spoke to her. As for Banks, she responded with an official statement, saying, per The Cut, that it simply came down to budget cuts. "We've had to make significant cuts in every area of the production and, unfortunately, Paulina was a casualty of these cuts," she said.
The pair eventually made up (or appeared to) when they posed together at a 2019 Sports Illustrated party. Porizkova shared the snap on her Instagram and praised Banks for how she had handled their on-set feud. "While I was happily b**ching to anyone who'd listen, she kept her cool, and didn't stoop to my level," she wrote. "Thanks for the lesson, Tyra." Way to put the "aww" in "model."