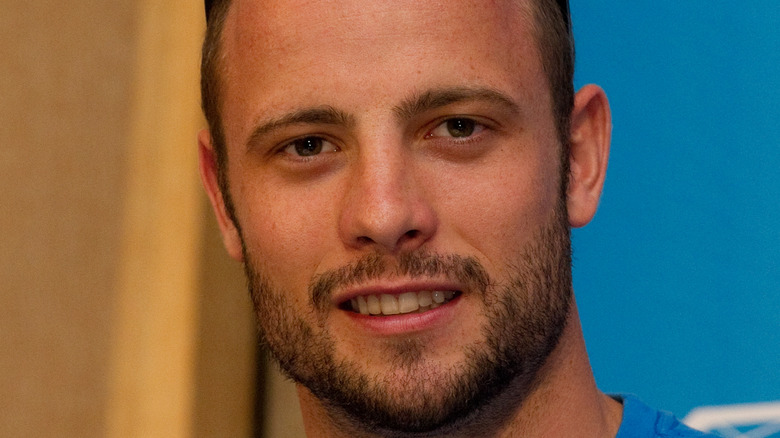 It's a hard fall from the glories of the sporting world to the terrifying and often demeaning world of prison. Athletes like the following were at the pinnacle of their respective sports, but after a few bad decisions, are now serving hard time.
Once the subject of water-cooler talk for their athletic prowess, then over their downfall, these athletes eventually found themselves in the waste paper basket of forgotten heroes. It's going to be a long time before any of these people can walk the streets and sign autographs, and some never will again. Here are the incredible athletes you forgot are currently in jail.
Content warning: The following article includes allegations and descriptions of child abuse, domestic abuse, and sexual assault.
Oscar Pistorius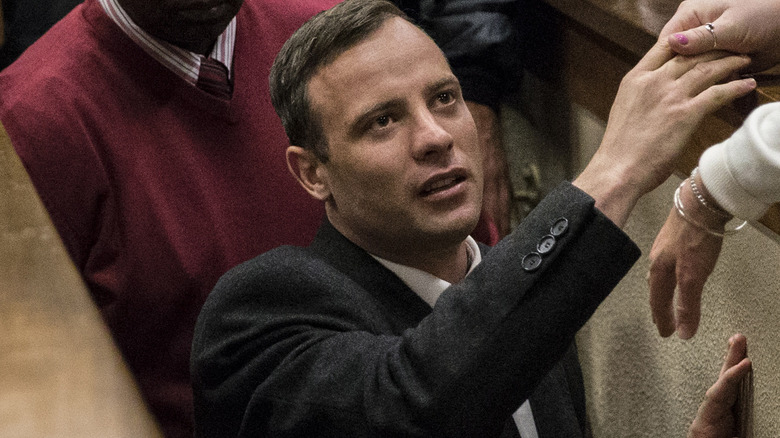 At one time, the story of Oscar Pistorius was among the most awe-inspiring in sports history. Born with a birth defect that left both of his legs without fibulas, Pistorius's lower legs were amputated when he was an infant. He was fitted with prosthetic legs and took up running at age 16. Just two years later, the "Blade Runner" won a gold medal at the Athens Paralympics in 2004, later competing in the 400-meter run at the 2012 London games.
Just six months later, on February 14, 2013, Pistorius was arrested in connection with the shooting death of his girlfriend, Reeva Steenkamp. As Steenkamp made preparations for Valentine's Day, Pistorius claims he mistook her for a home invader (per CNN) and shot her at their home in South Africa. Prosecution argued that the murder was premeditated, as Pistorius and Steenkamp often fought (and Pistorius had a history of violence against women, per Vanity Fair). After a seven-month trial, Pistorius was found guilty of culpable homicide (the South African legal system's equivalent of manslaughter) and served a year in prison before being released to house arrest. Then an appeals court overturned the conviction and Pistorius was found guilty of murder in a second trial. He was sentenced to 13 years behind bars, per CNN.
Craig Titus (and Kelly Ryan)
In the world of professional bodybuilding, Craig Titus and Kelly Ryan were stars, and their arrests and convictions rocked the sport. Titus started bodybuilding after high school, taking first place in the 1988 NPC Houston Bodybuilding Championships. Concurrent with his bodybuilding career, however, Titus lived a life of crime. In 1995 he was arrested in Louisiana for possession and intent to sell ecstasy; he later violated his parole by using steroids and had to serve a two-year sentence.
He got out in 1999, and his future was looking up in 2003 when he married fellow bodybuilder Kelly Ryan, who held a number of circuit wins and was a three-time Fitness Olympia runner-up. Then, in December 2005, the burned body of Melissa James, personal assistant to Titus and Ryan, was found in Ryan's car on a road outside Las Vegas. After avoiding police for over a week, the pair were arrested at a nail salon in Boston. The duo initially claimed that James died of a drug overdose and, fearing they'd be arrested, burned the body and abandoned it in a car and left town. However, police say James had been shot with a stun gun, been given morphine, and had been strangled to death with a wire. In 2008, Titus was sentenced to between 21 and 55 years in prison, while Ryan was given two consecutive terms of 3 to 13 years. Ryan was released on parole in 2017, per Fitness Volt.
Mel Hall
Mell Hall started playing pro ball for the Cubbies in 1981 and enjoyed a successful first full season in 1983, where he batted a respectable .283, smacked 17 homers, drove in 56 runs, and finished third in National League Rookie of the Year voting. He then played for the Cleveland Indians and New York Yankees before heading to Japan to play ball on a two-year, $4 million deal, per The New York Times. When it was all said and done, Hall had a very respectable baseball career as an above-average left-fielder.
Unfortunately, he wasn't done making headlines. In 2009, Hall was convicted of three counts of aggravated sexual assault and two counts of indecency with a child after raping a 12-year-old girl who played on the youth basketball team he coached. A jury found him guilty, and Hall was sentenced to 40 years in prison, with the need to serve 22.5 years before becoming eligible for parole. Defense attorney Brady Wyatt didn't agree with the call, stating, "For all the good this man has done in his life, it seems like this was an excessive verdict." That's right! Playing professional games and mentoring other athletes is really more worthwhile than keeping a child rapist in prison a little longer. Multiple individuals testified against the former baseball player, claiming that — in addition to his rape charge — he often acted inappropriately and had even lived with a 15-year-old girlfriend for several years, according to SB Nation.
Hall is currently locked up in a Texas prison and won't be going anywhere anytime soon.
Darren Sharper
One of the most high-profile professional athletes currently serving time is former broadcaster and five-time Pro Bowl NFL safety Darren Sharper. A member of the NFL's 2000s All Decade Team, Sharper enjoyed a highly successful collegiate and professional career. After retiring from the game, Sharper took on new activities, including working as an analyst for NFL Network and, unfortunately, the serial drugging and raping of "as many as 16 women in four states," as reported by The New York Times.
In August 2016, Sharper pleaded guilty or no contest in federal court and in four different state courts. A 15-page statement signed as part of the former Pro Bowler's plea deal states he or a former cop, Brandon Licciardi, would drug women with sedatives or anti-anxiety medication so Sharper could rape them. Sharper received a light sentence of 20 years by a Louisiana state judge after being sentenced to more than 18 years by a federal judge. Unbelievably, the high-profile athlete's multi-jurisdictional plea deal previously only called for nine years of incarceration — that was ultimately recognized as atrociously light.
Sharper is serving his time under federal custody, with some people, like Sports Illustrated's Peter King, (via Deadspin), arguing he should still be in the Hall of Fame.
David Meggett
As a kickoff and punt returner in the NFL, David Meggett led the league in punt return yards in his rookie season (1989-90). Along with 531 receiving yards and 117 rushing yards, that earned him a berth in the Pro Bowl. In his second season (1990-91), he once more led the league in punt return yardage and won a Super Bowl as a member of the New York Giants. He continued to put up big rushing and return numbers with various teams, all the way until he retired in 1998.
After his playing days, he built up a troubling rap sheet, per ESPN: he was arrested in Toronto for assaulting an escort and resigned as a Parks Director in North Carolina after being accused of assaulting an ex-girlfriend, for which he was convicted of misdemeanor sexual battery and received two years of probation. Then, in January 2009, he was charged with burglary and criminal sexual conduct. Authorities say Meggett raped a college student at her home in South Carolina. (He claimed it was consensual, as she was paying back a debt with sexual favors.) The plaintiff argued that she indeed owed Meggett $200 at the time of the crime, but awoke in the middle of the night to find him standing in her bedroom saying he "wanted a down payment." For this crime, Meggett was sentenced to a maximum of 30 years in prison.
Darryl Henley
An LA native, Darryl Henley was a star cornerback at UCLA, where he was a consensus All-American in 1988. He turned pro in 1989, drafted by the Los Angeles Rams, for whom he was defensive Rookie of the Year. He was in the starting lineup for six years and in December 1994 took the field for the Rams' last California home game before the team moved to St. Louis.
That would also turn out to be Henley's last pro game. In 1995, Henley was one of four defendants convicted in a cocaine trafficking case — Henley claimed only to have financed the criminal doings of a childhood friend. While in jail awaiting sentencing, he convinced a guard to smuggle him a cell phone. (It wasn't easy in 1995; cell phones were huge.) Henley used that phone to conduct business, according to the Los Angeles Times, like hiring a hitman to kill the judge who presided over his trial and a Rams cheerleader who had testified against him.
Ultimately, neither hit came through: federal agents had secretly tape-recorded Henley in his cell talking about the $100,000 hit jobs. In the summer of 1996, Henley stood trial for 13 new charges — as part of a plea deal, he admitted guilt to two counts of conspiracy to commit murder and one count of bribing a guard. The other ten charges were dropped, but Henley still got a long prison sentence: 41 years, with no chance of parole.
Clifford Etienne
Before sports, Clifford Etienne was basically a dumb high school kid who held up some customers at a shopping mall, per Sports Illustrated. Though 17, Etienne was tried as an adult and received a 40-year sentence. While behind bars, Etienne took up boxing and notched a 30-0 record, en route to becoming the champion of the Louisiana state prison's boxing circuit, per The Title Fight.
With good behavior, Etienne's sentence was cut way down to 10 years, and he immediately went pro upon his 1998 parole. Etienne quickly rose through the boxing ranks, winning 19 of his first 20 fights and compiling a 24-1-1 record by 2003. His status as a rising star was tarnished somewhat in 2003, however, after Mike Tyson knocked out Etienne just 49 seconds into the first round of their heavily publicized bout.
Etienne continued boxing but was soon back to his old criminal ways. In August 2005, Etienne broke into a check-cashing place in Baton Rouge, Louisiana, and stole $1,900, per ESPN. To get away, he tried to steal a car with two kids inside. When that didn't work, he stole another car … which also had two children inside. He didn't get far before he wrecked this one, police caught up to him, and he fired a malfunctioning gun.
His lawyers argued that Etienne was so high on drugs he wasn't aware of his actions and that he'd suffered brain damage from his boxing. Nonetheless, in 2006 Etienne was sentenced to more than 150 years in prison, although in 2013 it was reduced to a mere 105 years behind bars.
Stanley Wilson
A star running back at the University of Oklahoma, Stanley Wilson was selected in the ninth round of the 1983 NFL Draft by the Cincinnati Bengals. He wasn't as solid a pro as his college career indicated he'd be, but that was mainly because he struggled greatly with an addiction to cocaine.
Being a famous guy didn't help at all. For violating the NFL's drug policy, he was suspended for the entirety of the 1985 season … and then the 1987 season, too. Fortunately, he made it back to the Bengals in 1988, rushing for 398 yards and helping his team reach the Super Bowl. They lost, 20-16, but perhaps it would have gone the Bengals' way had Wilson actually played in the game.
But he didn't: The night before the Super Bowl, Wilson was caught by a Bengals coach high on cocaine (with powder all over his nose) in a hotel bathroom. That was Wilson's third violation under the NFL's "three strikes and you're out" rule, so he was banned for life. Continuing to be haunted by drug and mental health issues throughout the '90s, Wilson finished the decade by stealing an estimated $130,000 worth of jewelry, cameras, and other valuables from a house in Beverly Hills, per the Los Angeles Times.
Wilson had already served time for breaking into two houses in Long Beach, so he was sentenced harshly under the state of California's "three strikes and you're out rule." His 1999 sentence was for 23 years, so he's scheduled for parole in 2022.
Keith Wright
Defensive tackle Keith Wright was a sixth-round draft pick out of the University of Missouri who bounced around the NFL a lot, with stints in Houston, Indianapolis, Tampa Bay, Arizona, and Detroit. After some time with the Hamburg Sea Devils of NFL Europe, he returned home to northern California and finished flushing his career down the toilet with a slew of crimes — police linked him to three home invasions in 2011 alone.
In all, Wright rang up 19 felony charges over his spree, including kidnapping, armed robbery, false imprisonment, and sexual assault. A year later, he was given one of the longest sentences a former professional athlete (or anyone) ever faced: 234 years and eight months (via The Sportster). (The eight months are so he really learns his lesson). The judge also required him to pay restitution and court costs if he had any of his NFL money left over.
Gavin Grant
British soccer player Gavin Grant played for seven clubs between 2005 and 2010. But before any of that, it turns out he was a stone-cold murderer. In 2004, Grant had killed 21-year-old Leon Labastide, execution-style. Apparently, as reported by the BBC, a major burglary had transpired, in which over £20,000 was stolen. Labastide was accused of being the robber, but rather than calling the cops to have him arrested and put on trial, a man named Damien Williams hired Grant and another man named Gareth Downie to murder Labastide in retaliation.
This wasn't even the first time Grant had been charged with murder either. In 2007, he was on trial for the death of a man named Jahmall Moore, but he was cleared of any wrongdoing. Of course, since we now know he actually did kill someone, who knows what was missed in the Moore trial? Either way, Grant is paying the price, with a life sentence as of July 2010, and no shot at parole for 25 years. Plus, his entire soccer career is irrevocably tainted, since every ball he kicked, and every goal he scored, was the work of an experienced murderer.
Hiroshi Ogawa
Hiroshi Ogawa never made it to the American majors, but he was a star in Japanese baseball, playing for the Chiba Lotte Marines between 1985 and 1992. He also worked for them as an assistant coach until 1999. Unfortunately, after he left, he apparently ran into severe money issues and had tons of debt. Even more unfortunately, Ogawa chose robbery and murder as his financial solution, per The Japan Times.
On November 18, 2004, Ogawa was working at a waste disposal company. He went to the company chairman's house, and asked the housekeeper there, 67-year-old Kazuko Nishiuchi, to lend him money. She naturally refused, and this set Ogawa off. He shoved her down to the ground, which knocked her out. Then Ogawa robbed the place of ¥1.75 million, threw the still-unconscious Nishiuchi into his car, drove to a nearby pond, and threw her in, where she drowned.
The courts, as you might expect, were merciless. For the crimes of assault, grand theft, and murder, Ogawa received life in prison the following year.
Brandon Browner
Getty Images
After decades of futility and some hopeful playoff runs ended prematurely, the Seattle Seahawks finally became serious championship contenders in the 2010s. A lot of that was thanks to the Legion of Boom — the nickname given to the squad's frighteningly effective defensive backfield, originally led by Richard Sherman, Earl Thomas, Kam Chancellor, and Brandon Browner.
Undrafted out of Oregon State, the cornerback played in the Canadian Football League for a while before returning to the U.S. in 2011, becoming an integral piece of the player puzzle that led the Seahawks to victory in the 2014 Super Bowl. The next year, he won another ring as a member of the New England Patriots, this time playing against the Seahawks. He played one more season, but Browner unfortunately would make headlines three years later for his involvement in a horrific incident.
According to TMZ, police say that on July 8, 2018, Browner broke into the La Verne, California, apartment of his ex-girlfriend and then chased the woman around before attempting to smother her to death in a carpet. And he did it in front of her two children. He was soon arrested and faced life behind bars for an attempted murder charge. He avoided that fate with a no-contest plea, and in December 2018 was sentenced to eight years in prison.
Warrington Phillip
Between 1991 and 2000, Warrington Phillip played for the Leeward Islands, a top West Indies cricket team. He won two Red Stripe Cups and recorded over 650 runs in 50 matches. None of that meant a thing, though, after he did what he did to his wife.
On February 16, 2007, he slashed his wife to death, according to SKNVibes, following what appeared to be a domestic incident. Two years later, in February 2009, he was found guilty and almost sentenced to death, which the prosecution strenuously argued for. The only reason he wasn't was because the judge took into account his technically clean record (he almost certainly abused his wife in the past, though he was never arrested or charged with anything), and thus spared his life. She sentenced him to a life sentence in prison, and suggested he use the time to reflect on his actions.
Henri Zogaib
Henri Zogaib was a rising star in the auto-racing world, primarily driving sports cars and placing as high as seventh place in some races. He likely would've become even better, had he not thrown away his career while trying to make a Ponzi scheme work.
Zogaib invested over $5.4 million in other people's money, most notably his fellow racers. Through scam organizations such as Executive Investment Group LLC and Diversified Equity Investment Group LLC, Zogaib promised ridiculous, implausible returns of up to 40 percent on people's investments, according to the Orlando Sentinel. This, obviously, never transpired, and most of the scammed parties never saw their money ever again.
Zogaib was arrested in 2010 for this crime, and in December 2013 pleaded guilty to the charges. As a result, in February 2014 he was sentenced to 15 years in prison, 15 years of probation, and was ordered to pay back all the money he bilked from investors.
Mark Rogowski
As a teenager living in California in the 1980s, Mark Rogowski was in the right place at the right time, and with the right skills: He was among the first wave of professional skateboarders who brought mainstream attention to the sport, according to Mpora. By age 14, he was winning competitions around the state, and by 17 was earning more than $100,000 a year in winnings and endorsements, including the bestselling signature Gator board, designed for him by boardmaker Vision, per The New York Times.
But while cohorts like Tony Hawk became legends, Rogowski self-destructed, drinking and partying hard. Then things got really dark. In 1991, shortly after his girlfriend broke up with him, he ran into a woman named Jessica Bergsten, a friend of his ex whom he hadn't seen in a while. He later said that Bergsten reminded him too much of his ex, per Vice. That's why he severely beat her, then sexually assaulted and strangled her to death. Rogowski left her body in a surfboard bag and buried her in the California desert. Rogowski was later sentenced to 31 years to life but is eligible for parole. He was denied it in 2011, however, and isn't expected to get the green light to freedom anytime soon.
Eric Naposki
Linebacker Eric Naposki signed with the New England Patriots in 1988, playing there before being traded to the Indianapolis Colts. He got a lot more playing time when he switched over to the World League of American Football (later renamed NFL Europe), helping lead the awesomely named Barcelona Dragons to a World Bowl title in 1997.
But since 2011, he's spent his post-playing days behind bars for a crime committed way back in 1994. At that time, according to ESPN, he was seeing a woman named Nanette Packard, who was also dating a man named William McLaughlin. She was the beneficiary of McLaughlin's $1 million life insurance policy, which paid out when he was found dead in his home, shot six times. Packard was charged and imprisoned (she'd written herself hundreds of checks out of McLaughlin's account, which is the reddest of red flags), but police lacked evidence to definitively tie Naposki to the murder. However, they later discovered new evidence linking Naposki to the killing. He was charged in 2009 with being the trigger man, was convicted, and in 2011 was sentenced to life without parole.
Anthony Wayne Smith
Anthony Wayne Smith was a top draft pick for the Oakland Raiders in 1990, lasting seven years in the NFL and making a minor splash in the league, at best. Sadly, he was far more "successful" at the criminal side of life. In 2003, he was accused of firebombing a furniture store, a charge that ultimately went nowhere after two juries couldn't reach a verdict.
Later, he was arrested and put on trial for killing three men: brothers Ricky and Kevin Nettles in 1999, and Dennis Henderson in 2001. Worse than simply killing them, he played with them too. With the Nettle brothers, especially, he disguised himself as a police officer and approached them at their car wash. Then, he kidnapped them, tortured them, and finally shot them to death. With Henderson, he was more straightforward, simply kidnapping him and then stabbing him to death.
In January 2016, Smith was found guilty of the three murders (the jury deadlocked on a fourth death), and he earned himself three consecutive life sentences, per the Los Angeles Times.
James Butler
James Butler was a fine pro boxer, with a 20-5 record and twelve knockouts. Unfortunately for him, he's more known now for being a murderer than anything else, according to ESPN.
On October 17, 2004, the body of freelance sports writer Sam Kellerman was found in his apartment, which had been set ablaze. Quickly, Butler was pegged as a suspect and arrested. His trial was set to begin March 27, 2006, but before it could, he pleaded guilty to both arson and voluntary manslaughter. As a result, the judge sentenced him to 29 years and four months in jail, with 613 days already served. He also ordered Butler to pay over $17,000 in funeral expenses to Kellerman's family, along with $10,000 to the state and almost $12,000 to reimburse the landlord of the apartment he torched.
As for why he did it, prosecutors believe that Butler, whose career and relationship with his girlfriend were both sputtering, was staying at Kellerman's home, and the two may have had a disagreement over how long he could stay. Butler, angry over possibly getting kicked out, apparently responded by bludgeoning his friend to death with a hammer, then setting his home on fire.
Javaris Crittenton
Javaris Crittenton had the potential to be a major NBA star. He was a standout at Southwest Atlanta Christian Academy and put up good numbers as the starting point guard for Georgia Tech. In 2007, he was drafted in the first round by the Los Angeles Lakers. Then he moved to Los Angeles and celebrated his newfound fame by joining a street gang.
In 2011, Crittenton's cousin drove him around some neighborhoods in Atlanta, looking for a rival gang member that had allegedly robbed them. Crittenton fired shots, but missed the man and instead shot and killed 22-year-old Julian Jones, an innocent bystander and mother of four, per ESPN. As part of a plea deal, Crittenton pleaded guilty to a reduced charge and was sentenced to 23 years in prison.
Raul Mondesi
Getty Images
Sharp-hitting outfielder Raul Mondesi enjoyed a good (at times, even great) career in Major League Baseball. His .306 batting average and 56 RBIs in 1994 won the Los Angeles Dodger the National League's Rookie of the Year award, and the following year he won both a Gold Glove and a spot on the All-Star team. When he retired in 2005 (after stops in Toronto, Arizona, and Atlanta, among others), Mondesi had amassed a respectable .273 lifetime batting average and 271 home runs.
After baseball, Mondesi got involved in politics in his home country of the Dominican Republic, per ESPN, earning a spot in the Chamber of Deputies (that nation's equivalent of our House of Representatives). Then Mondesi got elected mayor of his hometown, San Cristobal. His 2010-2016 tenure is most notable for some deep-seated corruption, according to the Dominican Republic's justice system. In 2017, Mondesi was convicted on charges of mishandling public funds, defrauding the government of the equivalent of more than $6 million. In addition to a 10-year ban on holding public office and a fine of what works out to more than $1.25 million, a three-judge panel sentenced Mondesi to eight years in prison.
Sebastian Telfair
A high first-round draft pick for the Portland Trail Blazers in 2004, Sebastian Telfair went straight from starring for Brooklyn's Abraham Lincoln High School to the pros. After putting up decent numbers in his second season (9.5 points over 24 minutes per game), Telfair became an NBA journeyman, suiting up for a total of eight seasons before leaving the league in 2015 with a career 7.4 ppg average.
One night in June 2017, per CNN, police in Brooklyn stopped Sebastian Telfair after witnessing him parking on a center median and then making a U-turn off of that median, all while driving without headlights. Once they stopped the car, police noticed the smell of marijuana — likely coming from the burning joint visible in the console — and a search revealed a .45-caliber handgun. As Telfair didn't have a license to carry that particular firearm, he was arrested on a charge of criminal possession of a weapon. In August 2019, a judge sentenced Telfair to three-and-a-half years in prison, the mandatory sentence the law requires for such an offense.
Sergio Mitre
An early selection by the Chicago Cubs in the 2003 amateur draft, Mexican-born pitcher Sergio Mitre frequently moved back and forth between the big leagues and his team's minor league affiliates. In 2004, he took the mound for the Cubs on opening day, and pitched very well for the AAA-level team, including throwing a complete game one-hitter shutout with nine strikeouts. He continued to pitch in hot streaks for the Florida Marlins, Milwaukee Brewers, and New York Yankees, racking up a grand total of 265 strikeouts across 143 games pitched.
According to Spanish-language newspaper El Heraldo de Saltillo (via Sports Illustrated), Mitre will serve no less than 40 years and no more than 60 years in prison per femicide sentencing laws in the Mexican state of Coahuila. In July 2020, in Saltillo, Mitre sexually assaulted his girlfriend's 22-month-old daughter, causing severe injuries that directly led to the child's death.
Felipe Vazquez
Felipe Vazquez broke through into the major leagues with the Washington Nationals in 2015, but his career took off after he moved over to the Pittsburgh Pirates. In his three full seasons in Pittsburgh, the relief pitcher recorded 86 saved games, striking out an average of five batters per each brief appearance on the mound. In 2018 and 2019, Vazquez was named to the pitching staff of the National League's All-Star squad.
According to prosecutors in Pennsylvania (via the Pittsburgh Post-Gazette), Vazquez carried on a texting relationship with a minor from 2017 to 2019; when it began, he was 26 and she was 13. The relationship turned physical, and in August 2021, a court found Vazquez guilty on 15 counts, among them statutory assault, unlawful contact with a minor, and indecent assault of a minor. Vazquez received a sentence to last at least two years and as many as four.
Kellen Winslow II
Expectations were high when Kellen Winslow II entered the NFL. A tight end like his father, three-time All-Pro and Hall of Famer Kellen Winslow, Winslow II was drafted sixth overall in 2004 and went on to play for the Cleveland Browns, Tampa Bay Buccaneers, New England Patriots, and New York Jets. Across a nine-season career, he was named to a Pro Bowl team and contended for the Comeback Player of the Year award following an ACL injury.
Winslow was arrested in North County, California, in 2018, according to The San Diego Union-Tribune, and charged with the sexual assault of a homeless woman he'd previously befriended, and the sexual assault of a hitchhiking woman. After the case made headlines, another accuser came forward, alleging that Winslow assaulted her at a 2003 party. Winslow faced more charges, one for exposing himself to a neighbor and another for lewd behavior in a gym, which occurred while the athlete was out on bail awaiting trial. After a plea deal and a jury that couldn't reach a decision on two of the assault charges, Winslow was sentenced in March 2021 to 14 years in prison and was ordered to register as a sex offender.
Jon 'War Machine' Koppenhaver
Fighting under the name "War Machine," Jon Koppenhaver was a real contender in the welterweight class of the mixed martial arts circuit. He fought from 2004 to 2013, and during that time lost five bouts and won 14 matches, of which eight were registered as knockouts or decisive technical knockouts. War Machine — Koppenhaver legally changed his name in 2008, per MMA Mania — competed in multiple fighting promotions, including Bellator MMA, Xtreme Fighting Championships, and UFC, for whom the athlete co-starred in the reality show "The Ultimate Fighter."
According to ESPN, Koppenhaver was charged with more than 30 felony and misdemeanor counts surrounding a 2014 incident involving his former girlfriend and a friend. Koppenhaver entered the home of his ex-partner and sexually assaulted, kidnapped, and beat her, and then violently attacked the male friend. Jurors convicted Koppenhaver of 29 charges in March 2017, unable to reach a consensus on two attempted murder filings. Koppenhaver won't be eligible for parole until 2053.
Harrison Norris Jr., a.k.a. Hardbody Harrison
After serving in the first Gulf War as a sergeant in the U.S. Army, according to The Atlanta Journal-Constitution, Hardbody Harrison entered sports entertainment, joining World Championship Wrestling in the 1990s. He often appeared on televised WCW programs and major events, including "WCW Monday Nitro" and "WCW Starrcade 1997." Hardbody Harrison sued the wrestling organization, alleging racial discrimination, and reportedly received a settlement of more than $1 million. Retired from televised wrestling, Hardbody Harrison became a TV fighter, competing on FX's "Toughman" series, winning the show's heavyweight division in 2000 (per Pro Wrestling Stories).
In November 2007, according to the U.S. Department of Justice, Hardbody Harrison (his real name being Harrison Norris Jr.) was found guilty on 24 federal charges, including counts of conspiracy, forced labor, sex trafficking, witness tampering, obstruction of justice, and holding women against their will under the auspice of paying off a debt. Norris's conviction stemmed from an illegal sex work ring he ran in Atlanta from 2001, and a series of incidents in 2005, in which the former wrestler and accomplice Aimee Allen lured economically disadvantaged and drug comprised women into unpaid sex work and unpaid domestic labor — in other words, enslavement. For all of those offenses, in 2008 Norris received a sentence of life in prison and, should he ever be granted parole, permanently supervised release.
Tammy Lynn Sytch, a.k.a. Sunny
Under the stage name Sunny, Tammy Lynn Sytch broke into WWE in the mid-1990s as a manager and personality — part of The Bodydonnas, villainous and arrogant fitness nuts. That team won the tag team event at WrestleMania XII. One of the first major female stars of the WWE, Sunny moved on to other big wrestling organizations before her induction into the WWE's Hall of Fame in 2011.
Sytch was arrested after a March 2022 car accident, according to The Daytona Beach News-Journal, having rear-ended a stopped car at an intersection in Ormond Beach, Florida. An occupant of that other car, 75-year-old Julian Lasseter, died as a result of the impact. Sobriety tests showed that Sytch's blood alcohol level was 0.28, more than three times the Florida legal limit; THC was also present in the wrestler's system at the time of the crash, and investigators found an open bottle of vodka in her car.
Sytch was arrested two other times in 2022, once for violating a restraining order issued after a domestic violence incident, and once for public intoxication. Citing a pattern of potentially dangerous behavior, a judge ruled Sytch to return to prison while awaiting her trial date over the accident, which is still pending as of February 2023. If she's found guilty of all counts — which include charges of a DUI causing death and driving with a suspended license resulting in death — Sytch could earn a 26-year sentence.