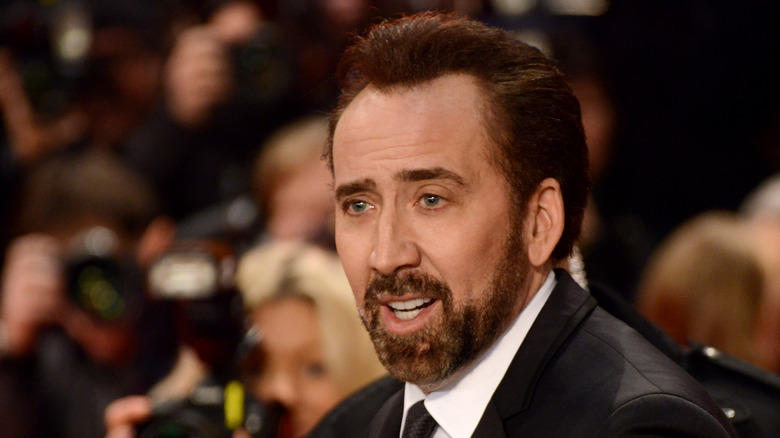 Nicolas Cage was at one point one of the most in-demand actors in Hollywood, with a string of blockbuster hits to his name. From his thrilling car chases across Los Angeles in the iconic movie car in "Gone in 60 Seconds," to his personal favorite performance in "Leaving Las Vegas," Cage had millions of moviegoers hooked to the big screen. His successive hit roles reportedly netted him more than $150 million between 1996 and 2011, and he spent a lot of that cash acquiring a very enviable collection of sports cars (via Celebrity Net Worth).
Cage developed a reputation for having excellent automotive tastes with many of his purchases being rare, desirable classics with low mileage and distinguished histories. Unfortunately, he had a run-in with the IRS that resulted in him having to sell many of his prized vehicles to pay Uncle Sam, but it appears he's now back to solvency. These 10 cars are among the rarest vehicles to pass through Cage's collection over the years, with many of them now worth even more eye-watering sums than the actor paid for them.
Ferrari 275 GTB/4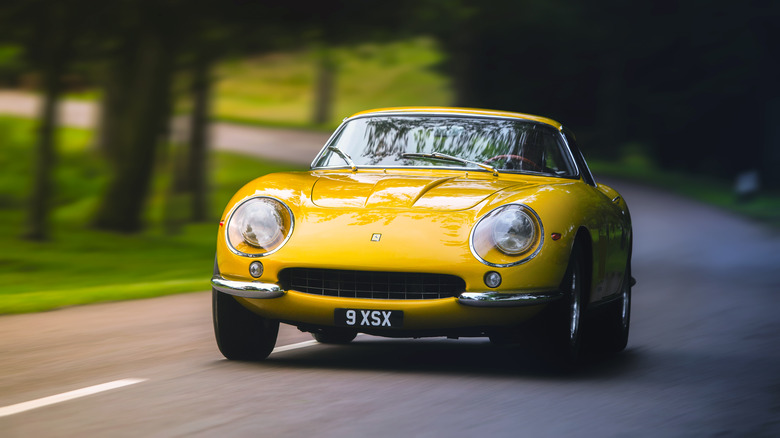 Originally unveiled at the Paris Motor Show in 1966, the Ferrari 275 GTB/4 was the first production Ferrari to feature the brand's cutting-edge four-cam V12 engine. With a maximum output of 300 horsepower at 8,000 revolutions per minute, and a top speed of 166 mph, it was one of the fastest production cars of its era (via Ferrari). Cage bought his 275 GTB/4 in 2007 and kept it until 2014, when it was purchased by a U.K.-based collector.
It's not known exactly how many miles the actor drove it, but it can't have been that many, as by the time the car was put up for sale again in 2018, it only sported a total of 50,000 miles on its odometer (via Derbyshire Live). That works out at an average of just under 1,000 miles per year. The car was finished in its original color of Argento with a light tan leather interior, and after Cage's ownership, it was given a full restoration to bring it back up to its original factory specs.
Ferrari 250 GT California Spyder
It turns out that Cage is quite the Prancing Horse fan, as he also owned a Ferrari 250 GT California Spyder between 2003 and 2007, according to the Barchetta registry. The car was sold new in 1959 to a Dr. Carlo Innocenti of Rome, but was exported to the U.S. in 1972 by famed racing driver Luigi Chinetti. It then passed through the hands of three further owners before ending up in Cage's collection. Sporting the chassis number 1501GT, the actor's 250 GT California is finished in a shade of deep black, with a matching black fabric soft-top roof.
Cage took the car to The Quail, A Motorsports Gathering in 2004, a prestigious concours event held in California where the world's most prominent collectors pit their finest vehicles against each other in a bid for the coveted "Best of Show" award. He didn't win that year, but his classic Ferrari still turned plenty of heads.
Porsche 356
One of Porsche's most iconic models of all time, the 356 Speedster was launched in the United States in 1954. Nicholas Cage owned a 1955 model with white paintwork, a tan folding roof, and a matching tan leather interior. The 356 became popular almost as soon as it was launched thanks to its race-ready nature, with drivers able to pull up to the track, tape over the headlamps, put some numbers on the side and start racing. The car was most popular in America, where it became a common sight at SCCA and California Sports Car Club meets.
There's no evidence that Cage ever took his 356 Speedster racing, as he was better known for showing his cars off at concours events than thrashing them on the track. After the actor sold the 356, it was given a full restoration, eventually crossing the auction block at RM Sotheby's (pictured above) for just over $255,000 in 2017.
Jaguar XKSS by Lynx Engineering
It's been reported that Cage owned an ultra-rare Jaguar D-Type, but there appears to be very little verifiable evidence of this (via GQ). He did, however, own a high-end replica of the D-Type's road-going counterpart, the XKSS, built by Lynx Engineering in the U.K. The XKSS was conceived as a spin-off from the D-Type development program, as to meet racing regulations at the time, Jaguar had built many more D-Type race car chassis than it could realistically sell. Its solution was to make a road-going version of the car, with 16 examples produced of the XKSS before a major fire at Jaguar's factory put a halt to the production run.
Nine XKSS chassis were lost in the fire, with Jaguar eventually deciding to recreate the lost units in 2016 as a heritage continuation special (via Tom Hartley Jnr). However, because of their rarity, plenty of replicas had sprung up in the meantime, with Lynx Engineering's replica gaining a particularly solid reputation as being near-identical to the original. Cage is thought to have sold the car around 2011/2012, selling it to a U.K.-based owner. It was subsequently sold at a Bonhams auction in 2014 for £384,540, or roughly $660,000 at the time (pictured above).
Lamborghini Miura P400 SVJ
Ferrari isn't the only Italian marque that Cage is known to have a soft spot for, as the actor has also owned several Lamborghinis over the years. The most high-profile of those is undoubtedly a 1971 Miura P400 SVJ, chassis number 4934, which once belonged to the Shah of Iran. The Shah was at one point one of the world's most prolific car collectors, but after his regime was overthrown in 1979, his collection was seized by the new government authority. Many of his cars were kept for governmental and diplomatic use, but the Miura and a handful of others were deemed too decadent and sold off to private collectors, reports Supercar Nostalgia.
The car went up for auction in Geneva in 1997, and sold for $446,820, almost double its estimated value, to none other than Nicolas Cage. It's one of only four SVJs ever built, and at the time Cage bought it, it reportedly had just 1,897 miles on the odometer (via AP News). Supercar Nostalgia reports that the actor kept the car until 2004, when it was bought by an English collector, still with under 3,000 miles on the clock. The car now bears the license plate "71 SVJ" and has been sent back to the factory for a full restoration in the years since Cage's ownership.
Bugatti Type 57C Atalante
Using an engine design borrowed from Miller's Indy cars and an exterior penned by Ettore Bugatti's son Jean, the Type 57 was in many ways the quintessential Bugatti. Chassis number 57679 left the factory in 1938 in Atalante form, that is, as a two-door, two-seat coupe. The car was imported to the U.S. in the 1950s, then over the following decades, changed hands a number of times before it ended up in the collection of Nicolas Cage (via Sports Car Market).
The car was unusual even among Type 57s in that it had been fitted with an aftermarket supercharger sometime in the 1980s. As the jewel of each of its owners' collections, it remained in excellent condition, with Cage taking custody of it in the late '90s before selling it at an RM Sotheby's auction in 2002 (via Sports Car Market). It was then bought by a collector in Australia, where it remained until at least 2012 (via Car & Classic).
Rolls-Royce Silver Cloud III Convertible
Cage has a well-known love of English culture and architecture, and has owned a property in the quaint county of Somerset since at least 2006 (via Somerset County Gazette). He's also a big fan of English cars, and is known to have owned multiple Rolls-Royces, including some incredibly rare ones. This includes at least one Rolls-Royce Silver Cloud III Convertible, although there's evidence he owned two. The first is a 1964 model, one of only 25 built in left-hand drive, with coachwork by H J Mulliner. It's painted in a highly unusual shade of Velvet Green with a black hood and interior, and was originally delivered to Germany before making its way into Cage's Californian collection (via Graeme Hunt). It was recently sold by the U.K.-based specialist dealer Graeme Hunt for an undisclosed sum.
Sporting the chassis number LSCX 309, the car was then sold to a New York-based collector, and then later to a European owner (via Cady Cars). However, there is also another Silver Cloud III Convertible which was reportedly owned by Cage, a 1963 model which appears to have been painted white and then brown. The history for this particular car is less readily verifiable, although it appears that the car was white while in Cage's collection, with the actor relinquishing ownership of it sometime before 2008.
Lamborghini 350 GT
The 350 GT was the first production Lamborghini, with around 120 units being produced (via Lamborghini). Each one featured a 3.5-liter V12 engine that made around 270 horsepower, and could reach a top speed of around 158 mph (via Lamborghini Palm Beach). It was Ferruccio Lamborghini's first attempt at creating his own car after being dissatisfied with his purchase of a Ferrari 250, and it started the decades-old Italian rivalry that has been responsible for producing many of the world's greatest supercars since then.
Details on Nic Cage's reported purchase of a 350 GT are pretty hazy, with only a few enthusiast sites linking him to chassis 0217. The car was reportedly put up for sale through a Pennsylvania-based dealership in 2002, for the bargain price of just $90,000. For reference, an almost identical car sold for $742,000 including buyer's premium at a Bonhams auction in August 2022. If Cage did indeed own chassis 0217, it seems the smartest investment decision would have been to hold onto it for a little bit longer than he did.
Lamborghini Diablo VT Alpine
Some enthusiasts would argue that modern Lamborghinis have become too sensible, too usable, and lost the madcap edge that once made them the poster child of rebellious Italian cool. The Lamborghini Diablo is no such car, with its screaming 6.0-liter V12 engine and wild impracticality making it very much a traditionalist's favorite. Cage ordered his Diablo VT in bright orange, reportedly for no reason other than his favorite movie is Stanley Kubrick's 1971 classic, "A Clockwork Orange." Only six cars are believed to have been produced in this color and Cage's was the only U.S.-market model (via Barrett-Jackson).
He purchased the car new in 2001 and, like many of his cars, he only kept it for a few years before selling it. It crossed the block at a Barrett-Jackson auction in 2005, and in 2022, popped up again on eBay, where it looked to have been damaged in a crash.
Bugatti Type 101 Coupe by Van Antem
Even with millions of dollars to spare and a keen eye for the latest auction listings, few collectors will ever have the privilege of being able to own a one-of-one classic Bugatti. But, that's exactly what Nicolas Cage managed to do, having bagged himself a Type 101 Coupe by Van Antem sometime in the 1990s. Originally rolling out of the Antem coachworks in 1954, chassis 101504 is one of only six Type 101s ever made, and the only one to be bodied by Van Antem. It was thought to have been first owned by René Bolloré, a businessman who had married marque founder Ettore Bugatti's second wife.
By 1959 it had made its way to the USA, where it passed through several owners before ending up in the collection of Bill Harrah, a notable collector who had over 1,500 cars. Harrah died in 1978, then the car passed through two more owners before being bought by Cage, who only kept it for a few years before selling it in 2003 (via Bonhams).