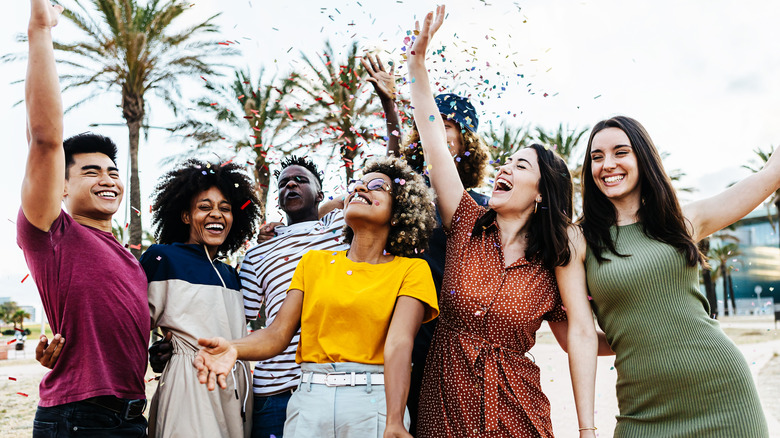 Lockdowns and social distancing — what better way to release all that pent-up energy and stress than to dance? As restrictions start to drop and traveling becomes easier, the party scene is picking back up again. Traveling to a new place has many perks, and checking out the nightlife of a city is an essential part of getting to know a new destination. Some cities are completely different from a.m. to p.m. — and if you want the full experience of a place, it's important to enjoy the day and the night!
Experiencing the nightlife can help open doors to new experiences and perspectives, like getting to know the locals and their culture on a different level (via Grown-Up Travel Guide). If you're ready to jam, this list of perfect party places will surely give you the best opportunities to put on your dancing shoes and party like it's 1999!
Las Vegas, Nevada, USA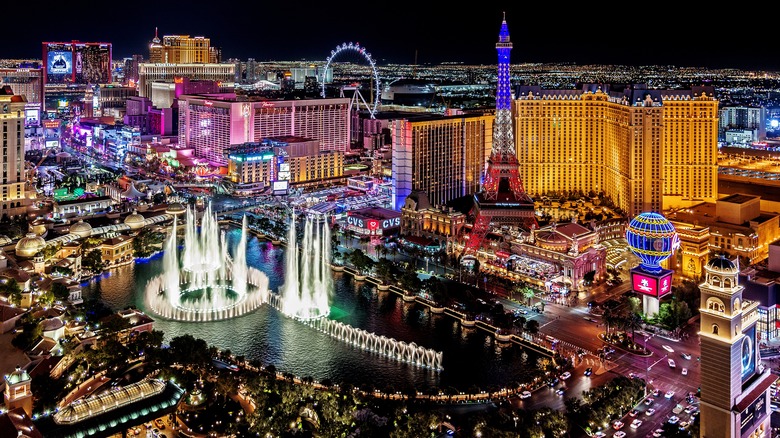 No matter where you live in the world, you have likely heard of Las Vegas. Rated as the number one party city in the United States, Vegas goes by many names: Sin City, America's Playground, and the Entertainment Capital of the World (via U.S. News). This city goes big in everything, from amusement to alcohol. There are pool parties all day and dance parties all night (per Trips to Discover). The nightclubs are extravagant and entertainment is around every corner. You can ride the Big Apple rollercoaster at New York-New York, watch the water fountain show outside the Bellagio, explore any of the resorts, gamble in a casino, watch a Cirque du Soleil performance, catch many of the musicians or DJs playing, and so much more. One thing's for sure: It's hard to get bored in Vegas.
Here, alcohol flows like waterfalls — endlessly. Bars and nightclubs stay open late, closing anywhere between 3 and 6 a.m. (via Clique). Alcohol can be served any time of day and there are no open container laws, unlike most U.S. states. This means that you can stroll the Las Vegas Strip while sipping an alcoholic drink — as long as it's not in a glass container and you purchased it from a bar, according to Las Vegas Then and Now.
Ibiza, Spain
According to a recent report by the International Nightlife Association, about one in every four tourists heading to Spain are visiting for the nightlife alone. And out of the top 100 clubs in the world, 13 of them live in Ibiza — there's no doubt that Ibiza is the party capital of Spain (via Tourism Review). The small, Mediterranean island of Ibiza is nestled off the coast of Spain, surrounded by bright blue waters and gorgeous landscapes. You could revel in both the beauty of the island and its party culture by booking a famous boat party.
In Ibiza, there are many super clubs that host all-night events that feel more like festivals and don't stop until the sun rises. And if you're not too tired or hungover from the previous night, there are countless poolside day parties to attend. The wide variety of clubs offer music for everyone, from tropical house to electronic and tech music (per Ibiza Spotlight).
Medellín, Colombia
Medellín was voted the best city on Earth for its food, drinks, and nightlife, according to a recent survey done by Timeout. This comes as no surprise, given this city's depth of culture, clubs, and music. You can find bars and nightclubs playing a wide variety of tunes, from reggaeton to electronic — and everything in between. Whatever vibe you're feeling, you can find it — whether you're looking for a crowded bar, crazy nightclub, or secret salsa dance party (per Timeout).
Mostly everywhere and everything in the city is affordable and budget-friendly, making Medellín a popular backpacking destination. The Broke Backpacker recommends checking out the El Poblado neighborhood to become fully immersed in both the Colombian culture and party atmosphere — here you'll find a great mix of both tourists and locals living it up. Colombian people are friendly and welcoming, and will definitely show you a good time. And don't forget to sample the Aguardiente, an iconic hard liquor of the region that tastes like a mix of sugar and anise.
Ko Pha Ngan, Thailand
Ko Pha Ngan might just be one of the most alluring party destinations in the world. This irresistible island off the coast of Thailand boasts white sand beaches, turquoise clear water, and charming beach bungalows. Ko Pha Ngan is the home of the famous full moon party — the biggest festival in Thailand that draws an average of 20,000 tourists to each gathering (via Nomadic Matt). Full moon parties are an all-night rager right on the beach, flowing with cheap buckets of booze, glow-in-the-dark paint, and lots and lots of dance music. The parties are the busiest and craziest between the months of November to March and attract young backpackers from all over the world (per The Broke Backpacker).
If you can't make it to Ko Pha Ngan during a full moon, don't worry — there are plenty of other parties to choose from. There are half moon festivals which happen every half moon; black moon parties during the new moon; and the Jungle Experience, a party complete with DJs, live art installations, fire spinners, and other entertainers. There are also waterfall parties, which are in the jungle instead of the beach and occur two times per month, two days before and two days after the full moon parties. Or you can check out the mysterious and seductive Eden Garden party, which can only be reached by boat.
Berlin, Germany
Berlin's nightlife is hugely famous. Known as the "city that never sleeps," some nightclubs literally never close — you could leave your house Friday night and party until sunrise on Monday morning if you wanted to. Many of Berlin's nightclubs are uniquely fascinating and fun to explore. After the Berlin Wall came down, artsy liberals took it upon themselves to transform old deserted buildings into eccentric clubs and bars, essentially using the abandoned structures as blank canvases (via Housing Anywhere). The city now has more than 4,500 bars and nightclubs to choose from, many of which the party doesn't even start until 1 or 2 a.m.
At Tresor, a nightclub housed in what used to be a power plant, you can roam the 100 feet long concrete tunnels that reverberate music. Or party on the many dance floors of Sisyphos, previously a dog treat factory and now a famous club that contains a lake and empty bus (via Timeout). Then there's Anomalie Art Club, with endless art installations, DJs, and open-air parties; or the techno-sex club called KitKat. If you can't decide — or just want to party hop — you can head to some of the popular party districts like Prenzlauer Berg, Wrangelstrasse, or Kreuzberg.
New Orleans, Louisiana
New Orleans is rated the second best party city worldwide — right behind Las Vegas — according to stats by 888 Poker that compared the number of nightlife venues, casinos, affordable accommodation, and marijuana laws. New Orleans is the home of Jazz — take a walk down any street in the city and you'll be drowning in blues, swing, bebop, and any type of jazz music you can think of (via U.S. News). New Orleans is also the host of the world famous Mardi Gras festival, a non-stop party filled with booze, music, colorful masks, bead necklaces, carnival floats, and more.
But Mardi Gras isn't the only event worth going to in New Orleans. The New Orleans Jazz and Heritage Festival is also quite popular, and there are other music festivals and cultural events throughout the year, like the Mid-city Bayou Boogaloo and the Louisiana Cajun-Zydeco Festival.
Barcelona, Spain
Out of the 22 Spanish clubs that made the list of the top 100 clubs in the world, five are based in Barcelona (via Tourism Review). You know this city is serious about partying when dinner is served at midnight for the sole purpose of fueling up for a night full of debauchery. Here, nightclubs start to pick up at 2 a.m. and the party doesn't end until the sun comes up (via Nomadic Matt).
Your festivity options are endless: Sip sangria overlooking the ocean in one of the many Port Olimpic beach clubs, fully immerse yourself in the culture at a tapas and flamenco night, drink a cocktail out of a frozen glass at the Ice Bar, visit one of the countless dance clubs, or book yourself an infamous booze cruise (per Barcelona Life). If you're not sure where to go, you can sign up for a nightlife tour or bar crawl, or just simply visit the coast on the weekend, which is sure to be packed full of party people.
Bangkok, Thailand
In Bangkok, you don't just order a cocktail, you get a bucket full of booze — and that is not just a tourist trap — the locals drink out of buckets as well. Any day of the week is a good day to party in Bangkok, and while many bars close at the standard 2 a.m. time, there are plenty of after-hours clubs to round out the night that stay open until 5 a.m. (via Nomadic Matt). Khao San Road is the heart of this city's nightlife, crowded with people and places, including nightclubs, bars, restaurants, live music, and street markets (per Intermiles Blog). There are also many other nightlife hubs in Bangkok worth checking out, like Chinatown, Thonglor, and Soi Cowboy.
You can't visit Bangkok without seeing the increasingly popular ladyboys show, which are cabaret performances well-known for their colorful costumes, music, and choreographed dances. Ladyboy's identify as "kathoey," which is similar to a transgender woman or non-binary identity (via Daily Record). The shows are all the rage, in Bangkok and beyond, and it's a stunning performance you won't want to miss.
Amsterdam, Netherlands
Party people studio/Shutterstock
A trip to Amsterdam will surely involve exploring the classic cannabis coffee cafes, romantic canals, and the infamous Red Light District. You can even check out a live sex club, peep show, or strip club, if that's your kind of thing. There are also well-known, interactive entertainment venues, like the Amsterdam Banana Bar (via Amsterdam.info). There truly is something for everyone in this city, with cafe terraces, trendy cocktail bars, and dance clubs blasting almost every music genre out there.
Visiting Amsterdam any time of year is sure to be a party, since this city is full of music events and festivals. The most sought after gathering is the Amsterdam Dance Event, which is considered the largest electronic dance music festival worldwide (per Thrillist). Then there's King's Day, a national holiday on April 27, where almost 1 million locals go out to celebrate in clubs and at music festivals around town. There's also the Holland Festival of performing arts, the classical Prinsengracht Concert, Amsterdam Gay Pride, the Cannabis Cup, and more (via Nightflow).
Munich, Germany
r.classen/Shutterstock
Munich made this list because of — you guessed it — Oktoberfest. A must-do item on any beer lover's bucket list, Oktoberfest is a festival that draws in more than 6 million tourists across the globe (via Business Insider). This two-week-long party usually runs from mid- to late-September into the beginning of October, and is filled with thousands of drunk people wearing traditional Lederhosen, clutching pints of beer, eating wurst sausages and pretzels, and belting merriment into the streets.
Besides Oktoberfest, there are plenty of beer halls, biergartens, clubs, and upscale bars to visit in Munich. There are even some distilleries and wine clubs, like Duke Gin and Weinhaus Neuner (per Trip Savvy). The Christmas markets are world renowned, and you can embrace the holiday cheer by strolling through the market sipping on traditional warm mulled wine called glühwein. There's also Starkbierfest, a festival that is the more underground version of Oktoberfest which takes place in the winter and consists of much heavier and stronger beer, and Frühlingsfest, the springtime version.
Tel Aviv, Israel
Tel Aviv is also known as the "city that never sleeps," filled with non-stop parties, countless nightclubs, and crazy beach festivities (via Business Insider). No one really goes out before 11 p.m., and the party truly starts at 2 a.m. Luckily, there's plenty to do to keep yourself entertained until it's party time: There are art and craft markets on Nahalat Binyamin St., tons of rooftop bars, and beach parties that go all day and night. Or you could check out Jaffa's flea market to buy a hot new party outfit for the evening (per Lonely Planet).
The Mediterranean coastline is a picture perfect backdrop for a party and Tel Aviv is often called the "party capital of the Middle East." The city is home to popular dance music artists like Infected Mushroom and Borgore, and has put itself on the map as being one of the most LGBTIQ+ friendly cities across the globe (via Thrillist). There are multiple gay bars in town, it's pretty easy to find a queer event most nights of the week, and the rainbow flag flies high in June during Tel Aviv Pride.
Rio de Janeiro, Brazil
Many people have heard of Rio de Janeiro — if not for Carnival, then because of Copacabana Beach, mentioned in Barry Manilow's famous song, Copacabana (At the Copa). If you like beach parties, then Copacabana Beach is the place to be; it's known as one of the most popular beach party spots in the entire world (via Trips to Discover). The sandy beach area itself is filled with hundreds of sexy and tan revelers, and the coastline city is cluttered with music venues, bars, and clubs for you to dance the night away to samba music (per Thrillist).
More than 2 million people flock to Rio de Janeiro every year to celebrate Carnival, an extravagant and colorful festival that takes place right before Lent, a Catholic tradition. The festival boasts many live samba performances and flashy costumes, as well as thrilling street parties (via Rio Carnaval). Rio also throws a wild and huge New Year's Eve Celebration every year, complete with a magnificent fireworks display.
Playa del Carmen, Mexico
Cancun might be one of the most notorious party places in Mexico, but it's quickly losing steam compared to its rising next door gem named Playa del Carmen. While Cancun can feel over-crowded and touristy, Playa del Carmen is just right — boasting dreamy beaches with palm trees and coral reefs, it's the perfect party paradise. This beachy town is full of events, including the BPM festival, which is touted as the "world's best music festival" that lasts for 10 whole days (via Thrillist).
The main party scene of Playa del Carmen can be found along 5th Ave., which is full of clubs, bars, restaurants, and poolside parties. For nightclubs, the Playa Del Carmen Blog recommends checking out the always-packed Mandala; the beach club Coco Maya; Salsanera for Latin music; or the most well-known club in Playa, Coco Bongo. There are plenty of bars to stop in with live music, and for the most iconic pool party experience, don't miss out on the Thompson Hotel roof-top infinity pool with great views of the city.
Miami, Florida
Miami is known for attracting tons of celebrities, specifically to South Beach, a top spring break party spot (via Trips to Discover). South Beach is enveloped with white sand beaches, sparkling clear sea, vibrant cocktails, and DJs. And it is hot — both outside and inside the club.
South Beach is also host to the Ultra Music Festival, dubbed "the world's wildest party." This outdoor electronic dance music (EDM) festival happens every March and features world-famous DJs who spin to sold out crowds of more than 170,000 people. Besides this EDM festival, Miami offers plenty of bars and exclusive nightclubs to explore, like the trendy Nikki Beach that often sees A-list celebrities and rich party people.