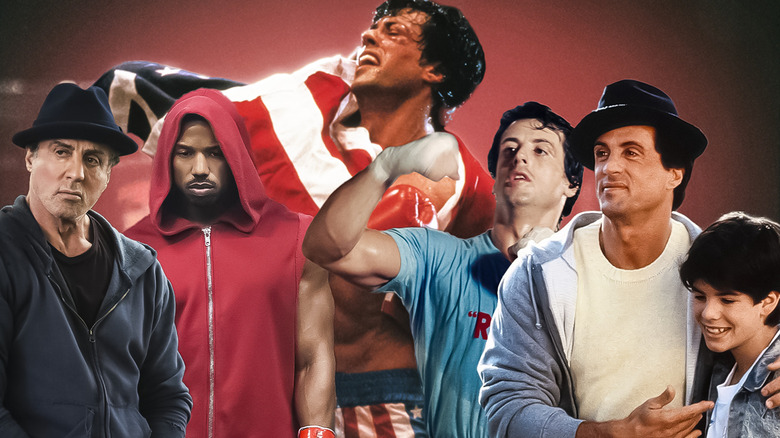 Across the vast landscape of sports movies, few are more beloved than the "Rocky" films. The eponymous "Rocky" launched the series in 1976, and was written by its star, Sylvester Stallone. An Academy Award winner – it took home the trophies for best picture, best director, and best film editing — it was an unlikely candidate to launch a decades-long franchise. But that's just what happened, beginning with its first sequel, "Rocky II," in 1979.
Stallone starred as the ring-rocking rabble-rouser Rocky Balboa himself in the franchise's first six entries. In 2015, he returned as a supporting player in the quasi-sequel "Creed," which sparked its own series of films. With the release of "Creed III" in 2023, there's now an impressive nine films in the "Rocky" saga, spanning nearly half a century. The earliest films chronicle young Balboa's struggle at the bottom of the heap, his dazzling rise to the top, and his fall from grace. Packed with adventures in the ring and out, the series is full to bursting with iconic moments. Rocky is an American sports icon as popular as any real-life athlete, and he's made the money to prove it: The franchise's combined box office haul reaches into the billions.
The "Rocky" films stand out as some of the best-rated sports movies of all time. But now matter how great the franchise might be as a whole, its installments aren't equally acclaimed. How do they stack up? Get your spit bucket, put in your mouth guard, and lace up your boxing gloves, because we're ranking every film in the "Rocky" series from worst to best.
9. Rocky V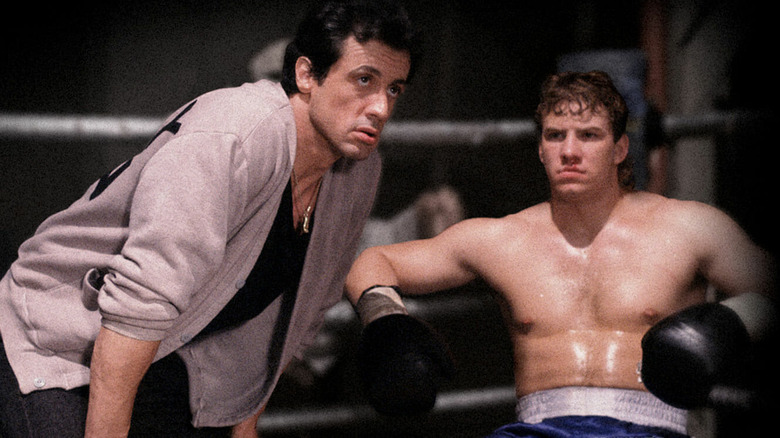 The first four movies in the "Rocky" franchise all focus on Balboa's bouts in the ring, in which he faces off against tougher and tougher opponents. But the fifth film takes a drastic shift in tone, turning Rocky from a boxer into a coach for the first time. It also takes the action away from the arenas, as Rocky mentors a local street fighter.
Set in the days that follow his high-profile match against Soviet boxer Ivan Drago, Rocky returns home to find himself financially destitute. To make matters worse, his doctors have declared him medically unfit to continue boxing, meaning he'll have to find a new way to cover his family's expenses. Now back in his old Philadelphia stomping grounds, Rocky crosses paths with a promising young boxer named Tommy Gunn (Tommy Morrison), whom he quickly takes under his wing and vows to train into a skilled fighter. But things take a turn for the worse when the pair has a falling out, leaving Rocky to settle the dispute the only way he knows how.
It's pretty much expected that any long-running film series will deliver a few letdowns. Such is the case with "Rocky V," which has earned the dubious distinction of being the worst title in the franchise. Lacking the heart and soul of its predecessors, "Rocky V" got beaten to a pulp upon hitting theaters. In spite of a decent box office haul, it was so critically panned it nearly killed the franchise for good. But Rocky wasn't down for the count, and some of the series' best moments were still yet to come.
8. Rocky III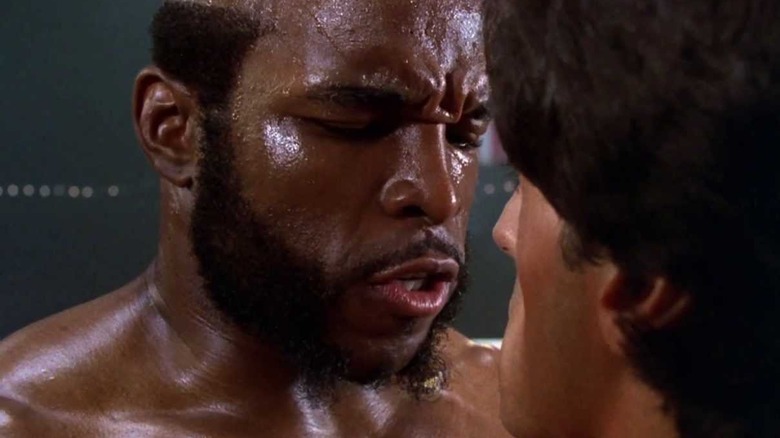 We acknowledge that it might hurt some readers to see "Rocky III" so far down on this list, as it remains a favorite of many fans of the franchise. After all, this film is home to what may be the greatest fight in the entire "Rocky" series – which is really saying something, as the whole thing is one brawl after another.
Written and directed by Stallone himself, "Rocky III" begins a few years after Rocky's narrow defeat of Apollo Creed via a knockout punch in "Rocky II." Since then, Rocky has gone on to have a wildly successful professional career, retain his championship status, and embrace his fame and fortune. In fact, he's now a full-blown celebrity — and that's not really a good thing. Rocky's reputation has gone to his head, while his career has come under scrutiny, as he fights mostly fluff fighters and charity bouts. So, when a fiery rising star known as Clubber Lang (Mr. T) emerges, Rocky wants to prove he's more than just a pretty face. But one of his closest friends pays the price for his hubris.
According to some critics, "Rocky III is where the franchise begins to feel creaky. This may be true, but the film also challenges Rocky in new ways, resulting in a compelling examination of the effects of celebrity. "Rocky III" forces Balboa to face new and unexpected obstacles, both in and out of the ring. It also sees the beginning of his lifelong friendship with former adversary Apollo Creed (Carl Weathers), a major turning point in the franchise. Finally, "Rocky III" is responsible for some of the series' most indelible images, such as the training montage in which Apollo helps rebuild the spiritually broken Rocky.
7. Rocky IV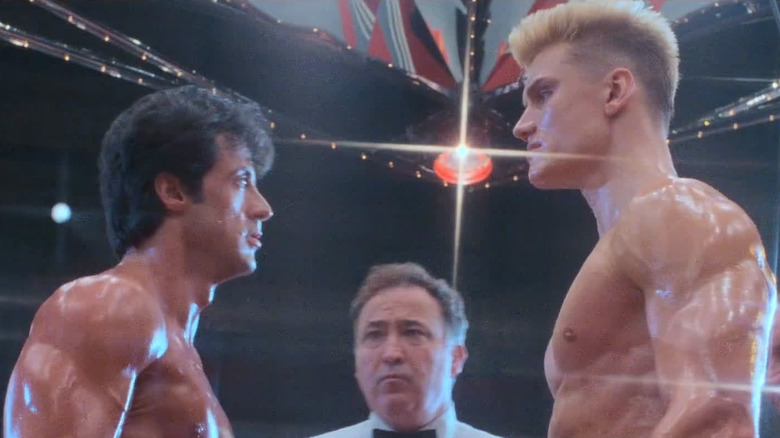 Following his first three well-received franchise installments, Rocky Balboa has apparently done it all, having faced personal struggles, found love, and defeated all comers in some of the most indelible sports films of all time. In the series' next appearance, "Rocky IV," things get political. This 1985 film, once again written and directed by Stallone, tackles the tensions between the U.S. and the Soviet Union.
Amid some of the hottest days of the Cold War, professional athletes from both sides of the iron curtain find themselves participating in the larger geopolitical rivalry at hand. Tension between superpowers comes to a small but undeniable head in the form of a high-profile exhibition boxing match between challenger Apollo Creed and visiting Soviet superstar Ivan Drago (Dolph Lundgren). Sadly, the opportunity to prove American superiority is shattered after Creed is not only defeated, but beaten to death in full view of both Rocky and the world. Now bent on avenging his fellow boxer and friend, Rocky must train like never before for a high-stakes match on Drago's home turf.
While it's an undeniable product of its time, the fourth entry in the "Rocky" series perfectly captures both what makes '80s movies so fun and the spirit integral to a good "Rocky" flick. Sure, it trades the intimate struggles we see Rocky tackle in previous installments for a more grand and high-stakes story — a flaw, in some critics' eyes. But that's also what makes it so special. Audiences seemed to agree, helping make the film the biggest box office success in the franchise, a record it still holds to this day.
6. Rocky II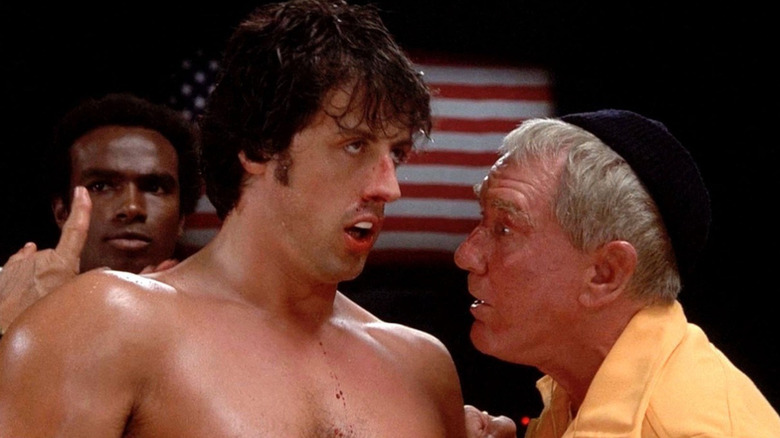 United Artists
In 1977, "Rocky" took home a trio of Academy Awards. But the film's screenwriter and star had more stories to tell, and in 1979, a follow-up materialized: "Rocky II." This may have been something of a surprise in an era where franchises weren't the norm. Moreover, this time, Stallone wasn't content simply to write the screenplay — he moved into the director's chair. The film reunites the original cast, with Talia Shire, Burt Young, Carl Weathers, and Burgess Meredith all returning.
The movie opens on a surprising turn of events: In the aftermath of the bloody brawl with defending champion Apollo Creed, Rocky seemingly decides to hang up his gloves for good. It doesn't last long, though, as the two titans return for a rematch. For Apollo, this is a chance to prove that the boxer who nearly bested him isn't all he's cracked up to be. For Rocky, it may be his last shot to become champ. Crucially, unlike the last time they faced off, Rocky's coming into the ring armed with all the experience and grit needed to come out on top.
While "Rocky" succeeds as the story of an underdog discovering that winning isn't everything, "Rocky II" soars as the feel-good picture with the happy ending audiences want. It isn't quite as acclaimed as its predecessor, nor did it match its victory at the box office, but the sequel more than lives up to the hype. Stallone's newfound control as director also proved to be a success, leading to him helming three more entries in the series himself.
5. Rocky Balboa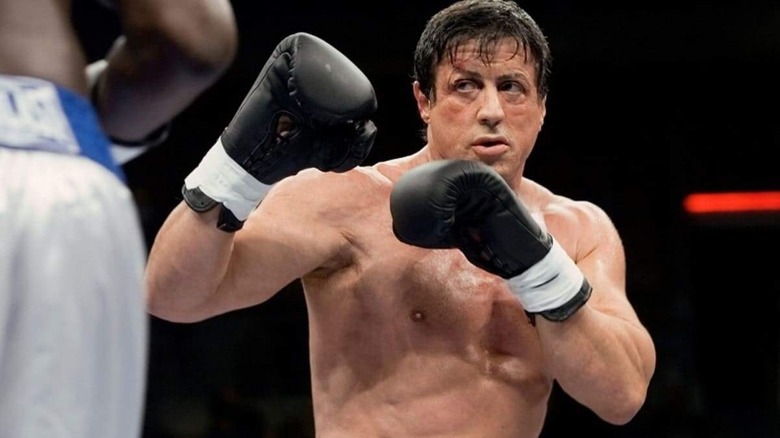 By the 2000s, the "Rocky" franchise was long in the rearview mirror, thanks to the critical failure that was "Rocky V." It had been more than a decade and a half since that film hit theaters, and it seemed like the fifth entry would be remembered as the underwhelming and unfortunate end of the series. But the surprising release of "Rocky Balboa" in 2006 proved that the Italian Stallion was down, but he certainly wasn't out.
It's the mid-'00s, and a now much-older Rocky seems to have finally retired from boxing once and for all. Resigned to a simple but comfortable life in Philadelphia, Rocky's passion for the ring is reignited after watching a widely-circulated but fictional matchup between himself in his prime and the reigning heavyweight champion, Mason "The Line" Dixon (Antonio Tarver). With Rocky declared the winner of this potential matchup and an already-existing chip on Dixon's shoulder growing ever larger, the two are practically fated to meet in the ring and see who comes out on top.
Though moviegoers would need to wait almost a decade for another piece of the "Rocky" storyline after "Rocky Balboa" debuted, this 2006 movie was a memorable breath of fresh air for the series. It's considered one of the most memorable legacy sequels to date, and it proved Stallone — who was edging into his 60s and hadn't had a hit in quite a few years — still had plenty left in the tank.
4. Creed II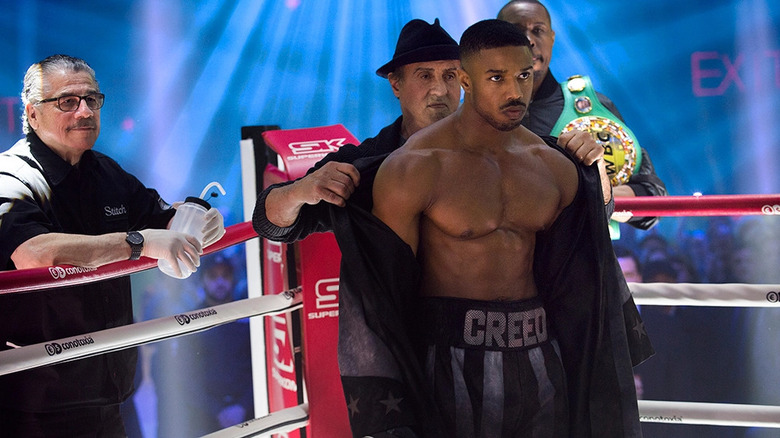 Mirror Releasing
Before it debuted, many wondered how "Rocky" spin-off "Creed" would succeed with a new fighter in the starring role and Sylvester Stallone playing mentor — particularly after the failure of the similarly-themed "Rocky V." But the Ryan Coogler-directed film silenced all doubters, and a sequel, "Creed II," arrived in 2018. This film's screenplay was co-written by Stallone, while Stephen Caple Jr. replaced Coogler, who was off making "Black Panther." The film serves as a somewhat surprising follow-up to the events of fan-favorite installment "Rocky IV," and sees the return of Dolph Lundgren to the franchise.
In "Creed II," one-time street boxer Adonis Creed (Michael B. Jordan) is at the top of his game, and has the winning record to prove it. But after years of training, Adonis and Rocky have a bitter falling out over how to respond to a public challenge from Viktor Drago (Florian Munteanu), son of Adonis' father's killer, Ivan Drago. Departing the city of Philadelphia and returning to his hometown of Los Angeles, Adonis must prepare for the toughest fight of his life. Meanwhile, Rocky spars outside the ring with the man who killed his best friend.
With an emotional story that calls back to older "Rocky" lore, "Creed II" was a big success. It raked in over $200 million and was showered with praise by critics and fans alike. It also cemented Michael B. Jordan as an undisputed star, capable of carrying his own spin-off series, guaranteeing we'd be seeing more of steely-stomached scrapper Adonis Creed.
3. Creed III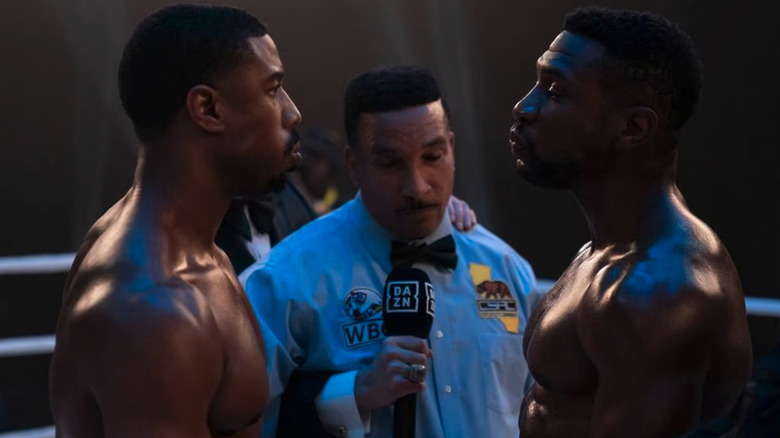 With two successes under its belt, the "Creed" movies became a full-fledged series. Talk of a third film surfaced almost immediately after the second film rocketed up the box office charts in 2018. Released in early 2023, "Creed III" continues another one of the franchise's traditions: Star Michael B. Jordan helmed the film in his directorial debut. What results is yet another success.
Just like his old mentor in "Rocky III", Adonis Creed has become a full-blown superstar in "Creed III," which for most would mean leaving the past behind. That's easier said than done for him, though, as he comes face to face with an old friend looking for revenge. Recently released from prison, Damian Anderson (Jonathan Majors) threatens to topple everything his old friend has fought for. The two prepare for what promises to be the most personal fight of their lives.
Though we get many of the defining characteristics of a "Rocky" film in this installment, noticeably absent from "Creed III" is the man who can be credited with starting it all: Sylvester Stallone. Despite a lack of Rocky himself, though, "Creed III" wowed critics and audiences with another jaw-breaking story. Jordan received high marks for his direction, and much praise was heaped on Jonathan Majors. His performance powers much of the film's gut-wrenchingly emotional story.
2. Rocky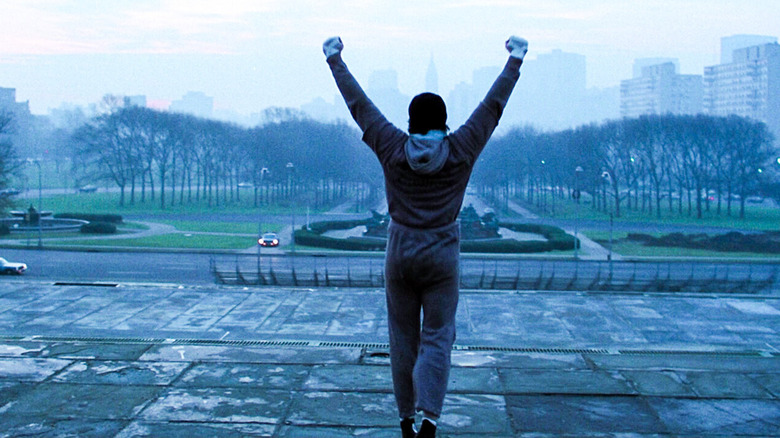 United Artists
The film that started it all, 1976's "Rocky" didn't just launch the now decades-spanning saga — it also propelled Sylvester Stallone from obscurity to absolute superstardom. Nearly penniless when he sold his script for the film, Stallone actually had to lobby to play the leading role himself, as the studio wanted a bigger, well-known name to play Rocky. In fact, they famously offered him a big payday not to star in the film. But the young actor and screenwriter stuck to his guns, and the result is an all-time classic and Academy Award-winning film that spawned a major franchise.
The film begins with reigning heavyweight champion boxer Apollo Creed enjoying his time at the top. After his planned opponent for a title fight in Philadelphia backs out, he searches for a new challenger and settles on local amateur boxer Rocky Balboa. Rocky must prep for a fight unlike any he's taken on before. Before the big day arrives, however, Rocky faces the enemies of fear and doubt, which might be harder to knock out than his actual opponent. He also struggles to romance Adrian (Talia Shire), a young woman who is concerned about his career as a fighter.
A story of grit, determination, and heart, "Rocky" has gone down as one of the best underdog stories of all time. Produced on a meager budget of just $1 million, the plucky film also scored a KO at the box office, and made both Stallone and Rocky into ironclad legends. Interestingly, the film also helped pioneer use of the Steadicam, resulting in a now-iconic shot of Rocky ascending a Philadelphia staircase, where a statue of the character now stands.
1. Creed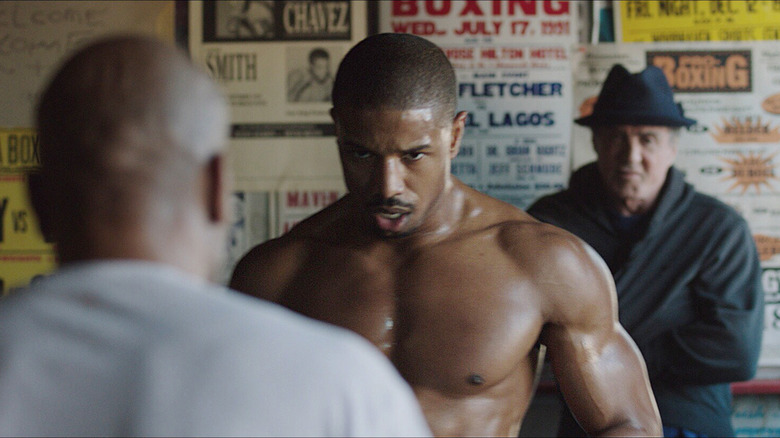 It may come as a surprise to some that none of the original "Rocky" films take the top spot on our ranked list. But 2015's "Creed" is a bonafide tour de force, a masterclass in filmmaking, and a film that puts the idea that legacy franchises can't come back to the ring decades later for one more victory lap to bed. This time, the series has a new star in Michael B. Jordan, who teamed back up with "Fruitvale Station" writer and director Ryan Coogler to make this movie happen. The story begins with Rocky Balboa, whose last fight is long behind him. The same, however, can't be said for Adonis (Jordan), estranged son of Apollo Creed. Though he never knew his late father, it seems boxing is in Adonis' blood. When he's not working an unassuming nine-to-five job in Los Angeles, he's brawling in small-time matches held across the border. After deciding to leave behind his ordinary life in the hopes of building a professional career in the ring, the young Creed seeks out his father's old friend, Rocky Balboa, to guide him. But the biggest challenge Adonis faces isn't his opponent in the opposite corner — it's the struggle to find a place outside his father's shadow.
With a brilliant script and impeccable direction from Coogler, "Creed" blossoms into a story about one young man's fight to find himself, and a perfect example of why fans have been returning to this franchise for decades. Though it earned Stallone an Academy Award nomination, "Creed" passes the torch to a new generation, all while paying respect to the storied history of a film series that has kept audiences captivated for nearly 50 years.