Years after a game has come out, it can grow into something previously unfathomable. Instead of going quietly into the night, some games turn into comeback stories that reach new peaks. To seasoned gamers, these redemption arcs affirm the old proverb: "Time reveals the truth."
For better or for worse, video games are long, arduous projects that can take years to finish, even after they officially launch. Developers may end up pouring years and years into polishing every little detail to turn games that flopped into games that truly shine. Even games that are successful upon their release can gain or lose considerable amounts of players, depending on how it is or isn't updated.
Games can go through different popularity cycles depending on genre and marketing. Competitive games spike in active players when ranked ladders reset. MMORPGs spike in active players around expansion releases. Social games might grab more attention when influencers pick up the game. These cyclical forces sometimes align to produce a new golden era for that game's active player count. Here are some true gaming comeback stories.
Apex Legends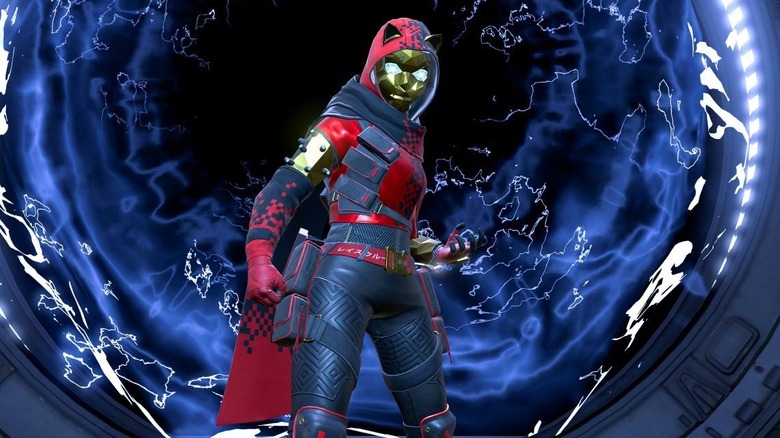 Most of the headlines for "Apex Legends" in early 2023 have been negative. For instance, Respawn Entertainment, the development company behind "Apex Legends," pulled the plug on future support for "Apex Legends Mobile." Despite negative headwinds at the company, though, "Apex Legends" continues to thrive.
In February 2023, "Apex Legends" reached a new all-time high in concurrent players on Steam at just over 600,000 people. This tops the game's previous record of 500,000 players which was set back in August 2022. The excitement of the game's fourth anniversary, on top of the beginning of Season 16, lured in more players to "Apex Legends'" servers than ever before.
"Apex Legends" was never a game that struggled for attention, mind you. Immediately upon release, "Apex Legends" took the FPS Battle Royale scene by storm. It set the record for most revenue generated by a free-to-play game in its very first month after release. Even with that full head of steam (no pun intended), "Apex Legends" took four years to reach its all-time peak of concurrent players. It's safe to say that the game will probably break this record again in the future.
Red Dead Redemption 2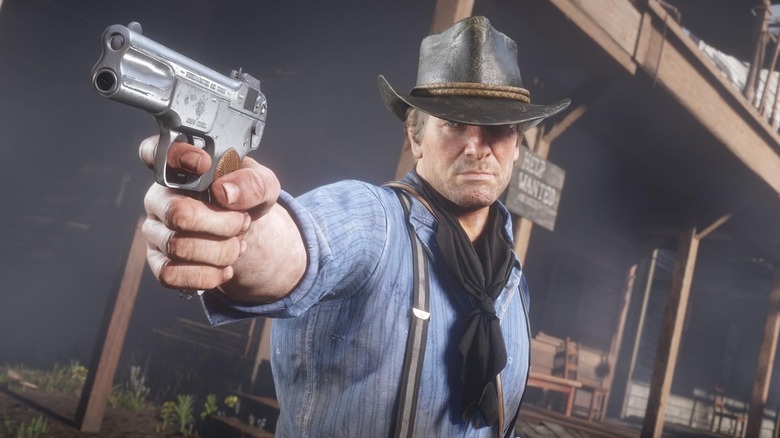 Rockstar's western epic, "Red Dead Redemption 2," was released on October 26, 2018. More than four years after its release, it reached a new all-time high of concurrent players on Steam when it registered 70,787 virtual cowboys. This early 2023 spike surpasses the initial wave of players from the game's release. Surprisingly, this new heyday happened right after Rockstar announced it no longer will provide major updates to "Red Dead Redemption 2 Online." So, what explains this comeback?
Well, everyone loves a Steam sale, especially when games as strong as "Red Dead Redemption 2" are up for a good deal. Steam's Boxing Day and Christmas sales events in late 2022 offered "Red Dead Redemption 2" at 70% off, which brought in a ton of newbies. Another contributing factor was Google's decision to shut down Stadia's servers in late 2022. Rockstar allowed players to transfer the earned goods in their Stadia accounts to Steam accounts at the end of 2022. The timing of this event lines up perfectly with the influx of players on Steam in early 2023. Lastly, the holiday season, filled with gift-giving and time-off, provided a window where all these factors coalesced into the biggest day in "Red Dead Redemption 2" history.
Grand Theft Auto 5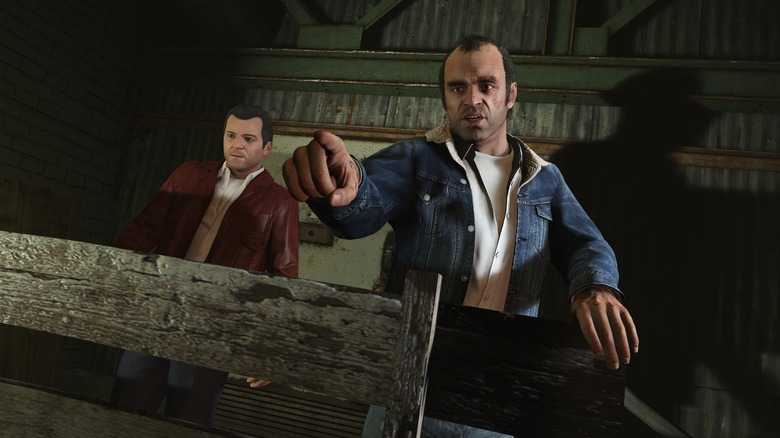 As one of the best-selling games of all time, "Grand Theft Auto 5" has been a chart-topping behemoth since its September 2013 release.
Even so, the overall popularity of "Grand Theft Auto 5" has been volatile over the years. The game hit an all-time high of 360,761 players back in 2015, but that wave eventually died out. Within a few months, concurrent players decreased to around 50,000. Subsequent bumps in player numbers, back towards its all-time high, occurred in 2020 and 2021, typically coinciding with a major update to "Grand Theft Auto Online."
The waves of popularity for "Grand Theft Auto 5" in 2020 and 2021 can also be linked to the corresponding rise in popularity of "Grand Theft Auto Online" roleplaying streamers. Servers such as NoPixel became content-producing machines. Nearly a decade after the game's initial release, some of the streaming industry's biggest names — including xQc, Sykkuno, and fuslie — all contributed to its revival in popularity. Even though fans are more than ready for the release of "Grand Theft Auto 6," it will be tough to top the sales and player numbers of its predecessor.
Team Fortress 2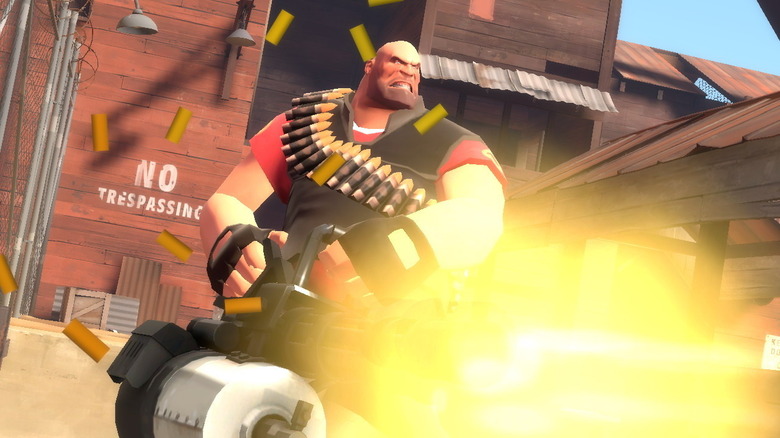 Developed and released by Valve all the way back in 2007, "Team Fortress 2" has stood the test of time in a crowded FPS market. The original hero-shooter, "Team Fortress 2" still receives updates to keep it relevant.
At one point in 2012, "Team Fortress 2" averaged around 70,000 concurrent players. Nearly a decade later, in 2021, "Team Fortress 2" reached 150,037 concurrent players on Steam. Another push in December 2022 reached 147,868 players, just short of breaking its own record once again.
Keeping players interested in the same FPS for more than 15 years is no small feat. Maintaining that attention is only possible with a well-polished game that is fed new content by both the devs and the player community. That is exactly the formula "Team Fortress 2" follows. In fact, its wave of popularity in late 2022 and early 2023 could partially be explained by the unique content it has planned for Summer 2023. A blog post from Valve confirms that user-created content submitted through the Steam Workshop will be chosen to be included in a future update. If that is not considered "listening to your players," then what is?
League of Legends
When "League of Legends" launched in 2013, it only had 17 playable champions on its roster. As of early 2023, "League of Legends" has 162 champions. The first World Championship tournament held for "League of Legends" took place on the backstage of Dreamhack 2011 with a $100,000 prize pool. To compare, the 2022 World Championship was seen by more than 5 million concurrent viewers at its peak, broadcast from the sold-out Chase Arena in San Francisco with a $2,225,000 million prize pool. "League of Legends" just keeps growing.
But when exactly did "League of Legends" top out in popularity? Riot Games is notoriously opaque with its player numbers, but it seems like "League of Legends" is here to stay. "League of Legends" experienced a drop off in players between 2017 and 2018, going from 100 million monthly players to 75 million. However, that was the only period of decline evidenced in "League of Legends" history. By 2022, the number of active monthly players grew again to 180 million.
Riot Games' expansion of the "League of Legends" universe — which includes critically-acclaimed shows like "Arcane" — likely lured many players back to Summoner's Rift. With even more plans to continue building out the "League of Legends" universe, the numbers may simply continue to surge.
Counter Strike: Global Offensive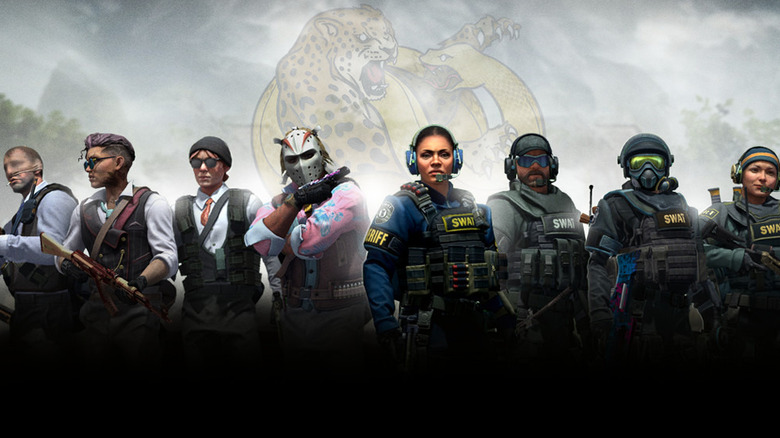 More than a decade after its initial release in 2012, "CS:GO" is still setting concurrent player records on Steam. In February 2023, the hardcore shooter reached a new all-time high with 1,354,248 concurrent players.
The sustained popularity of "CS:GO" largely matches up with its reputation of being the most hardcore FPS game on the market. If players want to truly test their gaming mettle, the lobbies of "CS:GO" are the place to be. This competitive core of "CS:GO" is most readily found in its ever-growing esports scene. The IEM Katowice championship, hosted in 2020, peaked at over 1 million concurrent viewers. Another contributing factor in the game's sustained popularity is the way it embraces its celebrity players and its memes. For example, Denzel Curry's track used in many fan montages, "Ultimate," was added as an official music kit in 2023.
"Valorant," the FPS designed by Riot Games, is considered "CS:GO's" closest competitor at this point. Its release in 2020 introduced many new players to "CS:GO" style shooters. One might expect that the release of "Valorant" release ate into the market share of players dominated by "CS:GO." However, "CS:GO" has only grown in popularity since 2020. It could be that "Valorant" instead acted as a pipeline to "CS:GO." In any case, "CS:GO" continues to dominate the hardcore FPS market.
Cyberpunk 2077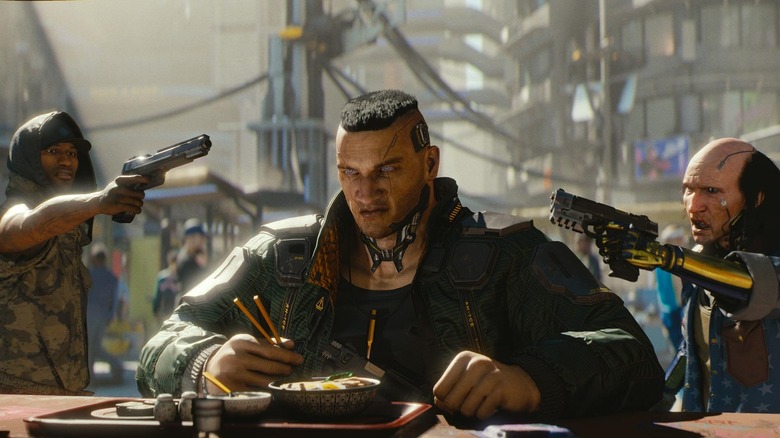 Few games have captured the public imagination the way that "Cyberpunk 2077" did leading up to its release in 2020. Even multiple release date delays couldn't slow it down. When it launched in December 2020, "Cyberpunk 2077" enjoyed a massive wave of initial popularity with around 1 million concurrent players. But only a few months later, its active player base dropped to around 20,000 concurrent players.
It is safe to say that "Cyberpunk 2077" was not a finished product upon its release. Visual bugs, frame rate glitches, and wonky NPC AI hampered any attempt at an enjoyable experience. Since then, CD Projekt Red has worked on ironing out many of the game's issues, which has seemingly led to increasing popularity. In August 2022, "Cyberpunk 2077" reached 136,724 concurrent players on Steam, the highest mark since its initial wave of popularity.
The release of "Cyberpunk: Edgerunners," an anime based on the game's world, also neatly lined up with the game's rise in popularity, much like the way "Arcane" drove more people to the "League of Legends" universe.
Rainbow Six Siege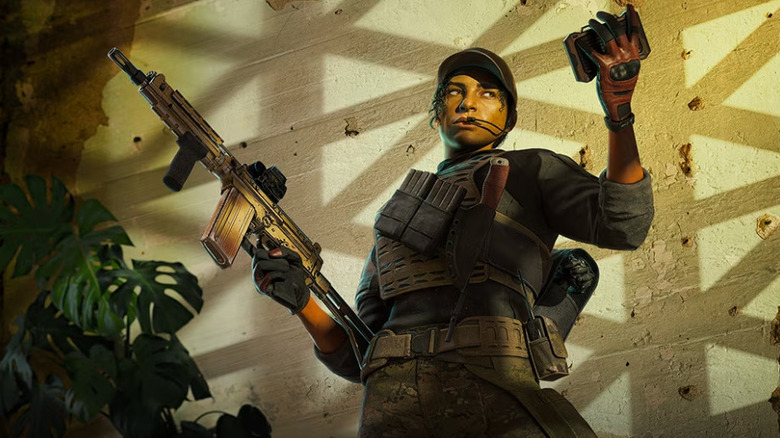 Released back in December 2015, "Tom Clancy's Rainbow Six Siege" put its own spin on the hero-shooter genre, and has since fulfilled a niche for FPS players caught somewhere in between "CS:GO" and "Overwatch."
In February 2021, "Rainbow Six Siege" peaked on Steam with 199,830 concurrent players. That barely topped its previous best, which was 198,567 concurrent players a year prior in March of 2020. "Rainbow Six Siege" has remained relevant through its esports scene, but that doesn't quite explain the sudden jump in active players after years of steady decline. Instead, the game's surge in popularity, more than 6 years after its release, can most likely be explained by clever marketing.
Ubisoft hosted a free-to-play event to kick off the sixth year of "Rainbow Six Siege," giving players unlimited access to all 59 of the game's operators at the time. Shortly after, Ubisoft sold "Rainbow Six Siege" at a 67% discount. This confluence of events, layered on top of a healthy esports scene, finally gave "Rainbow Six Siege" its time in the limelight, years after its release.
Project Zomboid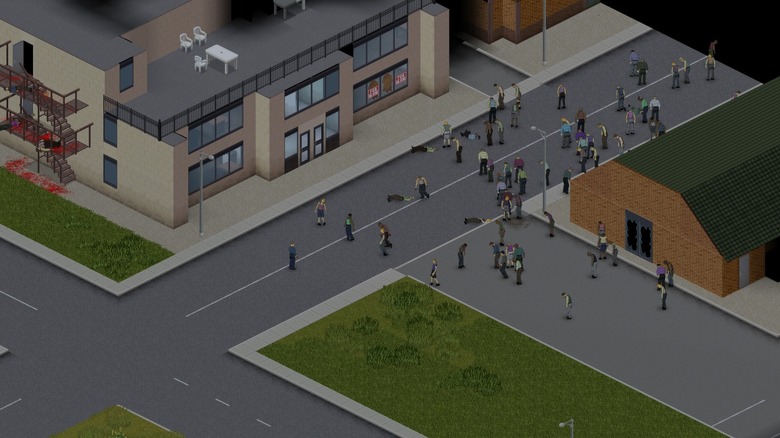 Developed by The Indie Stone and released in 2013, "Project Zomboid" is a hidden gem of a zombie game. While it was available for nearly a decade on Steam, it wasn't until December 2022 that "Project Zomboid" started breaking its concurrent player records. Before late 2022, "Project Zomboid" averaged a couple thousand concurrent players on Steam at its best. However, when the multiplayer test officially launched in December 2022, that concurrent player number on Steam shot up to a new record of 65,379 players.
Large content updates and small polishes were common throughout the development of "Project Zomboid," but the multiplayer update is probably the biggest the game ever received. Multiplayer mode in "Project Zomboid" supports 16 players on their own dedicated servers. As if that's not ambitious enough for an indie project, 32-player servers are in the development pipeline.
The small team at The Indie Stone was nominated for the Labor of Love award at the 2022 Steam Awards for the amount of time and effort that went into making "Project Zomboid" a viable multiplayer experience. The team's regular dev blogs offer an interesting behind-the-scenes look at how projects can evolve and find new audiences over time.
Among Us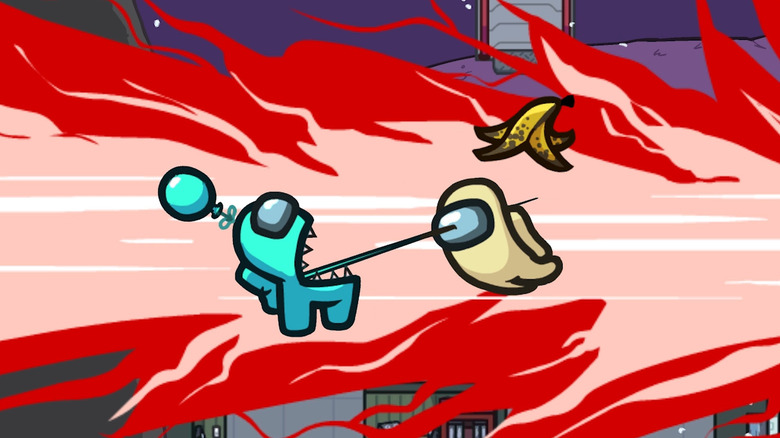 When "Among Us" first released in 2018, it didn't make much of a splash in the gaming industry, averaging less than 100 concurrent players on most days. Being at the right place at the right time counts, and there is perhaps no better example in gaming than "Among Us." During the outbreak of COVID-19, when many people found themselves quarantined in their homes, "Among Us" allowed people to reconnect with each other.
"Among Us" had the fastest blow-up and the most severe decline of any game on this list. At its peak on Steam, "Among Us" had 438,524 concurrent players in August 2020. A month later, game developer Innersloth tweeted that "Among Us" servers hit over 1.5 million concurrent players across all platforms, meaning many more people were playing on platforms other than PC.
Just a year after its surge in popularity, however, "Among Us" was back down to around 15,000 concurrent players on Steam. Even so, "Among Us" provided the gaming industry with one of its most unforgettable success stories and acted as a lifeline for gamers everywhere during an uncertain time.
Minecraft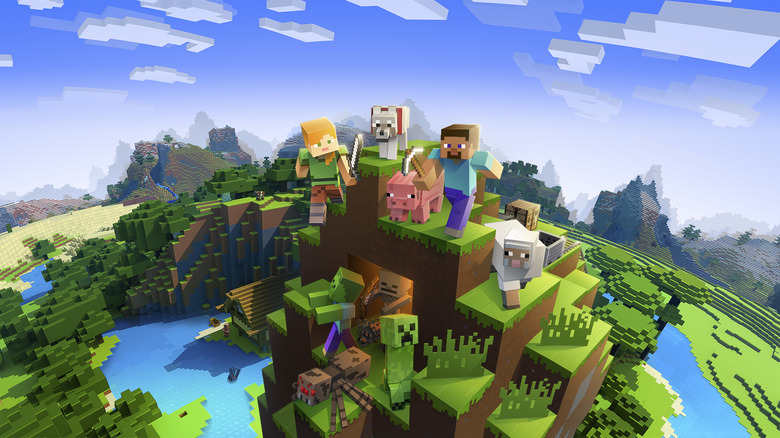 Mojang Studios
"Minecraft" has fostered a style of infinite replayability has helped it thrive over the years. In 2021, 10 years after "Minecraft's" official release, Microsoft shared that "Minecraft" had sold over 238 million copies. At the time, this gargantuan number of units placed it second all-time, just behind "Tetris."
"Minecraft" was never a small game, though. It hauled in over $211 million in revenue in only the first year after its official release, and it wasn't anywhere near through with growing. The 3-year period between 2016-2019 more than doubled "Minecraft's" monthly active users. In 2020, the game's monthly active players hit a relative peak at 131 million. A combination of fun updates, Microsoft's acquisition and further marketing push, and the many social communities growing around the game helped propel "Minecraft" to new heights.
In 2023, "Minecraft" is continuing to break those already mind-boggling numbers. The game saw its best month of all time in February 2023, bringing in an estimated 176 million players. Not only does "Minecraft" feature a solid core game with limitless mod possibilities, but it also has innovative developers backing it up. New additions like VR mode and Education Mode, as well as offshoots like "Minecraft Dungeons," help keep the "Minecraft" brand evergreen and popular.
Roblox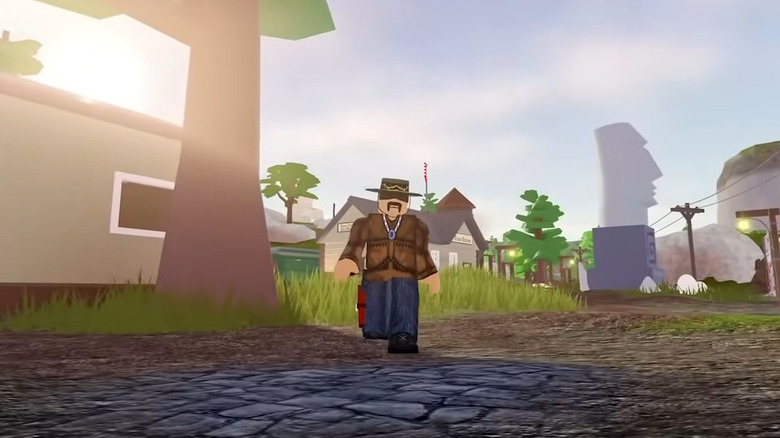 Roblox Corporation
"Roblox" is one of the most unique, and most played, games in the entire industry. "Roblox" itself is less of a game than it is a game-building and sharing platform. By giving its players the tools to create and share their own games, "Roblox" has created an unstoppable train that has only gained more and more steam as time goes on. Its kid-friendly nature and support from popular streamers like Briana Arsement and Tofuu opened up its doors to the widest possible audience.
When it comes to "Roblox," precise numbers for exact daily or monthly active users are hard to come by. However, according to a report that compiled tracking estimates and Roblox Corporation's own published data, the game's monthly active users have seen sharp increases every year since 2016.
In February 2016, an estimated 9 million users logged into "Roblox." Two years later, in September 2018, that number grew to 70 million monthly active users. In daily active user terms, "Roblox" had more than 43 million players in late 2021, making it one of the most-played games across the world. The latest data reported in 2023 estimated that "Roblox" brings in more than 214 million monthly active players. With no signs of slowing down in 2023, "Roblox" is likely to continue reaching new peaks in active players.
World of Warcraft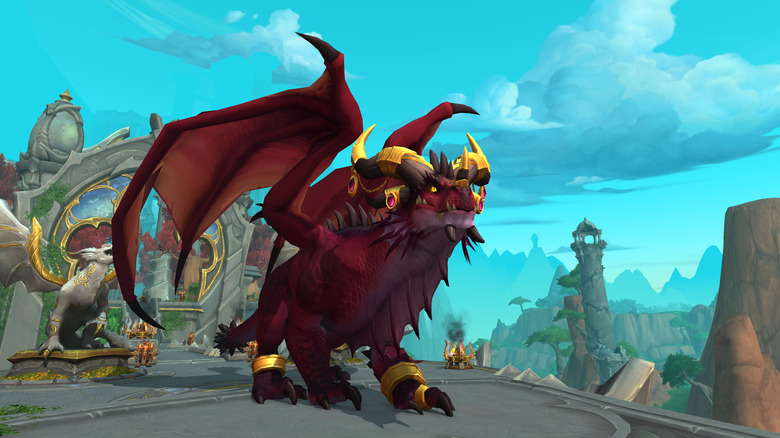 Blizzard Entertainment
"World of Warcraft" changed the face of gaming when it released back in 2004, becoming one of those rare games that transcended its niche community and broke into mainstream media. Who could forget Mr. T's Night-Elf Mohawk commercial? Or Leeroy Jenkins' iconic battlecry? Or that infamous "South Park" episode lampooning "WoW"-addicted gamers?
An instant hit upon its release, "World of Warcraft" boasted millions of subscribers all paying $15 every month. Steady growth for the game ensued with its first expansion, "World of Warcraft: The Burning Crusade." And the game's subscriber count peak hit with its second expansion, "World of Warcraft: Wrath of the Lich King," in 2010. At that time, Blizzard proudly announced that it had hit 12 million monthly subscribers.
Since then, unfortunately, things have been downhill for "World of Warcraft." Amidst the ever-evolving MMORPG genre and Blizzard's declining reputation, the game's stream of expansions have essentially failed to keep around any of the players that would might previously have been lured back. Blizzard stopped releasing official player numbers at some point during this decline, but estimates in 2023 put "World of Warcraft" at around 2 million monthly subscribers.
Final Fantasy 14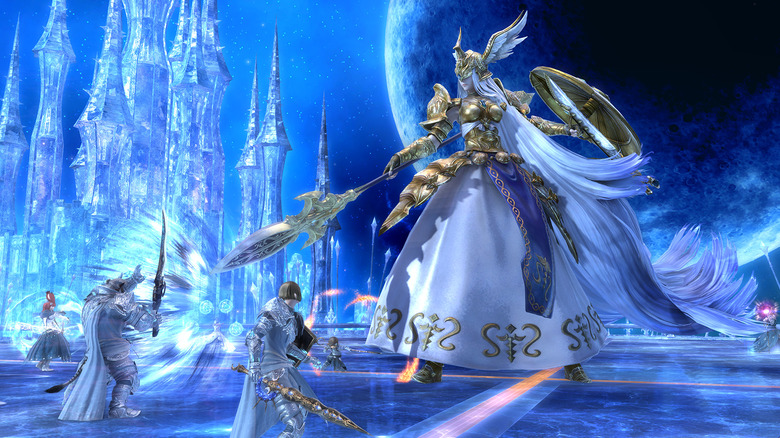 Square Enix
"Final Fantasy 14" is one of the shining stars of the MMORPG genre. Released in 2010, it only truly blossomed in the late 2010s and early 2020s, following an overhaul and plenty of updates.
"Final Fantasy XIV" was averaging only around 5,000 daily active players between 2014-2016, but momentum picked up in 2019, when the game hit just over 40,000 daily active players on Steam. But 2021 was the real big year for the game. The "Endwalker" expansion drove more players to Square Enix's servers than ever before. November 2021 saw a peak of 95,102 daily active players, more than double its previous high from 2019.
It should be mentioned that these figures only account for the PC population that is playing through Steam. The game's community on PS4, PS5, and its dedicated PC launcher are not counted in this statistic. With that in mind, the game's popularity seems to only be gaining momentum over time. Maybe the follow-up expansion to "Final Fantasy XIV: Endwalker" can set a new record in the future.