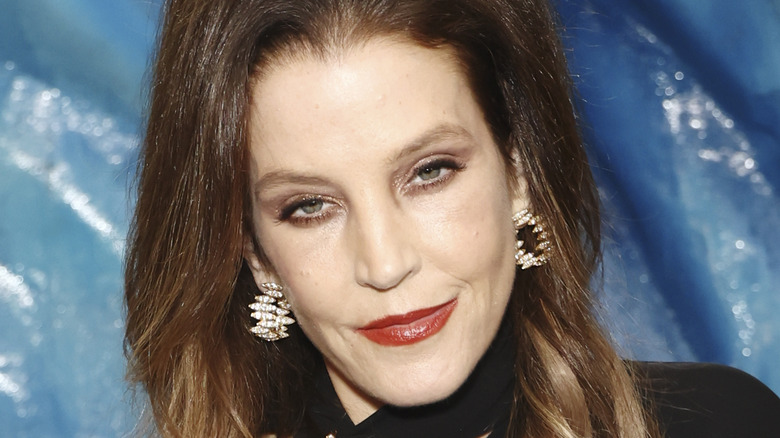 The music world heard a sad, familiar echo on the evening of January 12, 2023, when Priscilla Presley announced that her daughter, Lisa Marie Presley, had died after reportedly going into cardiac arrest earlier in the day. Lisa Marie, 54, had been rushed to the hospital that morning, but her mother's sad statement brought a close to the day (via Yahoo News). "It is with a heavy heart that I must share the devastating news that my beautiful daughter Lisa Marie has left us," she announced that evening in a public statement. "She was the most passionate, strong and loving woman I have ever known."
Paving her way in the music industry, Lisa Marie produced an original album titled "To Whom It May Concern" in the early 2000s, reports CNN. The album was met with success, landing among the top five albums placed on the Billboard top 200 albums chart. This was followed by the release of two additional albums, one in 2005 and another in 2012.
Elvis Presley died of a heart attack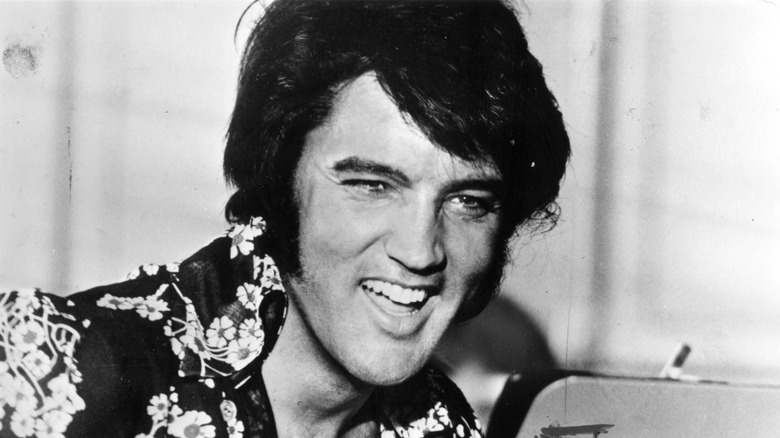 Lisa Marie Presley was the only child of Priscilla Presley and the late Elvis Presley. While her official cause of death is not yet known, Lisa Marie has a family history of cardiac issues.
Lisa Marie was only 9 years old when her father died, reports Yahoo News. Her father was 42 years of age, as per an archived Washington Post article from August 1977. The article covers the rock legend's death and explains that the musician bore no signs of recent drug use, despite rumors. Rather, the cause of death was deemed to be a type of heart attack known as cardiac arrhythmia with ventricular fibrillation. Dr. Jerry T. Francisco, who performed Elvis' autopsy and reported the findings, explained that although the cause of the heart attack could not be definitively determined, diet and overall poor health were the most likely contributing factors. At the time, it was also confirmed that Elvis had struggled with high blood pressure for years, a condition familiar to tens of millions of Americans, according to the Centers for Disease Control and Prevention (CDC). Otherwise known as hypertension, having high blood pressure can make one more prone to heart attack and stroke if not treated.
Other cardiovascular risk factors in Elvis' death
Additionally, Elvis showed signs of atherosclerosis, otherwise known as clogged coronary arteries, as per The Washington Post. Experts at Johns Hopkins Medicine explain that this clogging doesn't allow for adequate circulation to our organs and other areas of the body. In turn, this can lead to a heart attack, an aneurysm, blood clots, or stroke. Treatment methods often consist of medication, lifestyle changes, and in some cases, surgery.
Furthermore, the musician's heart was also found to be enlarged by around 33% (via The Washington Post). According to the Mayo Clinic, an enlarged heart, also termed cardiomegaly, is not a medical disorder in and of itself but rather a symptom indicative of another condition. Such conditions can include anemia, a thyroid disorder, heart valve disease, and heart attack-related damage, amongst others. Without treatment, an enlarged heart can result in the formation of blood clots, heart failure, or sudden death.
Lisa Marie Presley's grandmother also had heart problems
Elvis was not the first Presley to experience heart trouble. He bore a legacy from his mother and father, both of whom experienced heart health issues.
Elvis' love for his mother is almost as legendary as the man's voice. The moment he hit star status, he moved both of his parents to Graceland where they would live out the rest of their lives in nothing less than luxury. For Gladys Love Presley, that luxury lasted until 1958. After a summer of feeling unwell, Elvis pressed his mother to see her doctor, according to Elvis Presley Music. The young singer was in the military at the time, but he fought to get home that August when his mother was hospitalized. While in the hospital, it was determined that his mother was in grave condition. Elvis would arrive shortly before his mother died of a heart attack at the age of 46 (via The Sun).
It's important to note that some sources alternatively claim Gladys' cause of death to have been heart failure (via Express). While similar, WebMD notes that heart attack and heart failure are not one and the same. Additionally, although not definitively confirmed, some sources suggest that liver damage from alcohol use may also have been a contributing factor in Gladys's death, reports The Sun.
Lisa Marie Presley's grandfather experienced cardiac arrest
During the course of his life, Vernon Presley had long struggled with heart disease and succumbed to cardiac arrest, stated The Washington Post. He died on June 26, 1979, at 63 years of age (per The New York Times). Just like heart failure, cardiac arrest also differs from a heart attack, although they are often mistaken as the same condition. While both can be fatal, a heart attack involves the obstruction of blood flow, while cardiac arrest stems from an electrical issue in the heart, according to Healthline. A cardiac arrest is most often the result of arrhythmias, causing one's heart rhythm to stop. Those experiencing cardiac arrest may faint, lose consciousness, have breathing issues, heart palpitations, dizziness, and lack of a pulse, amongst other symptoms.
Keep in mind that smoking, an enlarged heart, irregularly shaped heart valves, a prior heart attack, family history of cardiovascular disease, and drug or alcohol use can all increase one's susceptibility to cardiac arrest.
The influence of family genetics
Sally Hoedel, historian and author of the book "Elvis: Destined to Die Young," points to another factor that may have influenced the prevalence of health conditions within the Presley family: genetics (per The Guardian). Hoedel notes that Elvis was born with some of his health issues. One genetic condition Hoedel states he was diagnosed with was alpha-1-antitrypsin deficiency. It targets the lungs and liver and can impact colon and immune system function. Additionally, Elvis' grandparents on his mother's side of the family were reported to be first cousins. Hoedel cites that the combination of genes may have had negative consequences for the King's health (via New York Post).
Overall, both Lisa Marie and her father reportedly experienced similar health issues, such as digestive discomfort, in addition to heart problems. Unfortunately, in the last few years, researchers still don't have a clear picture of how genetics impact even the most widespread heart condition, according to Harvard Health Publishing. It will be some time before research can be put into direct action. But hopefully, when it can, these tragic legacies may no longer be part of anyone's family story.