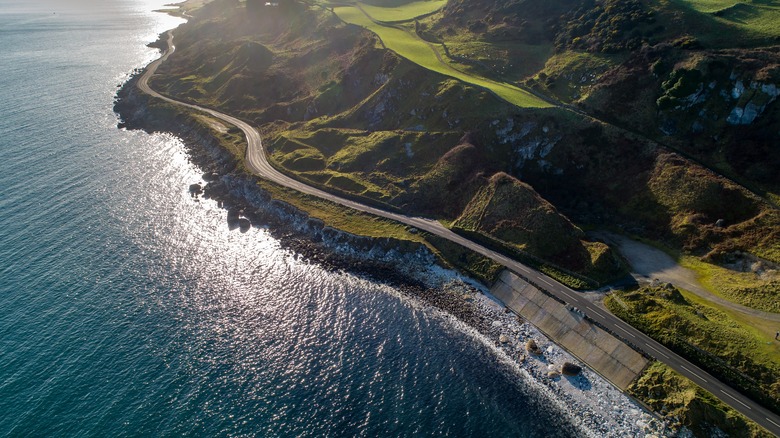 Just off the eastern coast of Scotland, separated by the turbulent Irish Sea, lies the breathtaking and diverse landscape of Northern Ireland. Historians and romantics will associate Northern Ireland and the capital city of Belfast with the craftsmanship of the doomed luxury steamship — the Titanic. "Game of Thrones" fans will associate it with the jaw-dropping territory used in the filming locations for their favorite fantasy drama series.
And, while its political and historical past has been as turbulent as the sea that borders it. present-day Northern Ireland boasts legends, prehistoric geology, ancient castles, wild and rugged terrain, incredibly fresh seafood, and a 120-mile scenic route between Belfast and Derry-Londonderry, with stunning coastal views that will blow you away. Its fabled landscape is well deserving of its nickname as the Emerald Isle, and the coastal views along this route are a must-see when driving through Northern Ireland.
A unique driving experience through beautiful Northern Ireland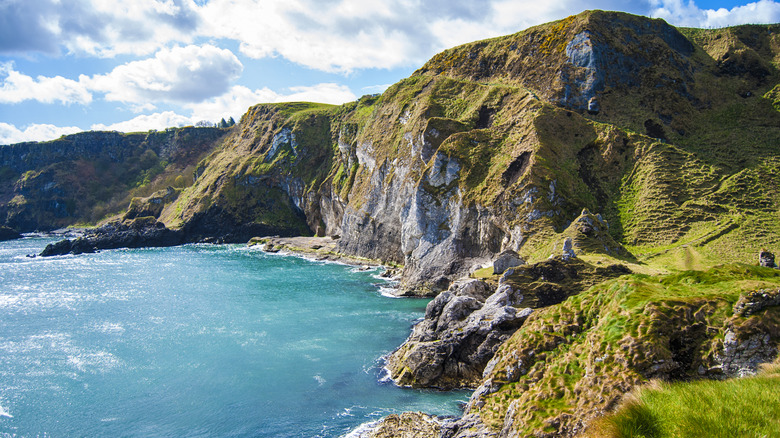 The Causeway Coastal Route is not a journey that should be rushed. While it can be done in one day, it shouldn't be. Instead, if you drive at a leisurely pace and stop to see the sites, it's estimated to take between three to five days to get from Belfast to Derry-Londonderry (or vice versa). It's highly recommended to take your time, so you can enjoy all of the captivating sites along the way. Its route also contains nine loops through the Glens of Antrim, adding an additional 256 miles as part of its scenic route.
With 36 locations along this incredible drive of turns and curves around the rim of Northern Ireland, the masterfully engineered Antrim Coast Road gives way to breathtaking views of the Irish Sea, distant views of Scotland, magical forest park walks, adrenaline-rushing cliff walks, and visits to pristine beaches, while drivers approach numerous varying points of fascinating interest and sites of historical wonders.
From prehistoric to centuries-old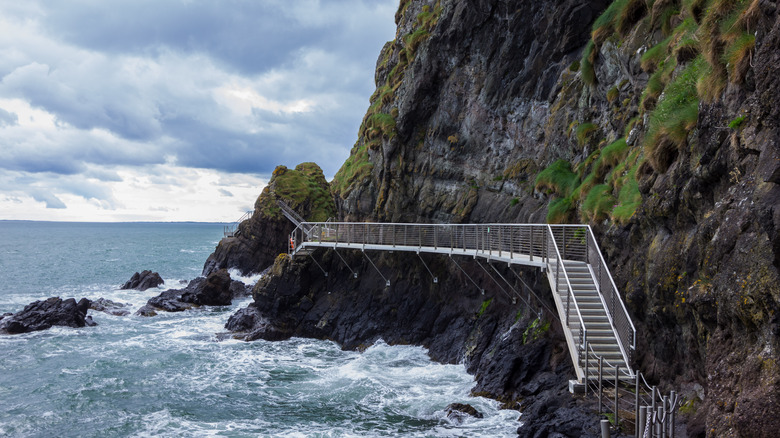 Just 40 miles outside of Belfast, and at the start of your journey, make your way to the 200-million-year-old site: The Gobbins. This 19th-century, dramatic cliff walk was created for people to experience its extreme beauty and danger for three solid hours along its treacherous 3-mile path. Further along the route, the Giant's Causeway and the Causeway Coast — both inscribed as UNESCO World Heritage Sites — draw approximately one million tourists to them annually. It's estimated that there are approximately 40,000 hexagonal-shaped, black basalt columns forming this 50- to 60-million-year-old site. It's said to have been created from the cooling of volcanic lava, making its otherworldly landscape as mystical as its legendary creation. Parking is on the Coastal Causeway for a small fee, and an estimated 10-minute walk will guide you to the Antrim Plateau to experience it face-to-face.
The Carrick-a-Red rope bridge isn't nearly as old, however, its assembly back in 1755 by local fishermen to its present-day usage as an attraction to tourists speaks volumes about its engineering. Teetering precariously over the ocean, this 100-foot-high, 1.25-mile antique bridge provides walkers with stunning views of several islands, and the bonnie landscape of Scotland can be seen in the distance. This is a walk, don't run, bridge, which means you should tread lightly across its length. To take part in its adventurous walk, visitors will need to book a time slot and purchase tickets ahead of time.