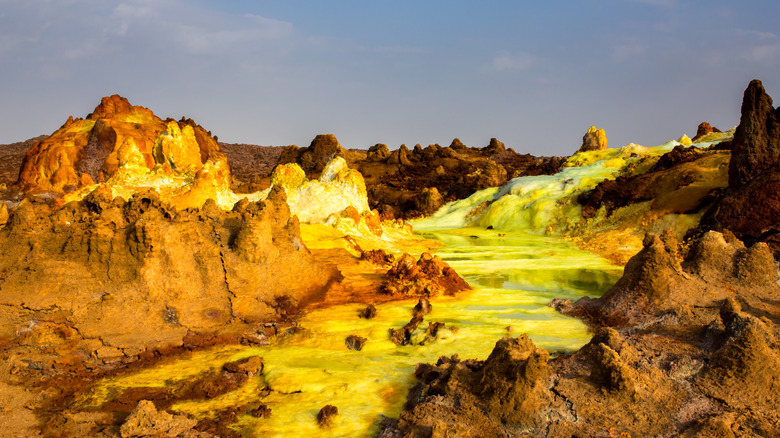 Traveling can be downright hypnotic. The different cultures, customs, terrain and people make jetting into a new destination exciting and unforgettable. But, sometimes we find we're allured to destinations that are also known for danger. Here we review popular tourist spots that also offer troubling challenges. Be aware that while visiting these enticing places may be on your radar, they also could pose a threat to your life.
Whether it's due to political unrest, soaring temperatures, or a lack of resources, we've found the places in the world that are the most dangerous to visit as a tourist. Though you'll be advised many times to steer clear of these spots, we know you'll likely still be tempted to try and defy the nay-sayers by visiting anyway. But be warned — these locations are not for the faint of heart. These spots made it onto our danger zone list for good reason, so keep that in mind before you plan any trips!
Death Valley National Park, California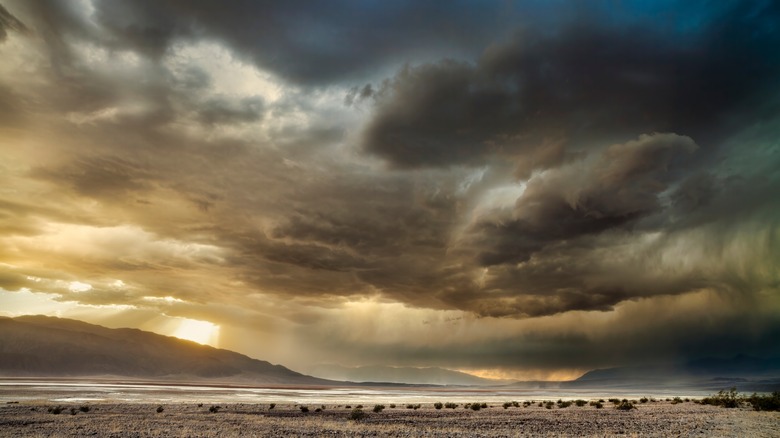 Apparently, the daunting name of Death Valley doesn't deter many tourists from visiting this hot inferno of a destination. But according to Armormax, it's the frequent car accidents that make it so dangerous. Additionally precarious is the severe heat that will certainly lead to death. Yes, Death Valley experiences extraordinarily high highs and low lows. First off, it's the hottest and lowest point in North America, and people flock here in droves to stand at the lowest spot possible named Badwater Basin. Perfect for an exciting selfie at 282 feet below sea level.
But the heat is intense! In fact, Visit California reports that the Death Valley National Park recorded the world's highest temperature in July of 1936 of 134 F. And this crazy heat is part of the park's very allure! Visitors want to stand in the nation's driest location while also hiking through its fabulous canyons and picturesque valleys.
Mount Washington, New Hampshire
travelview/Shutterstock
Powerful winds coupled with high heights make this hiking spot super scary for the average tourist. According to Science 101, this is one of the windiest points on earth thanks to the height of the peak and the contentious winds. The peak is almost 6300 feet and captures the attention of many thrill seekers. Indeed, it is the highest peak in the Northeastern United States. Temperatures can reach under 40 F, and this coupled with furious winds is not an invitation for some "casual stroll" through the forest.
Located in White Mountain National Forest, a cautionary orange sign even awaits you with the warning that Mount Washington has the worst weather in America. If this doesn't get your attention, little will! Still many tourists visit this popular peak in search of a thrilling experience despite that the winds can gust at over 200 miles per hour! Keep in mind that this preserved forest with all its natural beauty is also infamous for crazy weather and dangerous conditions.
Madidi National Park, Bolivia
Spiders ready to attack you and poisonous plant life coupled with dangerous frogs makes this one picturesque National Park you'd be better off avoiding. But, that's not what happens. Tourists and adventurers still flock to the Amazon in droves. It must be its reputation for being so diverse in beauty. According to Planet of Hotels, this park will leave you mesmerized for its paradise-like beauty that reaches out over multiple climate zones. According to Trans America, it scales out across Guyana, Columbia, Venezuela, Bolivia, Suriname, Peru, Ecuador and Brazil.
But don't let the beautiful scenery of the Amazon deceive you- it's easy to have an allergic reaction to the paradise-looking local fauna. Sure, the biodiversity of the Madidi National Park is awe-inspiring. And certainly, the chance to see incredible animals amongst their natural habitat is enticing. But the overwhelming jungle wilderness awaiting you within the Andes Mountains is still precarious. Indeed you may see incredible wildlife such as monkeys, jaguars and macaws along with breathtaking scenery. But is the possible mayhem worth your very life?
Cairo, Egypt
It's the place legends are made of… hypnotic pyramids, exotic camels and hot sandy streets make many of us long to travel to Egypt. But recent tragedies with Isis can make travel to anywhere in Egypt a risk. It's always wise to check with the U.S. State Department before traveling abroad to see if any warnings have been issued to a place you'd like to visit.
Especially for women, cultural differences can make this one location that can prove downright dangerous. If you're a woman planning a trip to Egypt, keep in mind that modesty while touring around is the safe way to go. This means keeping clothing loose and curious eyes safely tucked behind sunglasses. Not drawing attention to yourself while in market places and crowded areas will definitely go a long way.
But according to Time, it is predominately traffic accidents that cause death for American travelers while traveling abroad anywhere including Cairo. This fact offers a simple solution: buckle up! Yes, wear that seat belt and opt for being safe over sorry. This means using good sense. Travel in groups with tour guides, keep your eyes peeled for anything unusual and follow your gut.
Myanmar (Burma)
This is absolutely one place you want to avoid. But the natural beauty and well-preserved temples and other landmarks still beckon intrepid tourists. Human Rights Watch is one of many groups, including Amnesty, that caution against exploring the mayhem in Myanmar.
The Myanmar military stands against anyone who opposes their views. The political climate is most hostile and has resulted in the death or imprisonment of people including journalists, politicians, protestors, and even healthcare workers culminating in crimes against humanity.
Myanmar is definitely on the map, but it's in a most negative fashion. Despite attempts by international powers, Myanmar refuses to change its brutal way while implementing military scare tactics to keep its critics quiet. Still, all this being true, the beauty of Myanmar is contagious. It is known for its myriad beauty from the peaks of the snow-capped Himalayas to its incredibly unique architectural wonders. In particular is the beauty associated with its northernmost city of Putao.
Mount Everest, Nepal
The earth's highest peak beckons travelers from all over the world to this international destination for the hike of a lifetime. Naturally, fearless hikers flock to this amazing mountain despite that many struggle to reach the summit due to perilous falls, low oxygen levels and icy temperatures. But without the region's helpful hiking guides (the indigenous "Sherpas"), none of this would be possible.
In fact, National Geographic states that most climbers to Everest aren't used to the altitude and often have to bring oxygen along with them just to keep going. Thus, the elevation above 26,000 feet (8000 meters) is known as the perilous "death zone." Visitors unaccustomed to this extreme elevation can develop severe altitude illness. Also concerning are what National Geographic refers to as "traffic jams" of mountain climbers who pass too much time waiting for their opportunity to goto the summit waiting around in the "death zone."
Naturally, the large amount of people attracted to Everest has also resulted in a profound increase in trash along the trail. Disturbingly are the corpses of dead climbers who both the Sherpas and climbers have to hike past to get up the mountain. Regardless, this is one scary destination that is on many a traveler's bucket list.
Cliffs on Moher, Ireland
On Ireland's west coast are the incredibly thrilling scenic Cliffs of Moher. The Atlantic shines below and attracts tourists who appreciate the best of mother nature formed over 300 million years ago. But Armormax reports that too often tourists fall off these majestic cliffs. Save the precarious selfies for another day and enjoy the breathtaking views from a safe distance.
The sheer energy of these cliffs' vistas expanding the horizon make them unforgettable. But perhaps it's their astonishing height of coastal land formations including pointed rocky cuts of land and sea stacks that makes them a must-see destination. Nordic Visitor reports one of the high points is the 220 foot high Branaunmore sea stack. Indeed, there's a reason so many productions choose these cliffs as their filming location. Think "Harry Potter" and "The Princess Bride." The cliffs are only a two hour drive from Dublin and deserve the effort as long as you're cautious! Expect to view cliffs that stretch out over five miles and shine brightly at their highest point of an astonishing 702 feet.
Yosemite Half Dome, California
The tumultuous hike to Half Dome's granite rock is definitely for the most intrepid of climbers. The summit of the trail sits high with pride at 1450 meters. But this is one trail that can lead to death. In fact, according to Planet of Hotels, there is a section of Half Dome known as Slabs of Death for its precarious trailways leading some to, yes, death. Naturally, the end result of actually making it to the top of Half Dome is incredible vistas of Yosemite.
In fact, this is one perilous hike that attracts so many climbers that there's a lottery system in place for a turn to hike it. And this is despite the fact that this one day hike takes between 10 and 14 hours packed with wild risk. But that's clearly the allure for thrill-seekers. Yosemite Hikes states that the views awaiting you at the summit of the hand-held cable ascent are mesmerizing. Plus, the Mist Trail leads to unforgettable waterfalls back where gravity is still your friend. Tempting? Keep in mind the hike is closed during the winter.
Hawaiʻi Volcanoes National Park, Hawaii
It's fine to say "aloha" to Hawaii, but watch yourself at the active volcano of Kilauea here. Many intrepid tourists are enticed by the otherworldly beauty of the lava but the volcanic fumes lead to a variety of extreme sicknesses and even death. This along with unstable trails that quickly become decimated beneath the lava can mean the difference between life and death.
However, this UNESCO World Heritage Site is incredibly popular for multifaceted reasons. Where else in the United States can you visit an active volcano site that's still leaking lava after three decades? Yes, according to Planet of Hotels, thousands of tourists have witnessed Kilauea erupt over the last 30 years. But they do so despite the brazen rangers who do everything in their power to keep travelers safe. Indeed, steam in the sky and bright lava flowing is a hard natural attraction to ignore but is it worth the risk?
Lake Natron, Tanzania
Oh the allure of what appears to be from another planet! The massive layers of salt that are sometimes colored in red and pink make for an incredible tourist attraction in this area of Northern Tanzania. But according to Planet of Hotels, touching the hot alkaline waters results in instant chemical burns. Indeed, even from space the reddish alkaline waters can be seen.
Unfortunately, a lot of wildlife such as birds consume the toxic waters filled with algae and die. So, it's best you stay away if viewing dead corpses of birds turns your stomach. Interestingly, flamingos thrive in the environment and don't experience any adverse effects from the alkaline-rich waters that flow from a nearby volcano. In fact, Follow Alice reports that the flamingos have a pink hue thanks to the effects of the waters. Who knew?
The lake's algae is also a primary source of their diet. And shockingly at times, there are more than one million flamingos on this 56 kilometer long lake. Yes, another reason tourists must long to see this gem of a destination.
Bangkok, Thailand
Thailand offers a world of beauty. Virgin beaches, mesmerizing shrines, fantastic culture, unforgettable temples and world-renowned charm helps define Thailand. But unfortunately crime has infiltrated tourism in Bangkok. According to Hotels.com, one of the most common issues is tourists getting charged excessively for taxis.
Remember to flag down a taxi that is already driving and has its meter turned on, rather than hopping into one that's waiting in a line. Apparently, the parked taxis take advantage of tourists by trying to charge up to three times the normal rate. Always ask for the meter to be on or establish a rate before agreeing to take the ride.
Sex tourism is also a big draw in certain areas of Bangkok even though prostitution is illegal in Thailand. Smarter Travel reports that pickpockets are common in these areas. In particular, stay clear of the Siam Paragon Mall. Going out for cocktails in Bangkok? Be sure to double check the price of drinks upon ordering to avoid being charged crazy prices.
The Danakil Depression, Ethiopia
The Danakil Depression is utterly amazing. With crazy-looking salt formations, hot springs and geothermal pools filled with eclectic colors, numerous tourists are attracted to this region of Ethiopia. But according to Property Casualty 360, it is also precisely these enticing attractions from the Danakil Depression that give off sulfur and chlorine gasses which are poisonous and have a putrid smell.
According to CNBC, this out-of-this-world attraction is in a location that is one of the lowest, driest and hottest in the world. It can get as hot as 122 F but tends to stay around 94 F. Ouch! Regardless, it enthralls tourists, salt miners and of course scientists to study its unique combination of elements that make it so popular. Equally incredible is the area's Afar people who live here and thrive despite the conditions.
CNBC states that also of great attraction to the region is the Erta Ale volcano which is alive and kicking with a bubbling fiery center. But is this one fatal attraction you may want to avoid?
El Caminito Del Rey, Spain
El Caminito Del Rey's brave terrain in southern Spain wasn't nicknamed the "Walkway of Death" for no reason. Upgrades were made in 2015 to the hundred-year-old precarious path hugging Malaga's cliffs, but it still isn't for the faint-hearted.
The Caminito's (the King's Little Path) fantastical aerial walkway is literally pinned to the rock of the precarious cliff running along this portion of the 4.8 mile long hike. But it's narrow and suspended in the air by a walkway! Yet another potential deadly attraction in this topsy-turvy world of ours.
According to Always Around The World, the Caminito Del Rey is parallel to a gorge known as the Guadalhorce River. This thrilling hike for the intrepid traveler is about 37 miles away from the charming city of Malaga and the nearest town is called El Chorro. Know that you'll be provided a helmet for the trek which since being renovated and reopened is considered safe.
Travel Notes and Beyond reports that you'll be able to view the former deadly wooden pathway from the new one circling the cliffs. Keep in mind that if you're afraid of heights or experience vertigo, you may want to leave this harrowing experience to one of your travel buddies.
Rio de Janeiro, Brazil
Oh, Rio. When it comes to beauty, there's a "The Girl from Ipanema" who saunters across every beach. Rio is spectacular and its beaches sublime. But unfortunately there is abundant crime in this cosmopolitan city. In fact, according to Mapquest, Rio is the most precarious spot of all in Brazil. Civil unrest and great amounts of crime have made this second most populous sandy beach city in Brazil a point of contention.
Unfortunately, when the majesty of a beach such as Copacabana or Ipanema draws a bunch of tourists, small-time criminals follow suit. In fact, according to Expatriate Consultancy, there is not an abundance of police patrolling the beaches which means these petty criminals can rob the tourists. Robbers come in groups smack in the middle of the day and quickly steal from a few different tourist groups before retreating. Be careful!
Another area of concern is Rio's center area of town where tourists also swarm. Just watch your wallet and purse and beware of pickpockets. Like anywhere in the world, there will always be both the beauty and the beast. It's wise to follow your instincts, stay with your friends and keep your eyes open. Bon Voyage to these exciting destinations!