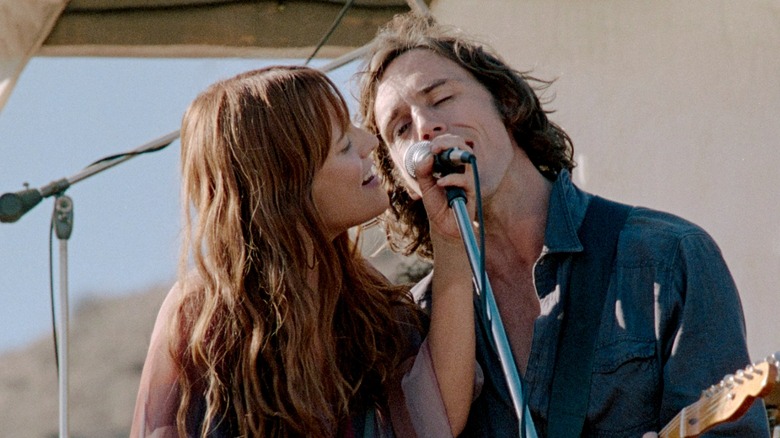 Everybody loves a good rock n' roll story, and the 1970s were full of them. The decade saw groups like The Allman Brothers, Pink Floyd, and Queen captivating the public's attention with more than just their music, but their personal drama too, as band members got into trouble on and off stage. Over the years, these stories have influenced movies like "Almost Famous" and "This is Spinal Tap," and now they serve as the basis for the pseudo-biopic series "Daisy Jones and the Six" from Amazon Studios.
Based on a novel of the same name that was heavily inspired by the ups and downs faced by legendary rockers Fleetwood Mac, "Daisy Jones and the Six" sees a rock group called The Six add a star singer named Daisy Jones. With a new look, and new tunes, the band's meteoric rise to the top shocks everyone, including themselves. However, when problems within the group fracture friendships, the band risks losing it all.
With a cast of young, up-and-coming stars elevated by a handful of big names, there's plenty of new talent and Hollywood veterans you'll probably recognize when you tune in. If you can't quite place who they are though, don't fret because that's why we're here. From longtime star Riley Keough to fresh-faced Ayesha Harris, we're to guide you through the cast of "Daisy Jones and the Six."
Camila Morrone as Camila Dunne
taniavolobueva/Shutterstock
Former model Camila Morrone was cast to play the role of Camila Dunne, wife of bandleader Billy. If you know the name but not her work, it's probably of her controversial relationship with Leonardo DiCaprio, which ended shortly after she turned 25. While gossip may be what earned her notoriety, she has a promising career of her own to tout. She also comes from a family filled with actors, including her stepfather Al Pacino, making her seem poised for a star-making turn in "Daisy Jones and the Six."
While she got her start as a model in 2016, she'd actually already been seen on-screen. Her acting debut came in the 2013 James Franco-directed "Bukowski" featuring Alex Kingston, Tim Blake Nelson, and Shannen Doherty. From there, she starred in the indie romantic drama "Never Goin' Back" and played the daughter of Bruce Willis' revenge-seeking vigilante in the 2018 remake of "Death Wish." In 2020, Morrone appeared as Ruby alongside her "Daisy Jones and the Six" co-star Josh Whitehouse in "Valley Girl," a remake of the 1983 Nicolas Cage film of the same name.
With a leading role in "Daisy Jones and the Six," Morrone is putting her modeling work behind her, ready to build her Hollywood career. "I think it's hard for the world and also the industry to be able to see you as both," she told the Wall Street Journal, which labeled her as one of the 10 biggest rising stars in Hollywood.
Sam Claflin as Billy Dunne
The group at the center of "Daisy Jones and the Six" is led by Billy Dunne, who finds it a challenge to curtail the band's wild ways. Their rowdiness drives them into an excess of sex and drugs, and Billy's controlling ways only seem to make it worse while his marriage to Camila struggles to survive the rigors of his fame. Playing Billy is actor Sam Claflin, who might still be most recognizable for his role as Finnick Odair in "The Hunger Games" movie series. Chaflin actually made his big screen debut a few years earlier, though, as Philip Swift, the young missionary captured by Blackbeard (Ian McShane) in "Pirates of the Caribbean: On Stranger Tides."
Claflin also played William in both "Huntsman" films, as well as appearing in a string of rom-coms that included "Me Before You" opposite Emilia Clarke, "Adrift" with Shailene Woodley, and "Love Wedding Repeat" alongside Olivia Munn. More recently, Claflin starred in the Netflix original movie "Enola Holmes," where he took on the iconic role of Mycroft, the eldest Holmes sibling — brother to Sherlock (Henry Cavill) and the film's character (Millie Bobby Brown).
Over on the small screen, Claflin starred in the British crime drama "Peaky Blinders." Across two seasons, Claflin played real-life politician Sir Oswald Mosley, joining a noteworthy ensemble that included Cillian Murphy, Helen McCrory, Tom Hardy, Anya Taylor-Joy, and Kingsley Ben-Adir.
Suki Waterhouse as Karen Sirko
Model turned actress Suki Waterhouse stars in "Daisy Jones and the Six" as keyboardist Karen Sirko, a headstrong musician determined to break the mold of women in show business. Waterhouse might be just as determined to make it in Hollywood — though she has yet to find her breakout role she has spent more than a decade on screen, beginning with a role in an episode of the British rom-com series "Material Girl" in 2010.
From there, Waterhouse moved to film, with a role in the iconic 2012 British remake of Nicolas Winding Refn's groundbreaking thriller "Pusher" starring Richard Coyle. She even appeared in "Love, Rosie," a romantic drama led by her co-star Sam Claflin, in 2014, as well as small parts in "The Divergent Series: Insurgent" and "Pride and Prejudice and Zombies." Waterhouse finally secured a leading role in the 2016 thriller "The Bad Batch," written and directed by Ana Lily Amirpour, where she starred opposite Jason Momoa and fights off a gang of deranged cannibals in a dark, dystopian future.
Over the last few years, Waterhouse could be seen in "Detective Pikachu" as Ms. Norman, the genetically modified Ditto, and in the 2021 indie horror movie "Seance." Just prior to "Daisy Jones and the Six," she appeared in the 2022 film "Daliland," a biopic of Salvador Dali starring Ben Kingsley, Ezra Miller, and Barbara Sukowa and directed by Mary Harron.
Nabiyah Be as Simone Jackson
While several actors in "Daisy Jones and the Six" started out their careers as models, Nabiyah Be's first career makes her even more suited for a role in a musical drama. She stars in the series as Simone Jackson, best friend to the titular Daisy Jones. Though Be's career in Hollywood has barely begun, it's her life as a singer, songwriter, and Broadway actress that gives her the most unique credentials among her many cast mates.
At the movies, Be has appeared in just one feature film, but it's one of the biggest of all time, as she had a small role in 2018's groundbreaking superhero epic "Black Panther." In that film, she appeared as Linda Johnson, a highly-trained black ops soldier and girlfriend of Erik Killmonger who is betrayed by her lover during a confrontation with the villain Ulysses Klaue.
Hailing from Brazil and Jamaica, Nabiya Be has been seen on stage as well, winning the Drama Desk Award for her role in "School Girls; or The African Mean Girls Play." She also was the first to play Eurydice in "Hadestown," the Broadway musical that won both a Tony and a Grammy Award. In "Daisy Jones and the Six," Be will take on her first major television role as Simone Jackson, who is a popular disco star in the 1970s who mentors Daisy Jones and motivates her to follow her musical dreams.
Will Harrison as Graham Dunne
Amazon Studios
"Daisy Jones and the Six" is clearly assembling an extremely talented young cast with actors of all stripes. This includes several recognizable names, a few longtime character actors, as well as some relative newcomers. Firmly in the latter category comes Will Harrison, an Ithaca native who spent most of his young adult life in Massachusetts before becoming a student at Carnegie Mellon where he underwent actor training. Around that time he also served as a member of the Chautauqua Theater Company, acting in several productions there before beginning his Hollywood career.
In 2019, at the age of 22, Harrison appeared in an episode of the political drama "Madam Secretary" starring Téa Leoni and Tim Daly. A year later, Harrison starred in the indie drama "This is a Film About My Mother." Now cast in a leading role in the new Amazon original series "Daisy Jones and the Six," Will plays Graham Dunne, younger brother of Billy Dunne and the group's lead guitarist and co-founder. With a larger and meatier role than Harrison has ever played, Will is more than just a young musician in the background, as his love affair with keyboard player Karen Sirko risks causing real problems within the group.
Harrison is another actor who stands to gain serious attention from the series, as a strong performance could spotlight his talent on a larger stage and garner him his big break.
Sebastian Chacon as Warren Rhodes
Outside of the more established, veteran stars like Riley Keough, Timothy Olyphant, and Tom Wright, actor Sebastian Chacon may have one of the biggest bodies of work among the lesser-known cast of "Daisy Jones and the Six." That's not because he has been working for longer, though, but because he's been packing in the parts over the past several years. Despite starting out in 2016, Chacon can count nearly 20 projects, including roles in some of today's biggest television hits.
Like his "Daisy Jones and the Six" co-star Will Harrison, Chacon started out his Hollywood career with a small part in an episode of "Madam Secretary" before moving on to "Mr. Robot." From there, he secured a role in Netflix's "The Get Down" as Stevie Boy and went on to act in episodes of major crime dramas like the Batman prequel "Gotham," the Sherlock Holmes reboot "Elementary," and Netflix's acclaimed "Narcos." More single-episode appearances followed including the Christopher Meloni-led black comedy "Happy!" and the network smash hit "Chicago Fire."
Soon after, Chacon began snagging recurring roles, with two episodes of "Pose," a three-story stint in "Tales of the City," and finally the part of Fly Rico in the 2020 season of "Penny Dreadful: City of Angels." Now that he's joined a series' regular cast in "Daisy Jones and the Six," Chacon can finally call himself a star.
Josh Whitehouse as Eddie Roundtree
"Daisy Jones and the Six" features a group of young, unknown musicians who find sudden fame and fortune. It's possible the producers of the series are trying to emulate the story itself with an impressive roster of unknown actors they can similarly catapult to stardom. In the role of group guitarist Eddie is little-known British actor Josh Whitehouse, an actor with a modest but impressive resume. If you have seen him before, it's likely it was in the BBC series "Poldark," the long-running romantic period drama where he starred as Lt. Hugh Armitage in Seasons 3 and 4.
The 2018 remake of "Valley Girl," which featured co-star Camila Morrone in a minor role was a starring vehicle for Whitehouse. There he played Randy, the '80s punk rocker who becomes the object of desire for Los Angeles teenager Julie (Jessica Rothe). A year later he starred opposite Vanessa Hudgens in the Netflix original holiday romance movie "The Knight Before Christmas" where he played Sir ColeLyons, a 14th-century knight transported to the modern day.
In addition to "Daisy Jones and the Six" Whitehouse is due to star in "The Happy Worker" with Thomas Haden Church and Colm Meaney, and the animated film "Ozi: The Voice of the Forest" with Laura Dern, Djimon Hounsou, and Donald Sutherland.
Tom Wright as Teddy Price
"Daisy Jones and the Six" isn't all unknowns and newcomers, there's a handful of known names and one of them is actor Tom Wright. In the Amazon original series, Wright plays Teddy Price, the producer at the record company who first brings Daisy Jones to the attention of The Six and sticks by their side as they rise to the top of the charts. A longtime veteran character actor, Wright is the kind of face you know you've seen but might have trouble placing — and that's precisely why we're here.
Starting his career out in the early '80s, it's possible you know Wright as the titular hitchhiker in the "Creepshow 2" segment "The Hitchhiker." You may also recognize him from any number of early '80s and '90s favorites, where he had small roles in "I'm Gonna Git You Sucka," "Weekend at Bernie's II," and "Murder at 1600." On television, Trekkies will no doubt remember him as the ill-fated transporter creation that was doomed to die in the eponymously titled "Star Trek: Voyager" episode "Tuvix," while others may remember him from "Seinfeld" as Mr. Morgan, the skeptical Yankee Stadium coworker of George Costanza.
After appearances in a number of hit dramas like "Castle" and "Major Crimes," Wright became a series regular in "Granite Flats," where he played FBI agent Ezekiel Scott. Most recently, in the 2020 Netflix comedy series "Medical Police" created by Rob Corddry, Wright starred as CDC Director Patten in a recurring role.
Timothy Olyphant as Rod Reyes
There may be only one man more important to the band's success than producer Teddy Price, and that's the band's manager, Rod Reyes. In the Amazon original series, Reyes is portrayed by the legendary Timothy Olyphant, who has made a name for himself playing charming rogues and swaggering do-gooders. In fact, Olyphant is something of a modern-day John Wayne, known for his iconic lawmen starting with his role as US Marshal Seth Bullock in the groundbreaking HBO Western "Deadwood." From there, he went on to play Raylan Givens, the sharp-shooting, steely-eyed gunslinging marshal in FX's long-running "Justified," a role that made him a superstar.
Olyphant took to sitcoms in the Netflix comedy "Santa Clarita Diet" alongside Drew Barrymore in 2017 and returned to the role of a marshal in Season 4 of "Fargo." After appearing in small roles as himself in "The Good Place" and his own series "The Grinder," Olyphant played a marshal once more — this time in a galaxy far, far away – in the "Star Wars" spin-offs "The Mandalorian" and "The Book of Boba Fett."
At the movies, Olyphant's most notable roles include playing James Stacy in Quentin Tarantino's "Once Upon a Time in Hollywood" and Mickey in "Scream 2" all the way back in 1997. In 2023, following his role as Rod Reyes in "Daisy Jones and the Six," Olyphant returns to the role of Raylan Givens for the miniseries "Justified: City Primeval."
Jacqueline Obradors as Lucia
If you're a fan of crime dramas you no doubt know the name — or at least the face — of Jacqueline Obradors. She has a recurring role as Lucia in "Daisy Jones and the Six," but for the past several decades she's been a small screen stalwart, including a pair of roles in two of the most well-regarded crime dramas of their day.
The first is her role as Rita Ortiz, the detective who joined "NYPD Blue" for its final three seasons, which saw her paired off with Lt. Tony Rodriguez (Esai Morales). The role of Detective Ortiz saw her star in 80 episodes of the series, earning her a nomination for an ALMA Award. Following "NYPD Blue," Obradors could be seen all across the dial, in episodes of "Cold Case," "NCIS," and "Castle," among so many others, before landing a recurring role on the Amazon crime drama "Bosch." There she played another detective, this time Christina Vega, in Seasons 5, 6, and 7.
Though she's always been more of a TV actor, Obradors does have a few movie roles on her resume, and fans of the Disney cult classic "Atlantis: The Lost Empire" may recognize her as the voice of Audrey Rocio Ramirez, the teenage mechanic. She also appeared in the Wesley Snipes action thriller "Unstoppable" in 2004 and alongside Harrison Ford and Ray Liotta in the 2009 crime drama "Crossing Over."
Ayesha Harris as Bernie
Another relative newcomer to Hollywood, actor Ayesha Harris has secured a recurring role as Bernie on "Daisy Jones and the Six," which will be her biggest part to date. A barber in her pre-acting days before she left Long Beach, California to pursue acting, Harris made her on-screen debut in 2017. That year she appeared in two episodes of The CW horror series "Two Sentence Horror Stories," inspired by the popular social media craze. In 2021 she popped up in an episode of "Good Girls," the NBC series fronted by Christina Hendricks, as well as an installment of the Showtime series "The L Word: Generation Q."
While her role in "Daisy Jones and the Six" is a potential turning point in her career, it's not as if she's never been on a hit series. In 2022, Harris made an appearance in episodes of the acclaimed drama "This is Us" and had a minor role in the "Abbott Elementary" episode titled "Wishlist." She also made her big screen debut that year in "Tell it Like a Woman," a comedy-drama starring Cara Delevingne, Marcia Gay Harden, and Eva Longoria.
However, 2023 is shaping up to be an even bigger year for Harris. In addition to playing Bernie, she's also signed up for the Netflix series "Glamorous," where she'll appear alongside "Sex and the City" alum Kim Cattrall in the story of a young queer man who gets a gig working for a renowned makeup artist.