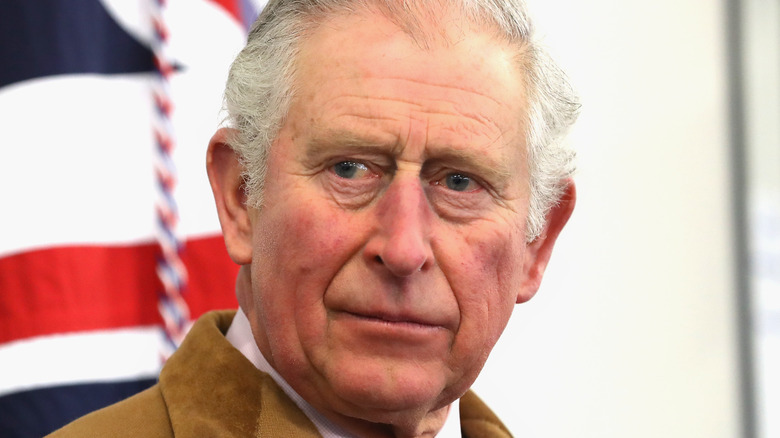 It's difficult to think about now, but at some point in the future, King Charles III will pass and his son, Prince William, will be named king of England. In his first official statement as king, Charles said in part, "As the queen herself did with such unswerving devotion, I too now solemnly pledge myself, throughout the remaining time God grants me, to uphold the Constitutional principles at the heart of our nation." In other words, he plans to be king until he dies, like his mother did before him (via Hello! magazine).
The royal family will be plunged into a period of mourning following the death of King Charles, but a lot of attention will be placed on Prince William and his family, and they will be very busy. For one thing, William will immediately be named king, necessitating many speeches, oaths, and events (much as we saw from King Charles following the death of his mother). Here is a look at everything that we know will happen when King Charles passes away.
Operation Menai Bridge will kick in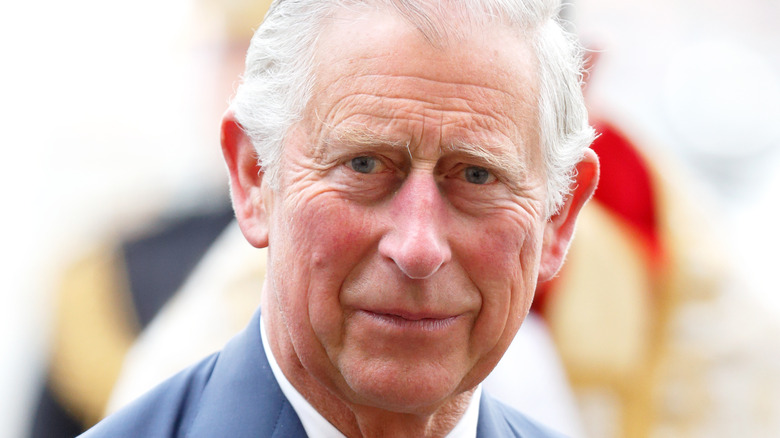 Much as the funeral plans for Queen Elizabeth II were coded as Operation London Bridge, there are already plans for the death of Prince Charles III. These plans are known as Operation Menai Bridge, named after a suspension bridge that connects the mainland of Wales to an island known as Anglesey.
Former Royal Protection Officer Simon Morgan told Australia's 9News program Today that planning of Operation Menai Bridge began the day after Queen Elizabeth died. He explained, "Unfortunately, as of tomorrow morning, planning for Operation Menai Bridge will start in earnest … He is 73 years of age, it's got to be in the back of your mind, and from the police, we've got to start planning again for the future."
Operation Menai Bridge will likely retain many of the same structural plans as Operation London Bridge. Morgan added that because the queen's funeral went off without any major problems, it's likely London Bridge will be the inspiration for other royal funerals.
Prince George will become heir apparent
One part of Operation Menai Bridge that will immediately go into effect following the death of King Charles is that Prince William will become king. This means that his son, Prince George, will automatically be next in line to the throne and will be the heir apparent. It can be assumed that just as William did upon Charles' ascension to the throne, George will inherit his father's previously inherited and earned titles.
The Prince and Princess of Wales have already begun to prepare George for life as heir to the throne. The boy made his royal debut at Wimbledon in July 2022, a tradition that is prized by both of his parents (per People).
In his book "Battle of Brothers," royal author Robert Lacey writes that the parents of three were intentional about how they told George what his future holds. As Lacey noted, while the exact conversation hasn't been revealed, "sometime around the boy's seventh birthday in the summer of 2020, it is thought that his parents went into more detail about what the little prince's life of future royal 'service and duty' would particularly involve" (via Cosmopolitan).
The order of succession will be updated
As it was following the death of Queen Elizabeth, the order of succession will be updated following the death of King Charles. It can be expected that Prince William will immediately become king, but the change in the order of succession will impact several members of the royal family.
As explained by ABC News, traditionally the order of succession "falls to the firstborn child of the heir and their children, followed by the next oldest sibling of the heir and their offspring and so on." This explains why Prince William's children are currently ahead of his brother, Prince Harry.
For example, whenever Prince George has children, they will automatically be ahead of his sister Princess Charlotte and his brother Prince Louis. When his grandfather passes away, George and any children he might have will continue to move up in order of succession and will likely all receive new titles. This pattern will continue all the way through Prince Harry, his children, and any children they might have had ahead of the passing of King Charles III.
Prince William might change his name
360b/Shutterstock
Queen Elizabeth bucked tradition and opted to keep her given name when she took over as monarch, and King Charles did the same when he was named king in 2022. It's unclear whether Prince William will stick with his name and become King William V, or if he will choose to take on a new royal identity instead.
If William does decide to change his name, Cosmopolitan has pointed out that he might choose to keep part of his given name within his new royal name. William's entire name is William Arthur Philip Louis, Duke of Cambridge, Earl of Strathearn, and Baron Carrickfergus.
In early September 2022, William and Kate Middleton were in a Zoom meeting with teachers and children from a school in Lancashire when William was asked, "The first William was William the Conqueror. What do you want to be called?" Town & Country Magazine reported that while William laughed and appeared to find the question amusing, he didn't give the child an answer.
Kate Middleton will receive a new title
Camilla Parker-Bowles was named Camilla, queen consort, after her husband King Charles ascended to the throne. In a similar fashion, Kate Middleton, Princess of Wales and Duchess of Cornwall and Cambridge, is likely to receive her own new title following the death of her father-in-law.
While the Princess of Wales will also technically be queen consort, as she will be becoming queen through marriage and not by blood, Cosmopolitan has noted that it's very likely she will be known simply as Queen Catherine. She will also be crowned alongside her husband at his own coronation, which is what we can expect for Camilla, queen consort, at the coronation of King Charles (via Town & Country Magazine).
Interestingly enough, that won't be the only change Kate will encounter: it seems that an old law dictates she will become the owner of every dolphin, whale, and sturgeon that swims in the waters of Britain (via Cosmopolitan).
Prince William's children will get new titles
Kate Middleton isn't the only member of Prince William's immediate family who will get a title change when King Charles dies. As The Express has pointed out, his children will all experience title changes, and one particular member of the royal family could lose every title she was born with: Princess Charlotte. The outlet has noted that as it stands, Charlotte will inherit the Princess of Wales title, as it is passed down to either a wife of a prince or a daughter of prince. But if Prince George is married when his father becomes king, Charlotte will ultimately lose the opportunity to be Princess of Wales.
The outlet also noted that broadcaster OSSA explained, "When that happens, life as Charlotte knows it will look very different — in fact, there is a good chance she'll lose her titles when her dad is on the throne."
He might move to Buckingham Palace
It's been expected that the reigning monarch will move into Buckingham Palace when he or she takes over. In her lifetime, Queen Elizabeth moved through several royal homes, including Balmoral and Windsor Castle, but considered Buckingham Palace her main residence. The castle is currently being renovated, which is not expected to be complete until 2027 (via The Guardian).
In August 2020, Sunday Times royal expert Roya Nikkah told Express that while it's expected William and Kate will move into Buckingham Palace, it's not set in stone. Nikkah said, "The official line is that the Cambridges will one day move to the palace when they become king and queen. I imagine that it will still be monarchy HQ and I wouldn't be surprised if the Cambridges stayed in Kensington Palace."
It's worth noting that the pair moved their family of five to Anmer Hall in July 2022 and have appeared happy with the decision (via Hello! magazine).
Prince William will come into a giant inheritance
When Prince William was named Prince of Wales and Duke of Cornwall and Cambridge, his overall net worth shot up to $100 million. This is in part because he inherited the Duchy of Cornwall from his father. The Duchy is a collection of land and properties that has a value of over $1 billion.
When he is crowned king, William will stand to inherit yet again. This time around, he will receive money from the Duchy of Lancaster, which spans 23 countries and is made up of over 50,000 hectares of land (via Cosmopolitan). On top of that, it's likely he will inherit money from his father, including from investments his father has made, and he will also inherit the Royal Art Collection.
Kate Middleton also stands to come into an inheritance of her own. As Queen Catherine, she will be able to access the entire Crown Jewels, which include more than 100 pieces and over 20,000 gemstones (via Historic Royal Palaces).
As king, he will take on more duties
Prince William will ascend the throne following the death of King Charles, and as such will automatically become head of state and take on a plethora of new duties and obligations. The official website for the royal family explains that the monarch "undertakes constitutional and representational duties, which have developed over one thousand years of history" and is also the head of nation. This means that like Queen Elizabeth and King Charles before him, Prince William will be expected to act as the center of national identity for the country.
Unlike kings and queens of the past, the modern British monarchy and its leader no longer have any real impact on the political moves that Britain makes (per Forbes). But that doesn't mean that William won't be on the move — as king, he will be expected to fill his calendar with "constitutional and representational duties year-round" (via Forbes).
Prince William will have to take a number of oaths
Another change that will take place following the death of King Charles III and the ascension of Prince William to the monarch is that the latter will find himself taking a number of official and important oaths. For example, when King Charles ascended the throne, he took an oath to keep the Church of Scotland preserved (via ET).
William will also be called upon to participate in several ceremonies outside of his own all-important coronation. The immediate ceremony will be the official proclaiming of William as king in front of the Accession Council, which took place at St James' Palace in London when his father took over the monarchy (via the BBC). Following that ceremony, William will make his first declaration as monarch, which also happens with the Accession Council. In this ceremony, William will promise to uphold the constitutional government (per the BBC).