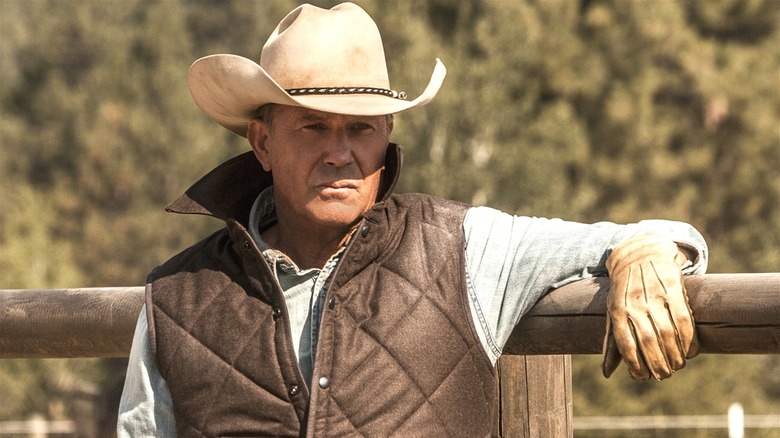 For four (and a half) seasons, Taylor Sheridan's "Yellowstone" has been cable television's primetime powerhouse. Since its debut in 2018, the series has continued to set, and break, its live-plus-same-day viewership records with each season premiere. Such momentum has never been easy for a network series to come by, and as Vulture's Josef Adalian pointed out, "in this era of perpetual ratings decline — particularly in cable — such enormous year-to-year gains simply don't happen anymore."
Except, of course, for "Yellowstone." But despite its ever-increasing fandom, the series upon which ViacomCBS and Sheridan have built a neo-western empire has yet to receive the level of critical acclaim that often (though not always) accompanies such ongoing ratings success. In 2021, Season 3's "Going Back to Cali" did receive an Emmy nomination for outstanding production design, but it was Kevin Costner, not "Yellowstone" or Sheridan, who took home the franchise's highest-profile award to date — a Golden Globe for best performance by an actor.
Generally speaking, awards shows are a poor gauge of … well, anything, really … but after years of such ceremonies snubbing the series, Costner's acknowledgment is worth considering. Whatever The Hollywood Establishment feels about "Yellowstone," it's clear it views Costner as an actor apart from the behemoth whose success he helped ensure; Because he is — and has been since well before "Yellowstone" was a twinkle in Sheridan's eye. The reality is that Costner was always going to ride off into the sunset before "Yellowstone" was ready to say goodbye, and rumors that he's leaving the show to focus on his own upcoming western epic, "Horizon," aren't so much rumors as they are exactly what he's been telling us all for years.
A context for the timeline and reality of things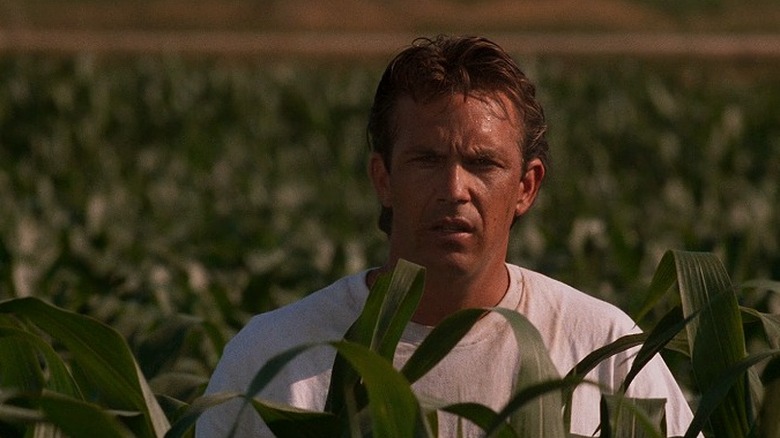 "Yellowstone" is brimming with talented actors, and by 2018, Taylor Sheridan's "Sicario," "Hell or High Water," and "Wind River" had already made the writer-director something of a critical darling. The fact remains, however, that Kevin Costner is Kevin-freaking-Costner – not John Dutton. And while "Yellowstone" may have "introduced" him to a new generation of fans (Season 5 saw a 60% uptick in younger viewers, per Deadline) he's the kind of actor who, at this point in his career, falls into the category of inevitable discovery anyway. Associating Costner with a single TV series is a little like associating Morgan Freeman with "Madam Secretary," or Steve Martin and Meryl Streep with "Only Murders in the Building." These are both great shows, but they benefit from the prestige of their superstars — not the other way around.
You know how, way back in the halcyon days of your first drama class, the assistant soccer coach/vice principal/director told you, "there are no small parts, only small actors?" Okay, well, that's not true. Or, maybe there are no "small parts," but there are really, really BIG actors — and Costner is one of them. To assume he'd play one role in one television series for seasons on end is to live in the same land of delusion where getting cast as "Tree No. 4" is somehow a testament to your talent and humility. Yes, John Dutton is a much juicier and more important role than "Tree No. 4" (or even "Tree No.1"), but it is, nonetheless, a role Costner was always going to have to move on from. And frankly, the actor hasn't exactly been shy about preparing us for his inevitable exit.
2019: Sassy star insists character should maybe make sense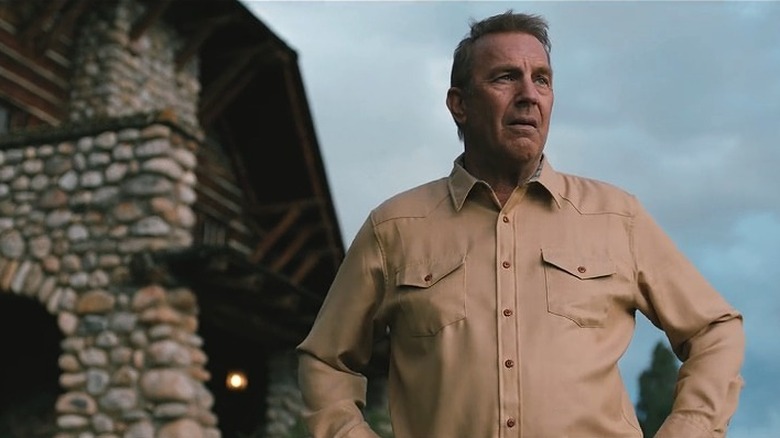 Paramount Network
In 2019, Kevin Costner spoke openly with Indiewire's Ben Travers about making the transition from film to television, and how the latter medium impacted his feelings about portraying the Dutton patriarch. Discussing his character's trajectory and backstory, the actor said, "I'm not always privy to it […] Sometimes with [John's] sons or wife or whatever, that's been really kept in a creative ball. That's a more vulnerable way to go through life as an actor."
Costner also talked about keeping a close eye on, and trying to provide some creative input regarding, potentially inconsistent behavior in the character — and how the mechanics of shooting the series made that more difficult: "It hasn't been an easy adjustment for me," he told the outlet, adding, "I don't like it too much."
A major Season 2 transition (away from Sheridan and toward a variety of writers) made that adjustment even more difficult. "[Sheridan and I] dealt with things," explained Costner, "but […] Now it's just a straight writers' room." Costner's mistrust of where his character was headed — and whether or not the audience would follow him there, and why – pops up throughout the interview, and it's safe to say that in the three-plus seasons since he first expressed doubt, little has been done to assuage that mistrust. John Dutton is still a monster that the series seems to want to posit as a hero and sage. Relevantly, there was still time to avoid this chaos back in Season 2, when Costner first (publicly) expressed his reservations.
In case all that wasn't enough to prove the actor's hesitation, he later came right out and said what his plans for the future were — and they very clearly did not include "Yellowstone."
2019 II: High maintenance jerk actor thinks stories should be thought out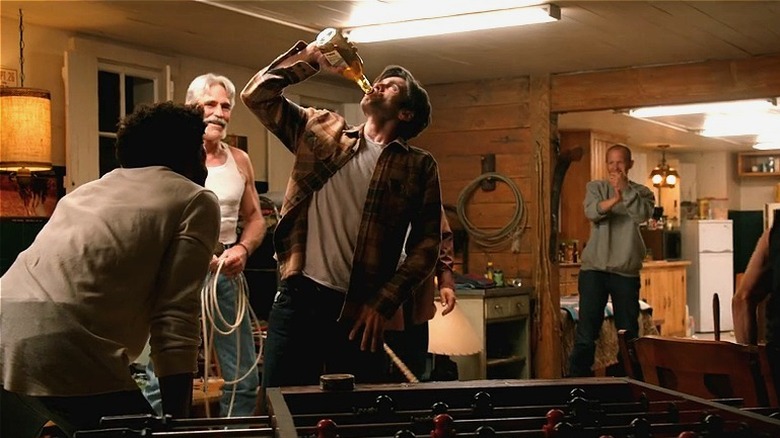 Paramount Network
"If your foot's on the gas," Kevin Costner said of creating a storyline, "you can run into a wall. Something can run quite a while if the architecture of it is careful — not explosive, but careful. You can run a long time if you make things really compelling, but that's a really hard thing to do. It takes a lot of thought. It's not impulsive writing. It's writing with a lot of extended thought."
This isn't subtext, folks, or a quiet request to read between the lines. This is just clear lines and some key repetition, explaining the very real and obvious issues with the storyline of "Yellowstone" — a series that quite literally exploded in Season 3. But if, for some strange reason (e.g., wishful thinking), you're still doubting Costner's feelings about the writing on the show and on the wall, the actor also had this to say: "I'm going to play the second half of my career out directing, but it could very well be in television [ …] But it won't be making it up as you go. The architecture has to be there. I'm more about that. Listen, a lot of my movies are long. I like the subplots. I like it when it all comes together — [but not when] it's made up on the fly. I don't trust that." (A reminder that this interview took place in the summer of 2019 — not recently, and certainly not mere weeks prior to any 2023 speculation about his leaving the series).
Not only has the "Bull Durham," "JFK," and "Thirteen Days" (etc …) actor expressed concern about the series' writing in the past, but he's also made his feelings about its shooting demands pretty clear.
2020: Diva Dad wants to see his real family from time to time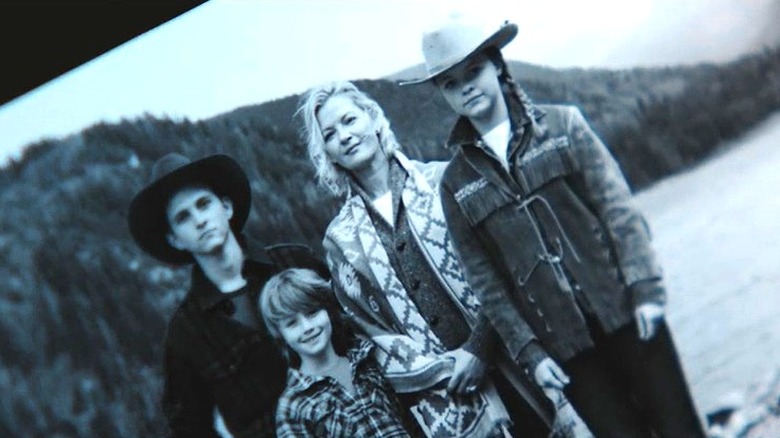 We all love watching Kevin Costner attempt to keep — and, amazingly, nearly succeed in keeping — "Yellowstone" from flying wildly off its axis. But the actor is a husband and father in real life, too (a father to seven children, no less, three of whom were under the age of 13 in 2020), and the logistics of shooting "Yellowstone" often keep him away from his real-life family for long, grueling stretches. In a pre-Season 4 interview with Good Housekeeping, the actor said: "I go home every moment I can […] But this year, we're filming exclusively in Montana, which makes going home almost impossible. When you deal with two airplanes, it's all-day travel. If it's all-day travel home, then it's going to be all-day travel back."
If you've never been to the far western edge of Montana where much of "Yellowstone" is currently filmed (near Darby, on the Chief Joseph Ranch), here's an important thing to note: it's really, really far away from everything that isn't the mid-eastern border of Idaho (hence the two airplanes). Maybe that doesn't seem geographically possible, but it is, and considering the (ostensibly unintentional) bait-and-switch that brought the actor onto the project, it's not surprising he's grown tired of making such an enormous sacrifice — particularly when he doesn't have to.
2023: Critically acclaimed director wants to … direct …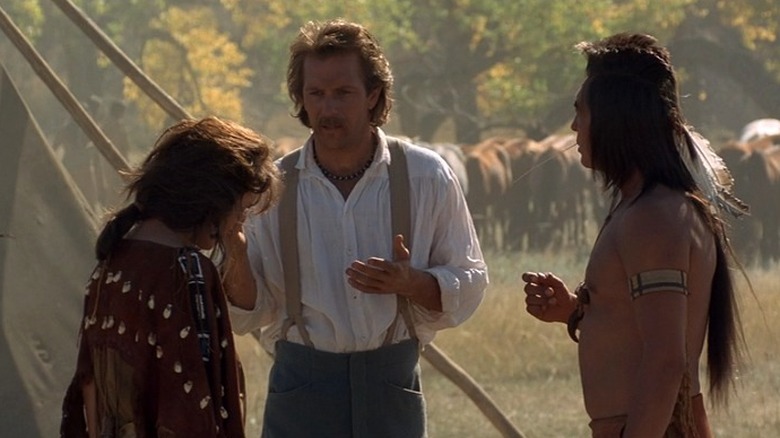 Orion Pictures
That same summer, Kevin Costner told ET that he'd originally agreed to do "Yellowstone" thinking it was a 10-hour movie. (Long, sure, but not much longer than 2012's three-part, six-hour miniseries "Hatfields & McCoys," for which he won an Emmy, and not quite as long as "Horizon," which will be split into four parts, per Variety).
"I'm down with long," he told the outlet. "I understand long really well, and it was pitched to me we were going to do one long movie […] Somewhere along the line, they wanted to turn [it] into a series, and you kinda have to look at things again." Costner said he had his own reasons for deciding to sign on, but at no point did he say, "and I hope to stay on this series for a very long time." He did, however, note that he was "happy for the show and everyone in it."
And there's no reason to believe he's not. But the bottom line is Costner has his own career (and life) to think about, and that career already includes (in addition to his prolific acting resume) 21 credits as a producer, and, crucially, three as a director. One of those projects – a little western called "Dances with Wolves" – took home the Oscar for best picture in 1990, and earned Costner (another) Oscar win for best director and a nomination for best actor. It's not shocking that the actor is shifting gears to do a thing he loves, has done before, and has already told us he wanted to do again; what's shocking is that he's stayed on "Yellowstone" for as long as he has in the first place.