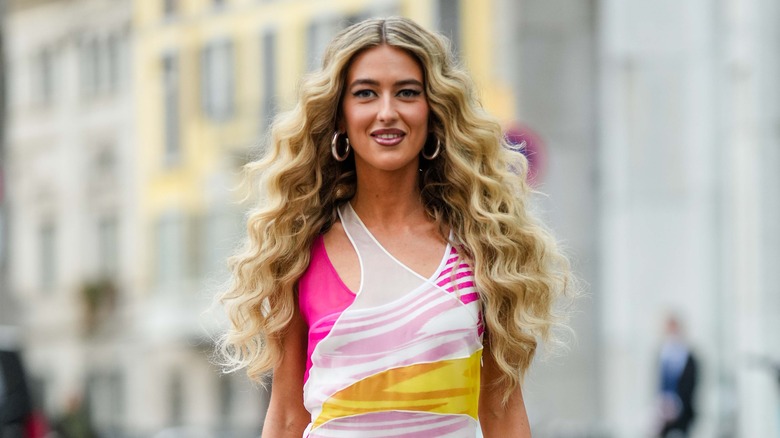 Among the 2023 trends that have been picking up steam lately, the asymmetrical trend is one of the easiest to pull off. Variations of asymmetric cuts were seen at Michael Kors, Rokh, and Prada, with styles ranging from thigh-high skirt splits to more simple one-shoulder tops and dresses.
Asymmetry is a wide-reaching term, too, making it all the easier to style it. An asymmetric piece can be anything from a subtle jagged hem to a dramatic high-low look on a skirt or dress. It's also a lowkey fashion staple, meaning you've probably got at least one piece in your closet that fits the brief. Anything goes with this trend, whether you prefer cute basics like cutout tank tops or asymmetric strappy dresses that toe the line between dressy and formal.
Asymmetric clothing is flattering on all body types, as the cutouts highlight specific parts of your body. Still, the best thing about asymmetric pieces is that they can be adapted to your own personal preference, and we've collected plenty of outfit inspo so you can jump on the asymmetric trend right away.
You don't have to go all out to nail the trend
The perfect option for date night, a slinky slip dress like the one above never fails to look good. The asymmetric hem isn't over-the-top but adds just the right amount of extra interest visually. Asymmetric hems on skirts and dresses can also be super flattering, as anything that's cut higher will automatically lengthen your legs. As well as the hem, the thin asymmetric strap across the top of the dress ties the whole look together.
You can never go wrong with a little black top
There's a lot to be said for basics. The simple cut of @ninaleacaine's black top pairs perfectly with her white trousers, creating a curated yet casual vibe. Not dressy but still elevated enough to go for dinner in, this look is the perfect mix of styles. If you're worried about a black top like the above looking too dressed-down, choosing accessorizes like bold earrings or swapping flats for heels can make all the difference.
A plain tank top always looks good paired with a print
The daring tiger print design of @chrissybstyles's skirt is the perfect complementary piece to her light beige top. Thick one-shoulder straps can sometimes look blocky, but, as the asymmetric section of this top features a tiny cutout in the center of the strap, the design flows more evenly. Plus, when combined with the skirt and metallic bag, the top lends this look an overall dressier vibe. Though this look screams vacation vibes, you could make it more of an everyday one by wearing ankle boots instead of sandals.
The trend isn't just one-shoulder items
Strappy tops not your thing? Try out an asymmetric shirt instead. A unique take on menswear and tailoring, an asymmetric shirt is a great option if you're new to trying out the asymmetry trend or want to tie it into your workwear looks. In this case, the asymmetric oversized pocket on influencer Alice Barbier's shirt gives her look a classic and refined feel but in a playful, more updated way due to the raw hem and cropped fit of the shirt.
Be bold with a thigh-high asymmetric skirt slit
As demonstrated by Chrishelle Lim, who wore an asymmetric skirt with a thigh-high split to the Bally F/W 2023/2024 show, asymmetry can definitely be a bold choice. Paired with a slightly sheer black blouse and mule-styled heeled pumps, Lim's look is sexy while remaining elegant. Though her look takes the asymmetric trend to the extreme, it's a gorgeous example of how asymmetry can turn a look from understated to high fashion. For day-to-day wear, swap out the heels for knee-high flat boots or platform chunky shoes and the blouse for a jumper.
Customize the trend to fit what you're comfortable with
Asymmetric cutouts do tend to show more skin due to the nature of cutout designs, but not all asymmetric designs are made the same. You can opt for a long dress or a skirt with a small asymmetric hem, or wear long boots underneath so no skin is visible. Another cool way to style an asymmetric top would be to layer it over a turtleneck or a sheer long-sleeved top — sheer clothing is having a moment right now, and you'll still get the asymmetry effect without showing as much skin.