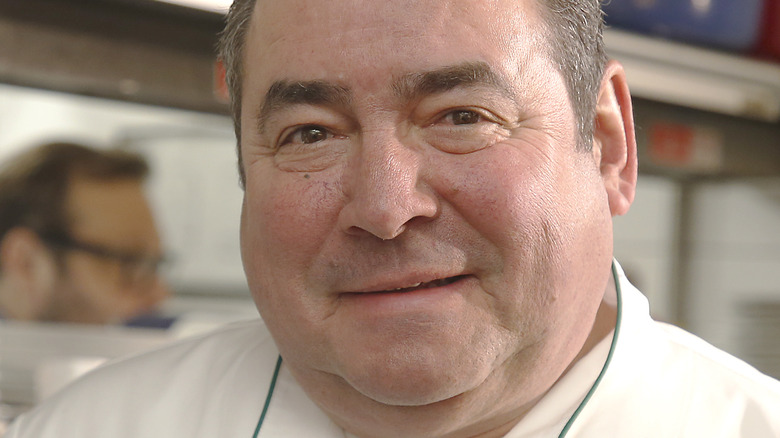 Nowadays, celebrity chefs are a dime a dozen. But not too long ago, Emeril Lagasse was the celebrity chef. Between his television shows, restaurants, product lines, and signature "Bam!" catchphrase, Lagasse became a household name and was arguably the most famous chef in the country for a time.
Then, seemingly out of nowhere, the bottom fell out. The beginning of the end of Lagasse's reign at the top of the culinary world can likely be traced to 2007 when his popular Food Network show "Emeril Live" was canceled. Lagasse has not made many headlines in the nearly decade-and-a-half since, and he has been through his fair share of struggles during that time. But while the spotlight has dimmed quite a bit, the celebrity chef hasn't packed it in. In fact, he's got a number of projects keeping him busy. Here's what Lagasse has been up to since you've last heard from him.
His show had some legal problems in Florida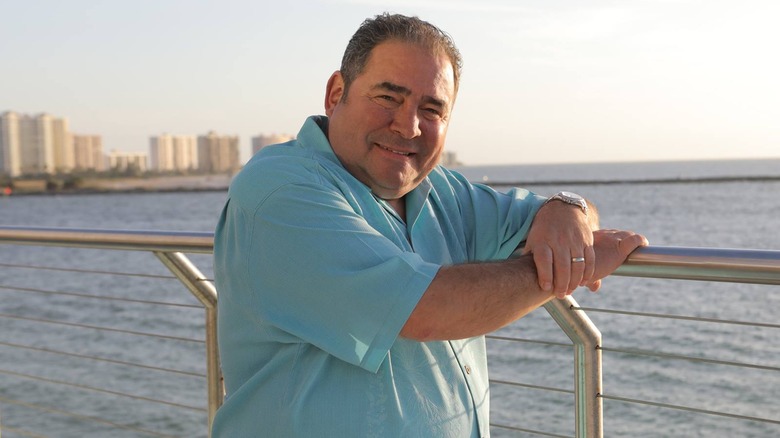 Lagasse's Florida-based television show took center stage in a massive upheaval involving state tourist board Visit Florida, the state government, and the US House of Representatives.
In early 2017, Naples Daily News reported his show was at the center of a debate over whether or not public funds should go to private businesses. By November 2017, the House had gotten involved and was calling for complete disclosure of how much the publicly funded tourism board gave the show — and paid Lagasse. AP was reporting Visit Florida had paid somewhere around $10 million for Emeril's Florida over the course of five years.
Politico reported the numbers were pretty staggering. Of the $12.7 million in public funding, producer Pat Roberts walked away with $1.25 million, and Lagasse ended up making $4 million. That's a huge amount of public funding.
According to Tim Jansen, an attorney representing Roberts, Emeril's Florida aired on the Food Network and the Cooking Channel, and was created with the goal of promoting tourism to Florida. It first aired in 2013, and was cancelled in 2017.
He's suffered some pretty big losses
The chef suffered a couple of devastating losses within a few years of each other. In 2011, his mentor, Ines De Costa, passed away. De Costa owned a restaurant where Lagasse would visit as a little boy to watch her cook. She taught him many of her cooking secrets, and Lagasse included her recipes in his cookbooks. De Costa was a second mother to Lagasse, and her death hit him hard. "She really had an incredible heart and soul," he told South Coast Today. "She loved her family. She was an exceptional person."
Just a few years later, Lagasse's mother, Hilda Lagasse, passed away. She and her son were very close. She was one of his earliest teachers and cultivated his love for the culinary arts by teaching him family recipes. Part of the reason Lagasse has kept more to himself over the last few years could be due to his grief at losing two women who were such an important part of his life.
The recession hit his restaurants pretty hard
Emeril Lagasse's many restaurants have been successful, but for a while it looked like he might be in danger of losing them. Emeril Live was cancelled around the same time the US economy was rocked by a recession. The recession hit Lagasse's restaurants pretty hard, creating challenges to keeping his business afloat — and it took him a long time to fight way back. "It's becoming a very challenging industry to become a very successful average restaurateur," he said at a promotional event (via The Week) in 2014. "I can't charge $300 a person in my restaurant or I would not be in business."
Lagasse went so far as to blame Obama and the government for his business troubles, claiming that government interference was going to destroy middle range restaurants. "I have nowhere to go, really — other than broke," he said. Fortunately, things slowly turned around and by 2016 the chef had opened another restaurant.
Martha Stewart bought his brand
Getty Images
After Emeril Live was cancelled in 2007, Lagasse looked for other ways to cash in on his fame. He still had his restaurants as a source of revenue, but decided to sell the rest of his brand to Martha Stewart's company, Martha Stewart Living Omnimedia, in 2008. Stewart bought the rights to pretty much everything except Lagasse's restaurants. Her acquired properties included all of his television programming (including syndication rights), his cookbooks, kitchen products, and food products.
Given the success of his restaurants, Lagasse probably wasn't in desperate need of the money, but he did get a nice payout from selling his lucrative brand. Stewart's company paid him a whopping $45 million in cash and another $5 million in stock. "His tastes are very different from mine, as is his food, and I think that's good," Stewart told The New York Times. "Being complementary and different is better than being competitive."
The cancellation of Emeril Live was the beginning of the end
Getty Images
Fans were stunned when Emeril Live was cancelled in 2007, and the show's end marked the decline of Lagasse's television career. Lagasse put a brave face on, but the cancellation came as a blow. "When it ended, everybody felt like it was time for a little break," he told GQ in 2016. "I didn't necessarily think that, but that's what everybody else thought, that maybe it was time for a break from Emeril."
Emeril Live wrapped in 2007, and his other Food Network show, Essence of Emeril, was finished in 2008. Food Network wanted Lagasse to create reality shows, but he didn't like that idea. "I'm old-fashioned, and I want to teach people how to cook, how to eat, how to serve, how to shop, how to drink wine, how to mix a cocktail properly," he said. "I didn't necessarily at the time want to get into this competition stuff." Emeril's Florida debuted in 2013, but didn't bring him the same attention as his previous shows did.
He's getting back to his roots
Getty Images
Lagasse is primarily famous for being on Food Network, but that's not what he attributes his success to. Before finding television fame, the chef was hard at work building up his restaurants. He's been getting back to his roots and putting his focus on those ventures. "The Food Network is not why I have 12 restaurants," he told Eater in 2015, the year that his first restaurant, Emeril's, turned 25.
His restaurants were his first love, and where he is still happiest working. He has been spending more time working at his restaurants, which means he's still been working hard — just not in the spotlight. His fans who miss him can at least be assured that the chef is happy doing what he loves. "What really makes my clock go is still the restaurants," Lagasse told GQ in 2016. "I love people, I love being with my staff, I love learning together, I love making people happy with food, with wine, with service."
He's busy overhauling NOLA
Getty Images
Lagasse opened NOLA in 1992, and it's been one of his most popular restaurants. His connection with New Orleans is undeniable, and in July 2017 The New Orleans Advocate announced it was getting a makeover. The restaurant was due to close for five weeks while it got extensive renovations, both in the physical restaurant and on the menu. How extensive? Insanely extensive. Among the plans were turning the entire first floor into a massive bar.
When The Daily Meal headed back post-renovations, they found it was definitely and completely different. Chef Philip Buccieri headed up the new NOLA, complete with a focus on New Orleans cuisine influenced by evolving and global tastes. Small dishes — and a lot of them — were standard on the menu, along with wood-fired pizzas.
The overhaul came at an appropriate time. NOLA had been a staple in the French Quarter for 25 years, and Lagasse had just had plenty of practice: the renovations came on the heels of a 3-month renovation at Emeril's Fish House in Sands Bethlehem (via The Daily Meal).
Emeril Lagasse is closing restaurants
It's not just Emeril Lagasse's television career that has taken a hit recently — his restaurants are disappearing as well. Since 2017, he's closed at least five of his establishments. It started when the chef chose not to renew his lease for Table 10 at the Grand Canal Shoppes in Las Vegas, according to Eater; the restaurant had been in operation for a decade. While Lagasse didn't provide an explanation for the closing, Eater suggested the casino's remodel might have hurt business. A few months later, Lagasse closed Emeril's Tchoup Chop at Universal Orlando's Royal Pacific Resort, as noted by Attractions Magazine. Then the following year, Lagasse did the same to nearby Emeril's Restaurant Orlando in Universal CityWalk, reported the Orlando Business Journal.
Just when things seemed to be leveling out for the famous chef, the COVID-19 pandemic arrived and like the rest of the foodservice world, Lagasse was hit hard. In July 2020, Lagasse's Stadium sports bar on the Las Vegas strip shut down for good (via the Las Vegas Review-Journal). Later that year, it was announced that while they would not be closing, Lagesse's two remaining Las Vegas restaurants, Delmonico Steakhouse at the Venetian and Emeril's New Orleans Fish House at the MGM Grand, would be laying off more than 130 employees.
Emeril Lagasse opened his first cruise ship restaurant
Emeril Lagasse may have closed a number of his restaurants over the years, but he is opening one notable eatery, and it will be located where no other Emeril restaurant has been: the open seas. In 2019, Carnival Cruise Line announced its newest ship, Mardi Gras, will feature Lagasse's first-ever cruise ship restaurant, Emeril's Bistro 1396. The cruise ship was supposed to start sailing in the summer of 2020, but because of the COVID-19 pandemic, its maiden voyage was pushed back a year.
The pairing between a Mardi Gras-themed boat and the Creole-cooking Lagasse was a match made in heaven. "I've developed restaurants all over the country, but to create my first restaurant at sea — on a ship named Mardi Gras with its own French Quarter, no less — was an opportunity I simply could not pass up," Lagasse revealed in a press release. "I'm excited to be a part of this brand new ship and bring a taste of the flavors of New Orleans cuisine to the guests sailing on Mardi Gras."
Emeril's Bistro 1396 will feature some of Lagasse's signature dishes and will include authentic bayou menu items such as oyster and cochon de lait po' boys, muffuletta sandwiches, barbecue shrimp, fresh seafood ceviche, roasted duck and Andouille sausage gumbo, and jambalaya.