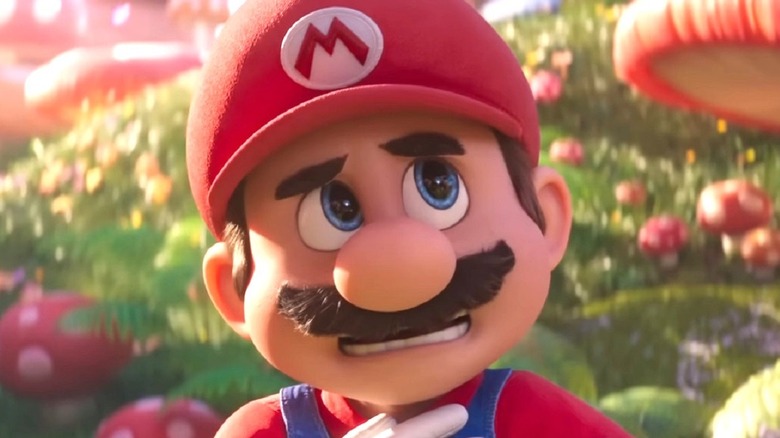 Cracking the "video game movie code" is no easy feat. Historically speaking, these adaptations have bombed at the box office and been skewered by critics. Even everybody's favorite Italian plumber found himself in 1993's disastrous "Super Mario Bros." movie — a film long hailed as one of the worst video game movies of all time. But in 2023, Nintendo hopes to correct all this with a new take on the Koopa-stomping, princess-saving, mustachioed hero.
From the combined forces of distributor Universal, Nintendo, and production studio Illumination (the same company behind the "Minions" franchise and the "Sing" series) comes "The Super Mario Bros. Movie." This animated film features an absolutely stacked cast and some pretty impressive visuals, promising a fun romp for video game fans of all ages. We're pretty psyched to see what the film has in store, and before it hits theaters, let's take a look at everything we know about "The Super Mario Bros. Movie" so far.
When will The Super Mario Bros. Movie be released?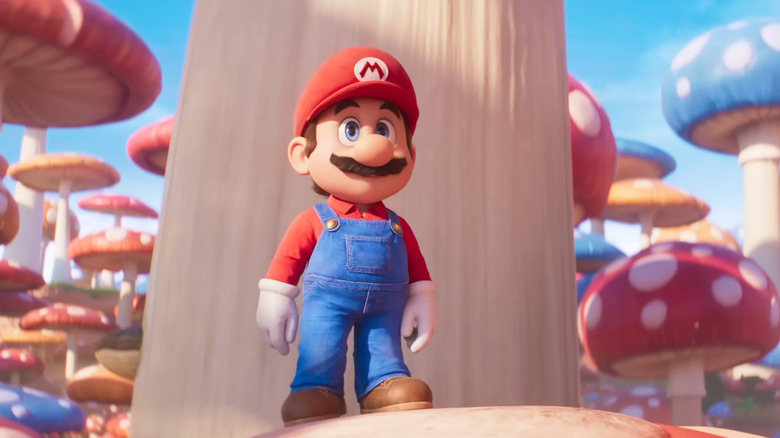 Originally, Mario was supposed to jump into the big screen on December 21, 2022. Sadly for fans hoping to spend the holiday season with Luigi, Bowser, and Princess Peach, that release date was pushed back to April 7, 2023. However, that release date has been changed yet again — but no worries! We're going to see Mario's adventures in Mushroom Kingdom even sooner than previously thought.
"The Super Mario Bros. Movie" has hopped over to April 5, 2023, releasing on a Wednesday instead of a Friday. Hey, that's two more days to for us to hang out with our two favorite plumbers. We can't complain about that. That week, the film will find itself competing against several other wide releases. First, it'll be playing against the Nike basketball drama "Air," from the combined forces of Ben Affleck and Matt Damon. April 5 also sees the release of "On a Wing and a Prayer," the Dennis Quaid/Heather Graham drama about a passenger forced to step up and land a plane after a horrible tragedy. Later that same week, the film will find itself playing against "Paint," an Owen Wilson indie comedy.
Since those films aren't hoping to attract the same family audiences, we're expecting "The Super Mario Bros." to make quite a bit of cash during its box office run, as it won't have any animated competition trying to draw similar crowds. As for Nintendo's homeland of Japan, the film will open on April 28, just a few weeks later.
Who is starring in The Super Mario Bros. Movie?
Universal and Illumination are sparing no expense when it comes to casting "The Super Mario Bros. Movie," according to a Nintendo of America Twitter post. Voicing the protagonist, Mario, will be none other than Star-Lord himself, Chris Pratt. Charlie Day of "It's Always Sunny in Philadelphia" will be joining him as Mario's brother, Luigi. Anya Taylor-Joy of "The Queen's Gambit" and "The Menu" will voice the female lead, Princess Peach, who will presumably be Mario's love interest. We can also expect to hear the scarier-than-usual tones of Jack Black as antagonist Bowser.
As for what are presumably supporting roles, Keegan-Michael Key will portray Toad, Seth Rogen will step in as Donkey Kong, Fred Armisen will do the voice for Cranky Kong, Kevin Michael Richardson will be Kamek, and finally, Sebastian Maniscalco will be Spike. The announcement also notes that Charles Martinet, who's voiced Mario and other notable characters in the video games since the '90s, will have "surprise cameos." We'll also get to hear the commanding voice of Khary Payton as the king of the penguins. Payton is no stranger to playing royalty, as he also portrayed King Ezekiel in "The Walking Dead."
Who is producing, directing, and writing The Super Mario Bros. Movie?
"The Super Mario Bros. Movie" is the result of two powerful forces coming together: Nintendo and Illumination. And that collaborative dynamic is represented in the film's producers. On one side, you've got Chris Meledandri, the producer behind the "Despicable Me" and "Sing" franchises. On the other side, you've got Shigeru Miyamoto, the genius who created characters like Donkey Kong, Link, Zelda, and yes, Mario himself. Together, they'll be bringing their animation and video game knowledge, respectively, to the big screen.
As for who's directing, "The Super Mario Bros. Movie" has recruited two figures who are quite adept at handling animated projects. According to The Hollywood Reporter, Aaron Horvath and Michael Jelenic — the filmmakers behind "Teen Titans Go! To the Movies" — will be helming the picture. Plus, they're working from a script penned by Matthew Fogel, who previously wrote "The LEGO Movie 2: The Second Part" and "Minions: The Rise of Gru."
Is there a trailer for The Super Mario Bros. Movie?
The teaser trailer for "The Super Mario Bros. Movie" gave us a glimpse of Bowser's might against an adorable penguin army, and we watched as the Koopa king got his greedy hands on a Power Star. Plus, it let us hear Chris Pratt's Mario impression for the very first time. Then, in November 2022, the official trailer gave us a much larger look at Mushroom Kingdom and its various inhabitants, including the likes of Princess Peach and Donkey Kong.
The trailer opens with a pretty one-sided showdown between Mario and that aforementioned gorilla. We then watch as Bowser explains to a kidnapped Luigi that he's about to conquer the world … assuming he can find and beat Mario first. We see Princess Peach and Toad getting ready for battle, we watch as a herd of Yoshis run by, and we even see the Mario brothers doing some actual plumbing. The trailer also pays homage to games like "Super Mario Bros. 3" and "Mario Kart," promising that the film will be full of little Easter eggs for the Nintendo faithful.
What will The Super Mario Bros. Movie be rated?
Believe it or not, "The Super Mario Bros. Movie" will not be earning a hard R rating from the MPA. As you might assume, this animated film from Illumination will receive the standard rating for family fare — PG, which perfectly lines up with Illumination's other offerings, a la "Despicable Me" and "The Secret Life of Pets." According to the Classification and Ratings Administration's website, the movie has earned its PG rating for "action and mild violence."
We're expecting this violence to be incredibly mild. Anyone familiar with the games knows Mario's propensity for dishing out pain only extends to jumping on Koopas or occasionally punching a Goomba with a white-gloved fist. Even the trailers shows that the action will be light-hearted and comical, as depicted when Donkey Kong hilariously slaps our favorite plumber around or when a penguin army assaults Bowser with snowballs and the Koopa Kamek returns the favor by magically tossing them aside.
What else do we know about The Super Mario Bros. Movie?
The people who made "The Super Mario Bros. Movie" certainly know their Mario history, as the film is filled with all sorts of Easter eggs and throwbacks for fans. For example, both the film's official trailer and a character poster show our heroes driving down the Rainbow Road, a thoroughfare instantly recognizable to "Mario Kart" fans. Peach can even be seen riding a motorcycle, paying homage to her "Mario Kart 8 Deluxe" design. Expect homages to plenty of other worlds as well, from "Luigi's Haunted Mansion" to the original "Super Mario Bros."
On top of that, it looks like our titular plumber will be donning quite a few supersuits throughout his adventure. In a teaser for the film, we witness Mario's showdown with Donkey Kong, where he puts on a literal catsuit, turning him into Cat Mario from "Super Mario 3D World." In the trailer, we also see him soaring around in the Tanooki Suit, which hails from "Super Mario Bros. 3." We also know that quite a few classic Mario baddies will appear in the movie, from the Hammer Bros. and the sorcerer Kamek to Goombas, Bob-ombs, Piranha Plants, Buzzy Beetles, and Shy Guys.
We also suspect that elements from Mario's big space-bound adventures might come into play. The Twitter account Nintendo Merch Central shared a shot of some upcoming Mario-themed McDonald's toys that include a Luma, an adorable star-like creature from "Super Mario Galaxy." Of course, there are even references to unique "Mario" properties in the marketing. During the Super Bowl, fans were treated to a "Mario Bros." promo that acted as a commercial for Mario and Luigi's plumbing service. In the faux advertisement, we're treated to a Mario-themed rap that's actually a throwback to the incredibly cheesy theme of "The Super Mario Bros. Super Show!," a series that would open each episode with that plumbing hip-hop beat.
This isn't Mario's first time on the big screen
Mario is one of the most popular video game characters in history, and the "Super Mario Bros" franchise has always been a fundamental part of gaming culture as a result. Because of this popularity, it should come as no surprise that this isn't the first time Mario has graced the silver screen since his debut appearance in 1981. Nintendo has tried multiple times to turn Mario into a multimedia character beyond just video games, and unfortunately, they've never been particularly successful in the past.
The first time Mario and friends ever appeared in a feature film was in a 1986 animated adventure picture named "Super Mario Bros.: The Great Mission to Rescue Princess Peach!" created by Masami Hata. Since Mario had already achieved significant popularity in his home country of Japan, producers saw an opportunity to make a cheap, 60-minute anime based around Mario and Luigi's usual goal of rescuing Princess Peach from Bowser.
Another more infamous big screen adaption was in the 1993 live-action film, "Super Mario Bros," starring Bob Hoskins as Mario and John Leguizamo as Luigi. This movie was a total flop, currently holding an abysmal 29% rating on Rotten Tomatoes. Critics at the time such as Roger Ebert lambasted the film for its terrible plot and named it one of the worst films of 1993 alongside "Hocus Pocus," "Coneheads," and "Robin Hood: Men in Tights."
Based on a huge gaming franchise
Universal Pictures Illumination/Nintendo
Everyone knows who Mario is, and that's no accident. Nintendo has meticulously created one of gaming's biggest franchises going all the way back to their flagship character's debut appearance in 1981's "Donkey Kong" arcade game. This series has a long and proud history as one of the most consistent, entertaining, fun, and fresh franchises in all of gaming that constantly pushes the boundaries of the genre. That's exactly why this newest film adaptation is so highly anticipated by fans.
Beginning with 1983's "Mario Bros" arcade game, Nintendo transitioned the franchise into home entertainment systems in 1985 with the release of "Super Mario Bros" on the NES. Players enjoyed controlling both Mario and Luigi as they traversed the Mushroom Kingdom in search of Princess Peach. This core game loop continued into later installments such as "Super Mario Bros 2," "Super Mario Bros 3," "Super Mario Land," and "Super Mario World."
As gaming technology advanced, so too did the complexity of games being released on each successive console. With the release of 1996's "Super Mario 64," new features continued to be added to make each Mario adventure more interesting. With continuing hits like "Super Mario Sunshine," "Super Mario Galaxy," and "Super Mario Odyssey," this franchise had remained an essential piece of gaming history. Only time will tell which aspects of this prestige franchise will show up in the upcoming movie.
What Mario represents for Nintendo
Universal Pictures Illumination/Nintendo
Mario as a character has completely transcended the video game franchise that created him by becoming a true, bona fide pop culture icon. Everyone's favorite plumber is a universally recognized symbol of Nintendo and gaming in general thanks to his unique place as both a leading character and a corporate mascot.
Mario is an essential part of Nintendo's business strategy since the "Super Mario" games make millions of dollars with each release, but this character also has staying power with the average populace. According to Guinness World Records, Mario is one of the biggest and most instantly recognized video game characters ever made by a huge margin. He was officially named the second "Most Recognizable Video Game Character" in 2009, only getting beat out by Pac-Man by 1%.
According to a piece by Gamespot which cites an interview with Mario's creator, Shigeru Miyamoto, his iconic character even has notable comparisons to Disney's Mickey Mouse. Miyamoto said, "I felt bad that Mickey Mouse, who had been hugely popular among fans, including myself, for 60 years at that point, was even being compared to Mario, who had just been around for a few years back then."
Fan expectations and reaction to trailer
Universal Pictures Illumination/Nintendo
As anyone with an internet connection can tell you, it can get pretty heated online when fans discuss their obsessions over social media. While you might think that the fanbase for Nintendo's flagship franchise would be on the friendlier side since the source material is so colorful, you'd be surprised.
With the recent release of "The Super Mario Bros." trailer, fans have gone on record to voice their opinions both positive and negative about the new footage. While the consensus seems to lean towards fans loving the character designs, humor, and storytelling of the trailer they also generally are unsold on Nintendo's choice of leading man. Mario will be voiced by none other than Chris Pratt who basically is just doing his regular voice to play the character, rather than imitating Mario's iconic Italian accent. This was noted by many fans on Twitter who commented that the supporting cast featuring Charlie Day, Ana Taylor-Joy, and Jack Black will do the heavy lifting for this film.
Avoiding the video game adaptation curse
Universal Pictures Illumination/Nintendo
We're entering a golden age of video game adaptations with slam dunks like "Sonic the Hedgehog" and HBO's "The Last of Us" proving that the curse of bad movies based on games can be broken. That being said, there's a reason people thought that curse existed in the first place since so many terrible adaptations have been made over the years. "The Super Mario Bros Movie" has the potential to be the next example of a live-action video game movie done right, but only if the filmmakers learned from previous mistakes that have been made.
Video game movies have a reputation for being cheap cash-ins of popular gaming franchises, made hastily and with little regard for their source material. One of the worst examples of this has to be the "Resident Evil" films, which totally forsake everything good about Capcom's survival horror series by presenting big, dumb, over-the-top nonsense. 2002's "Resident Evil" has only a 35% rating on Rotten Tomatoes, but each successive entry gets even worse reviews across the board.
"Mortal Kombat" is another arcade-based franchise that has suffered from lackluster adaptations since the first movie in 1995 despite enjoying a cult following these days. With the star power behind the upcoming Mario movie, it's unlikely this adaptation will join the pantheon of bad video game flicks.