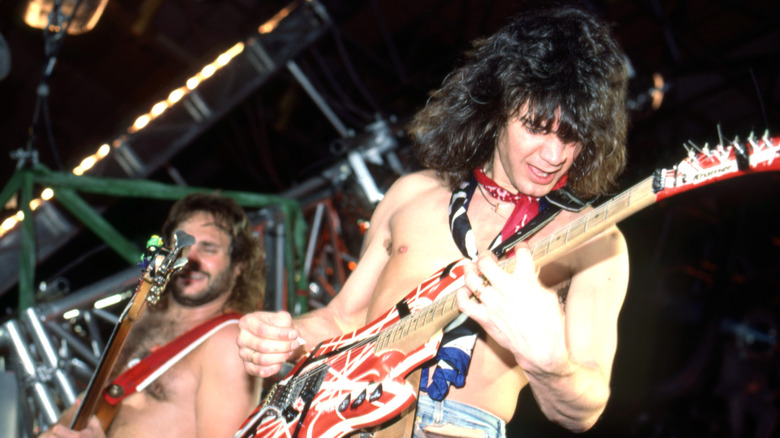 Edward Lodewijk Van Halen was a maestro who undoubtedly sits high on most people's list of greatest guitar players in rock n' roll history. His distinct aural assault was imparted by the way he fingered the frets on his iconic, hand-built guitar known as Frankenstrat. And while the band changed lead singers over the years, its sound never did. When you heard a lick or solo from Eddie, you knew it was a Van Halen song.
His admitted passion to "tear things apart" (via Backstage Pass Rock-News) carried into his love for cars. As has been reported by a myriad of sources, he probably had more of them drive in and out of his collection than both versions of the band (Van Halen and Van Hagar) had hit songs on the all-genre Billboard 100 (23, if you're curious).
Classic Chevrolets appear to have been his favorite American-made muscle, owning a factory 1956 Nomad Station Wagon and a slew of custom-built classics like a 1970 Nova, 1955 210, and 1993 Chevy 1500 half-ton short bed pickup. For good measure, he even owned a tricked-out 1947 Dodge COE "Stake-Bed" truck, which he drove to his local home improvement store on the weekends.
All of these were sold at auction before his death in October of 2020. But the Guitar God also liked high-end sports cars like Lamborghini, Porsche, and Ferrari, which sit atop Van Halen's list of most expensive rides.