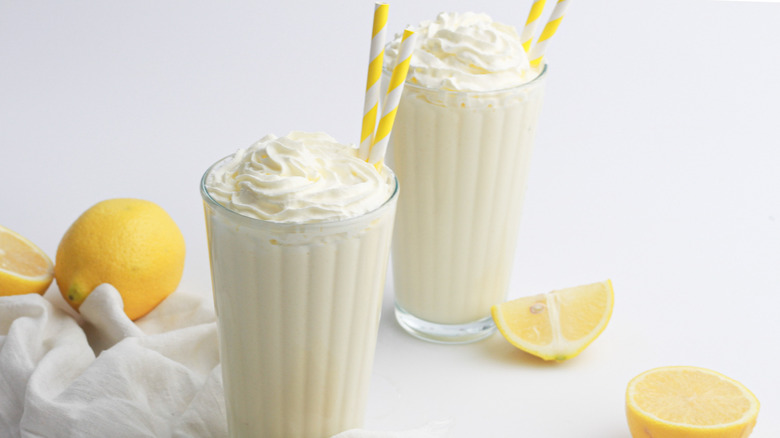 The beloved social media platform TikTok has taken center stage when it comes to finding dance trends, home decor inspiration, and last but most certainly not least, exciting new recipes. If you're on the app, you know that last year, TikTok was filled to the brim with clips of aesthetically pleasing whipped coffee, also known as Dalgona coffee. The whipped fad continues well into summer 2021, but the coolest new foodie trend of all has made its way to TikTok's feed … and Mashed recipes! If you haven't guessed what it is yet, we'll let you in on how to prepare refreshing whipped lemonade right at home.
Thanks to Mashed recipe developer Susan Olayinka of The Flexible Fridge, we have an easy and delightful drink that's ready for you to test out. Olayinka's philosophy when creating recipes is to ensure that they are "busy-life approved," and this whipped lemonade is certainly no different. The beverage is every much as refreshing as it sounds, and it only requires a handful of ingredients and less than five minutes of your time to, well, whip up. That means you can make your whipped lemonade and an accompanying TikTok video in less than 10 minutes. What are you waiting for? Your video might even go viral!
Gather the ingredients to prepare this whipped lemonade recipe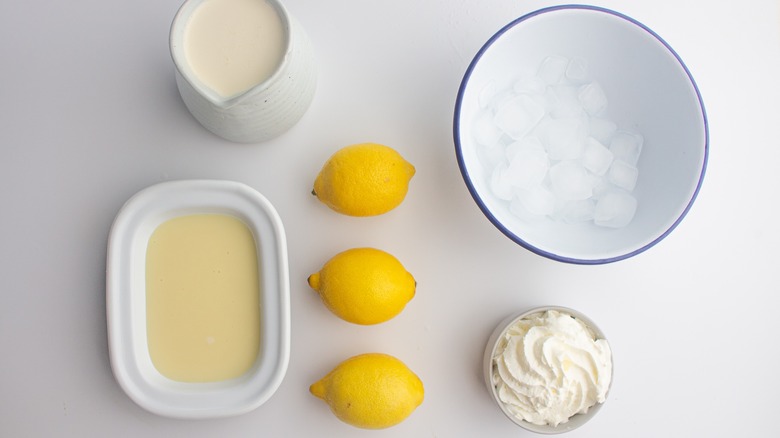 This whipped lemonade is speedy to make once your ingredients have been set out. Of course, you'll need to round up fresh lemons for this tangy refreshing drink. Look for ripe lemons that have firm skin with a little bit of give when gently squeezed. To really get the best flavors out of this lemonade, you'll want to stick to fresh lemons instead of bottled lemon juice.
Next, to give this drink its remarkable whipped texture and frothiness, you'll need to use heavy cream. When blended with the ice cubes, you're looking at a consistency similar to a milkshake. Condensed milk will also add a rich creamy thickness to the lemonade. It will sweeten the drink, balancing out the sour flavors from the lemon juice, too. If you can't get enough of the creamy decadence, you'll want to top the drink with whipped cream. Use spray whipped cream for the easiest option, or go ahead and make your own whipped cream if you're a whizz!
If you're vegan and want to make this recipe, there are some options. Olayinka remarks, "I've yet to try a dairy-free option — that is actually my next task!" Nevertheless, she's confident that "this will work really well with coconut milk." A coconut whipped lemonade sounds like a step above the regular version. If you want to add an herbal touch, Olayinka agrees, "That's a wonderful idea! I'm thinking basil or thyme." You'll definitely have to make this more than once.
Squeeze out the juice from the lemons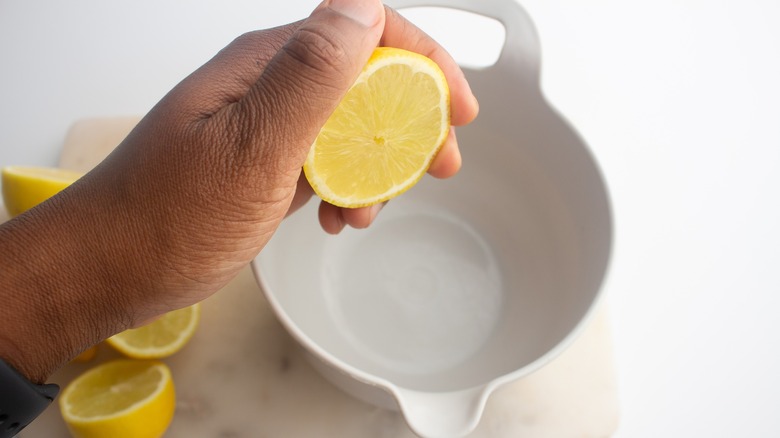 Start off by juicing the lemons. If you want a trick to maximize the juice you can extract, roll the whole lemons on a cutting board or counter first. Then, cut the three lemons in half in order to juice them. If you have a lemon juicer, you can go ahead and use it here, or you can rely on your hands and a firm squeeze. Squeeze the lemons over a mixing bowl to collect all of the juice ─ aim for about ½ cup. If any lemon pips find their way into the juice, be sure to remove them before the next step.
Pour the juice, heavy cream, condensed milk, and ice cubes into the blender, and blend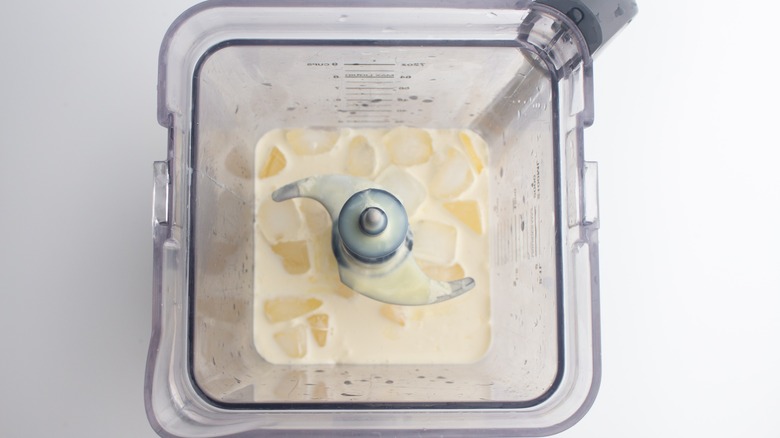 Pour the lemon juice minus any pips into a blender. Then, you're going to add in the heavy cream, condensed milk, and the ice cubes, and cover the blender with its lid. Turn the speed setting to high, and blend the contents for 15 seconds. They should combine to form a smooth mixture with no chunks of ice. If required, blend the mixture for a few more seconds. Get excited, because you're almost ready to enjoy this delicious summertime sip!
Pour the whipped lemonade into serving glasses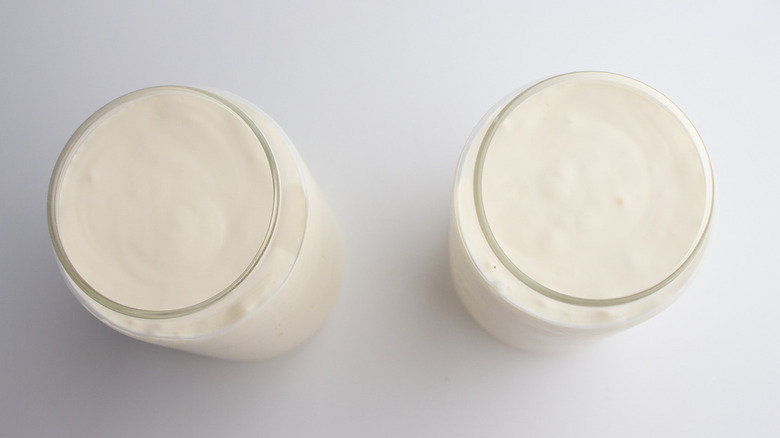 Set out two tall serving glasses, and divide the whipped lemonade evenly between the two. The drink should now have a velvety thick consistency, thanks to the ice cubes and the creamy ingredients. If you're happy with the lemonade as-is, then feel free to sip away. Otherwise, you can add some extra garnishes to make this drink even tastier, not to mention infinitely more appealing and TikTok-worthy. We're positive you've just found your new favorite drink — and you can thank us later!
Top the lemonade with whipped cream and lemon slices to garnish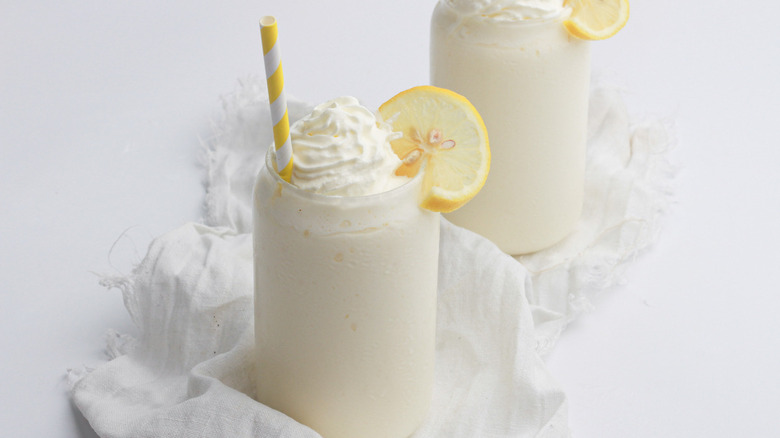 Olayinka recommends topping this delicious whipped lemonade with whipped cream from a spray can for simplicity. The combination of the tangy sweet lemonade with the light fluffy cream sounds absolutely amazing. To make your whipped lemonade especially photo-worthy, you'll want to add a slice of lemon for garnish.
Olayinka suggests making the lemonade right before serving to maintain the velvety texture of the heavy cream. She loves making this lemonade and remarks, "This is definitely a refreshing snack on a hot summer's day." We'd have to agree!
You can make your whipped lemonade and an accompanying TikTok video in less than 10 minutes. What's better than that?
Prep Time
3
minutes
0
Servings
2
Total time: 3 minutes
Ingredients
3 lemons, juiced (or ½ cup)
2 cups heavy cream
½ cup condensed milk
2 cups ice cubes
Optional Ingredients
spray whipped cream, to serve
lemon garnish, to serve
Directions
Slice the lemons in half. Then, squeeze them over a mixing bowl to collect the juice.
Remove any lemon pips from the juice, and pour it directly into the blender.
Pour the heavy cream, condensed milk, and ice cubes into the blender, and cover the blender with its lid.
Blend the mixture on high for 15 seconds.
Pour the whipped lemonade into serving glasses, top it with spray whipped cream, and add an optional lemon garnish on the glasses.
Nutrition
| | |
| --- | --- |
| Calories per Serving | 1,092 |
| Total Fat | 95.0 g |
| Saturated Fat | 59.0 g |
| Trans Fat | 0.0 |
| Cholesterol | 352.1 mg |
| | |
| --- | --- |
| Total Carbohydrates | 56.4 g |
| Dietary Fiber | 2.4 g |
| Total Sugars | 50.4 g |
| Sodium | 198.8 mg |
| Protein | 11.9 g |