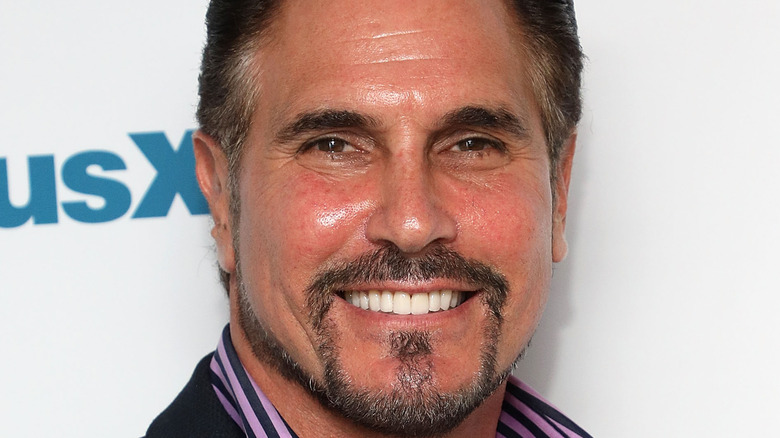 Since his debut on "The Bold and the Beautiful" in 2009, Don Diamont's character, Bill Spencer Jr., has been a mainstay on the daytime soap. Bill was initially brought onto the canvas to avenge his dying father's desire to exact revenge against the Forrester family for ruining his chances with matriarch Stephanie Forrester (Susan Flannery). However, following that first storyline, Bill came into his own and became a powerhouse and an on-again-off-again villain.
While "Dollar Bill" has demonstrated exceptional business acumen, he hasn't been as lucky in his personal life. He hasn't had any shortage of leading ladies to find love with, but none of them tend to stick around for one reason or another. Whether it's Bill's roving eye or his inability to put a relationship ahead of his business desires, his love interests eventually leave him.
From marrying dueling sisters to bedding his son's wife, Bill has made many questionable decisions that always lead to heartbreak. However, his latest shot at love has viewers scratching their heads — nobody expected Bill to get involved with a murderer and career criminal. To understand how the business titan ended up here, you have to revisit the relationships that drove him to such an extreme.
Bill and Katie Logan seemed meant to be
At the heart of Bill Spencer's romantic woes is the backbone of the Logan family — Katie Logan (Heather Tom). Bill and Katie's love story spanned over a decade and has left an imprint on every relationship that followed. It seemed to fans that the pair were destined to be happy together forever. Katie served as a grounding force for Bill, reining him in when he stepped too close to the dark side. Meanwhile, he provided Katie a kind of lifestyle she never dreamed possible. However, Bill's impulses got the best of him on numerous occasions, causing significant problems in his marriage to Katie.
The first instance of Bill being unfaithful to his wife and choosing another woman over her was when he had a torrid affair with the much younger Steffy Forrester (Jacqueline MacInnes Wood). However, the greatest threat to Bill and Katie's relationship has always been his infatuation with her sister, Brooke Logan (Katherine Kelly Lang). While it's true that Katie pushed them together at one point, while in the midst of a severe battle with postpartum depression, Bill and Brooke crossed the line many times after that.
In 2022, Bill tried on many occasions to win Katie back, but she claimed to have finally found her self-worth and refused to put herself or their son Will in a position where Bill could hurt them again. Katie doesn't want to be a consolation prize and has finally kicked Bill to the curb and started a blossoming new relationship with Forrester Creations' Chief Operating Officer Carter Walton (Lawrence Saint-Victor).
Bill's affairs with Steffy Forrester cost him a great deal
Bill Spencer was flirting with personal disaster when he began an affair with the young Steffy Forrester years ago. He claimed to love her at the time, but his recent actions haven't exhibited that care, as he's currently blackmailing Steffy and her mother, Taylor Hayes (Krista Allen), into letting a woman that tried to kill them walk free.
Steffy and Bill's first fling wasn't meant to go anywhere and was simply a welcome distraction from his various problems with Katie Logan. Though he had feelings for Steffy, Bill eventually broke things off and even encouraged her to marry his son, Liam Spencer (Scott Clifton), believing her to be a better match for him than Hope Logan (then Kim Matula).
Bill's attraction to Steffy once again intersected with his own self-interests years later when he accidentally approved a building demolition with Liam and Sally Spectra (Courtney Hope) inside. The explosion and near-death experience led Liam to kiss Sally, which he later confessed to his wife, Steffy. She was left a heartbroken mess, and as a result of the betrayal, she slept with Bill. Not only did they betray Liam, but Steffy became unexpectedly pregnant and was unsure who the baby's father was. Steffy's affair with Bill ruined her marriage to Liam, but thankfully the baby belonged to the younger Spencer, and she and Bill finally put their romantic past behind them.
Bill cheated with Brooke Logan many times
Even though Bill Spencer has spent most of his time on "The Bold and the Beautiful" with Katie Logan, it's always been clear that his heart lies firmly with her sister, Brooke Logan. The two always seem to find their way back to each other, even though their romance is rooted in infidelity and stolen intimacy. There's no denying their chemistry or the genuine feelings that exist between them — at least on Bill's part.
Bill has used nefarious means over the years to keep Brooke for himself, even going so far as to dump Ridge Forrester (Thorsten Kaye) out of a helicopter, costing the man a chunk of his memory. Each time things have gone south between Brooke and Ridge, Bill has been there to try to pick up the pieces and be Brooke's saving stallion. However, the stars have never aligned for these two, whether it's because of Bill trying to work things out with Katie, or Brooke pursuing her "destiny" with Ridge, they are always two ships passing in the night.
After Brooke's marriage to Ridge came to a final close at the end of 2022, Bill made a desperate plea to spend his life with her. However, Brooke rejected him, putting a final nail in the coffin of their romance. Immediately afterward, Bill professed his love for Katie once more, but she also turned down the business tycoon. These rebuffs have since pushed him into the arms of an extremely dangerous woman.
Bill's fling with Quinn Fuller gave him his son Wyatt
Technically, Quinn Fuller (Rena Sofer) wouldn't be classified as a "love" of the great Dollar Bill Spencer, but their hate for one another is rooted in something. Their off-screen tryst decades ago led to the birth of their son, Wyatt Spencer (Darin Brooks), who is a highlight of Bill's life and is much more like his father than his brother, Liam Spencer. But when Quinn turned up in Los Angeles in 2013, there was no love lost between them.
In addition to Quinn, Bill was also once involved with a woman named Kelly Hopkins, Liam's mother. However, fans never got the chance to meet Kelly as she died before Liam made his debut on the show. It's unclear what type of connection she and Bill might have had if the two had a second chance.
The mothers of Bill's two eldest sons are additional examples of his inability to have a successful and loving relationship. With his disastrous romantic history with all of the aforementioned women, it's not difficult to understand how Bill has now ended up with a master manipulator and a woman who nearly murdered the mother of his granddaughter. Every one of Bill's love interests from his 2009 debut until 2023 has laid the twisted groundwork for this new relationship rooted in toxicity.
Bill's current love is career criminal Sheila Carter
Nobody expected Bill Spencer to walk through the door of the home Steffy Forrester shares with her husband, Dr. John "Finn" Finnegan (Tanner Novlan), to be the saving grace for longtime criminal Sheila Carter (Kimberlin Brown). Sheila had been on the run after faking her death to avoid prison after shooting Steffy and Finn — her biological son. However, Steffy spotted Sheila in disguise, and the would-be murderer showed up at the young couple's home, ready to confront them.
Steffy and Finn wanted to turn Sheila in and rid their lives of her forever, but Bill appeared out of nowhere and blackmailed them into keeping quiet by threatening to tell the police how Steffy's mother, Taylor Hayes, had once shot him. Bill and Sheila then confirmed their romantic relationship by kissing and professing their love for one another.
Sheila is currently living in Bill's mansion and is soaking up all the perks that come with dating a media tycoon like Dollar Bill. However, there are already cracks in their foundation. Sheila has clear feelings for Bill's rival, Deacon Sharpe (Sean Kanan), and despite her best efforts to contain those emotions, Deacon is chipping away at her resolve. Not only is Deacon an issue, but everyone in Bill's life is going out of their way to get through to him about the dangers of being with Sheila and allowing her to be free, and trying to force him to call it quits. Unfortunately, Sheila has some kind of power over Bill that has convinced him they are kindred spirits who deserve each other.