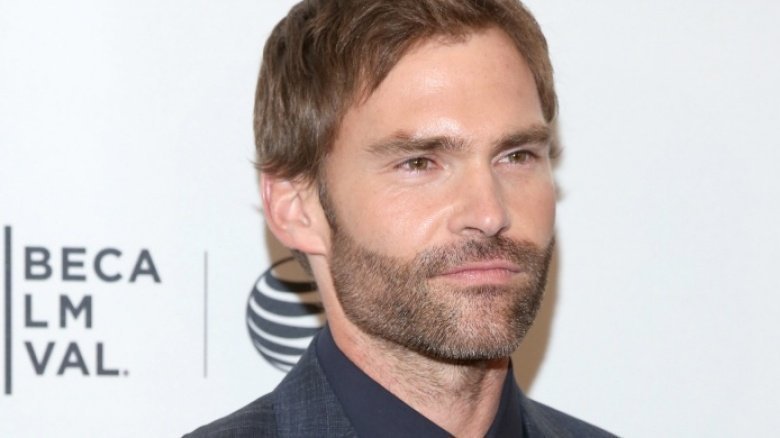 Seriously, where did Seann William Scott go? He was everywhere for a few years following the success of American Pie and its sequels, but right around 2010, it seemed like he pretty much disappeared.
He's been dealing with personal issues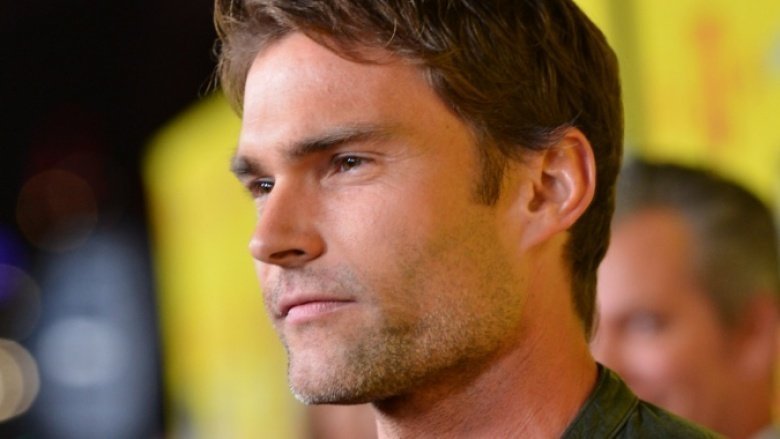 In March 2011, Scott entered rehab. According to TMZ, the actor voluntarily entered a treatment facility for unspecified health and personal issues, staying for the allotted 30 days before heading off to film American Pie 4: American Reunion. It's still unclear what he was struggling with, as he hasn't addressed anything publicly—and despite his party animal onscreen persona, Scott insisted to People in 2003, "I don't really party. If I did, it would probably just be trying a new bottle of wine." If he's trying to avoid vices, it's probably for the best that he avoids the Hollywood scene altogether.
He doesn't court publicity
A lot of celebrities don't actually work much, but are constantly on red carpets. Scott isn't one of them. The actor flies under the radar and is rarely seen at events or even papped going down the street, and in an era of constant celebrity blogging and a 24-hour news cycle, this otherwise respectable behavior may have actually hurt him. Scott's lack of visibility between projects may have made him forgettable for audiences, which could help explain his box office bombs.
He's been typecast
At his peak, Scott was the goofy hot high schooler, sleazy party boy, or college jock, even if he was in his late 20s and 30s when he took most of those roles. Now that he's sporting some scruff and a hint of salt and pepper, he's not going to get the same sorts of parts. Perhaps if Scott had expanded his horizons during his heyday, like his Dude, Where's My Car? co-star Ashton Kutcher—who took serious turns in The Butterfly Effect and later landed the titular role of Steve Jobs in Jobs—he might not be in as much of a rut right now.
It seems like Scott got the memo, though. In 2010, he told MTV News that his role as Steve Stifler may have, er, stifled his career development, saying, "I had so much fun and loved the character, [but] I don't want to be known as that character forever." Unfortunately, as he's repeatedly learned the hard way, it can be hard to get Hollywood to take you seriously once you've been pigeonholed in a particular type of role.
Bulletproof Monk
The failure of 2003's Bulletproof Monk to make back back its budget, let alone any kind of profit, was a big career setback for Scott. On top of the obvious drawback to losing millions of your employer's dollars, he reportedly went all out, telling SF Gate that he "became obsessed with performing all his own stunts, immersing himself in a grueling martial arts training regimen for three months to prepare for the role."
That probably made it sting even more when reviewers like David Edelstein made it a point to diminish the fight choreography of the film as being disguised by "millisecond cuts" and "chopped into scores of little kicks and punches and leaps that don't cut together." Slant's Ed Gonzalez took a broader and even harsher approach, describing the entire film as "infinitely juvenile"—a slam that had to affect Scott, who also told SF Gate that his intention in pursuing the role was that it hopefully "gets the audience into that (more serious) aspect of what I can do."
The Dukes of Hazzard
Though the 2005 Dukes of Hazzard movie made some money, it was destroyed by critics, leaving it with a dismal 14 percent score on Rotten Tomatoes. The site's users weren't kind either, rating it at 46 percent; one audience reviewer called it "A stupid, idiotic, ridiculous film that has no reason to exist apart from to cash in on a classic TV Series." The Houston Chronicle described it as "either one of the worst [films] of the decade, a trenchant political allegory or both," while Time Out London zeroed in on Scott's performance, describing it as "mildly perverted puppy-dog goofing." Ouch.
Aside from the critical slams, Scott also had to put up with co-star Johnny Knoxville's gross-out antics on set, including what he described to Chud as an almost daily surprise flashing of one or both of the Jackass star's testicles. Even if this film had been an Oscar contender, which it decidedly was not, we're not sure dealing with repeated unwanted genital exposure would have been worth it.
Mr. Woodcock
Two years after The Dukes of Hazzard, Scott returned in Mr. Woodcock, a film boasting humor so subtle, the poster featured the title character holding two giant basketballs in front of his crotch. Get it? Even if this film had grossed a billion dollars—which it did not, by a long shot—it wouldn't have escaped the wrath of critics.
IGN said there were "no likeable characters in the movie," and described the overall film as "an uninspired, unfunny and irritating experience." Reel Film Reviews offered a similar slam, calling Woodcock "a tedious and hackneyed effort," but it was DVD Town reviewer John J. Puccio who really went for the jugular when he said, "The whole film is like a depressing nightmare." After describing the setup of the film as having "virtually nothing in it of any humorous value," Puccio groaned, "just when you think the film can't get any worse, Scott shows up."
Just Before I Go
Perhaps the worst failure of Scott's career to date is his attempt at a dramatic turn in Courteney Cox's film directorial debut, 2015's Just Before I Go. While doing press for the film, Scott talked about how great it was to shift from comedic roles into something more serious by playing a man on a farewell tour of sorts before he commits suicide. "It was rewarding to play pretty much the antithesis of what I've done in the past," Scott told Variety, adding, "To get a chance to play a totally different character—because he's just a good, average, relatable guy going through obviously an awful moment in his life—was great."
Unfortunately, critics and theatergoers didn't agree. On top of the staggeringly low $10,970 total box office gross the film drew, Scott's performance was described as "tepid" and "colorless" by Stephen Holden of The New York Times. Justin Chang at Variety called the film "a dismal, tonally disastrous small-town farce," but actually threw Scott a bone by saying he "convinces well enough as a guy who wants be put out of his misery, and there isn't an actor here who doesn't look ready to join him." Oh wait, that wasn't a compliment at all, was it?
He's often heard, but not seen
Scott has sustained his career with voiceover work. The actor's pipes can be heard voicing Crash in Ice Age: The Meltdown, Ice Age: Dawn Of The Dinosaurs, Ice Age: Continental Drift, and Ice Age: Collision Course. Scott also voices Crash in the franchise's TV movies, shorts, and video games. At least if his fame isn't secure, his finances should be.
But it's not all bad
Though Scott obviously hasn't continued on the career track everyone thought he would after he rocketed to fame as Steve Stifler, that doesn't mean we've seen the last of this leading man. In 2017, he resurfaced in a pair of sequels, with Goon: Last of the Enforcers as well as Ice Age: Collision Course, which has basically been his meal ticket for over a decade now. He's even mentioned during interviews that there's been talk of a Dude, Where's My Car? sequel, called, Seriously, Dude, Where's My Car?, for which we are 100% down. Scott's also hinted that he would return for a new installment of the American Pie franchise if the script was right, so it seems like he has no problem going back to his roots in order to keep his film career moving forward. Speaking of which…
American Pie changed his whole life
Getty Images
Three years after that awkward first gig, Scott got the lucky break to audition for American Pie. Obviously, the part was a huge leap forward for Scott's career, and according to his Reddit AMA, it also dramatically changed his life. "If I had never gotten that part, there's probably a good chance that I wouldn't have gotten ANY parts, knowing how competitive the movie business is," he wrote. "So the fact that I got Stifler in American Pie, and that movie did so well, it was just a dream come true."
Scott's mother was so excited about her son's big break, she even took her church group to see the movie—whoops!—and proudly referred to herself as "Stifler's mom," for a while, according to HuffPost. But even after he finished filming American Pie, Scott had to wait a bit for the fame to come. In an interview with Today, he said he actually took a job as "the churro guy" at the zoo while waiting for the movie to premiere. He only lasted two days before he had a revelatory moment when a gorilla threw a pine cone at him. "I was like, you're right, gorilla, I quit," he told the morning show. "I quit, and then I got Final Destination the next day."
He's basically the complete opposite of the character who made him famous
Getty Images
Though Scott admitted in his Reddit AMA that he's "a HUGE instigator of trouble," he also said that's where any similarities between himself and Stifler end, adding, "the majority of that character I took from the friends i went to high school with." Which is also surprising, considering he once told The Sun that where he grew up, "everyone's so chipper and you make friends just grocery shopping. We kill each other with kindness."
Scott's also referred to himself as having been "a nerd" in high school, despite his aforementioned athletic prowess, and even admitted to hating "the funny kids in high school because they got all the girls." That's right, the onscreen party animal was more of a wallflower in his formative years. In fact, when he shipped off to Hollywood, he didn't even have his sights set on the world of comedy.
What's up with the second 'n' in his name?
Getty Images
Just like "Stifler" is spelled with only one 'f' despite the obvious double entendre, the spelling of Scott's first name has confounded people for a long time. In an interview on Conan, Scott recounted the many times it's been mispronounced throughout his life—a baseball announcer once made it sound like "C-Anne"—as well as the dubious reason his parents chose the spelling.
"So I asked my mom, 'Why did you add the extra 'n'?' and she was like, 'Oh, honey, if you were a girl we were going to name you Sunshine,'" Scott said. He then joked, "That doesn't answer my question, but I think there were some drugs involved." He also said that his parents were "fans of Sean Connery," which still has no bearing on the spelling since his first name just has the one 'n.' Conan summed it up well by saying, "Doesn't sound like a lot of thought went into it." "Zero thought," Scott agreed.