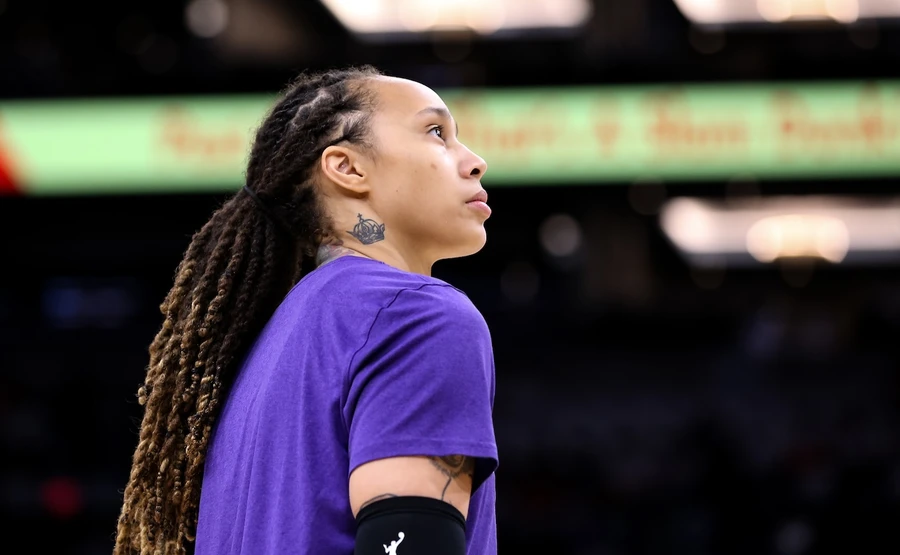 Despite the traumatic experience, Griner seems eager to get back on the court.
After nearly 10 months of captivity, WNBA star Brittney Griner will finally make her return to the basketball court. Griner was detained in Russia last year for carrying cannabis oil cartridges in her luggage and, in a shocking turn of events, returned home in December 2022, after the White House negotiated her release in a prisoner swap.
Now, the all-star has signed a new contract and is eager to get back to playing the game she loves. Here's what's next for Griner, a look at how the White House secured her freedom, and how her ordeal is impacting other American athletes.
How did Brittney Griner get released?
Griner was released in a one-to-one prisoner swap between the United States and Russia.
Interestingly, the prisoner swap took place in Abu Dhabi. A joint statement from the United Arab Emirates and Saudi Arabia confirmed that both countries played a role as neutral actors in mediating the exchange.
Unfortunately, this exchange didn't include other Americans that the United States maintains have been wrongfully detained: Paul Whelan, a Marine accused of spying; and Marc Fogel, a history teacher arrested for being found with medical marijuana at an airport.
During a press conference, Biden acknowledged this reality, claiming that they didn't have "a choice of which American to bring home."
Biden went on, "Sadly, for totally illegitimate reasons, Russia is treating Paul's case differently than Brittney's. And while we have not yet succeeded in securing Paul's release, we are not giving up. We will never give up."
Another official said, per CNN, "It was a choice to get Brittney or nothing."
Footage was posted on President Biden's official Twitter feed showing the president telling Brittney's wife Cherelle that Britney was "on the ground."
An emotional Cherelle says "stop it" before hugging the president, then sitting down, laughing "this is such a good day!"
As for Griner's release specifically, Biden confirmed that the White House (along with other organizations, like the WNBA) had been working on this exchange "for a long time."
"We never stopped pushing for her release," Biden said.
How has Brittney Griner been since her release?
Despite the traumatic experience, Griner seems eager to get back on the court. She recently announced that she'll be back in action this season with the Phoenix Mercury. The 32-year-old free agent signed a one-year, $165,100 contract, per ESPN, to return to the team for a 10th season.
"It feels so good to be home," Griner posted on Instagram. "The last 10 months have been a battle at every turn. I dug deep to keep my faith and it was the love from so many of you that helped keep going. From the bottom of my heart, thank you to everyone for your help."
The league is just ecstatic to see Griner safe, Malika Andrews, the host of NBA Today, tells Katie Couric Media. Andrews has interviewed a number of her former and current teammates since Griner was taken into custody and she says that the overwhelming sentiment among the WNBA's athletes is one of relief that this nightmare has finally come to an end.
What does this mean for the future of WNBA athletes abroad?
For years, the WNBA's brightest stars have spent their offseasons playing overseas, where in many cases, they can make a lot more money. WNBA legend Sue Bird played 10 seasons in Russia, where she said she earned 10 times what she did playing in the U.S.
But since Griner's detainment, none of the nearly dozen WNBA players who played in Russia last season have returned, Andrews says.
The WNBA has been trying to entice its members to put the league first for years. Its 2020 collective bargaining agreement, which kicks in in 2023, includes a "prioritization policy" that penalizes athletes who arrive late to their team's training camps. The rule "was not universally well-received," Andrews says, adding that it's not certain how it'll play out in the long run. But what is clear is that this incident and issues like the war in Ukraine is top of mind for many of the league's stars, Andrews says.
Who is Viktor Bout, the Russian arms dealer involved in the exchange?
Viktor Bout, 55, is a Russian arms dealer who was convicted in 2011 of charges that involved a plot to kill American citizens. He is known for being one of the "world's most prolific arms dealers," according to then-Attorney General Eric Holder, and even was nicknamed the "merchant of death" by American intelligence officials. He is suspected of having sold weapons to terrorist organizations all over the world, including Al Qaeda.
Bout was sentenced to 25 years in prison, and had served a little less than half of that sentence when he was freed in the exchange with Griner.
Keep in mind, the convicted arms dealer wasn't the only Russian citizen in United States custody at the time of the exchange. So why were the Russians so intent on getting Bout in particular back?
According to Mark Galeotti, an expert on Russia's security services, Bout was highly desired by the Russians because he is believed to have ties to Russia's military intelligence unit. Per The New York Times, Galeotti said of Bout earlier this summer, "All countries try to get their citizens out of rough jurisdictions, but it is clear that it has been a particular priority for the Russians in getting Viktor Bout back."
Want more great content?
Sign up here to jumpstart your mornings with Katie's dynamic daily newsletter, Wake-Up Call.