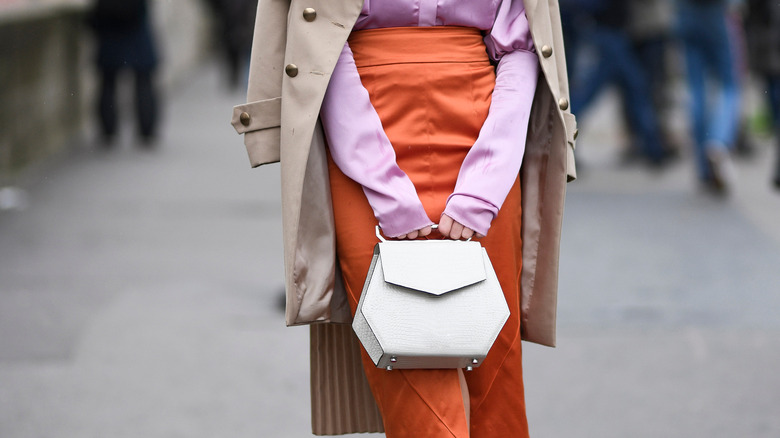 We may receive a commission on purchases made from links.
Leather is having a glorious moment. Top designers like Hermès are featuring leather in looks that range as wide as rain gear to evening wear. And with hashtags like #leatheroutfit garnering millions of views on TikTok, we're more than happy to indulge our whims as well. But leather — even many stylish vegan leather options — can come at a premium price.
With this in mind, looking for versatile pieces is always a good strategy. For example, a smoking hot lime green leather skirt with a devilishly high slit might be the perfect look for that one specific concert you've been waiting months for, but an avocado hue with a to-the-knee slit might be a better value. It can achieve a similar look but also offer more versatility if you're looking to incorporate a little leather into your career wear.
But, as logical as that is, sometimes you just need that pop of night-out color. No arguments there. Luckily, the runways are inspiring day-to-day leather looks that are ready for everything.
The dazzle is in the details
A post shared by Bandolier Crossbody Phone Cases (@bandolierstyle)
You can't go wrong with a pair of stirrup leather leggings, but this look is also a prime example of how you can style them in a way that goes from day to night. The metallic trench and shoes give it an extra trendy edge, and then the added heart-shaped leather cell phone pouch finishes the look. We love the balance of boujee and minimalist. The leather paired with the statement necklace is elegant, but then the adorable Bandolier cell phone holder adds a touch of simple harmony.