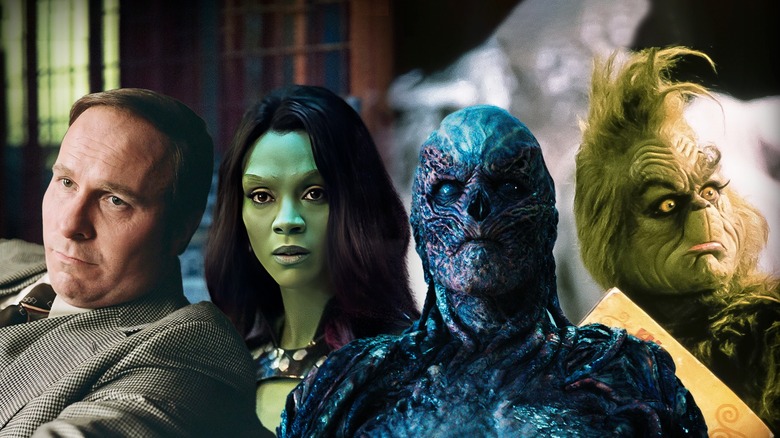 Actors have always used props and costumes to enhance their performances and transform into specific characters. In ancient Greece, masks were the preferred method. In the 1500s, theatrical makeup became commonplace in both the East and the West. After the invention of moving pictures, actors used the makeup techniques and materials they had previously used on stage, but it quickly became clear new compounds and techniques were required. Theatrical makeup showed up differently on film, and close-ups required a more subtle approach.
In the early 20th century, Max Factor, a Russian wig maker who emigrated to the US before settling in Los Angeles, developed makeup specifically for film. George Westmore pioneered movie makeup when he founded the first makeup department at a studio in 1917. In the 1920s, Lon Chaney popularized special effects makeup for his roles in "The Hunchback of Notre Dame" and "The Phantom of the Opera." With the popularity of monster movies in the 1930s, Jack Pierce proved himself an innovator, creating the look for both "Frankenstein" and "The Mummy."
Movie makeup has come a long way since the early days of monster movies and sci-fi films. Despite advances in the industry, practical special effects makeup is still incredibly time-consuming and often requires actors to sit in the makeup chair for vast amounts of time — occasionally just to shoot a single scene. Keep reading to learn about actors who spent a ton of time in the makeup chair for a role.
Christian Bale as Dick Cheney
Christian Bale is recognized as one of the greatest actors of his generation and is known for his dedication to the craft. The actor gained 40 pounds to play Dick Cheney in "Vice." Bale told The A.V. Club, "He's a fascinatingly contradictory character," sharing how he studied Cheney's breathing patterns, walk, and general bearing to prepare for the role. Bale didn't meet with Cheney, telling USA Today, "I was advised against (talking to Cheney) for all sorts of legal reasons."
Bale's performance was enhanced with makeup, which he acknowledged when he thanked the makeup team during his acceptance speech for the Golden Globe. The actor spent between four and eight hours a day in the makeup chair, transforming with the help of Oscar-winning makeup artist Greg Cannom, who actually won his fourth Oscar for "Vice." The darkly comedic biopic follows Cheney for 50 years, requiring Bale to age before our eyes.
Cannom told Deadline, "We started with cheeks and chin in the earlier years, and by the time we got to the [63], 68, it was about nine appliances." Cannom told Deadline the most makeup-intensive day included, "three different looks. I think it was nine hours of just makeup." Cannom told The Hollywood Reporter, "I was very concerned with Christian sitting that long for the makeup, but he never had a problem with it."
Dave Bautista as Drax
Despite the prevalence of CGI in superhero movies, some of the most incredible transformations we've seen on screen have come from these mega franchises. It took five makeup artists five hours each day to transform Dave Bautista into Drax for "Guardians of the Galaxy" by applying 18 prosthetic pieces. Special makeup-effects designer David White told Business Insider, "Drax started as a five-hour makeup," reducing over time, explaining, "A makeup that extensive is a real slog for the team as it's so complex."
Bautista wasn't the only actor in "Guardians of the Galaxy" who spent a ton of time in the makeup chair. Not only did Karen Gillan have to shave her head for the role, but she also spent over four hours with makeup artists to transform into Nebula and another half hour to remove everything after filming. Gillan told The Hollywood Reporter the black sclera lenses she wore for the role were uncomfortable, saying, "I don't think I can do contacts anymore after that experience."
Zoe Saldaña is no stranger to sci-fi franchises, but her blue hue in "Avatar" required zero time in the makeup chair because it was all digital. However, for her role as Gamora in "Guardians of the Galaxy," the actress spent four to five hours having prosthetics applied before her body was painted green. Saldana told US Magazine, "I had to sit for five hours for five months. It was crazy, but it paid off. The movie is fantastic."
Jamie Campbell Bower as Vecna
Makeup department lead Barrie Gower, who created the Night King and White Walkers for HBO's "Game of Thrones," transformed Jamie Campbell Bower into Vecna in Season 4 of "Stranger Things" using practical special effects makeup. Bower told The Hollywood Reporter that the transformation took "Seven and a half hours" for application, "then about an hour to an hour and a half of removal." Many fans were surprised Vecna was accomplished with practical effects rather than CGI. The Duffer Brothers actually insisted on practical effects, which is why Vecna looks utterly terrifying in Season 4.
The entire cast of "Stranger Things" felt Vecna's terrifying presence during production, and Bower tapped into the physicality of Vecna, playing with his elongated claw-like fingers and the free-range movement the multi-piece body suit allowed. In a Netflix promotional video about creating Vecna, Bower and Millie Bobby Brown, who plays Eleven, revealed she actually cried the first time she saw him in full costume because it was so terrifying.
Joe Keery, who plays Steve, told Netflix, "Selfishly as an actor, it's so incredibly helpful because it's something real to look at" and interact with while filming rather than imagining. Sadie Sink, who plays Max, agreed, relaying how the practical effects were a luxury that made her feel at ease because she would "actually have something to play off of" during her showdown with Vecna. Bower put in some serious time in the makeup department and the results were phenomenal.
Jim Carrey as The Grinch
Kevin Winter/Getty Images/Universal Studios
Jim Carrey underwent 92 grueling transformations while filming "How the Grinch Stole Christmas." In an interview, Carrey told Graham Norton, "Literally the makeup was like being buried alive every day," explaining he spent 8 hours with makeup on the first day transforming into the Grinch, a costume which included green yak hair and prosthetics. Although the process became streamlined over time, he relived it nearly 100 times.
It was a taxing experience that pushed Carrey and his makeup artists to their limits. After Carrey told Ron Howard he couldn't take it and threatened to quit the movie, they brought in a CIA expert to teach Carrey how to withstand torture. Carrey laughed about the experience years later, but it wasn't just unpleasant for Carrey. Members of the crew felt his discomfort, too.
Carrey's makeup artist, Kazuhiro Tsuji, who won a BAFTA for his work on "How the Grinch Stole Christmas," said the stress on set not only sent him to therapy, it made him contemplate if he wanted to continue his work as a makeup artist in Hollywood, "I'm really an introvert," Kazuhiro told Vulture, "I don't like to be in many groups of people, or work under those conditions."
Tim Curry as Darkness
Featureflash Photo Agency/Shutterstock/Universal Pictures
Tim Curry didn't know what he was getting into when he agreed to "Legend." When Curry signed on to play the Lord of Darkness in this cult classic, he had seen no renderings of the character. In a behind-the-scenes video Curry admitted he fought against the elaborate makeup, but ultimately lost the battle. Regardless of Curry's reluctance, the results were incredible. Darkness is an impressive feat of practical effects and "Legend" was nominated for an Oscar.
Makeup effects artist Rob Bottin, who made a name for himself with his work on John Carpenter's sci-fi horror masterpiece "The Thing," was courted for the makeup and practical effects in "Legend." After reading the script, Bottin joined the project with enthusiasm, working on his plans from Los Angeles while director Ridley Scott prepared in England. Bottin said the first time he saw Darnkess' lair "was probably one of the most thrilling moments of my entire life."
At first, it took eight hours to complete the makeup for Darkness, but the makeup artists reduced it to five and a half hours. The results are staggering. The three-foot fiberglass horns and 18-inch stilts added to Curry's height, making him close to 10 feet tall in the dark fairy tale. Curry also had to sit in a bath after shooting each day to soak off the prosthetics, extending his time with the makeup department.
Michael Dorn as Worf
Featureflash Photo Agency/Shutterstock/Paramount
Michael Dorn made a career out of the "Star Trek" franchise, starting on "Star Trek: The Next Generation" and spinning off to join the casts of "Star Trek: Deep Space Nine" and "Star Trek: Picard." In fact, Dorn has appeared in almost 300 franchise episodes and holds the record for the most episodes in the franchise. To play Worf, a Klingon Starfleet officer, Dorn sat in the makeup chair for up to three hours a day to transform into the character when he first began.
Dorn told Peter Anthony Holder, "It just was a real process. But now they have it down to a real science where it's about an hour," adding, "I just couldn't have done it for seven years or ten years the way it started out." Dorn told ComicBookMovie, "the first two years it got really bad. I had a very bad skin condition that came up, and I thought I had to quit." Luckily, he talked to production and they helped alter the process, allowing Dorn to continue playing Worf for years.
Dorn wasn't alone. Many actors had to withstand long hours in the makeup chair in the "Star Trek" universe. Actors who played Borg in the movie "Star Trek: First Contact" spent five hours in the makeup chair, taking the practical effects from the television series to another level. The "Star Trek" franchise wouldn't be what it is without the dedicated makeup artists working on the series and films.
Doug Jones
DFree/Shutterstock/Fox Searchlight Pictures
Doug Jones has made a career out of playing creatures and monsters. Although we rarely see Jones without a bodysuit and full prosthetics, he prepares for his creatures just like any actor, telling NPR, "I find the heart and soul of a character before I find his elbows and his hands. I want to find out what motivates those elbows and hands." Jones is probably best known for his work with director Guillermo del Toro, playing the Faun in "Pan's Labyrinth" and the Amphibian Man in "The Shape of Water."
Jones told NPR, "A head-to-toe transformation often you're looking at, yes, five hours is about right." His transformation into the Faun was approximately five hours, whilst his other role in "Pan's Labyrinth," the Pale Man with eyeballs in his hands, took around six hours. "Pan's Labyrinth" won an Oscar for best makeup. Jones' transformation into the Amphibian Man from "The Shape of Water" was only three hours, and the suit came off in less than an hour at the end of the day.
Jones clearly enjoys bringing these fantastical creatures to life, delivering nuanced, emotionally resonant performances despite the limitations of the costumes, prosthetics, and makeup he dons. Jones told NPR, "Any creature suit that I've worn over the last 31 years hampers your eyesight, your hearing. You basically become a nursing home patient; you need help getting around." Thankfully, Jones hasn't let that stop him from embodying our favorite cinematic creatures.
Boris Karloff and Patricia Velasquez in Universal's Mummy Franchise
Stefanie Keenan/Getty Images/Universal Pictures
It took movie makeup legend Jack Pierce eight hours to transform Boris Karloff into Imhotep for the scenes before he regenerates in "The Mummy" back in the '30s. Luckily, Karloff didn't need to make this transformation every day during production. A year earlier, Karloff was transforming into the creature for "Frankenstein" in half the time, but the suit was heavy, probably adding to Karloff's lumbering steps in the screen adaptation of Mary Shelley's classic sci-fi gothic horror mashup.
Modern technology doesn't always save us time, as some things still have to be done the old-fashioned way. Patricia Velasquez reportedly spent hours having intricate patterns painted over her entire body to play Anck-Su-Namun in the 1999 "The Mummy" reboot. Velasquez, a former model and dancer with Indigenous and Venezuelan heritage, told Cinema the role felt "more like a modeling job because I had to put on all this special body makeup that took 13 hours to do," while expressing her excitement about reprising her role in the sequel.
Jennifer Lawrence and Rebecca Romijn as Mystique
Amy Sussman/Getty Images/20th Century Fox
During the production of the first "X-Men" movie, Rebecca Romijn played Mystique, the blue-skinned mutant shape-shifter. The former model spent hours in makeup, having prosthetics applied to her body and face before being painted each day. In an interview, Romijn told Looper, "It was no joke! My call time was at midnight to be ready at 9 AM. It was a nine-hour makeup process." Luckily, they reduced the time a little with practice and Romijn stopped wearing the contacts for the second film. Romijn told Entertainment Weekly the greatest difficulty of playing Mystique was "acting behind all those prosthetics on my face, because I don't know if I'm getting across what I'm trying to, because of all the silicone. It's like exterior Botox without the needle."
Jennifer Lawrence took over the role of Mystique in the reboot, exploring the mutants' lives in their youth in "X-Men: First Class." Lawrence explained on "The Tonight Show Starring Jimmy Fallon" that it initially took eight hours to don her costume and makeup to play Mystique — "which was lovely," she said with sarcasm. Prep time in makeup was reduced to only three hours for "X-Men: Days of Future Past." Lawrence's skin became irritated during the production of her first movie playing Mystique. Lawrence told E News, "I'm so excited because I'm going to wear a body suit. It will be from neck down so it will cut out time and the blisters."
Lawrence Makoare as Lurtz
Michael Buckner/Getty Images/New Line Cinema
Lawrence Makoare has put in his time playing multiple characters who inhabit Middle-earth in the "The Lord of the Rings" franchise. Makoare was first cast as the orc Lurtz in "The Fellowship of the Ring" and spent significant time with the makeup department for the role. Makoare told the BBC, "It usually takes four-and-a-half hours to put this makeup on" and another "hour-and-a-half to take it off."
This time commitment is standard for any actor who played an orc in the first trilogy, but Makoare said he spent 11 hours getting suited up and extra gooey for Lurtz's birth scene in the first movie. Makoare said the costume was boiling and multiple actors passed out while filming because of heat exhaustion. Besides the heat, Makoare found the contacts uncomfortable and said they made the fight scenes challenging.
Makoare wasn't the only one who spent time in the makeup chair for the "LOTR" franchise. Stephen Ure, who played a nameless orc in "The Fellowship of the Ring," admitted to having a panic attack while wearing prosthetics during production and said no one on the cast and crew recognized him at the wrap party because he spent so much time in costume for his role. However, "The Fellowship of the Ring" won an Oscar for best makeup, proving the actor's time in the makeup chair was worth it.
David Naughton as a werewolf
Albert L. Ortega/Getty Images/Universal Pictures
Makeup artist Rick Baker met John Landis while working on Landis' first film, where Landis told Baker about the script he had written for "An American Werewolf in London." However, it took years for Landis to get the film into production, giving Baker time to contemplate how to accomplish a transformation from human to werewolf. When David Naughton met Baker at his studio before filming to make casts for the prosthetics, Naughton remembers Baker saying, "I feel sorry for you" because he knew how much time Naughton would spend in the makeup chair for the role.
Naughton said they shot the transformation after filming the rest of the movie. Naughton told Morbidly Beautiful, "It took six days to shoot the transformation" for a couple of minutes of screen time. According to Naughton, his full-body transformation from a human to a werewolf in "An American Werewolf in London" took 10 hours to apply the prosthetics and makeup, plus his time having molds made back in Los Angeles.
Naughton told Morbidly Beautiful he tried to not complain but admitted, "The transformation wasn't fun, and I didn't want to do it again." Naughton wasn't alone. His co-star Griffin Dunne spent six hours in the makeup chair each day, telling Yahoo! he loved making the movie but "hated the makeup." Ultimately, their time spent in the makeup chair was worth it. Baker won an Oscar for his work as a makeup artist on the horror classic.
Brad Pitt as Benjamin Button
Julien M. Hekimian/Getty Images/Paramount Pictures
"The Curious Case of Benjamin Button" used a combination of practical and digital effects to depict Benjamin (Brad Pitt) aging in reverse throughout the film. Steve Preeg, a character supervisor at Digital Domain who worked on the screen adaptation of F. Scott Fitzgerald's story, told NPR, "There's 325 shots — 52 minutes of the film — where there is no actual footage of Brad." When Pitt was on screen, the practical makeup effects were incredible, and the film won an Oscar for best makeup.
Oscar-winning makeup artist Greg Cannom told Variety, "We did very intense tests for two weeks before shooting and started off with every age … The makeup had to work or the film wouldn't work." Producer Frank Marshall told Variety, "Most of the principal actors had to undergo some version of the aging process, but Brad had to endure the most complicated and time-consuming makeup effects," sometimes spending five hours in makeup each day.
Despite the early call time and hours spent in the makeup chair, Pitt said wearing the appliance "wasn't that uncomfortable … during the day it wasn't that bad," acknowledging how thin the membrane on his face to create forehead wrinkles really was. It didn't take away from his performance but added to it, resulting in Pitt's second Oscar nomination. "The Curious Case of Benjamin Button" is an excellent example of a successful synergy between computer-generated and practical makeup effects in cinema.