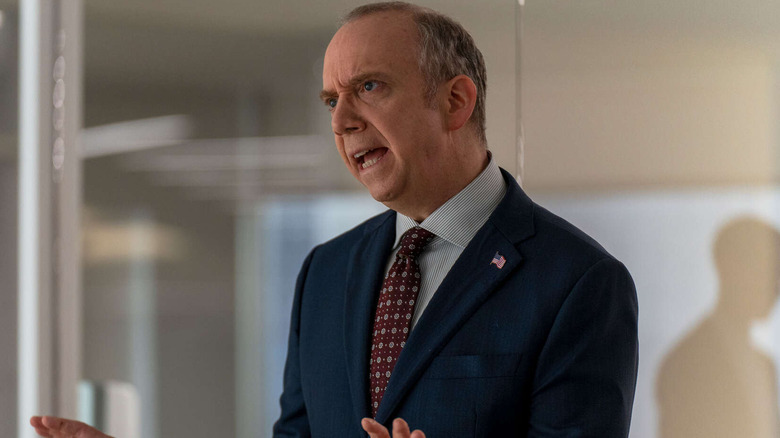 Actors being so committed to film roles that they change their voice, conduct, and bodies is such a tired trope that news of an actor going "method" is often met with disdain from certain fans. However, in television, excluding some controversy surrounding Jeremy Strong's method acting in "Succession," performers who transform are nearly always greeted with acceptance and in some cases even celebration.
This is not intended to denigrate actors who take their craft seriously and go to great lengths to put themselves in positions where they can provide believable performances. Rather, it is to examine why actors on television typically have an easier time avoiding fan scrutiny when they do the same. Actors on television sometimes entirely change their bodies from what it was in past seasons due to the long-running nature of television shows.
The truth is that most television actors transform their bodies for a variety of reasons other than to make their roles more believable, which may have something to do with the grace audiences normally show them. On the other hand, fans may spend more time with actors in television series and develop a bond with their characters. In that breath, let's explore some well-known instances of television stars who underwent complete physical transformations during a show's run.
Jerry Ferrara – Entourage
Jerry Ferrara is most known for his iconic loveable role as Turtle in "Entourage." But before he landed that life-changing part, he was just another theatre-trained actor with big dreams. He soon moved to Los Angeles and scored a guest spot in Kevin James' "The King of Queens" and soon enough, he landed HBO's "Entourage," and his character has been a staple in pop culture ever since.
Ferrara revealed in a 2011 interview with Men's Health that as he was taking a physical for an upcoming role, he realized his weight was not where he wanted it to be. At that point, he embarked on his fitness journey. Soon after, he had shed 20 pounds, and even the show's creator, Doug Ellin, began to notice and lament how visible such a sudden transformation would be for the fans to observe. He eventually lost 55 pounds by the time he got his body to a point he was happy with.
Ellin, of course, has a great deal of respect for Ferrara; after all, Ferrara is the only actor on the series with whom Ellin periodically collaborated on episodes, so Ellin tried to find out how he could incorporate the weight reduction into the show. In terms of admirers, Ferrara was praised in nearly every publication. Ferrara himself stated that he was pleased with the new lifestyle that is more health-conscious.
Rob McElhenney – It's Always Sunny in Philadelphia
At the beginning of his Hollywood career, Rob McElhenney worked as a waiter and appeared in minor roles. He had a lot of almost scenarios in the film industry; first when his debut major acting role in "The Devil's Own" was edited out of the final cut of the picture, and probably more painfully when his script for a Paul Schrader feature eventually fell through. McElhenney never gave up though, and with only $200, he shot what became "It's Always Sunny in Philadelphia," which received a full season order from FX.
It wasn't always a given that "It's Always Sunny" would make it to the network, though. The truth is that the pilot was so good that it sparked a bidding war among multiple networks. McElhenney eventually decided on FX because of the creative freedom it provided. McElhenney required this leeway because his brand of humor is mainly based on the absurdist nature of television tropes.
One of the tropes McElhenney felt compelled to mock was the fact that in most TV shows, the actors begin to appear in better shape as the series progresses. To counteract this, McElhenney gained 50 pounds for the show's seventh season simply because he thought it would be hilarious. He altered his body again for comic purposes in Season 13 and dismissed the difficulty of achieving such severe physical changes, but fans shouldn't rule out the possibility that McElhenney was merely making another joke.
Elliot Page – The Umbrella Academy
Elliot Page was born into an artistic household, the child of a graphic designer and a teacher. He was assigned female at birth and given the name Ellen, which he used to break into the film industry at the age of 10. Page began his career in Canada with little roles in TV shows and films before moving on to Hollywood, where he had breakout performances in "X-Men: The Last Stand" and "Juno," the latter earning him plaudits from legendary film critic Roger Ebert, who dubbed it the performance of the year, as well as an Academy Award nomination.
In yet another peripherally pandemic-related event, Page told Time Magazine that he felt the lockdown finally allowed him to fully embrace who he is. In a quick succession of events, he clarified his pronouns on social media as he and they, and he also underwent gender-affirming care. Page thusly transformed his look and Netflix incorporated his transition to not only every credit he had on their service but also incorporated it to her character in "The Umbrella Academy" who also comes out as a transgender man in the third season.
Page garnered support from celebrities from all around the entertainment business, and even his native Canada's prime minister praised his bravery on Twitter. Page is set to return in Season 4 of "The Umbrella Academy."
Chris Pratt – Parks and Recreation
Chris Pratt grew up in a working-class Midwestern household and had a free spirit from a young age; when his high school wrestling coach asked what he wanted to do when he grew up, all he knew was that he'd become famous and wealthy. Pratt's path to the top, while ultimately successful, was not as straightforward as he probably would have imagined. For a time, he lived in a van and relied on odd jobs until he landed his first acting gig. But it was his role as Andy Dwyer, Aubrey Plaza's love interest in "Parks and Recreation," that made him a household name.
Pratt began his gradual transition into a movie star during this time, first appearing in Brad Pitt's "Moneyball," for which he was previously considered overweight for the part in which he auditioned. He then dropped weight for the role, and his performance was well appreciated, resulting in more work in serious films such as "Her" and "Zero Dark Thirty."
He undertook all of this while still appearing on "Parks and Recreation," and his physique was continuously transforming, but it wasn't until he landed the role of Star-Lord in "Guardians of the Galaxy" that he transformed his body into a whole other look, and audiences began to notice. Pratt's numerous body transformations did not go unnoticed by Hollywood media and he soon appeared on the covers of several magazines and developed into the bankable star that he is today.
John Goodman – Roseanne
John Goodman had a difficult upbringing. His father died when he was still quite young, and his older brother, whom he frequently turned to, left for college when Goodman was still quite little, leaving him withdrawn; furthermore, Goodman was frequently harassed for being overweight. He eventually made it to college on a football scholarship, but an early injury led him down the path of becoming an actor. He's now one of the most recognizable stars, having appeared in several Coen brothers films, but it all started with "Roseanne," the sitcom that catapulted him to stardom.
"Roseanne" first aired in 1988 and ended in 1997. Throughout this run, Goodman portrayed Dan Connor, the genial blue-collar dad of the family who exemplified parenthood in an American milieu. The show was subsequently revived in 2018, with the original cast, including Goodman, who died in the previous season, reprising their roles. However, by this time, Goodman had shed a large amount of weight, most notably in 2014, when he was traversing the film festival circuit to promote his new picture, "Trumbo."
Goodman disclosed to the media that his 100-pound weight loss journey had not been simple. He stopped drinking and engaged professionals to assist him in managing his health. Per People, Goodman ended up exercising six days a week and eliminating sugar from his diet. Nevertheless, he has stated that he is pleased with the results.
Paul Giamatti – Billions
As the son of two college professors, Paul Giamatti was practically destined to follow a path into academia. He attended the Yale School of Drama, where he studied alongside cult classic "Office Space" actor, Ron Livingston, and "Fight Club" star, Edward Norton. After graduating from the school, Giamatti began his career in supporting roles in the 1990s before breaking through as a leading actor in Alexander Payne's "Sideways." Giamatti moved to television after decades of various parts that established him as one of Hollywood's most dependable character actors, where he plays the lead in Showtime's smash drama, "Billions."
"Billions" premiered in 2016 and is still going strong, with the seventh season set to premiere in 2023. The pandemic and ensuing lockdown had a significant impact on the show, as it did on all series that were still airing in 2020. And Giamatti took advantage of the unexpected spare time in his schedule to work out and lose weight, resulting in a 15-pound weight loss. When "Billions" returned, Giamatti looked dramatically different.
Furthermore, when the lockdown began, "Billions" was in the middle of season 5, and the show's creators just continued from where they left off. The show quickly acknowledged Giamatti's new slimmed-down and shaven appearance, much to the confusion of some fans. However, it has since been suggested that the weight loss was motivated by a desire to live a healthier lifestyle.
Alec Baldwin – 30 Rock
Alec Baldwin began his acting career by attending two of America's most prestigious acting institutions: New York University's Tisch School of the Arts and the Actors Studio. During this time, he established himself on the stage, on television, and in movies; his performance as Jack Ryan in "The Hunt for Red October" was a highlight of his illustrious career. Even though he still holds the record for hosting "Saturday Night Live" the most times and his monologue in "Glengarry Glen Ross" is regarded as one of the most memorable in film history, Baldwin is still best remembered for playing Jack Donaghy in "30 Rock."
Baldwin is hilarious throughout the show's run and he has been duly recognized with numerous honors from various Hollywood organizations. Fans may notice, however, that his weight steadily increases during the show. It wasn't until 2020 that his wife, Hilaria, revealed in her book that Baldwin had poor eating habits that contributed to his weight gain. Baldwin later learned that he was prediabetic, which motivated him to lose weight by utilizing a piece of advice from Pete Davidson. And, while losing weight isn't a panacea for all lifestyle conditions, it's a good place to start.
Lisa Nicole Carson – Ally McBeal
Lisa Nicole Carson was once a rising star in Hollywood and it's quite easy to imagine just how differently her career could've gone. In the early 2000s, Carson was the star in two of the most successful shows of that era — "ER" and "Ally McBeal" — but it all went crumbling down one night at a New York hotel. On that unfortunate fateful evening, Carson had a mental breakdown so pronounced in the hotel that the staff called an ambulance for her.
Because of this incident, the press turned against her, and the tabloids had a field day. They were unaware of Carson's bipolar disorder, nor was the actress at the time. Of course, this was a different era, and mental health awareness and sensitivity were not where they are now. Carson was accused in the tabloids of using drugs and being difficult to work with. To add fuel to the fire, she was fired from both of the shows she was on.
Carson later described what happened in a 2020 piece for Essence Magazine and how she eventually got on medication. As is well known, bipolar disorder medication frequently causes weight gain, so when she returned to the show for the final episode, she had gained weight but appeared to be in better health.
If you or someone you know is struggling with mental health, please contact the Crisis Text Line by texting HOME to 741741, call the National Alliance on Mental Illness helpline at 1-800-950-NAMI (6264), or visit the National Institute of Mental Health website.
Matthew Perry – Friends
Matthew Perry's journey to his most famous role in "Friends" was not the most difficult stage of his career. He grew up in a moderately prominent family as the son of an actress and journalist; in fact, his mother's journalism career was so well established that she served as the press secretary to Canadian Prime Minister, Pierre Trudeau. Perry even went to school with Trudeau's son (and now Prime Minister) Justin, and subsequently relocated to Los Angeles, where, following several guest roles in TV shows, Perry secured the part of Chandler Bing at the age of 24.
That's not to imply Perry was without challenges. Fans had no idea that Perry was battling with substance abuse over the length of the series, and his continual weight fluctuations were a result of this. In a 2022 interview with Vanity Fair, Perry admitted that this has always made it difficult for him to return to the show as a fan because he could always tell which drug he was actually battling by the weight changes, and that was all he could focus on. Fortunately, Perry has since pledged to live a drug-free life and is working on his recovery. In addition, he stated that he will revisit "Friends" as a fan to appreciate what he and his colleagues accomplished.
Rob Reiner – All in The Family
Rob Reiner was born into Hollywood royalty; his mother was an actress and singer, and his father was an 11-time Emmy-winning all-around comedy icon best known for writing for "The Dick Van Dyke Show." Reiner followed in their footsteps and established a multifaceted career in Hollywood, where he was equally prolific behind as in front of the camera. But it's his portrayal of Michael "Meathead" Stivic in "All in The Family" that has won him the hearts of so many admirers.
The premise of "All in the Family" was pretty simple: each episode would focus on a family quarrel about a societal issue, and Michael's liberal perspective would frequently put him in conflict with his father-in-law. The show was successful in that it challenged many common misconceptions in American society at the time. Reiner was in his mid-20s when the show began, and by the conclusion, he was in his mid-30s. As individuals age, their metabolism slows down, and it's clear in the later seasons just how much Reiner's body has changed.
Lucille Ball – I Love Lucy
It's impossible to overestimate Lucille Ball's impact on the medium of television. She began her career as a model before being forced to take two years off from work due to illness. As she recovered and returned, Ball worked her way through different supporting roles in films before convincing CBS to adapt her radio comedy show into a sitcom, titled "I Love Lucy." Ball saw this as an opportunity not only to advance her career but also to save her marriage with Desi Arnaz, which had become strained due to the two stars' demanding different schedules.
"I Love Lucy" pioneered many television firsts. For instance, Ball and Arnaz were the first interracial couple in TV history, and the network was worried about how the audience would react to that fact throughout the show's development. However, the most influential thing the show ever did for television was to depict a pregnant Lucille. This was deemed highly controversial at the time, but because Ball was pregnant in real life, the show had to acknowledge her changing physique. The success of the show, as well as Ball's portrayal of her pregnancy, contributed to correcting damaging prejudices against women in Hollywood. Ball is unquestionably a television legend, and this was arguably her most iconic moment.
Angus T. Jones – Two and a Half Men
Child actors have a long and controversial history in television and many end up having strained relationships with the fame that brought them so much wealth; Angus T. Jones is no exception. He initially appeared in "Two and a Half Men" when he was 10 years old, and he was the perfect foil to Jon Cryer and Charlie Sheen's icy relationship as brothers. Jones' timing and cadence were impeccable, and the audience couldn't get enough of the three, and the show quickly soared to become the most-watched show of its time.
Nevertheless, as Jones grew up, he started changing. Of course, Sheen's drama drew all of the media attention, but Jones had his own troubles with the show. He believed that the more mature narratives he began to receive were inappropriate because he wasn't yet an adult. The writers, however, must have seen how much his body had changed over the years and thought it suitable to give him such storylines. Jones finally quit the show due to creative disputes between the two parties.
The long-running nature of some shows ultimately lends itself to some performers radically altering their physique for various reasons during the show's run. However, "Two and a Half Men" was the rare instance in which the writers' attempts to adapt the plot to that transformation backfired.
Sean Murray – NCIS
Sean Murray began his career as a child actor before becoming a regular on NCIS. Murray's stepfather was the famous TV writer and producer, Donald P. Bellisario, who was responsible for hits like "Magnum P.I.," "JAG," and, most notably, "NCIS," consequently Murray's path to his role was somewhat predestined. But still, before he could join his stepfather's undeniable magnum opus, Murray had some maturing to do, which he accomplished while honing his art. Murray began his career in tiny roles in early 1990s cult hits, "Hocus Pocus," and "My Blue Heaven," before obtaining a role on "JAG," which led to his role being kept in a subsequent spin-off titled "NCIS," in which he has played the character in over 400 episodes.
Murray has undergone tremendous transformations throughout his numerous appearances on the show. For instance, in the early seasons, his character, Timothy McGee, was always depicted in suits to portray his timidity and inexperience, but as the show continued, McGee loosened and began wearing more casual attire to reflect his developing confidence. Nevertheless, it was Murray's drastic weight loss at the close of the sixth season of "NCIS" that got fans talking and even speculating about his health. Thankfully, Murray turned to Twitter to reassure his supporters that his weight loss was totally healthy.