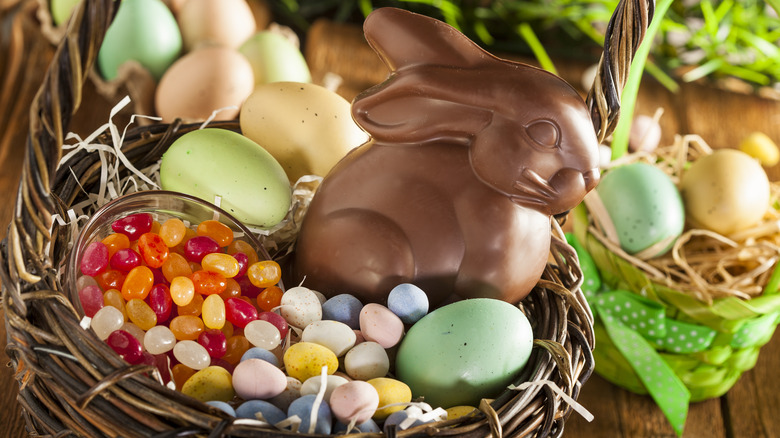 Easter is fast approaching and the spring holiday comes with many traditions, including one of the sweetest of the year — candy-filled Easter baskets. Jelly beans, chocolate bunnies, and egg-shaped candy of all kinds mark the Easter season. There are some classic candies that we expect to see on the shelves every year, but there are also plenty of innovative products that can completely set your basket apart from a basic version.
There's an art form to crafting the perfect Easter basket. It needs to have the right pastel-colored aesthetics paired with a hefty ratio of sweets. But luckily, whether you're more of a chocolate person or love all things sour, there are dozens of types of candy to throw into your Easter basket.
To provide some inspiration, we uncovered the best Easter candy to put in your basket this year. We included a few old-school classics as well as plenty of more creative candy options to make your basket as delicious as possible.
Polka Dot Hershey's Eggs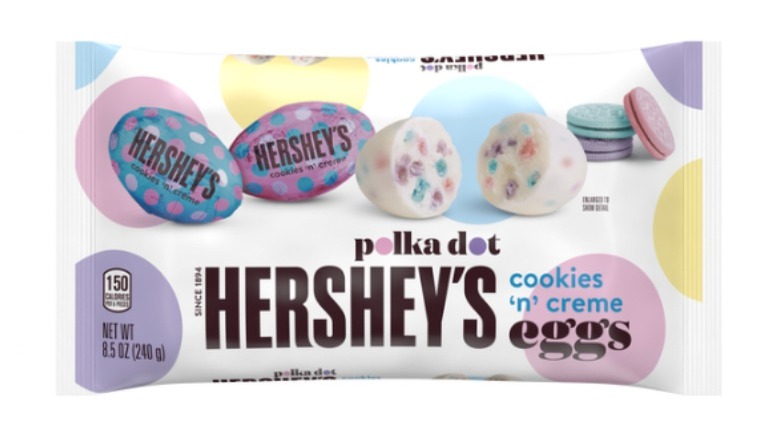 One of Hershey's more recent releases for Easter is its Polka Dot Eggs which are made for people who love all things cookies and creme flavored. These white chocolate eggs look like confetti and they're just as much fun to eat thanks to the pink, blue, and purple cookie pieces floating inside. These fun-filled eggs are a hit for anyone who prefers the Hershey's Cookies 'n' Creme bar to the original milk chocolate flavor, except with a colorful makeover.
Each egg is individually wrapped so these treats are a perfect final touch to an Easter basket or make great filler candy for plastic eggs. They have the added factor of being a one-bite treat, even though it's hard to limit yourself to just one egg after you try the fun flavor. The eggs can also be great decorations for Easter desserts like cake and cookies to amp up the energy of every dish at your Easter celebration.
Dylan's Candy Bar Ear-Resistible Gummy Kebob
Dylan's Candy Bar is heaven for anyone with a sweet tooth, so it's not surprising that the store sells several one-of-a-kind candy options to make your Easter basket next level. One must-buy that is as much of a visual treat as an edible one is Dylan's Ear-Resistible Gummy Kebob. It's a candy kebob filled with various gummy treats on a stick. It's appropriately topped with an edible gummy bunny, or the brand sells a version with a gummy chick on top instead.
Dylan's gummy kebobs will add eye-catching height to your Easter basket with a decoration that doubles as an edible treat. The candy store sells each kabob for $7 apiece so it's a stellar last-minute addition to any basket. The gummy kabob stays true to the brand's ethos that candy isn't just fun to eat, but can also be fun to use for aesthetic purposes as well.
Williams Sonoma Easter Bunny Bark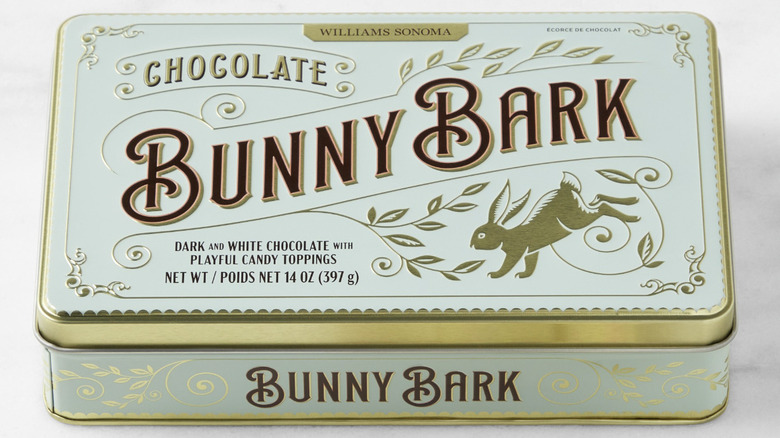 Williams Sonoma is like Dylan's Candy Bar for foodies, so it's no surprise the store sells some elevated Easter basket goodies for someone with an elevated palate. The brand sells its colorful Bunny Bark in a pastel mint tin that's worth saving. The tin will add an old-school vibe to your basket and can be repurposed for future Easter decorations for years to come.
The bark itself is made up of one layer of white chocolate and one layer of dark chocolate for contrasting flavors. The fun comes from the topping on the bark which include candy pearls, edible glitter, sprinkles, and more. You'd be hard-pressed to find a decadent chocolate treat that looks more like a physical embodiment of Easter, which is why the Williams Sonoma-exclusive tin is a must-buy. Williams Sonoma sells a single 14-oz tin of its Bunny Bark for $35 as of March 2023.
Twizzlers Cherry Bunnies
Twizzlers are a quintessential movie theater snack, but the brand made an innovative version of its licorice treats just in time for Easter. Twizzlers Bunnies are cherry-flavored licorice bites that are in the shape of adorable bunnies. The chewy bites make the experience of eating Twizzlers a little more distinct than the original long strands of candy and you can't deny the cuteness factor of the tiny bunny shapes.
The bunny-shaped Twizzlers are sold in a decent-sized 7-oz bag, but the bag is also resealable so the receiver can snack on a few bunnies and save them for later while perusing the rest of the goodies in their basket. Since Twizzlers aren't everyone's favorite sugary treat, for the person who is obsessed with the popular brand of candy these bunnies are a no-brainer gift for the Easter holiday or to add into their Easter basket this year.
Whoppers Mini Robin Eggs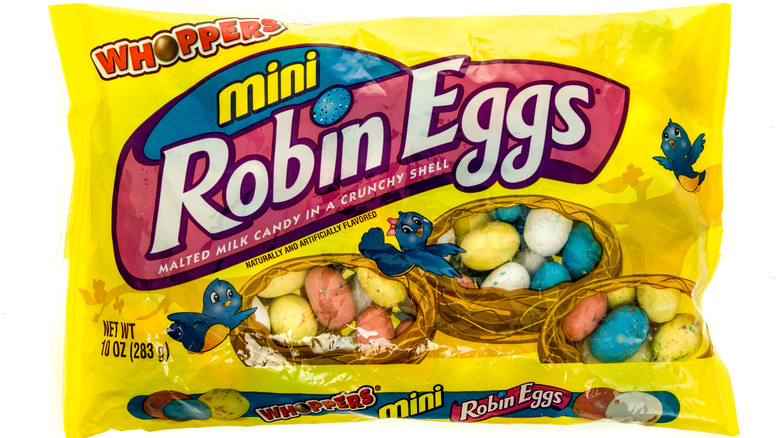 We'd be remiss to make a list of the best candy for your Easter basket and not include Whoppers Mini Robin Eggs. They're the candy with the ultimate nostalgia factor that still stands up to more modern-day candy inventions in the flavor department. The colorful candies resemble tiny bird eggs thanks to a hard chocolate shell, but the inside is filled with malted milk balls.
Sure, there might not be a major difference besides aesthetics between Mini Robin Eggs and regular Whoppers, but the Easter version just tastes better, maybe because it's not available all year round. Die-hard fans can stock up in the spring to get enough candy to last them until the following Easter, but that would remove the novelty factor for some of us seasonal candy fans. Whoppers Mini Robin Eggs are truly best eaten right out of your Easter basket to get the full experience of the traditional treat.
Easter PEZ pack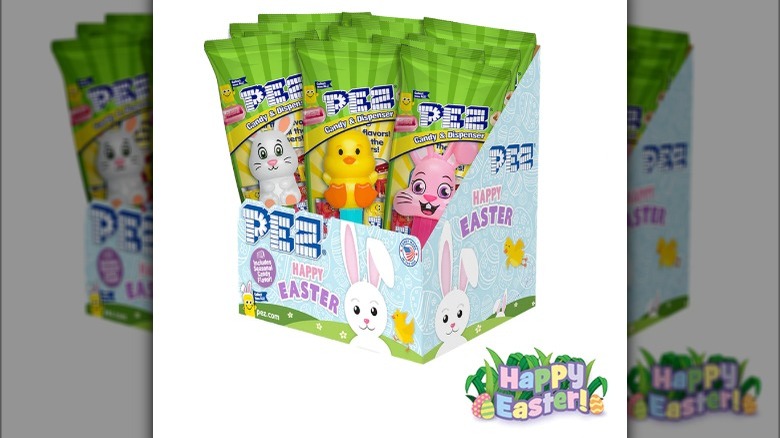 Another throwback confection worth throwing in your Easter basket this year is a festive pack of Pez candy dispensers. Pez is pretty one-note depending on the particular flavor of the hard candy, such as strawberry or lemon. The fun is in the dispensers, and the brand sells an Easter pack with cartoon versions of bunnies and chicks that are meant for putting in baskets. The brand sells a 12-pack of Easter Pez dispensers with candy refills for $20 as of March 2023. It's an ideal option for Easter bunnies who need to make more than one basket and can spread out the dispensers so that everyone gets an interactive treat.
Pez also sells candy dispensers based on a wide variety of pop culture figures from the Animal Crossing video games to Disney Princesses. You can customize your recipient's basket even more by including a Pez dispenser of their favorite character if the Easter theme is too cliche.
Malley's Chocolates Bunny Pop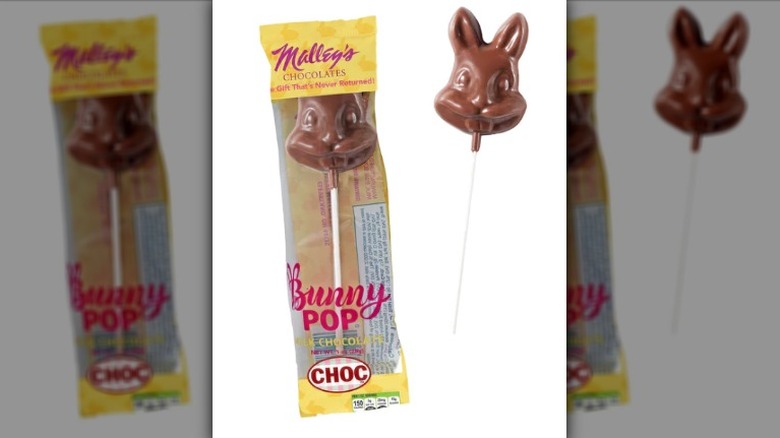 Malley's Chocolates
Malley's Chocolates isn't as big of a candy maker as Hershey's, but the regional Midwestern chocolatier is known for its mouthwatering homemade candy. The brand also ships across the U.S., so you don't need to live near one of their stores to get a hand on their goodies, especially the impressive Easter lineup. One budget-friendly option to add to any basket is their Bunny Pop.
It's a solid milk chocolate bunny head on a stick. The chocolate is so rich that you won't miss the rest of the bunny's body after a few bites, which makes it more of a practical basket item than a massive (and usually hollow) full chocolate bunny. The bunny head in adorable packaging will stand out on its own in the Easter basket. Malley's sells the Bunny Pop for just $1.65 as of March 2023 so it can be a small, but impactful addition to an Easter basket for any chocolate-loving recipient.
Sour Patch Kids Jelly Beans
No Easter basket is complete without jelly beans. The candy might not be the most popular of the classic Easter treats, but many candy brands make their versions of jelly beans with more interesting flavor renditions. One option for sour lovers is Sour Patch Kids jelly beans. The original jelly bean bag is based on the classic Sour Patch kids flavors — lemon, lime, orange, blue raspberry, and red berry. However, the brand also sells a bagged option of all watermelon-flavored jelly beans for fans of that flavor pack.
As you might expect, the Sour Patch Kids jelly beans benefit from an added sour kick to make each bite more interesting than just relying on artificial fruit flavoring to take charge. The candies are also extremely bright and make the perfect filling for plastic eggs used for Easter basket decorating or to utilize in an Easter egg hunt.
Sugarfina Sprinkle Donuts
Sugarfina is a U.S.-based candy brand known for its gourmet flavors of gummy bears, even some that taste like cocktails. One delicious option from the brand's extensive lineup that isn't a gummy candy is the Sprinkle Donuts bites. These candies are technically small pieces of cereal that are dipped in pink chocolate and coated in rainbow sprinkles, and they would add a fun pop of color to any Easter basket.
Sugarfina Sprinkle Donuts have a satisfying crunch thanks to the cereal base and the added texture from the sprinkles. They're meant to be eaten as individual bites, but you could get crazy and eat them with milk like fancy sugar cereal. The sprinkled candy might not be shaped like classic eggs or bunnies, but these pink donuts are guaranteed to brighten anyone's day, especially if they're gifted in a festive Easter basket. A party pack of six cubes of Sprinkle Donuts candy sells for $48 as of March 2023.
Lindt Chocolate Carrots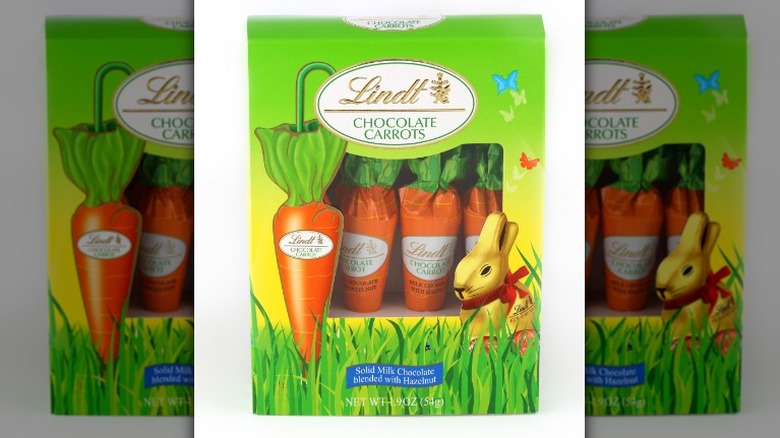 Lindt is another well-known candy brand famous for their lineup of chocolate goodies, especially whenever a holiday is near. One must-have Easter treat is the brand's Chocolate Carrots, which almost look too cute to eat. These carrots get their appearance from decorative foil, but the real treat is inside. The carrots are made of milk chocolate blended with chunks of hazelnut that come on a stick that sort of looks like an umbrella handle. It's extremely rich but the flavor profile is a must-try for anyone who loves anything that resembles the taste of Nutella.
Lindt Swiss Chocolatiers use real ingredients and keep their recipes simple to let the natural chocolate flavor be the star of any treat. Lindt sells a four-pack of its Chocolate Carrots for $5. The carrots are great to add all in one basket or for splitting up amongst different baskets so that everyone gets a bite.
Squish Candies Frogs
Another alternative to all of the bunnies and chicks we see around Easter are gummy frogs from Canadian candy makers Squish Candies. The brand has a fun lineup of innovative gummy candies, but the frogs are great for celebrating the spring season and beyond. The adorable frogs taste like fresh green apples and the flavor can't be compared with most of the popular gummy brands on the market. Squish uses real fruits and other natural ingredients in its candy, so this is a real sour green apple flavor at its truest.
The frog gummy itself also isn't too chewy — it almost melts in your mouth with just the right amount of bite to be classified as a gummy. One happy customer praises the candies for having "the right consistency and the perfect flavor." A small bag of Squish Frogs sells for about $5 as of March 2023.
Cadbury Creme Egg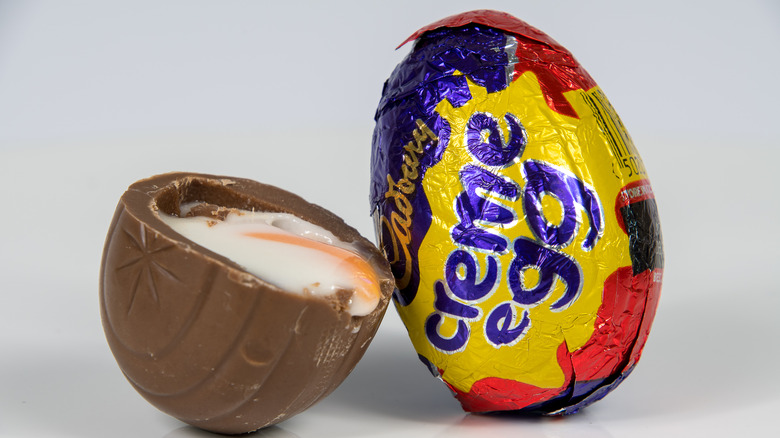 Another Easter candy we felt obligated to include is the ever-popular Cadbury Creme Egg. Alongside jelly beans and Peeps, Cadbury Creme Eggs are one of those candies that defines Easter. The egg features a thick milk chocolate shell that cracks open to reveal a gooey fondant filling. The filling is white and yellow to resemble a real egg yolk, but thankfully, tastes like liquified sugar. It's not the most appetizing candy when you think about it too hard, but the experience of eating one of these creamy treats goes without question around the Easter holiday.
Cadbury has many versions of its chocolate eggs, both with and without creme, but the Cadbury Creme Eggs have stood the test of time for a reason and likely won't be going anywhere anytime soon. It's a no-brainer to buy a few classic Creme Eggs and throw them into all of the Easter baskets you need to make, just to make them feel complete.
Little Stinker Bag Of Bunny Farts Cotton Candy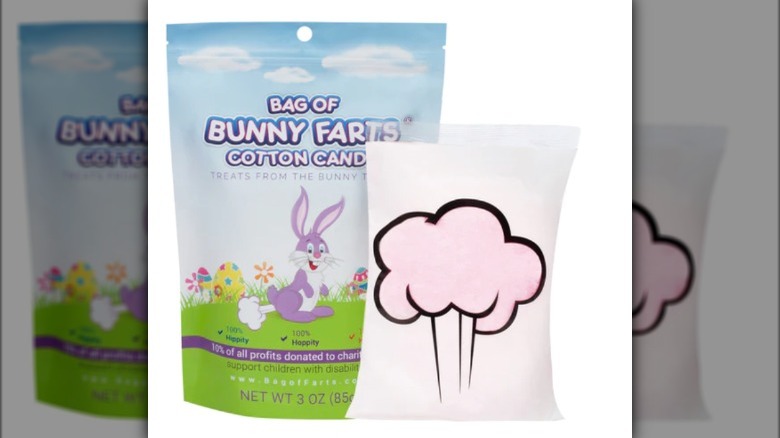 Bag of Fats
It sounds ridiculous for us to suggest including a Bag of Bunny Farts in your Easter basket, but it's a silly candy that should become an annual tradition this time of year. The Bag of Bunny Farts is actually a fruit punch-flavored cotton candy, but the packaging is what makes it so fun. The cotton candy inside does double as a tasty treat once the receiver stops laughing at the candy they just discovered.
The company behind Bag of Bunny Farts donates 10% of its profits to charities that support children with disabilities. So you can feel good about monetarily supporting the candy company and a good cause and embracing the absurdity of the product at the same time. The brand sells "bags of farts" from other animals, including unicorns and dogs, but the bunny bag seems to be the most appropriate for the Easter holiday.
Malvi Cotton Candy Marshmallows
Another Easter basket option for the foodies in your life are the Cotton Candy Marshmallows from Malvi. The pack of marshmallows is as fun to look at as it is to eat. The giant pink marshmallows are coated with sprinkles that gives off a super springtime vibe. The flavor is also unmatched, thanks to all-natural ingredients, and they taste like homemade cotton candy and marshmallows put into one. These fluffy treats are so tasty that they justify eating a plain marshmallow like a piece of candy, or you can opt to make some colorful hot chocolate with these marshmallows.
Malvi sells a two five-packs of marshmallows for $10 as of March 2023. The brand also sells other flavors of gourmet marshmallows like Fluffy Nutter and Berry Tropical, but the Cotton Candy Marshmallows are hands-down the most fun to look at, especially when paired with other pastel-colored Easter goodies.
Easter Lemon Crisp Kit Kat
Kit Kats are the classic chocolate candy that's party of any celebration, from Halloween to Easter. Aside from the milk chocolate original, Kit Kat has several different flavors of its crispy candy bar. One flavor perfect for spring and filling Easter Basket is the Lemon Crisp Kit Kat. These mini Kit Kats make the cut for best candy for Easter baskets mostly because they are adorable. The individually-wrapped candy bars come in springy bright yellow packaging covered with flowers and slices of lemons.
Lemon Crisp Kit Kat also is a knockout flavor that is a great combination of fruit and chocolate. The Kit Kat has those classic crispy wafers at its center. Instead of milk chocolate, the flavor uses lemon-flavored white chocolate as its coating for a citrus kick. The only downfall is that Kit Kat made the lemon version a seasonal flavor, as online reviews prove the flavor has year-round fans.
Peeps Decorating Kit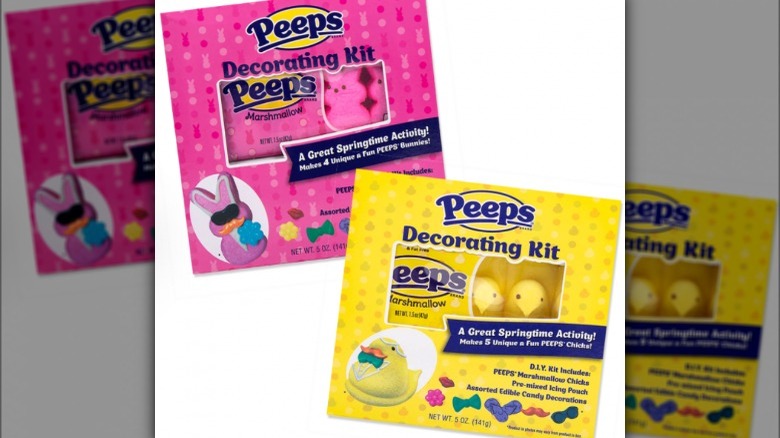 Another must-include Easter basket candy is Peeps. Whether you love them or hate them, you can't disagree that the controversial candy is an integral part of the Easter season. Some people might like eating the colorful sugar-coated marshmallows. While others prefer to play with them and maybe even experiment with putting a Peep in the microwave in the name of science. If you tend to fall into the latter category, the Peeps Decorating Kit is a great option.
The Peeps Decorating Kit encourages you to play with your candy in the most genuine way possible. It comes with icing to add freestyle decorations as well as edible candy decor to dress up your Peeps however you'd like. The decorating kit is another easy way to add an interactive element to your Easter basket that can turn into a family-friendly activity after the excitement of opening baskets dies down.
Madelaine Chocolate Company Mini Chicks
We've included plenty of bunnies and eggs on the list, so it only feels right to give chicks their fair representation on the list of best Easter basket candy. The Madelaine Chocolate Company has a package of mini milk chocolate chicks that are more than ready for your baskets. The chicks are individually wrapped in colorful Italian foil that's as bright and cheery as the holiday itself. Each candy chick also is carved to resemble the chirpy bird on the outside, so it isn't just a false advertisement with these chocolates.
Aside from the shape and decoration, Madelaine's Mini Chicks are made of decadent milk chocolate that is as creamy as it gets. These chicks are so rich that it's hard to eat more than one at a time, but the melt-in-your-mouth flavor might be enough to convince you to go against your judgment and try to regardless.
SweeTarts Chicks, Ducks, & Bunnies
SweeTarts are another classic hard candy to enjoy any time of the year, but the brand comes out with a special Easter version of its treats that is begging to be included in your Easter basket. SweeTarts Chicks, Ducks, and Bunnies feature blue, pink, and yellow sour candies in the shapes of the aforementioned animals in honor of Easter. The pieces are bigger than the classic SweeTarts and the shapes make it more of a visual treat in your basket as well.
SweeTarts, while mainly sour, do resemble distinct flavors and this package is no different with the blue punch, cherry, and lemon options in each pack. The candy is extremely crunchy, but the sugar quickly dissolves in your mouth to reveal its puckering and tart flavor. SweeTarts Chicks, Ducks, and Bunnies provide a nice switch up from all of the chocolate that is typically included in Easter baskets while still being super on-brand for the holiday.
Tony's Chocolonely Great Big Chocolate Eggs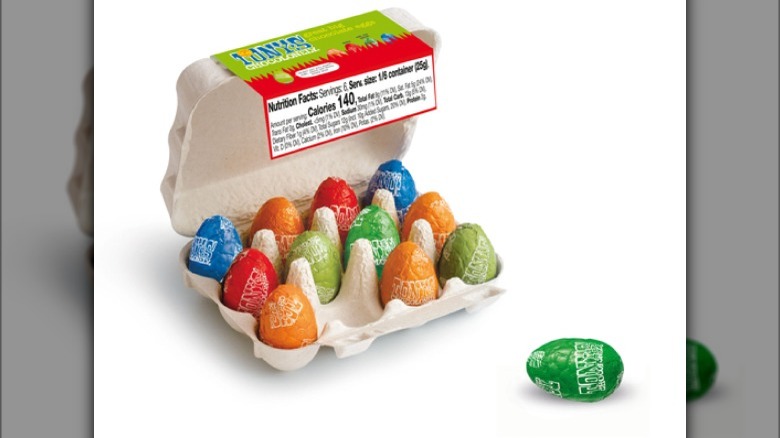 Tony's Chocolonely
The final candy to include in every Easter basket this year is Tony's Chocolonely Great Big Chocolate Eggs. The various chocolates come in a realistic-looking egg carton and are individually wrapped in different colors based on the flavors inside. The eggs are either made of milk chocolate or dark chocolate. Some are plain while others include fillings like caramel, sea salt, almonds, and hazelnuts.
The big chocolate eggs from Tony's Chocolonely are as fun to open as they are to eat, which is why they should be an Easter basket staple. It's also a treat to watch a person see the carton and think that it's filled with a dozen real chicken eggs instead of chocolate for a moment, especially if you take off the outside packaging to really prank them. Tony's Chocolonely sells its carton of 12 Great Big Chocolate Eggs for $7 as of March 2023.