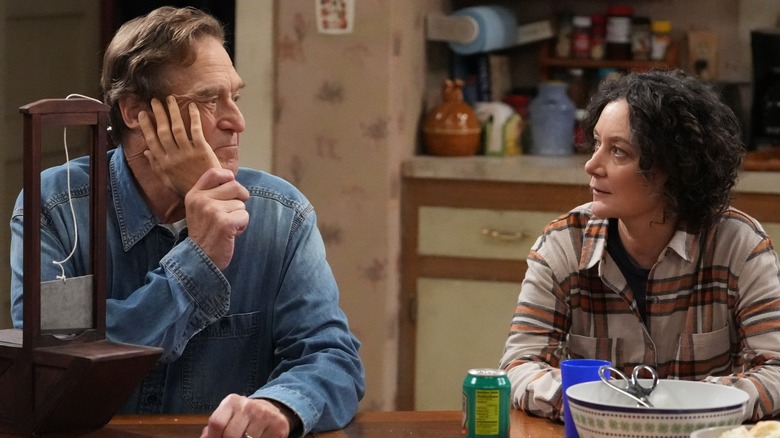 Few mainstream sitcoms have had as complicated of a history as ABC's "The Conners," which premiered in 2018. Fans will know how the show spawned as a spinoff of the 2018 revival of the classic cult comedy "Roseanne," which originally ran from 1988 to 1997 before being brought back with the entire original cast.
"The Conners" picks up where the "Roseanne" revival left off by following the life and times of a blue-collar family as they navigate the complex dynamics of the modern world. With the entire cast having aged significantly from their original incarnations of the characters, it's been fascinating for longtime fans to see how these people have changed over time. Unfortunately, one major character isn't included because of the extenuating real-life circumstances surrounding the show's creation.
It's no secret that Roseanne Barr is a controversial figure, especially after she got into hot water following a series of tweets she posted in 2018. As reported by The Guardian, Barr posted racist and Islamophobic messages at the expense of Obama-era White House advisor Valerie Jarrett. ABC quickly canceled the "Roseanne" revival, explaining that "Roseanne's Twitter statement is abhorrent, repugnant and inconsistent with our values, and we have decided to cancel her show."
From the ashes of Barr's iconic series came the beginnings of "The Conners," which picks up the torch without Roseanne Barr's involvement at all by killing the character off without much fanfare. Even if you already know all about the complicated origins of this show, there's still a ton you don't know going on behind the scenes. Read on to learn some facts about "The Conners" that only big fans will know.
Was originally going to focus on Darlene, but became an ensemble show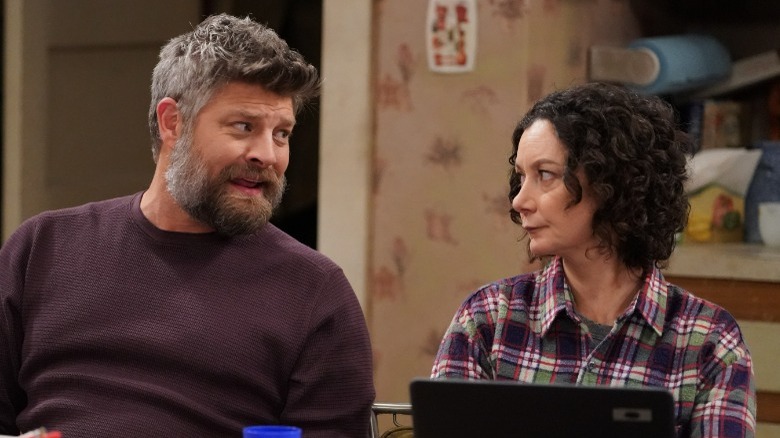 Following the cancellation of "Roseanne" and the whirlwind of chaos that ensued, there was much speculation about what would become of the popular revival series. While it was clear that ABC couldn't keep Roseanne Barr around, they also wanted to find a way to continue with the series in some form without her around. This led to serious discussions of possible reboots, spinoffs, and re-imaginings of "Roseanne" in completely new directions by focusing on other characters from the show.
Before "The Conners" was greenlit, there was talk around Hollywood that a spinoff show was in the works that would be mainly focused on the character of Darlene, Roseanne's daughter from the original and revival series played by Sara Gilbert. Darlene and Roseanne always had an adversarial, combative relationship in the series but it was clear that the two shared more similarities than they'd like to admit. It makes perfect sense that producers would look to Gilbert's character as the natural successor to Roseanne and, if a new show were made, would put the focus on Darlene.
Ultimately, this did end up happening to a certain extent with the creation of "The Conners," since Darlene takes on a similar role as her mother prior to her off-screen death. However, the show ultimately became more of an ensemble piece rather than revolving specifically around Darlene.
Used same cast and sets as Roseanne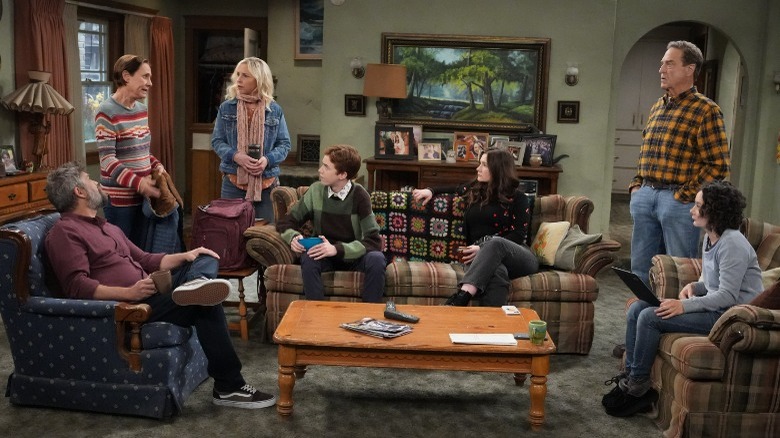 "The Conners" is truly a continuation of everything that came before, including the original run of "Roseanne" and its short-lived revival. Unlike other reboot shows that try to distance themselves from what came before, this ABC series tried its best to bring back everything from the previous series except for Roseanne Barr herself.
When ABC agreed to keep making the show under a new direction, it was presented as a choice to preserve the hardworking cast and crew of "Roseanne." According to Deadline, Roseanne Barr herself touched on this herself in 2018 through her official statement regarding why she accepted ABC's payout to get her out of the series entirely. She said, "I agreed to the settlement in order that 200 jobs of beloved cast and crew could be saved, and I wish the best for everyone involved."
In this new form as "The Conners," the show brought back the entire main cast of "Roseanne" including John Goodman, Laurie Metcalf, Sara Gilbert, Lecy Goranson, Michael Fishman, and Emma Kenney, to name just a few. This production also brought back the same sets, production crew, and props used by the preceding revival — which itself meticulously recreated everything from the original "Roseanne" series.