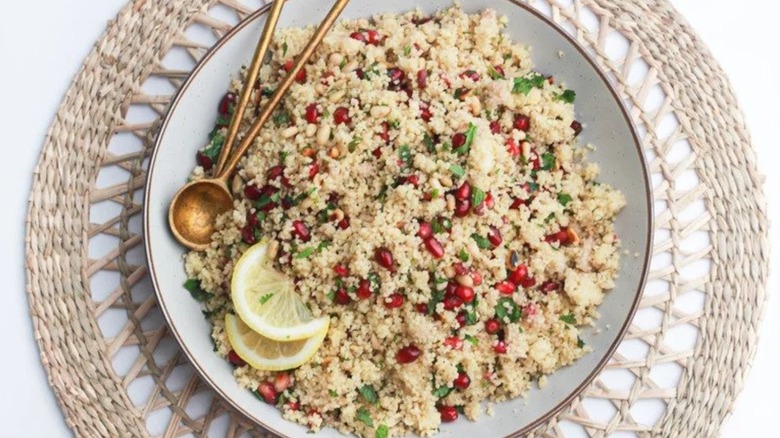 Ramadan is one of the most important holidays in the Islamic faith, but as far as food traditions go, the focus is more on lack of food. For an entire month, the faithful are forbidden from eating from sunrise through sunset. While only adults are obligated to fast, many children participate, as well. There are, however, two daily meals: Iftar, which is the breaking of the fast once the sun goes down, and suhoor, which is the last meal eaten just before the break of dawn.
There is only one hard and fast tradition surrounding these Ramadan meals, and that is that the first food item consumed at an iftar meal should be dates. This is in honor of the prophet Muhammad, as it was his custom to break a fast with this fruit. There's also a sound nutritional reason behind doing so – dates help to raise blood sugar levels as these may have fallen after a day-long fast. Apart from the dates, there are no strict rules covering what is eaten at either iftar or suhoor other than that it must adhere to Islamic dietary laws, meaning pork and alcohol are verboten. Needless to say, you won't find either of these in any of the recipes on this list. Instead, we're focusing on a variety of dishes from countries throughout the Muslim diaspora. These include foods from the Middle East, South and Southeast Asia, and the Black Muslim community right here in the U.S.
1. Homemade Pita Bread
Bread has been the "staff of life" throughout human history, and it seems that pita bread may be the oldest bread of all. Anything that's been around for nearly 15,000 years has got to have something going for it! Our recipe may not be as ancient as all that, but it's still pretty traditional and is also not too difficult to make. Bake up a batch on the weekend, that way you can have it on hand to accompany your iftar meals.
Recipe: Homemade Pita Bread
2. Lemon Hummus
Hummus and pita bread go together like the Middle Eastern equivalent of peanut butter and jelly. Well, to be more accurate, peanut butter and bread, but that's not how the idiom goes. If you're going to the trouble of making homemade pita bread, why not take a few extra minutes to whip up some super-simple hummus, as well? This recipe is for the basic type where the chickpea and tahini base is flavored with lemon and garlic, but you can always jazz it up with spices like cayenne, cumin, or smoked paprika and/or give it a garnish of fresh mint or cilantro.