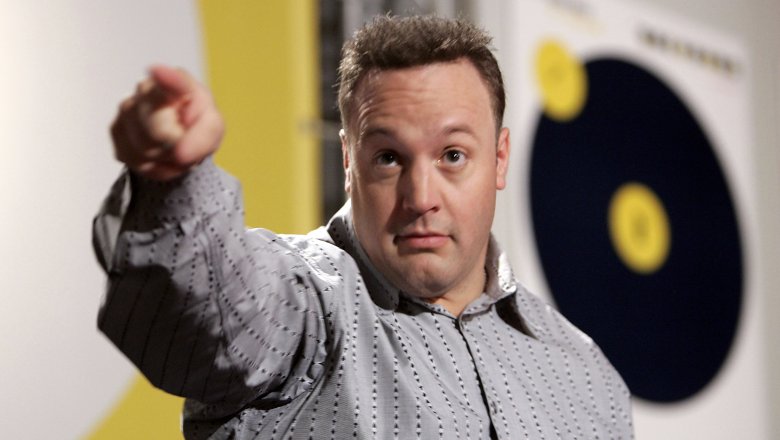 Tinseltown can be tough enough to navigate without off-screen animosity getting in the way. For some co-stars, the bad blood becomes too much to bear. Whether it's a television program where the actors have to work together for years on end, a movie where they're isolated for months on set, or even a stage show where everyone goes home after, some of Hollywood's most elite thespians couldn't pretend to get along with their colleagues and instead helped give them the boot. Here are some actors who used their celebrity clout to kick their rivals to the curb.
Tori Spelling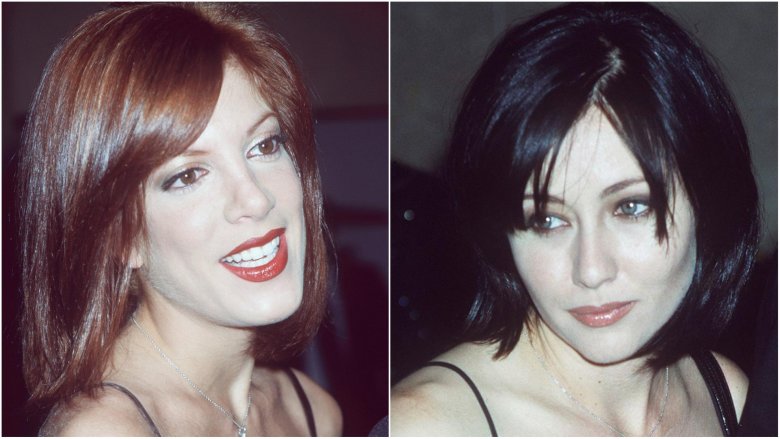 Although the TV world has certainly changed its tune about actress Shannen Doherty as a result of her brave public battle with breast cancer, the actress has made more than her fair share of enemies around Hollywood over the years. One such foe is Tori Spelling, daughter of the legendary '90s television executive Aaron Spelling, who allegedly had her fired from the set of Beverly Hills, 90210 (1990-2000) after a particularly brutal day of feuding between Doherty and co-star Jennie Garth.
Tori admitted during Tori Spelling: Celebrity Lie Detector (via Entertainment Tonight) that she was responsible for having Doherty fired after Season 4, saying, "I remember I could hear the door fly open and everyone screaming and crying. That's when I was told the boys just had to break up Jennie [Garth] and Shannen. It was like a fist fight." Tori reportedly turned her to powerful dad and told him to put an end to the madness, saying, "I felt like I was a part of something, a movement, that cost someone their livelihood. Was she a horrible person? No. She was one of the best friends I ever had." Even so, Spelling said she felt her decision to have Doherty canned from the show was the right one, and she wasn't the last of Doherty's fellow actors to wield an ax.
Charlie Sheen
As the embattled star of Two and a Half Men (2003-15), Charlie Sheen got to learn a thing or two about how easily a big name can get a disfavored actor ousted from a major series. His extremely public feud with show creator Chuck Lorre ended with Sheen being killed off the program after its eighth season (of an eventual 12).
Sheen must have taken notes because on his next big series, Anger Management (2012-14), he allegedly torpedoed co-star Selma Blair. After the two experienced some on-set discord, Sheen reportedly texted Blair to tell her that she was being dropped from the show. Sheen later pointed to creative reasons for her exit, telling The Hollywood Reporter her character "was written out because it was not about our relationship, and the problem was too many people were still excited about the Two and a Half character and thought the Anger Management character was a little dull." But according to TMZ, Sheen demanded Blair's termination, threatening to walk after she allegedly complained to producers about his notorious off-screen antics.
LisaRaye McCoy
Although Stacey Dash may be forever known to '90s film lovers as the sweet and stylish Dionne Davenport in Clueless (1995), she's since made a few enemies in showbiz.
Dash's alleged aggression on set apparently rubbed her Single Ladies co-star LisaRaye McCoy the wrong way. As McCoy would tell it, "In Hollywood, I learned to be a boss. I had to say to Stacey Dash, 'If you don't get your motherf**king finger out of my face…' So for our second season of Single Ladies, there was a replacement for Stacey Dash." McCoy claimed the final straw occurred when Dash caused a scene during production over a line in the script.
Alec Baldwin
Although Alec Baldwin is not without his own history of personal controversies, he has still managed to maintain the upper hand over many of his fellow actors over the years. When he and his would-be stage partner Shia LaBeouf couldn't see eye to eye during preparations for the debut of the play Orphans in 2013, producers decided to give LaBeouf the boot rather than letting the seasoned star walk away.
Baldwin told Vulture, "There was friction between us from the beginning. …And one day he attacked me in front of everyone. He said, 'You're slowing me down, and you don't know your lines. And if you don't say your lines, I'm just going to keep saying my lines.' …So I asked the company to break. And I took the stage manager to another room, and I said one of us is going to go. I said, 'I'll tell you what, I'll go.' I said don't fire the kid, I'll quit. They said no, no, no, no, and they fired him. And I think he was shocked. He had that card, that card you get when you make films that make a lot of money that gives you a certain kind of entitlement. I think he was surprised that it didn't work in the theater."
Kirk Cameron
Getty Images
Kirk Cameron might've grown up under Hollywood lights, but he has since focused most of his professional and personal attention on his religious beliefs. While for some that might seem like a relatively recent development connected to his Revelations-centric Left Behind series in 2000, Cameron has apparently espoused strict Christian sensibilities for years, dating back to his days on the set of the hit family sitcom Growing Pains (1985-92).
Co-star Julie McCullough, who starred in the series' fourth and fifth seasons, told Howard Stern that it was Cameron's personal tenets that ultimately got in the way of her continued presence on the show, particularly since she'd posed for Playboy in 1986. However, the abruptness with which she was written out reportedly affected fans enough that she was written back in for one more goodbye episode near the end of Season 5.
Alyssa Milano
Getty Images
The official line regarding Shannen Doherty's early exit from Charmed (1998-2006), which ran for five more seasons after the actress was written out between seasons three and four, was that the WB encouraged her to pursue other interests outside of the witchy series. But it's one of the worst-kept secrets in Hollywood that Doherty's behind-the-scenes drama with co-star Alyssa Milano played a major part in the network's decision to let her go.
Doherty herself told Entertainment Tonight, "There was so much drama on the set and not enough passion for the work. I'm 30 years old, and I don't have time for drama anymore. To me, it's sort of whatever. I'll miss Holly [Marie-Combs] a lot." Fans took note of the fact that Doherty never mentioned Milano by name in the exit interview. Milano has played coy about the reasons behind Doherty's departure, but where there's smoke, there's usually (a magically conjured) fire.
Sylvester Stallone
Getty Images
Although The Lords of Flatbush (1974) was not one of Sylvester Stallone's most memorable movies, it did have an indelible impact on the history of Hollywood and his relationship with another icon of the same generation. Stone was originally supposed to share the screen with Richard Gere, but admitted he pulled some strings to have Gere replaced.
Stallone told Ain't it Cool News, "We never hit it off. He would strut around in his oversized motorcycle jacket like he was the baddest knight at the round table. One day, during an improv, he grabbed me (we were simulating a fight scene) and got a little carried away. I told him in a gentle fashion to lighten up, but he was completely in character and impossible to deal with."
Things only got worse from there. "Then we were rehearsing at Coney Island and it was lunchtime, so we decided to take a break, and the only place that was warm was in the backseat of a Toyota," he said. "I was eating a hotdog and he climbs in with a half a chicken covered in mustard with grease nearly dripping out of the aluminum wrapper. I said, 'That thing is going to drip all over the place.' He said, 'Don't worry about it.' I said, 'If it gets on my pants you're gonna know about it.' He proceeds to bite into the chicken and a small, greasy river of mustard lands on my thigh. I elbowed him in the side of the head and basically pushed him out of the car. The director had to make a choice: one of us had to go, one of us had to stay. Richard was given his walking papers and to this day seriously dislikes me."
John Stamos
Getty Images
Mary-Kate and Ashley Olsen would eventually jettison their small screen star power into a full-on Olsen Twins franchise after becoming the breakout stars of Full House (1987-95), but when the show first started, the then-toddlers' tenure on the series almost ended before it began. John Stamos, who played Uncle Jesse throughout the series, unceremoniously had them fired during the first season because he felt they were too whiny to work with.
Stamos admitted as much in 2015, when he told the Television Critics Association audience (via People), "It's sort of true that the Olsen twins cried a lot. It was very difficult to get the shot. So I [said], 'Get them out… !' That is actually 100 percent accurate. They brought in a couple of unattractive redheaded kids. We tried that for a while and that didn't work. [Producers] were like, alright, get the Olsen twins back. And that's the story."
Ironically, it was Stamos who seemed the most hurt when the Olsen Twins refused to come out of acting retirement—they now run a fashion empire in New York—to sign up for Netflix's 2016 revival of the series, Fuller House.
Lucy Liu
Getty Images
If the casting switcheroo of the leading male character between Charlie's Angels (2000) and its sequel, Charlie's Angels: Full Throttle (2003) seemed a bit out of left field, that's because it was largely unplanned. Bill Murray plays John Bosley in the first film, but he was not asked to return for its follow-up and was replaced by Bernie Mac, who was dubbed Jimmy Bosley, John's brother, and also referred to as simply Bosley throughout the film.
Though Murray moved on to bigger and better things after the sequel snub, his departure was linked to some behind-the-scenes drama with actress Lucy Liu, who played Alex Munday in both installments. The two reportedly did not get along during production, and Murray even went as far as to tell Liu she "can't act." The tension escalated into near-violence when Liu allegedly took some swings at Murray before the two were separated.
Murray justified his behavior, telling the Times of London (via Entertainment Weekly), "Look, I will dismiss you completely if you are unprofessional and working with me…" Unfortunately for him, he was the one dismissed in the deal.
America Ferrera
Getty Images
Lindsay Lohan's bad behavior on Hollywood sets has been amply documented over the years, but while other productions have simply had to adjust to and accommodate her antics, at least one co-star wasn't having it. While starring on TV's Ugly Betty (2006-10), leading lady America Ferrera reportedly had the plug prematurely pulled on Lohan's recurring role.
Lohan's stint on the ABC comedy was originally written to last six episodes, but after she butted heads with Ferrera, her part was reduced to just four episodes. A source close to production told the New York Post, "It was a mess. Lindsay would show up every day with an entourage of people. She smoked 24/7, and after she left, they had to repaint her dressing room it was such a mess."
But that wasn't what got her part snipped. Sources close to Lohan said Ferrera was "mean" to Lohan and had producers kick her off. Ferrera's ire allegedly stemmed from something that happened during a shoot. Ferrera's character was supposed to pull down Lohan's character's pants to exact revenge for some childhood bullying, but rumor has it Lohan wasn't wearing any knickers underneath, which reportedly offended her co-star. Lohan's camp denied that version of events.
Bill Cosby
Getty Images
Nowadays, Bill Cosby's reputation has been totally tarnished following a bevy of sexual assault allegations levied against him by multiple women. In 2018, he was found guilty on three counts of sexual assault stemming from an incident in his home in 2004 and sentenced to three to ten years in prison. But in the '80s and '90s, Cosby was virtually untouchable, thanks to the popularity of his family-friendly stand-up routines, his cheeky Jell-O commercials, his chuckle-inducing reality-comedy series Kids Say the Darndest Things, and, of course, his title role in The Cosby Show sitcom.
Lisa Bonet, who plays eldest daughter Denise Huxtable on The Cosby Show, was given her own spin-off series called A Different World, but when her personal life changed, Cosby supposedly had her fired. According to director Debbie Allen in an interview for the Archive of American Television, shortly after Bonet married musician Lenny Kravitz and revealed she was expecting a baby, Cosby nixed her role on the show.
"I explained to [Cosby] how I wanted to use [the pregnancy] on the show because that would be a great thing. To see a girl who's [this] upper-class kid, having a baby, not married because she didn't want to be married…and the girls could root for her." Allen says that a few weeks later, Cosby told her, "'Denise Huxtable' is not pregnant, Lisa Bonet is pregnant not Denise. So no…no you can't have it, no we're not gonna do it, no."
Bonet was brought back to The Cosby Show for a brief time, but she was ultimately let go from that series for "creative differences."
Lea Michele
Getty Images
The gobs of drama that went down between the cast members of Glee (2009-15) over the course of its six seasons have become the stuff of small screen legends, particularly as it pertains to the strained relationship between Lea Michele and Naya Rivera. Although Michele's character was the original leading lady of the series, Rivera's role grew increasingly popular over time, and this reportedly incensed Michele so much that she began taking it out on her co-star.
As Rivera later wrote in her book, Sorry Not Sorry: Dreams, Mistakes, and Growing Up, "One of the Glee writers once said that Lea and I were like two sides of the same battery and that about sums us up. We are both strong willed and competitive—not just with each other but with everyone—and that's not a good mixture. As the show progressed, though, that friendship started to break down, especially as Santana moved from a background character to one with bigger plot lines and more screen time. I think Rachel—erm, I mean Lea—didn't like sharing the spotlight."
Even though she wasn't written out of the show, as was originally predicted, Rivera's role was reduced from regular to recurring guest star in the sixth season.
Will Smith
Getty Images
Will Smith has made a name for himself in movies, but his original breakthrough role was undoubtedly his eponymous turn as The Fresh Prince of Bel-Air in the hit '90s sitcom. The series lasted six seasons, but there was one castmate who didn't make it to the finish: Janet Hubert. The actress who played Aunt Viv has been more than willing to spill the tea about why she was shown the door and replaced by actress Daphne Reid after the show's third season.
In 2013, Hubert told Yahoo, "[Smith] said 'we're just gonna replace her and act like nothing happened. Well honey, that is not what happened, is it? The world has let me know that my place on that show was very, very, very loved… I felt demonized and beaten up and crucified for many many years, no one came forward in my defense."
To be fair to Smith, he wasn't the only one may have been happy to see her go. Co-star Alfonso Ribeiro, who plays Carlton Banks on the show, admitted in a comedic stand-up set that, "Long story short…there were days when we were all on the set and she would literally go off on people."
Some feuds die hard, and Hubert has continued to lash out at her former co-stars about the tiff that cost her a job so many years ago.
Warren Beatty
Getty Images
Although actress Sean Young had a moment of ubiquity in the '90s, her star status might've risen a lot higher if she'd have kept her role as Tess Trueheart in Dick Tracy (1990). However, according to Young, she was fired after a few days of shooting for allegedly declining co-star Warren Beatty's sexual advances on the set of the movie.
Young told The Chicago Tribune, "Basically, he sacked me because I did not want to go to bed with him. In the seven days we worked together he just made sexual advances. He tried to kiss me. I was unresponsive and kept joking with him about it. Like, 'Ha, ha-what a ladies' man you are.' But I drew a clear line for him that I was not interested. It was not as if he got the hint. One time I had to say, 'Stop it.' I had to push him away."
She told the Los Angeles Times she was relieved to be let go, saying, "He kept on holding back the script from people in the movie, and people weren't getting their pages. It was a very unpleasant experience. And I think if you went and asked all the people who worked on Dick Tracy, they might say the same thing. It was just a lot of sexual politics and crazy stuff. To be released from that situation ended up being a blessing in the end, because I don't think I could have survived working with Warren Beatty…it wasn't about the performance."
Kevin James
Getty Images
After working with Leah Remini for nearly a decade on The King of Queens (1998-2007), actor Kevin James established quite a kinship with his on-screen wife, so it was hardly a surprise when he invited her to guest star on his new program, Kevin Can Wait (2016-). What did come as a surprise was what that meant for his latest on-screen leading lady, Erinn Hayes.
Hayes and James shared the screen for the new show's inaugural season, but she was unceremoniously kicked off the series before Season 2 because, according to sources, he had better chemistry with Remini. Hayes didn't betray much in the way of gory details when she tweeted, "True, I've been let go from the show. Very sad, I had a great experience season 1. Thank you for all the support from our wonderful fans." Even so, it certainly has to sting her departure was probably prompted by her co-star's interest in working with someone else instead of her. Ouch.