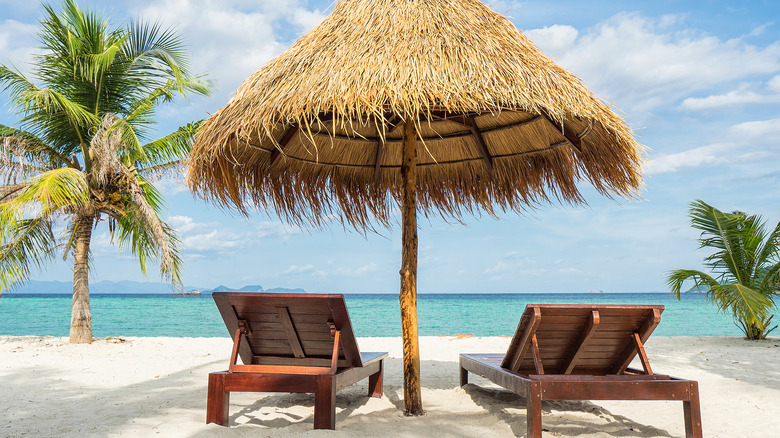 The Caribbean is a highly sought-after tourist destination due to its favorable weather, spectacular scenery, and rich cultural heritage. Tourism remains one of the main economic activities for most Caribbean islands because they mainly depend on their natural resources to attract vacationers and adventurers. It's not surprising that tourism contributes between 33 and 50% of GDP in the majority of these countries (via World Bank).
According to Sustainable Travel, the tourism industry in the Caribbean creates approximately 2.5 million job opportunities across different sectors. For instance, the Caribbean Sea is rich in marine life such as spiny lobsters and sharks, so local communities rely on these resources as a source of food and for tourism activities. Cruising is yet another activity in the region, which has led to significant growth in the tourism sector.
It's not just the picturesque beaches and the awe-inspiring natural scenery, each Caribbean island has a rich culture to share with the world. If you're a culture lover, there are many unique things to learn about the cultural influences in the region. Party animals are not left out because most islands host annual events to celebrate their distinctive heritage.
Whether you are planning a luxurious getaway, a culinary tour, an adrenaline-filled experience, or an affordable family vacation, each of these Caribbean destinations will offer you an experience of a lifetime.
Saint Lucia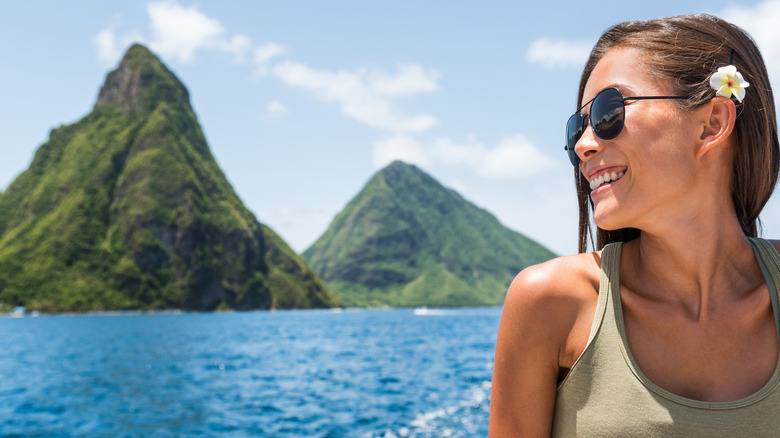 If you're seeking a thrilling vacation with active pursuits, Saint Lucia is the place to be. It has a mountainous topography, which creates perfect grounds for adventure seekers. For example, it is home to the Piton Mountains, which are even featured on the country's flag (via Government of Saint Lucia). According to the World Heritage Convention, this UNESCO World Heritage Site features sulfide-rich hot springs and fumaroles. These sulfur springs are a tourist magnet as they offer many health benefits such as treating rheumatoid arthritis and skin infections like eczema (per Science Direct).
Hiking the Piton Mountains is a must-try for a one-on-one encounter with a myriad of rare bird species, about 148 plant species, 168 finfish species, coral reefs, a wealth of wildlife, and an incredible view of the island from the peak of Gros Piton (Via World Heritage Convention).
Tropical Snorkeling notes that St. Lucia is a great place if you'd like to go on a snorkeling tour. The topography here is interesting to explore as it comprises large boulders and soft coral gardens dominated by colorful sponges. Some notable snorkeling spots worth checking out include Malgretoute Beach, Anse Couchon Beach, and Jalousie Beach. Each part of St. Lucia has something special to offer. For example, North St. Lucia is a paradise for nature lovers since it features the Pigeon Island National Park. South St. Lucia, on the other hand, boasts numerous luxurious resorts and historic sites like the Vieux Fort.
Cayman Islands
For watersport enthusiasts, the Cayman Islands presents endless opportunities to make unforgettable memories. In case you are wondering, it is a set of three islands namely, Cayman Brac, Grand Cayman, and Little Cayman. Each of these tiny islands is a breathtaking vacation spot with something unique to offer friends on vacation or adrenaline junkies. Some exciting water activities you can engage in include kitesurfing, paddle boarding, diving, boating, kayaking, jet skiing, fishing, sailing, and snorkeling. For lovers looking to rekindle their love, a sunset cruise is a must-try (via Visit Cayman Islands).
Another place to add to your bucket list while visiting Cayman Islands as an entire family is Boatswain's Beach, which houses the Cayman Turtle Farm. Kids will get a chance to view over 16,000 green sea turtles and shark exhibits. There's also Stingray City where you can try something different like feeding stingrays (per One Caribbean).
There are also numerous exceptional dining options for those who just want to relax and enjoy the fine things in life. Some hotels and resorts you can check out for a luxurious experience include the Cobalt Coast Grand Cayman Resort, Grand Cayman Marriott Beach Resort, and the Southern Cross Club, among others.
Jamaica
One of the first things that comes to mind when Jamaica is mentioned is reggae. Imagine getting the golden opportunity to visit the Bob Marley Museum? This is probably your chance to get a first-hand experience of Bob Marley's way of life. According to the Bob Marley Museum, the museum was once the legendary artist's home, which now houses his memorabilia, a gift shop, and a photo gallery. Enjoying a meal at the One Love Café in the museum will be an unforgettable moment that should be captured in photos. You can as well buy souvenirs such as vinyl collections, books, apparel, posters, and footwear, among other items.
However, Jamaica has more in store for you besides the music. It features bustling city life, mountainous regions, white sand beaches, and vibrant culture. Interact with the locals as you dive deep into the island lifestyle. Numerous exciting cultural events are also held including the Jamaica Festival and Reggae Marathon, so there's something for everyone whether you are a foodie, music lover, or culture connoisseur. Jamaicans know how to party hard, meaning that the electric nightlife here will be one for the books. Wild parties are held at the beaches as live music is played in streets or bars.
Bahamas
A holiday in the Bahamas will be incomplete without swimming with pigs. You can get to Big Major Cay by boat to check out the pigs at the Exumas. Feeding is also a great way to interact with these friendly animals. Even better, you can take Instagram-worthy selfies.
Bahamas is also synonymous with romance. Whether it's an intimate wedding or a luxurious date, the clear waters, the soft breeze, and the rose-colored beach will create a picture-perfect destination for you. A sunset cruise should also be part of this package.
The other must-try unique experience in the Bahamas is swimming with Compass Cay Sharks. Generally, sharks are known to be aggressive and dangerous, but the ones found here are friendly because they have adapted to interacting with tourists for decades (per Bahamas Air Tours). One excited Reddit user who enjoyed swimming with these sharks said, "They enjoyed aaallll the scritches. I even got to hold one. I'll have to add more photos." Another Reddit user who was impressed to know that the sharks are harmless said, "Glad you had a good experience with them! I've always loved nurse Sharks." Besides swimming with these nurse sharks, Compass Cay features clear sea water suitable for snorkeling.
Grenada
If you are an adrenaline junkie, Grenada is an amazing place to visit for diving excursions. One thing to add to your itinerary is a snorkeling or scuba diving tour at the Grenada Underwater Sculpture Park. It boasts one-of-a-kind sculptures created by Jason de Caires Taylor in 2006 (via National Geographic). You can as well get a decent view of the 75 sculptures if you take a tour in a glass-bottomed boat.
Grenada is also known for spices. You can explore the western coast to visit these spice plantations, beautiful beaches, and small fishing villages. A visit to the Gouyave Nutmeg Processing Station will leave you with a better understanding of the nutmeg industry in Gouyave. The other tourist attraction to add to your list is the River Antoine Run Distillery, which is the oldest rum distillery in the world. You'll not pay anything for the tours plus you'll get a chance to sample some rum (per Caribbean Islands).
Swimmers, hikers, and snorkelers are not left out. The Levera National Park features white sand beaches, coral reefs, a lake, and a bird sanctuary, so you can engage in a myriad of interesting outdoor activities based on your preferences (via Pure Grenada).
Aruba
fokke baarssen/Shutterstock
Aruba receives many tourists from Canada and the U.S. since it only takes about two hours to get to it from Miami, Florida. Visiting Aruba during one of the many events it hosts will leave you with indelible memories. For example, the Carnival Season is a great choice because you'll enjoy weeks of infectious music, lighting parades, street parties, shiny costumes, and contests (via Visit Aruba).
The island is also rich in beautiful stretches of sand dunes, limestone cliffs, and deserts. One of the biggest caves that attracts many tourists is the Fontein Caves at the Arikok National Park. Since the road to the national park is rugged, you will need to hire an all-wheel drive vehicle for the adventure. Other attractions to check out at the Arikok National Park include the Jamanota Hilltop, which offers the best view of the island, and the Natural Pool (Conchi). For Picnics, sunbathing, and surfing, you can visit Dos Playa (per Aruba National Park).
Antigua and Barbuda
When it comes to quiet and stunning beaches, Antigua and Barbuda stands out. It makes an excellent destination for solo travelers, romantic couples, or beach lovers who are more attracted to tranquil places. There's no shortage of high-end resorts for those who want to have a luxurious experience. Some top-rated resorts you can check out include the Blue Waters Resort and Spa, Galley Bay Resort & Spa, and Hermitage Bay.
Fishing is a popular activity on the islands, meaning that sampling food should not miss on your list. An example of a local delicacy you need to try is the fungee (per National Foods). And just like most Caribbean islands, you can accompany the meal with some rum since it's available in plenty.
Antigua and Barbuda is also famous for cruise tours. But if you have a generous budget and you'd like to have an aerial view of the golden beaches and lush jungles, try a helicopter tour. For those who feel more adventurous, some top-rated attractions you can visit, according to Viator, include Nelson's Dockyard National Park, Cades Reef, Devil's Bridge National Park, and Fort James.
Puerto Rico
Rum production in Puerto Rico has captured the attention of the world. According to Forbes, the island produces approximately 80% of the rum available in the United States. Some amazing Puerto Rican rums that you can try out during your vacation include Bacardi, Don Q, Palo Viejo, Ron Del Barrilito, and Ron Llave.
Music plays a key role in the culture here. Some popular music genres that will get you into the groove are reggaeton, seis, bomba, plena, and reggae. There's always a party near you, so if you love club hopping, you'll have a good time here. When it comes to fine dining and street food, the options are many. Examples of local dishes you can try include tostones, pastelilos, and mofongo (via Visit the USA).
Discover the natural beauty of Puerto Rico by visiting the El Yunque National Forest. At about 29,000 acres, you have a lot to explore in the rivers and stunning scenery (per Forest Service). Hiking in this forest will leave you with lots of memories to cherish. Other outdoor adventures tourists engage in at the forest are zip lining, horseback tours, and ATV riding (via Discover Puerto Rico).
Another unique experience in Puerto Rico is touring the bioluminescent bays, glowing water bodies. Although there are only five in the world, this island alone has three, which include La Parguera, Laguna Grande, and Mosquito Bay (per Welcome to Puerto Rico).
Turks and Caicos
Turks and Caicos is one of the best places in the Caribbean for a secluded getaway. The uninterrupted white sand beaches and clear waters make beautiful surroundings to have a great time with your lover. A vacation on this island feels luxurious with world-class accommodation facilities and top-grade spas. But there is still an accommodation facility for every budget, including small guest houses and family-friendly resorts.
Turks and Caicos Tourism notes that whale watching is one of the most exciting activities to try here. For a whale-watching tour, you can visit this island either on December, January, or February. There are plenty of companies that offer these tours, plus other activities such as scuba diving and kiteboarding. Snorkeling is the other activity you need to try. The island features stunning reef formations and marine life such as eagle rays, sea turtles, and starfish.
One of the glorious events held every week that tourists need to engage in to get a better understanding of the local culture is the Island Fish Fry. This exciting event features cultural dances, live music, local foods, and souvenir vendors.
Golfing is yet another affordable activity at Turks and Caicos. The Waterloo Golf Club is available to tourists who would like to spend their time playing the game and interacting with other golfers. This golf course is located near the Cruise Ship Center, so when you feel like trying other activities like cruising, you can save on transportation costs.
U.S. Virgin Islands
eskystudio/Shutterstock
Engaging in water activities is one of the best ways of enjoying the beauty of this slice of paradise. From paddle boarding, sailing, deep-sea fishing, kayaking, windsurfing, diving, to jet skiing, you will be spoiled for choice. If you prefer land excursions, there's a lot to explore as well.
The lush landscapes are suitable for biking, hiking, and horseback riding. For example, the Virgin Islands National Park is a top attraction with over 20 nature trails, boating spots, and historic sites. Hiking will help you learn the history of the island and the unique culture of the Taino people. Boardwalks are also available at the park for those who love bird watching (per National Park Service).
If you love partying and being part of local cultures, each island hosts exciting carnivals and festivals. The parties can be characterized by locals wearing heavy costumes and standing tall on stilts. You'll as well enjoy watching moko jumbie dancers shaking their bodies as bands play calypso music. There's also the Agrifest, held every February. This is an exciting family-friendly event that features agricultural produce, local delicacies, and artwork (via Visit United States Virgin Islands).
Barbados
You probably know Barbados' pop-icon Rihanna, but what else makes this place special? Well, this destination is known for its vibrant Bajan hospitality, luxurious hotels, and a rich culture influenced by Africans, British, and Indians. So if you are planning a honeymoon, a wedding anniversary, or luxe getaway, Barbados is worth every penny.
One of the top activities you can try here is golfing. Thanks to the amazing weather combined by world-class golf courses, Barbados hosts golf tournaments throughout the year. Did you know that the island hosted World Golf Championships World Cup in 2006? Even better, Tiger Woods fell so in love with this place that he chose it as a wedding venue for his 2004 wedding (via Barbados).
Barbados events are one of a kind, so if you'd like to have a good time with your friends, this place won't disappoint. For example, the Barbados Reggae Festival is a popular event that features iconic reggae artists such as Buju Banton, Sizzla, and Luciano, just to mention a few. The Barbados Food and Rum Festival is another annual event if you'd like to try a thrilling culinary experience. This will be the perfect opportunity to taste the renowned Barbados Rum Punch. Other top-rated annual festivals to participate in include the Oistins Fish Festival, Celtic Festival, Crop Over, and Holetown Festival (per Visit Barbados).
If you want to try other adventurous activities, swimming with turtles, kayaking, and snorkeling over shipwrecks will do the trick. Another cool idea is enjoying a sunset cruise to wind up your day in Barbados.