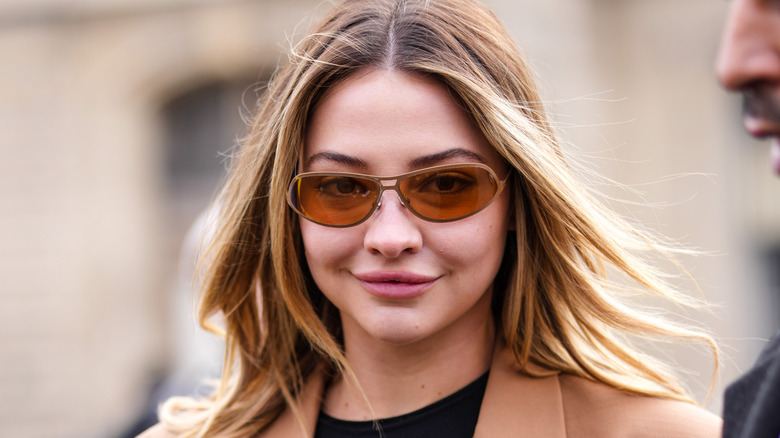 In most cases, eyewear is something practical and essential for specific circumstances, whether you actually need eyeglasses to see or you are adamant about wearing them for UV protection. Whatever the occasion, they don't need to just be pragmatic. Eyeglasses can be stylish, too — a perfect accent or accessory to your look. They can make bold statements and simple ones. They can say something edgy or chic.
They are an incredible, versatile feature to get creative with, which will be exactly what people want for their outfits in 2023. This year, fun accessories will be all the rage and fashion will be in the details. No one will skip out on styling their eyewear. Bifocals, shades, and blue light glasses alike will all just be another valuable opportunity to express yourself aesthetically. We are a few months into 2023, and we have a pretty good idea of which frame shapes and shades will be on the bridge of everyone's nose.
Wrap-around sunglasses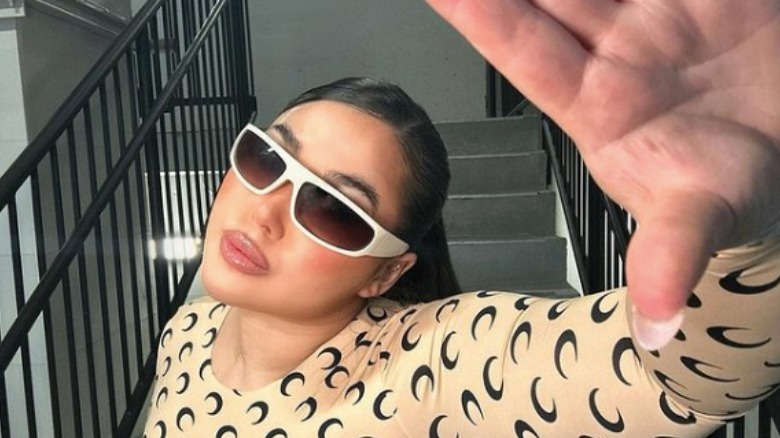 You've likely already come across an influencer or 20 wearing this frame style. Whether it's night-time or day-time, it doesn't matter, everyone in 2023 will want to have a pair of these on. @imhannahcorrinee is one of the many fashion bloggers who have posed with wrap-around sunglasses. These sunglasses, in particular, are flattering on nearly everyone and make you stand out. And while this sunglasses shape is very bold, choosing a neutral color like @imhannahcorrine's is an easy way to style them more subtly.
Circular sunnies
The majority of sunglasses have an angle or two in their shape. They might be square, rectangle, squoval, or hexagonal. Whatever the exact frame, you don't usually bat an eye when you see shades with straight edges. But completely rounded glasses? Unless you are Harry Potter or John Lennon, your choice will certainly catch onlookers' attention. And we mean this in the best way possible. For instance, these chunky circular specs that @charlotte.vandaele styled are the perfect eclectic, chic accessory. Style your own stand-out pair and communicate confidence and style.
Sporty sunglasses
If you were ever the kid on a sports team who had to wear glasses, this trend will look eerily familiar. You'll likely remember thinking the slim, aerodynamic accessory was dorky or even embarrassing to have to wear, but that is no longer the case. In 2023, the most cutting-edge fashion fanatics will be wearing sports sunglasses out and about. @kendalldair proves this to be true, posing in rimless blue-tinted lenses with metallic arms. Take a cue from her and style with a girlie look, or go all out and lean into the sporty look.
Oversized frames
When we think of oversized sunglasses, we think of the early 2000s. Snooki, Paris Hilton, and a young Kim Kardashian were just a few of the celebrities who rocked the iconic extra-large shades. Today, the look is back and the proportions are just big. Grab a pair of oversized cat-eye lenses, like @hoskelsa, and be prepared for ultimate UV protection. The massic frame is sure to keep the sun out of your eyes and keep you in style.
Transparent eyeglasses
Colorful frames are definitely still in trend. However, a fresh alternative will hit the eyewear scene in 2023 — transparent. Though they are see-through, they are still very much visible. This allows you to have the shape you desire without committing to a specific palette. @camrihewie gives the perfect example of when these may come in handy. Use transparent glasses to make a statement by choosing an oversized, round frame, while still allowing the rest of your outfit to shine.
Aviator lenses
When it comes to prescription or reading glasses, most people choose something simple or barely noticeable. But that is not the case with @stephaniebroek. Instead, the fashion blogger selected a pronounced style of glasses — aviators. The result? Someone who takes risks with their look and is fashionable because of it. For anyone out there with less than 20/20 vision, aviators are a great way to add some flair to your frames. Giving you the best of both worlds, you'll be able to see clearly and look like a trendsetter while you're at it.