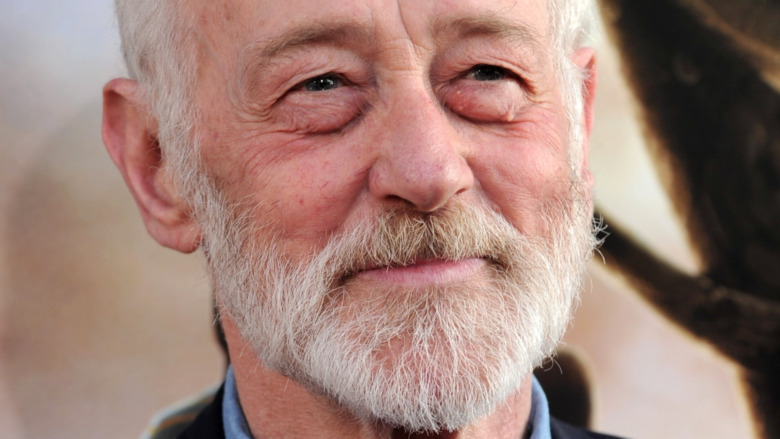 Spinoff sitcoms don't always have the easiest road to success. Sure, there's the promise of a built-in fanbase, but fans often discover that without the same chemistry of the original show's cast, spinoffs just aren't as fun to watch. Thankfully, that wasn't the case for Frasier. Starring Kelsey Grammer as psychiatrist, radio personality, and former romantic rival to Cheers' Ted Danson, Frasier proved to be one of the most beloved sitcoms of the '90s and early '00s, earning it an impressive 11 seasons. Critics agreed with audiences, and in 2002, Frasier broke The Mary Tyler Moore Show's record for most Emmy wins – a record the series held onto until it was overtaken by HBO's Game of Thrones in 2016.
That kind of success attracts a lot of talent, both in terms of lesser-known actors and household names. Frasier enjoyed a wealth of both during its 11-year run, including a lot of very famous people you hear but never see. Sadly, a large roster of talent means that there are a lot of actors from Frasier who are no longer with us. Some were only there every now and then, some only showed up once but played integral characters in the leads' lives, and at least a couple of the actors you saw every episode have sadly left us.
For examples of these departed friends, keep reading for Frasier actors you may not know passed away.
Rene Auberjonois showed up Frasier's mentor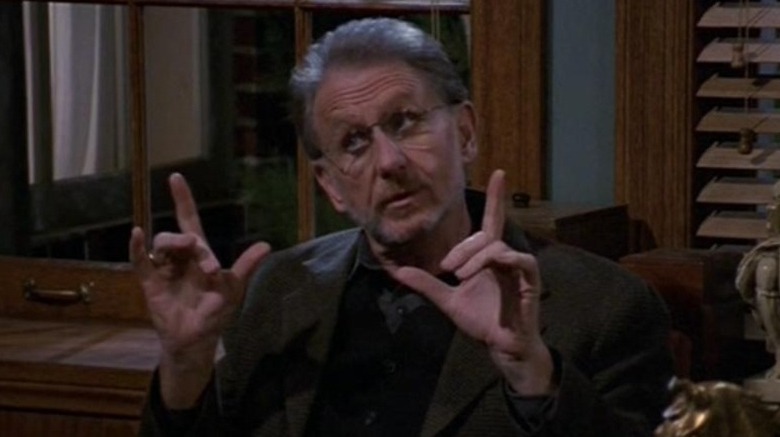 While Rene Auberjonois enjoyed a long and successful career as a character actor starting in the mid-'60s — including as the snobbish Clayton Endicott III on the popular ABC comedy series Benson — he's best remembered as the shapeshifting alien security chief Odo on Star Trek: Deep Space Nine. A couple of years after DS9 shuttered, Aubjeronois made two appearances on Frasier as the lead character's Harvard mentor, Dr. William Tewksbury.
Tewksbury is introduced in season 8's "Frasier's Edge," when the eponymous psychiatrist is honored with a Lifetime Achievement Award. Dr. Tewksbury sends Frasier a congratulatory bouquet of flowers with an innocent note that Frasier takes for an insult, triggering him to confront his old professor. Later that season, in "The Wizard and Roz," Frasier is shocked when his producer, Roz (Peri Gilpin), begins dating Tewksbury.
Auberjonois never stopped working, and along with his spot on Frasier, he played many more memorable roles before his passing. He joined fellow Star Trek alum William Shatner on the dramedy Boston Legal, and he had the recurring role of agent Hugo Miller on Syfy's Warehouse 13. He was also a successful voice actor. For example, he provided the voices for numerous villains and heroes on the Justice League animated series, he spoke for Ebony Maw in Avengers Assemble, and he was the mysterious Mr. House in the 2010 video game Fallout: New Vegas.
Auberjonois died of metastatic lung cancer in 2019. He was 79 years old.
Bill Gratton played one of Marty's oldest friends
One of the foundations of Marty's (John Mahoney) character is his time with the Seattle PD. Throughout the series, we get to see him with his old friends from the force, and that's where the late Bill Gratton comes in. Bill Gratton plays one of Marty's more vocal old buddies, Leo. He first shows up in season 2's "Duke's, We Hardly Knew Ye," hanging with Marty and company in their favorite bar. He's part of the entourage later that season in "Retirement Is Murder," congratulating Marty on solving a cold case from before his retirement. His final Frasier appearance is in season 5's "Where Every Bloke Knows Your Name," playing cards and — along with Marty's other friends — seriously bumming Roz out about the prospect of her daughter growing up.
While Gratton was never a leading man in Hollywood, he scored numerous one-offs and recurring roles over the years in popular shows like Seinfeld, Days of Our Lives, Hill Street Blues, The Practice, and ER. One of his most visible roles is Earl the plumber in 1999's The Green Mile, where he famously complains about having to wear a tie in prison before watching a performance by an inmate's pet mouse. Tragically, Gratton passed away in 2011 after a long illness at the age of 71.