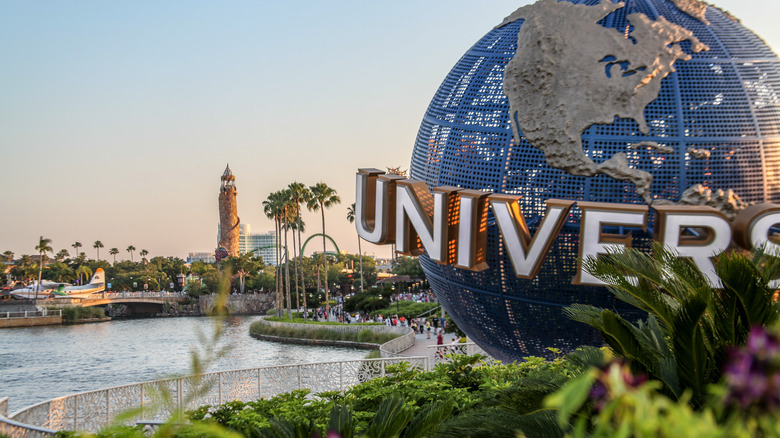 Traveling solo and looking for a fun vacation where you can stroll the Hollywood walk of fame, blast off to a distant planet, survive a dinosaur breakout, and save a wizarding community from a nefarious villain all in the same day? Universal Orlando Resort is your place to do all that and then some.
Located a few miles north of Walt Disney World and SeaWorld Orlando, Universal Orlando is a destination in its own right, with plenty to do to fill an entire vacation even without visiting its neighboring competitors. Universal Orlando is mainly known for its two theme parks, Universal Studios Florida and Universal's Islands of Adventure. Many guests flock to Universal for its immersive themed areas, like The Wizarding World of Harry Potter, and its seasonal events, like Halloween Horror Nights. In addition to theme parks, Universal Orlando has eight hotels, Volcano Bay water park, and CityWalk, which is a district for shopping, dining, and entertainment. Come summer 2025, the resort will also be home to another park, Universal's Epic Universe, featuring Super Nintendo World.
Whether you're looking to throw your hands in the air and scream on a roller coaster or relax in a tropical paradise, Universal Orlando is an excellent choice for parties of one. Here are some tips for solo travelers. The universe is your oyster.
Use the single-rider line
Several attractions offer a lane just for solo travelers that's often much shorter than waiting in the regular line. It's called the single-rider line, and it allows parties of one to fill vacant seats remaining in ride vehicles after they've been filled by guests in the standby line. For example, the trains on Revenge of the Mummy seat rows of four people. If a party of three is next in the regular line, a team member would pull the next guest from the single-rider line to take that fourth, unused seat. Six attractions at Universal Studios Florida and nine attractions at Islands of Adventure utilize a single-ride line.
The single-rider line typically skips a lot of the story set-up that the line and pre-show experiences provide. In most cases, this is no harm, no foul. However, if you happen to only use the single-rider line for Harry Potter and the Forbidden Journey, the ride inside Hogwarts Castle, you won't get to walk through the castle corridors, a bucket-list item for many Harry Potter fans. Fortunately, you can have the best of both worlds. Before or after riding in the single-rider line, ask a team member to show you the entrance to the walk-through experience. You'll get to stroll through most of the castle at your own pace in a lane adjacent to the main queue for the ride, but not actually part of any line itself.
Tour at your own pace
Whether you like to be spontaneous or prefer to approach each day with a detailed plan, touring Universal by yourself means you're the only person whose preferences you need to accommodate, freeing yourself to go at whatever pace works best for you.
With the luxury of the single-rider line available at most high-profile attractions, it's not as crucial to have a particular "order" in which you experience attractions. Whereas big parties probably should go into the day with at least a vague idea of a strategy for accomplishing what they want to do, solo travelers don't need to worry much about that. This is especially the case if you splurge for an Express Pass, granting front-of-line access for an extra cost. But again, depending on the volume of guests in single-rider lines, you might be fine without Express.
Being by yourself also makes it easy to revise your plan or adjust on the fly if you'd like to change things up once you get there. Thought you wouldn't be interested in Volcano Bay, but decide you want to visit after all? Planned on more pool time, but realized you want to spend more of your time in the parks? It's easier to pivot when you're the only person that a change of plans affects.
Soak in the details
Universal Creative designs the parks with attention to detail and layers of storytelling. Traveling alone affords you the opportunity to explore the placemaking of each area to its fullest. Every ride and atmosphere has some sort of story built around it, and the craftsmanship can be easy to miss if you're sprinting from point A to point B all day long.
Springfield is brimming with visual jokes inspired by "The Simpsons." Elsewhere, the seemingly simple, teacups-style ride Storm Force Accelatron is actually a life-and-death situation as you help Storm from "X-Men" defeat Magneto. The architecture and props of each establishment within Diagon Alley hint at the shopkeeper's identities. There's even a villain-themed Knockturn Alley that many guests completely miss en route to their next adrenaline rush. Since you're alone, you can take as much or as little time as you'd like to explore the stories within each area.
Choose your hotel based on your budget and preferences
If you plan on spending most of your vacation actually at Universal — as opposed to being out and about in Orlando — you'll benefit from staying overnight at one of the eight official Universal hotels. Each offers complimentary transportation to the parks via bus or boat, depending on where you're staying. Some are even closeby enough to walk. This allows easy access at the beginning and end of the day, and also makes it super simple to head back to your room for a midday nap or a dip in the pool.
Universal's hotels are priced to fit different budgets. The least expensive is Endless Summer, consisting of the adjacent Surfside Inn and Dockside Inn. Themed to the beach, rooms here are value-quality with basic necessities and no frills. Endless Summer is also the only resort physically removed from the rest of the Universal property. It's an official hotel, but it's separated from the parks and other hotels. The priciest resort is Portofino Bay, immaculately themed to an Italian seaside village with fancier furnishings and fine dining. The other resorts fall between those two spectrums. Cost varies based on the time of the year, but if your budget is leaner and you prefer to stay offsite, plenty of other hotels are nearby, with some even being Universal-approved "partner" establishments.
Consider a dining reservation or two
The phrase "theme park food" might carry a connotation of unremarkable burgers and hot dogs, but there's a lot to love about Universal food if you know where to look. There are plenty of satisfactory quick bites around the parks. (The "Simpsons"-themed food court is as creative as they come, and the "Harry Potter" establishments serve the infamous Butterbeer drink.) However, there's also an abundance of quality sit-down restaurants at Universal Orlando that you'd be remiss to pass up.
Peruse the menus online of Universal's table-service restaurants and treat yourself to a sit-down meal or two. Reservations are available six months in advance, but as a party of one, you'll have an easier time than most nabbing a last-minute reservation if necessary. Some of our favorites? Confisco Grille at Islands of Adventure, with its explorer-themed props and selection of Greek and Asian food, offers a perfect little escape in the middle of a day. The quattro formaggi woodstone pizza at CityWalk's Vivo Italian Kitchen has us dreaming about it between every visit. For a uniquely creative dining experience, check out Toothsome Chocolate Emporium (pictured above, with robot Jaque). A restaurant at CityWalk or one of the resorts is a great option if your arrival or departure day doesn't include theme park admission.
Embrace your fun side
Toss aside any trace of self-consciousness you have — Universal is a zero-judgment zone. Wear your Hogwarts robe and use your wand to cast spells throughout Hogsmeade! Meet Spider-Man at Marvel Super Hero Island! Dance with the parade! You're on vacation. This is a place to have fun, and you're surrounded by thousands of other people embracing everything here, too. In this way, Universal is somewhat similar to attending a fan convention. You're among brethren superfans if you want to geek out, and you don't have to worry about anyone reigning in your enthusiasm like they might in other settings.
And even if you're not a superfan of any particular movie represented in the parks, you can still be as goofy and carefree as you please. Scream as loud as you want when you crest over the lagoon on Jurassic World VelociCoaster! It would be a shame to go your whole vacation caring what other people around you think, especially when they wouldn't mind at all. Here, there's no such thing as being "too much" of anything. This is where the worlds of your favorite stories and characters live, and you have full permission to dive right in and live your best life.
Don't worry about arriving super early for shows
Visiting Universal Orlando by yourself affords you some luxuries that large groups don't have. Traveling with a lot of people necessitates arriving to live productions well ahead of their scheduled showtimes. If large parties want good seats, they need to stake them out early, and if they arrive last minute, they'll end up with bad views or have to split up if there's no space available for everyone to sit together. But that's not the case for you as a solo traveler.
By yourself, you can fit into an open space pretty easily wherever there's a spot available. Is there a vacancy close to the front for Animal Actors or the Horror Makeup Show? Go for it! This is especially true for productions that don't have formal seating and only have standing room, like a parade or the nighttime fireworks.
You shouldn't necessarily count on lucking out every time, and you should definitely still be aware of the showtimes for the spectacles you really care about, but you'll have a much better chance of getting a good seat without arriving super early than a whole group who tries to do the same thing.
On the fence about Halloween Horror Nights? Do it!
If your trip is in September or October, Halloween Horror Nights will take place on select nights at Universal Studios Florida. This separate-ticket event boasts walk-through houses, outdoor scare zones, and terrifying shows. The themes of the haunted houses are usually an even split between original stories and those based on existing franchises, like "Stranger Things" or "Beetlejuice," to name a few from years past.
Though the event's tagline is sometimes a variation of the phrase "Never go alone," many locals and out-of-towners alike frequently attend Halloween Horror Nights by themselves. No one will bat an eye at a solo guest, except maybe the monsters, ghosts, and zombies. You might draw extra attention from the "scare actors" as a party of one, since you're the only option as the person they choose to jump out and scare! This is a bigger factor in the scare zones, where foot traffic disperses among different parties, rather than in the indoor houses, where all guests walk in a single-file line relatively close together. If desired, you could plan your night to avoid scare zones.
If you really want to attend HHN but absolutely don't want to go by yourself, you might want to consider the RIP Tour. A guide will escort you and a group of up to 12 strangers around the park and skip to the front of every haunted house line. By the end, you might be buds with some of your fellow tour guests.
Have a gameplan for your bag
Without anyone to split backpack-carrying duty with, you'll be carrying your own bag all day while you're in the parks. Think about what you'll want to bring with you on the go, and what size pack would be best for your needs. Some travelers are good with a small pouch or fanny pack, while others prefer a more utilitarian backpack with room for extra clothes, cameras, and the like. All bags will go through an airport-style security check upon arrival at the park each day. If you bring anything that would likely be confiscated at the airport, it won't be allowed inside Universal, either.
Most rides require you to store your bag in a locker prior to boarding. Each ride requiring locker storage has its own set of lockers located just outside the ride entrance. Ride lockers are complimentary in most cases. If you have a ton of stuff with you, you might need to pay for the larger-size locker option at each ride, but most backpacks and small bags will fit in the complimentary, smaller lockers on hand.
Are you a social butterfly? Try making new friends!
Whether you're a casual traveler looking for social activity or a passionate theme park fan seeking community, there are ways to connect with others at Universal Orlando even if you're traveling solo. CityWalk nightlife is fun to experience as a shared, collective mass of people, somewhat like seeing a good movie in a full audience. Several clubs and restaurants line the alleyways, from the Pat O'Briens dueling piano joint to the hyper-sensory Margaritaville. The Red Coconut Club has become a fan favorite in recent years with its seasonal overlays for Halloween, Christmas, and Mardi Gras.
If you find yourself taking a deep dive before your trip on all things Universal, whether relating to planning and touring or park history, you'll find like-minded individuals online. Facebook groups (like the official annual pass-holders group or the unofficial adults-only group) and message boards (like the Universal section of the Disboards forums) are great places to ask questions about your trip or just chat about Universal in general. Some fan sites even host meet-ups in the parks, perfect for meeting new people.
Take care of yourself
Being on the go at Universal can be physically demanding, especially in the Florida heat and humidity. You're outside most of the day, and it's not uncommon to log upwards of 7-10 miles from all the walking. Without a travel companion to let you know if you're starting to look exhausted, it's easy to overdo it.
Remember to stay hydrated. Pack a water bottle to refill on the go throughout the day. Cups of water are free at all Universal dining locations. Even if you opt for soda or beer at a meal, go ahead and pair it with some water. Also, make sure to apply sunscreen regularly. Not being able to fully enjoy the amazing place you're visiting because you're burnt to a crisp is the worst!
In anticipation of all the walking you'll be doing, think about what shoes you'll be wearing. If you don't own a good walking shoe, do some research about what type of fit might be best for you. Purchase your shoes with enough time for you to break them in before your trip and you'll be ready to go!
Take a guided tour
Want a good vacation plan, but can't quite figure it all out? Definitely traveling solo, but still want to be around people most of the day? Got some extra money to spend? Universal's VIP Experience might be for you. A tour guide will escort you and a small group of other guests throughout the park, sharing behind-the-scenes stories about how the park was built and bringing you directly to the front of every line. Universal offers five-hour tours of each park separately, or seven-hour tours of both parks.
If you really want to splurge and feel like the ultimate celebrity, Private VIP tours are available. With that option, you'll have your own personal tour guide for the whole day. That's right — no one else, just you.
Tour prices fluctuate based on dates, but generally the VIP Experience is a couple hundred dollars, while the Private VIP Experience is a few thousand (on top of your regular admission ticket). If you think you'll want to do a one-park group VIP tour and you know your vacation dates, go ahead and book it, as they fill up fast. (At the time of this writing, the soonest one-park group VIP tour is available in 10 months.) Two-park tours are more readily available. Visiting Volcano Bay water park? Consider splurging on a private cabana to haveyour own little oasis to leave your belongings, chill in the shade, and order food service.
Get creative with documenting your memories
Love taking photos of everything? Have an idea for a TikTok in Diagon Alley you want to nail no matter how many tries it takes? You're the only person whose schedule you're keeping to, so take all the time you want tapping into your creativity! It's pretty common to stroll the parks and see guests recording a vlog, posing with photogenic walls, live-streaming, or otherwise creating in some form or fashion.
It's cool how each guest sees the parks a little bit differently. The way you'd capture and present a moment, show, or place within Universal is unique to your perspective and style. While there's no shortage of online content, what's so great about the boom of personal video media in recent years is how each individual brings their own spin to each given subject, and Universal is no exception. Get inspired and crush that edit!
Listen to audiobooks while you wait in lines
No matter how strategic you are, at some point in your Universal Orlando vacation, you'll probably find yourself in a long line. Rides, shows, restaurants, you name it. Thousands of people visit the parks every day, and even if you try your best to maneuver around where the crowds are low, waiting will be unavoidable to some degree.
There's generally a lot to look at (props, details, etc.) while waiting in line for rides at Universal, but sometimes the lines can get long, and seem longer with no one to talk to. Rachel's Reviews on Twitter enjoys listening to a Walt Disney biography via audiobook when she visits Disneyland, and we'd second the suggestion with a comparable book for Universal. Download an audiobook to help pass the time while you wait in lines. Even better if it's an on-theme selection, perhaps about moviemaking.