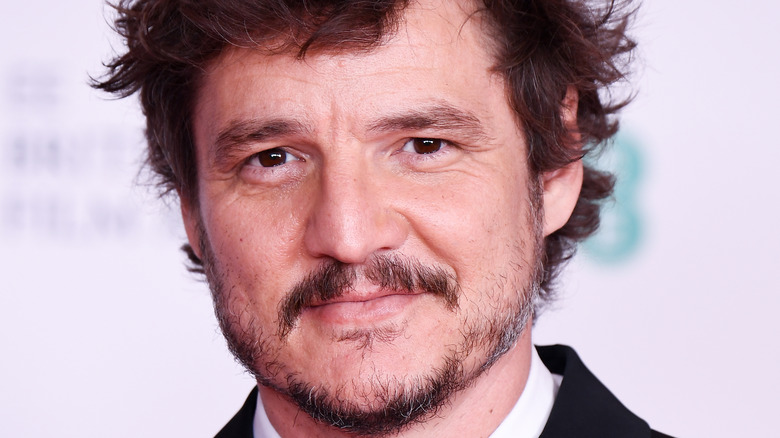 The following article includes mentions of suicide.
José Pedro Balmaceda Pascal, better known as Pedro Pascal, is a Chilean-American actor known for his performances in "Narcos," "The Mandalorian," and "The Last of Us." For those who are interested in the Hollywood dynamics, they will also know Pascal from his long-lasting friendship with actor Sarah Paulson. He first started in the industry participating in shorts such as 1996's "Burning Bridges" and TV shows like "Good vs Evil." Pascal's first big movie was "Sisters" in 2005, where he played Steve. Since then, he has become a well-known name in Tinseltown as a world-renowned celebrity. Pascal is so famous and beloved, in fact, that by 2023, he was dubbed "the daddy of the internet." He even quipped while speaking with Entertainment Tonight, "Yup, I am your cool slutty daddy."
However, as cheerful and well-disposed to jokes as he seems in interviews and red carpets, Pascal carries a past that wasn't all that easy. From the moment he was born until the day his mother died, this star has seen the struggles of life up close, but has never given up. These moments are part of the path that led him to his successful career — a career that is very well-connected to his roots. "[My family] can't believe it," he told Time. "My dad is so impressed. He loves the movies and would take us two, three times a week, so this fantasy of mine of becoming an actor? I can blame my father for that. He's so amazed. And so happy."
These are the four saddest things about Pedro Pascal's life.
Pedro Pascal's family had to flee Chile
Most people assume celebrities have led easy lives and stardom just knocks on their door — but for Pedro Pascal, that was not the case. From very early on, when he was a 9-month-old baby, his life changed drastically, creating a path that he had no control over. "I didn't choose to come to the United States but being raised here has shaped exactly who I am today, and I can't imagine that being taken away from me," he once told Fusion's "America with Jorge Ramos" (via Latino USA).
In the mid-1970s, Chile found itself under the Pinochet regime. At the time, many families had to leave their homes and seek asylum for their own protection. The Balmaceda Pascal couple was among them, having to take their children out of the country to guarantee their survival. The family was at risk because the actor's parents offered protection to a militant relative of his mother's who had been sought out by the military.
"Still, helping some people hide got them into hot water — eventually they got to the Venezuelan embassy and claimed asylum. We were sent to Denmark and then the U.S.," Pascal shared with Time. "My sister and I were born in Chile and raised in the States, and my little brothers were born in the States and raised in Chile after my parents moved back in 1995."
The Mandalorian actor was bullied in school
According to StopBullying.gov, 22% of students younger than 18 years old will experience bullying, and 19.5% of these students experience said bullying at school. While there is statistically an increased risk of this happening to children who are overweight, wear glasses, new, have a disability, or are members of the LGBTQ+ community — the truth is that, no matter what characteristics or patterns are studied, several students are bullied for various reasons. Pedro Pascal was among those.
Pascal grew up in the U.S. as the son of immigrants and as a refugee, as previously mentioned, which meant that he was perceived as different from the people around him. However, he didn't really notice these differences until they were pointed out to him by others. For example, he told Variety he didn't think his parents had an accent until a friend of his said, "Why does your mom talk like that?"
On top of leading a different life because of these circumstances, he also had to get used to moving around. When his family moved from Texas to California when he was around 10, Pascal said, "There were two really, really rough years. A lot of bullying." However, as he mentioned to Variety, he found something to keep him afloat and distracted from the cruel reality of what other students were doing to him: his obsession with movies and plays. "It changed me," the actor said.
His father was indicted for crimes committed in Chile
Pedro Pascal's father is José Balmaceda. Before fleeing Chile, he was an established fertility doctor. When he settled in the U.S., he continued his career and joined Dr. Ricardo Asch in creating a new technique called gamete intrafallopian transfer. However, scandal fell upon them in 1995 when the University of California sued them for allegedly "[stealing] patients' eggs and embryos and implant[ing] them in other women without their knowledge or consent," per The New York Times.
After charges were raised against him, Balmaceda went back to Chile, where his fellow colleagues seemingly received him with arms wide open. Dr. Cesar Cafatti Jamarne told the outlet, "So far all we are hearing is a bunch of gossip. Balmaceda is an excellent doctor and a true professional, and until he is proven guilty in a court of law, he should be welcomed to practice medicine here in Chile." Jamarne wasn't the only one to praise Balmaceda for his career and the innovations he brought to the field. According to the Los Angeles Times, other doctors previously called him a "pioneer" who had influenced many others to specialize in fertility.
In 2022, The Orange County Register reported that Balmaceda had surrendered himself after signing a plea agreement for tax fraud in relation to the UC Irvine fertility scandal.
Pedro Pascal's mother died by suicide
In 1999, Pedro Pascal's mother, Verónica Pascal, died by suicide — years before her son's successful career took off and he became the actor he is today. In part as a tribute to his mother, Pedro changed his last name from his father's to hers. "And also, because Americans had such a hard time pronouncing Balmaceda," he told Variety. "It was exhausting."
At the time of his mother's death, the future star of "The Mandalorian's" career hit pause, as he also lost his agent. However, today's reality tells us that Pedro was able to overcome this terrible tragedy and lead the kind of career that would have made his mother — the one who encouraged his love for the arts — proud. In 2020, Pedro continued to honor his mother by telling People, "She was always incredibly supportive, never a stage mom. I always felt like she knew something that I didn't. None of [my success] would be real if it weren't for her."
If her passing has taught him anything, it's to lean on the people around him when he's struggling. This is something Pedro Pascal carries with him. "I relied on my friends like one would food and water. Because I was on my own," he told People. "I felt a little rattled and ultimately grateful for all of my friendships, old and new. We were there for each other. That really is the only thing that matters."
If you or anyone you know is having suicidal thoughts, please call the National Suicide Prevention Lifeline​ by dialing 988 or by calling 1-800-273-TALK (8255)​.