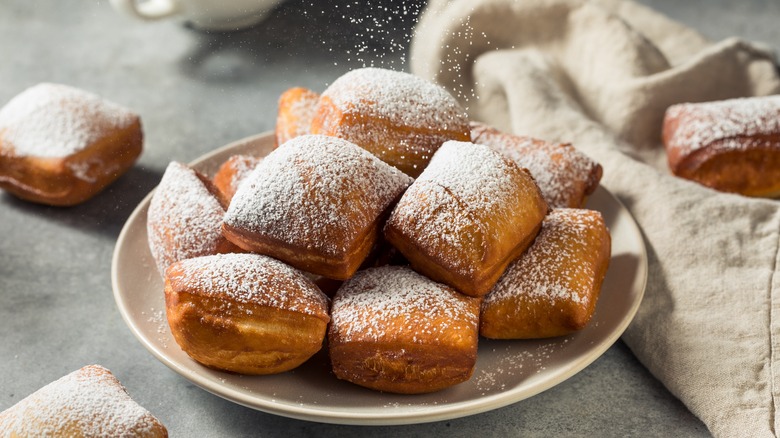 "Beignet" may be the French word for "doughnut," but in New Orleans, there's no mistaking these sugar-dusted delicacies for anything else. For centuries, fluffy squares of dough blitzed in powdered sugar have been a feature of the city's cuisine, taking on an almost mythic quality due to its accessibility and simplicity. You can find them at any cafe, at any hour, often paired with chicory coffee or a creamy Cafe Au Lait.
For those who live nowhere near New Orleans, your only hope of scoring authentic beignets comes during the Mardi Gras season. Once the party's over (or the rainbow beads have been put away), your quest for sugary-sweet bliss is essentially at a crossroads. Contrary to this conundrum, however, living in Crescent City — let alone traveling as a tourist — isn't the only path to securing decadent French pastries.
Many people in the United States claim roots in the Big Easy, and those folks have generously spread the joy of Cajun cuisine all over the country. If you can catch blackened seafood and gumbo on the menu, then a beignet isn't far behind. These are the bakeries, coffee-shops, restaurants, and food carts that are serving excellent beignets beyond the Bayou — and believe us, they're worth making the trip.
Delaney's Tavern — Orlando, Florida
To kick off this list with a savory beignet seems like…a choice, but as anybody who's traveled to New Orleans can see, there's plenty more to the pastry than plumes of powdered sugar. Delaney's Tavern in Orlando puts a creative twist on pub-style starters and entrees, with a hip yet approachable air that's earned accolades from Orlando Magazine and Scott Joseph's Orlando Restaurant Guide. The menu, courtesy of head chef Anthony Albino, covers the main bases for American cuisine, including a few dishes channeling the Bayou in spirit.
Looking at these Blue Crab Beignets, you soon realize how different they are from the carnival treat of NOLA. Instead of sweet dough, the crisp fritters arrive filled with minced pieces of seafood. The normal showering of confectioners sugar is replaced with an apple fennel slaw that, combined with a drizzle of horseradish on top, comes together in tongue-tingling harmony. It's apparently a go-to for Albino's wife, and for many restaurant-goers for its mouthwatering, piquant taste. Order a round for $13 to whet the appetite, and keep the Creole theme going with Shrimp Macaroni and Cheese and a drink from its dizzying beverage selection.
Huey's On The River — Savannah, Georgia
Savannah, Georgia is a city bearing its own traditions, but as a Southern town it's also quite familiar with Creole cuisine. Huey's on the River has laid in the thick of River Street since 1987, a historic strip of shops and restaurants with a booming nightlife culture that's not unfamiliar to New Orleans. The charming dining room immerses visitors in the Big Easy with fried-up catfish, gumbo, and other delicacies made for soaking up views of the Savannah River.
The restaurant's Bloody Mary usually guzzles up all the praise from locals, but in terms of fanaticism, the beignets don't trail far behind. Available for brunch and dessert, these big squares of dough are fried to perfection with three, four, or a dozen pastries per order. Purchase yours cloaked in powdered sugar (the old-fashioned way) or paired alongside a sultry praline sauce you'll go nuts over dunking with. Knowing how rich the menu is (Crawfish Etouffee and Po'Boys, anyone?) one diner advises eating them before the main course, lest your stomach is too swamped to enjoy them.