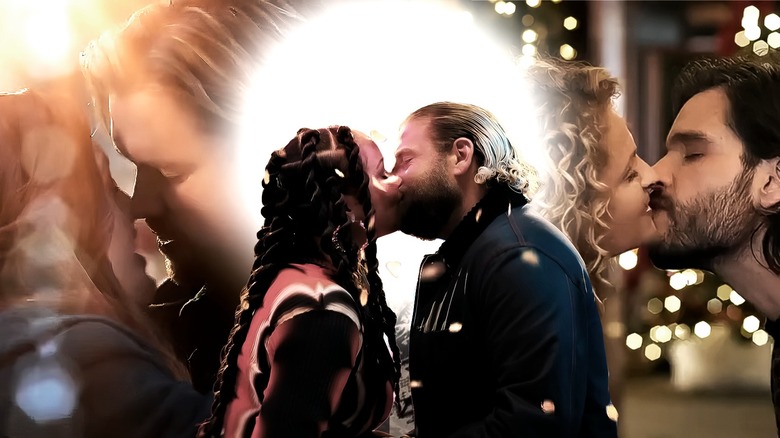 Romantic movies and TV shows just wouldn't be the same without kiss scenes. Characters tease and flirt, building tension until they can't resist each other any longer and finally lock lips. It might seem romantic on screen, but in some cases, visual effects are actually used to fake these swoon-worthy smooches. From using CGI to employing body doubles to bringing in plexiglass, there are multiple ways this can be done. Some of these cheat-kisses come off as surprisingly realistic — but others look downright ridiculous.
Although faking a kiss is definitely possible, it often requires a lot of work, both during filming and post-production. Why, then, do these movies and shows use visual effects instead of simply having the actors kiss each other? Religious beliefs and COVID-19 safety measures are just a couple of reasons why producers might decide to fake a kiss scene, but there are many others you might not expect. We're here to take a look at various movies and TV shows that have used visual effects to create their on-screen kisses, explain how they did it, and why.
You People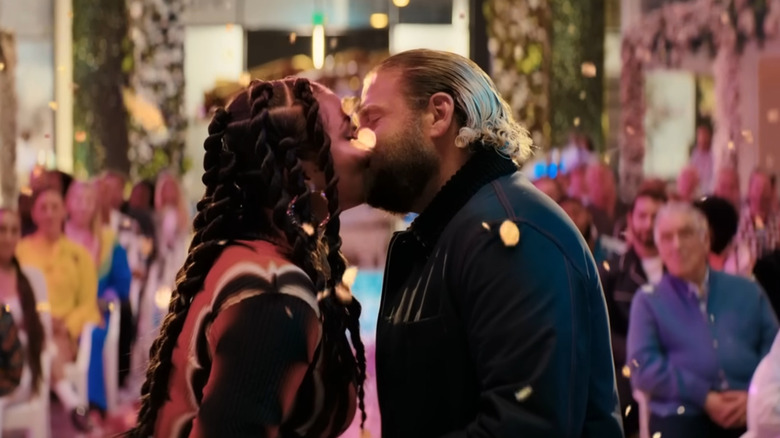 "You People" follows new couple Ezra (Jonah Hill) and Amira (Lauren London) as they deal with the cultural differences between their families. After they say their wedding vows, they lock lips, and flower petals fall around them. Some might consider it the most romantic moment in the film — but comedian Andrew Schulz, who plays Ezra's cousin Avi, revealed that the kiss was actually created with CGI.
"I don't even know if I should share this s***, but the final scene, they don't even kiss," Schulz said while co-hosting the "Brilliant Idiots" podcast. "It's CGI … I'm there, I'm watching the wedding, and I see them go in for the kiss and their faces stop like this far," he said, placing his hands around six inches apart. "And I'm like, 'I wonder how they're going to play that in the movie. Oh, they're probably just going to cut right there.' But in the movie, you could see their faces come close, and then you can see their faces morph a little bit into a fake kiss."
Why didn't they go in for a real kiss? In short, because of COVID-19 safety guidelines. Filming took place in 2021, so they had to maintain a safe social distance to help prevent the virus from spreading. Next time you watch "You People," however, you're sure to remember this little detail, and attempt to catch the fakery in the act.
Fireproof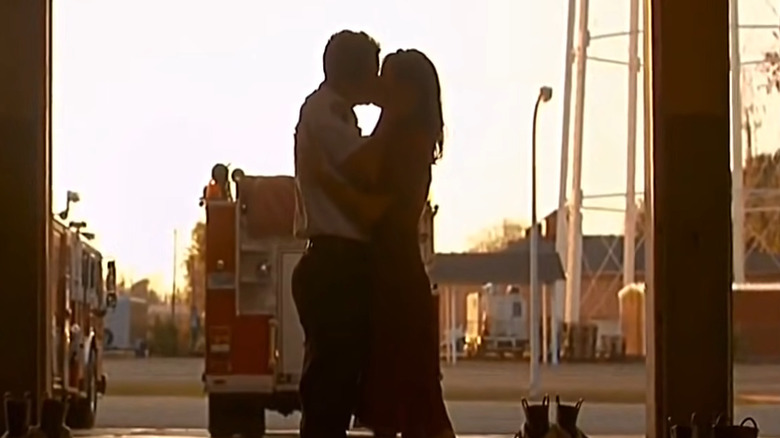 Accomplished firefighter Caleb Holt (Kirk Cameron) realizes that his marriage to Catherine (Erin Bethea) is falling apart. With the encouragement of his father, he reads a Christian self-help book called "The Love Dare" and embarks on its 40-day challenge to save his relationship. But Cameron is a devout Christian, and won't kiss any woman besides his wife, Chelsea Noble. To film the scene without compromising Cameron's values, filmmakers had Noble dress up as Catherine, then shot the scene in silhouette.
"The reason this movie was important to me personally is because I love my wife dearly," Douglas explained to Today. "We've been married for 17 years … and we have six children. So marriage is a very special and sacred thing to us." In the end, "Fireproof" affirms these beliefs: Caleb and Catherine find a way to work things out. Lots of romantic movies feature happy endings, but few incorporate real-world romances in such a unique way.
Plan A Plan B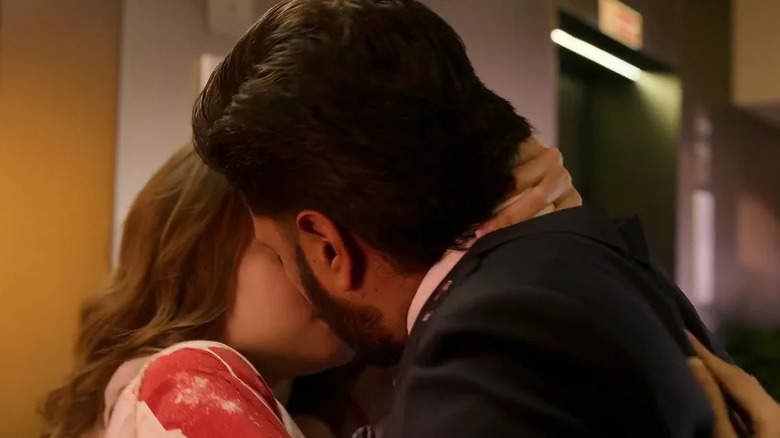 "Plan A Plan B" centers around matchmaker Dr. Nirali Vora (Tamannaah), who opens up a business next to cynical divorce lawyer Kaustubh Chougule (Riteish Deshmukh). They constantly butt heads, but have so much chemistry that they end up falling in love. Though Deshmukh refuses to do on-screen lip-locks, the two characters manage to have a lengthy kiss scene.
Filmmakers made this happen by using certain camera angles to create the appearance of kissing, without Deshmukh and Tamannaah ever actually making contact. Some viewers find the faux-smooch convincing, but others think it looks laughably fake. Why the subterfuge? Fans speculate Deshmukh believes kisses are meant to be private moments between two people.
Scary Movie 5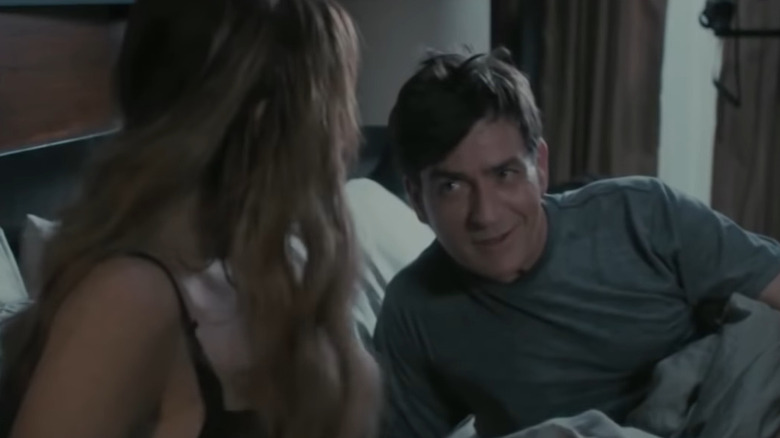 Lindsay Lohan and Charlie Sheen don't play the leading roles in "Scary Movie 5," but they still have some funny moments together on screen. Charlie brings Lindsay (both playing fictionalized versions of themselves) to a cabin to film a racy tape. They make the adults-only entertainment with gusto — but in truth, no actual kissing takes place.
According to TMZ, Lohan was supposed to kiss Sheen multiple times, but refused to do so. Allegedly, she made this stance clear well before filming too place, but changes weren't made until shooting was set to commence. Rumor has it they brought in a body double and did what they could to cut unnecessary kiss scenes out of the script entirely. Does this result in a convincing scene? Your mileage may vary, but you're probably not judging a "Scary Movie" installment based on its convincing smooches.
Kapoor & Sons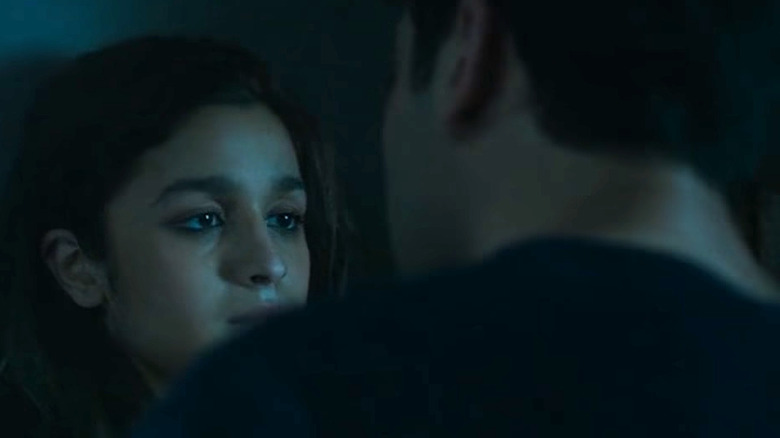 "Kapoor & Sons" centers around Rahul Kapoor (Fawad Khan) and his brother Arjun (Sidharth Malhotra) as they visit their sick grandfather for his birthday. Things get tense when the estranged siblings both fall for Tia Malik (Alia Bhatt). Khan and Bhatt were supposed to kiss during the film, but Khan wasn't up for it, so filmmakers faked the shot by using certain camera angles. According to Bhatt, "When we did the scene, it was decided that we would cheat-kiss. Still, every time I would go near his face, he would flinch. I had to keep reassuring him I wouldn't compromise his chastity."
According to India Times, this is a longtime position on Khan's part. "See, doing intimate scenes is something I'm uncomfortable with right now," Khan remarked. "Because it will not appeal to the sensibilities of my audience back home." Home, in this case, in Pakistan. This doesn't mean he's completely opposed to doing kissing scenes in the future, though. When asked if he'd ever change his mind about it, he said, "You never know. I never say never. I'd rather walk the unpredictable path."
Six Degrees of Separation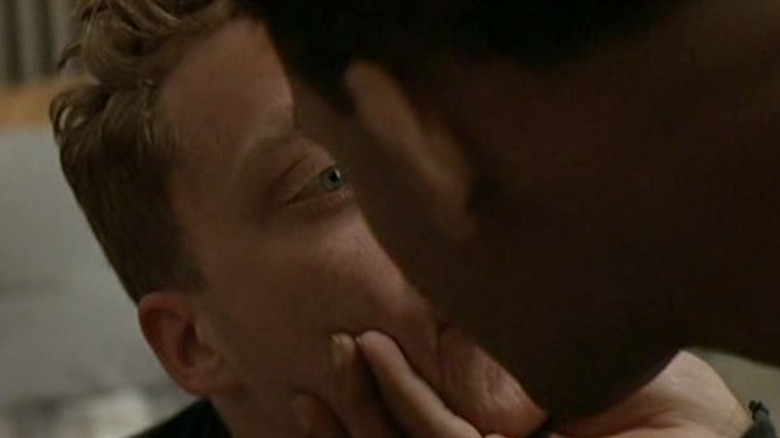 Will Smith rose to popularity as the star of "The Fresh Prince of Bel-Air," but he proved he could also take on serious fare when he accepted a leading role in "Six Degrees of Separation." In this film, a rich couple's lifestyle is disrupted when a mysterious man named Paul (Will Smith) visits their home, claiming to be their children's friend. Paul uses his charms to take advantage of them, but his lies are eventually exposed.
Smith was committed to the role, but there was just one problem: He didn't want to kiss Anthony Michael Hall, who played Trent, a student with a crush on Paul. Right before they were going to film a kiss scene, Smith told the director he wouldn't do it. Ultimately, they had to use a stand-in and shoot the scene from behind. "It was very immature on my part," Smith told Entertainment Weekly. "I was thinking, 'How are my friends in Philly going to think about this?' I wasn't emotionally stable enough to artistically commit to that aspect of the film." Though he was undoubtedly angry with himself for refusing to follow through, he went on to say that the experience was ultimately worthwhile, because it brought him valuable insight.
Christmas Ever After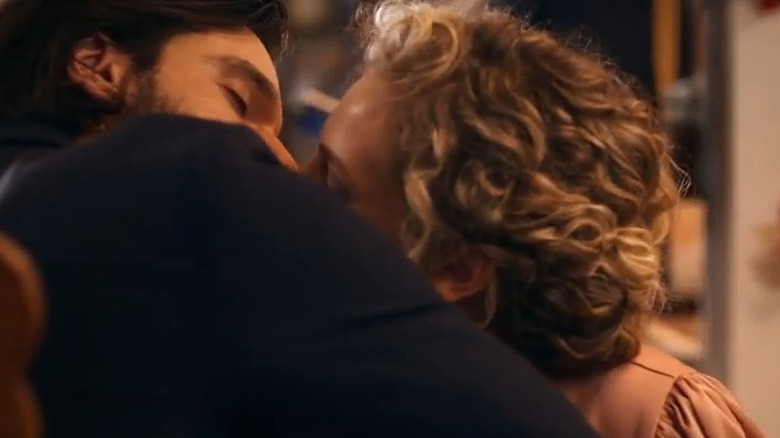 There's nothing like getting cozy under your favorite blanket with a cup of hot chocolate and settling in to watch a romantic holiday movie. But during the pandemic, holiday movie giant Lifetime had to figure out how to film kiss scenes while still keeping people safe. This led to an interesting solution in "Christmas Ever After." This movie follows romance novelist Izzi Simmons (Ali Stroker), who is plagued with writer's block as she arrives at a bed and breakfast for the holidays. The inn's owner, Matt (Daniel di Tomasso), looks just like the main character of her books. Izzi is finally able to overcome her writer's block as they fall in love.
Amy Winter, head of programming at Lifetime, discussed making the movie's kiss scene happen with TheWrap. "Everybody was incredibly concerned about … making sure that we were following the best possible guidelines to keep people safe," she remarked. "We all sat down, even before we got started, saying, 'How is anybody even going to kiss in these movies, given the circumstances?' And the greatest, oddest solution I've seen so far is people kissing through plexiglass that can be removed in post." That's just what they did for "Christmas Ever After." Though the behind-the-scenes photos might look odd, the finished kiss is just as romantic as holiday movie fans could want.
Call the Midwife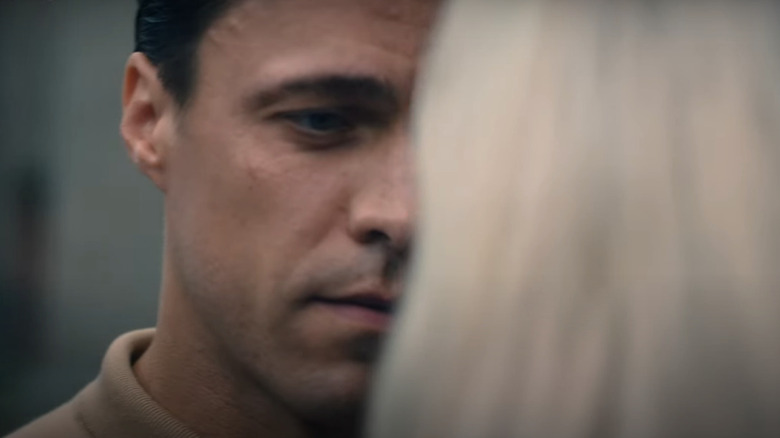 "Call the Midwife" follows the midwives, nurses, and nuns of Nonnatus House as they help London families during the 1950s and 1960s. In Season 10, widower Matthew (Olly Rix) gets closer to Nurse Trixie (Helen George), and the two eventually share a kiss. It's incredibly romantic — but things were much more awkward behind the scenes, due to COVID-19 safety protocols.
As George told RadioTimes, "We became masters at kissing through Perspex. It's probably the most unsexy thing you could ever do. A man comes along with a little spray and a window wipe and wipes away your spit after every take. Horrific." She went on to say, "There were a few [takes]. It takes a while to get there. It was so mechanical, we'd turn our head to the left or bring your cheek in a bit or your head. Awful. Awful. So embarrassing."
It's safe to say that George wasn't a fan of kissing through Perspex, but kudos to her and Rix for powering through these scenes. Their characters have a special bond, and fans would've been very disappointed if they didn't end up kissing.
Thor: The Dark World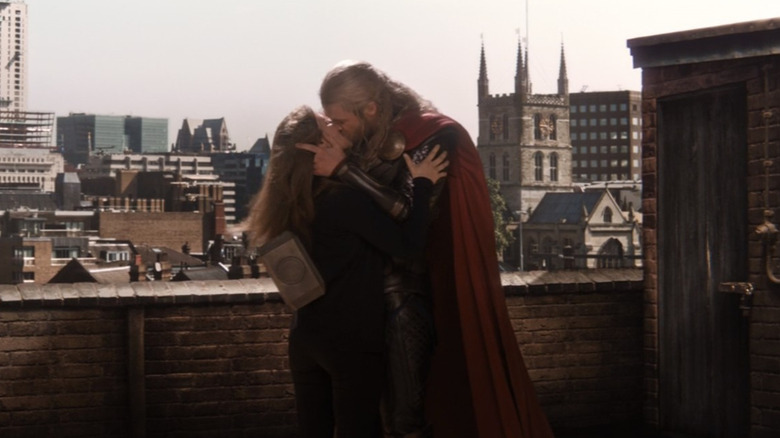 Walt Disney Studios Motion Pictures
"Thor: The Dark World" sees Thor's corner of the MCU fall into crisis. Hundreds of years after the Asgardians defeated the Dark Elves, Jane Foster (Natalie Portman) finds a powerful weapon called the Aether, which uses her as its host. Thor (Chris Hemsworth) must protect her from the Dark Elf Malekith (Christopher Eccleston) before he captures her and uses the Aether to wreak havoc on Earth. During the after-credits scene, Thor returns to Earth. With the day saved and Malekith gone, he shares a passionate and celebratory kiss with Jane.
Surprisingly, Hemsworth didn't actually kiss Portman during this scene. She wasn't able to make it to the reshoots, so producers decided to use a body double and shoot the scene from behind. They gave Hemsworth a list of body doubles to choose from, but Hemsworth chose his wife Elsa Pataky instead. She dressed up as the character, ran up to him, and they locked lips. If that isn't romantic, we don't know what is.
Rangasthalam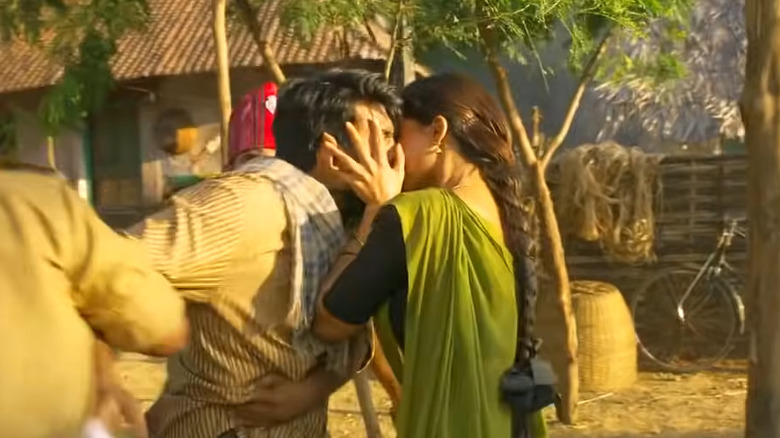 Chitti Babu (Ram Charan), a hearing-impaired boat skipper, teams up with his brother to take down the corrupt president of their village in this action-packed movie. When Chitti finally kisses his beloved Ramalakshmi (Samantha Ruth Prabhu), you might be tempted to stand up and cheer — but this kiss isn't what it seems. According to The Times of India, Charan allegedly resisted doing a kissing scene from the very beginning, and didn't change his mind as time went on. Though the filmmakers did consider cutting the scene entirely, in the end, they found another way. Charan and Prabhu moved towards each other, but the actual lip-lock was created through post-production wizardry.
The cheat kiss is so convincing, Prabhu faced some criticism about it. She responded with admirable strength, criticizing such blowback as misogynistic and citing her family's support.
Freddie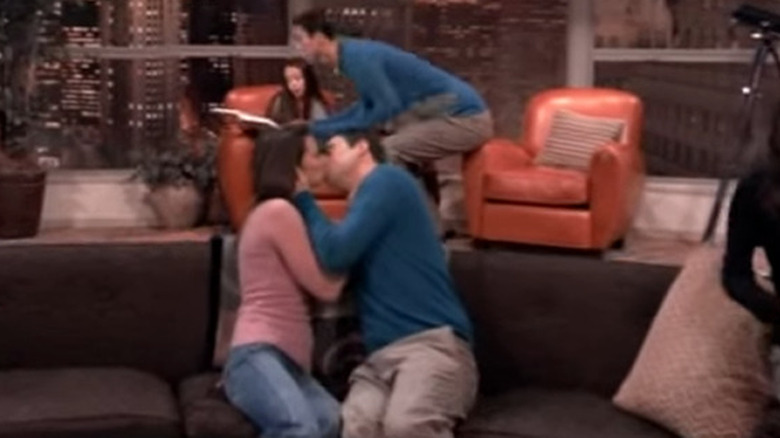 "Freddie" is a short-lived 2000s sitcom following Freddie Moreno (Freddie Prinze Jr.), a chef who takes in his older sister, niece, sister-in-law, and grandmother after times get tough. The show's opening sequence features numerous Freddie clones interacting with many different characters: They make out with women, argue with grandma, and help Freddie's niece with her homework. "The premise here is that Freddie is all things to all his family and friends," visual effects supervisor Jeff Okun explained. "They wanted a main title to reflect this, so [the show's creators] came up with the idea of having Freddie continually clone off into a new Freddie for EACH person's needs."
To create the multiplying Freddies' smooching, the VFX crew created a mish-mash of partially real and partially fake kissing. First, the crew filmed Prinze actually kissing the actress. After that, they did another take with Prinze pretending to kiss her, so he could play the part of the different clone that splits off at that moment. "We used the frozen video to position him to match himself," Okun said. "That way the clone would start on the movement of splitting apart, and all we needed to do was use an articulated wipe to reveal the new Freddie." It took many tries to get everything lined up properly, but in the end, they pulled it off.
EastEnders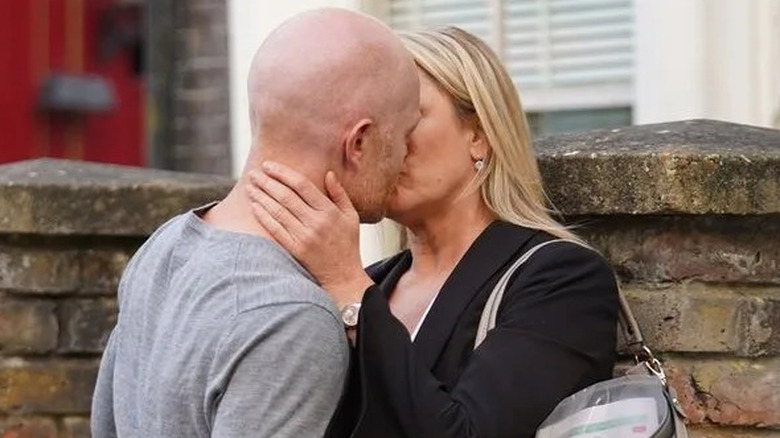 "EastEnders" is a long-running soap opera exploring the drama-filled relationships between the people of London's East End. And what would a soap opera be without plenty of kiss scenes? Filming intimate moments during the pandemic was a challenge, however. Luckily, the crew found multiple ways to get around this issue while still following COVID-19 protocols. In 2020, executive producer Jon Sen told Sky News, "For those really crucial moments where two characters kiss, we've actually invited the real-life partners of the actors on to the set to be able to cheat those kind of moments." These scenes were also shot from specific angles, to obscure the fact that body doubles were used.
This wasn't the only bit of clever trickery the creators of "EastEnders" employed. To film scenes involving characters who live together, producers used Perspex to make close proximity COVID-safe. At other times, they used plate shots, which combine separately-filmed actors into one coherent shot.
Coronation Street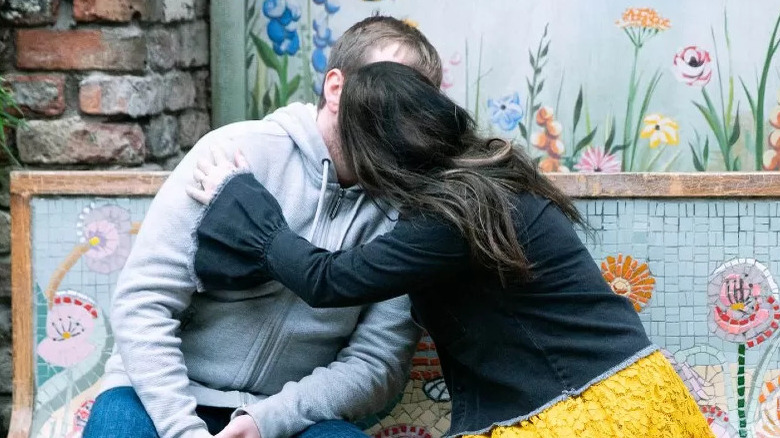 British soap opera "Coronation Street" follows the working-class residents of Weatherfield, England as they navigate family life, romance, work, and various personal issues. During the pandemic, producers had to figure out how to film a scene in which Tyrone (Alan Halsall) and Alina (Ruxandra Porojnicu) share a kiss. They managed to fake the lip-lock with the help of Alex Mulvaney, a regular extra on the show, and his wife Hannah.
"My agent said that 'Coronation Street' needed extras who were in a support bubble, and because I used to be an extra three times a week and they knew half of my family had done extra work on the show, it worked out perfectly," Mulvaney told the BBC during a 2021 interview. "My partner Hannah hadn't done any extra work before, but my agent knew she had dark hair like Alina's, so I asked her if she wanted to do it." Despite some initial nervousness — she's a big fan of the show — Hannah was up for it.
To create the non-kissing parts of the scene, Halsall and Porojnicu were each filmed separately. Because they couldn't gaze into each other's eyes, the actors looked at a pair of sunglasses taped to a pole. Once everything was filmed, visual effects artists brought these disparate shots together into a coherent whole.
The Bold and the Beautiful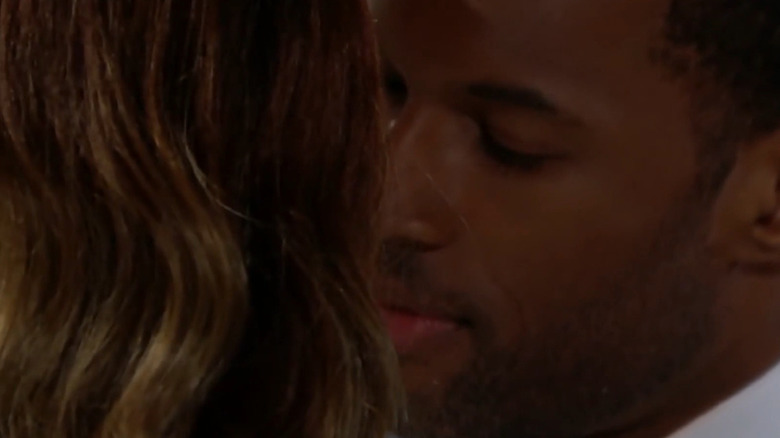 Out of all the ways producers cheated kiss scenes throughout the pandemic, this one might be the most ridiculous. Carter Walton (Lawrence Saint-Victor) and Zoe Buckingham (Kiara Barnes) appear to lock lips on screen on "The Bold and the Beautiful," but there's a reason Zoe looks stiff: The actress had been replaced with a mannequin.
In an interview with The Hollywood Reporter, executive producer Bradley Bell revealed more about this process. "[Actors will] shoot eight feet apart, following all the safety standards," he detailed, "but [we] use the tricks of the business. We'll shoot one side of the couple in a romantic scene alone in the room, but looking at a spot very close to them, and then shoot the other side alone. When we edit it together, it will look like they're nose to nose." Since they used a mannequin to fake the kiss, they shot the scene from an angle that doesn't show its plastic face.
Apparently, the actors found it just as hilarious as the audience did. Barnes tweeted in 2020, "We def had to do a billion takes bc everyone was cracking up and messing up audio." But "The Bold and the Beautiful" crew didn't use mannequins for every pandemic kiss scene. As Bell explained, "We're also bringing in … the husbands and wives of the actors as stand-ins for their [characters'] significant others."
Neighbours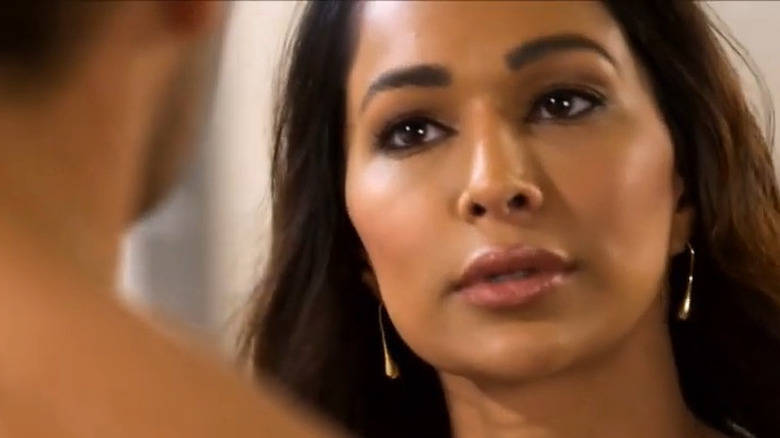 Network 10
In this long-running Australian soap opera, the residents of Ramsay Street face challenges involving work, love, their pasts, and much more. Like many other shows filmed during the pandemic, the makers of "Neighbours" didn't want to exclude kiss scenes, leading them to explore unique approaches. Colette Mann, who plays Sheila Canning, revealed one way they made the smooches happen: Each actor kissed a mirror. Then the visual effects team worked their magic, making it seem like the characters were kissing each other. Smooching a mirror isn't exactly romantic, but hey — crazier things have happened on soap operas before.
For the scene in which Pierce Greyson (Tim Robards) kisses Dipi Rebecchi (Sharon Johal), the "Neighbours" crew left the mirror behind and brought in Johal's husband. As Johal told Herald Sun, she even made him practice the night beforehand. "I thought my kissing skills were up to scratch, but obviously not," Johal's husband Ankur remarked. "She told me it was more for blocking … so she was experimenting with different angles." The pandemic made lots of couples do weird things, but this is definitely one of the strangest.