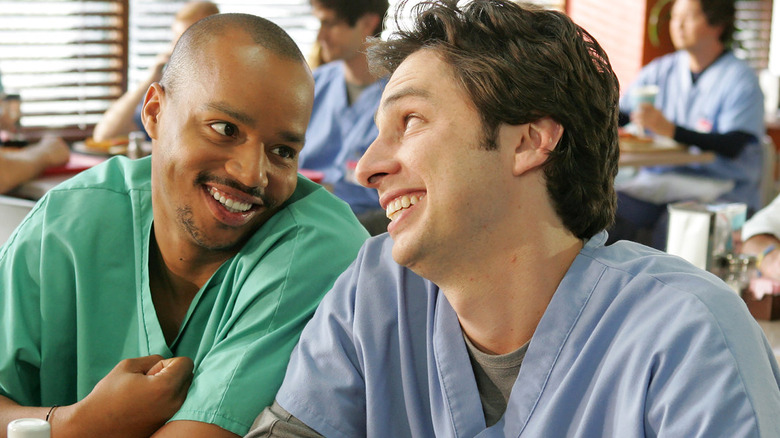 It's been too many years since we last saw Turk and J.D. eagle through the halls of Sacred Heart, and frankly, we still haven't gotten over the fact that the show's over. Still, the talented cast has gone on to do some pretty amazing things since the series went off the air, and they should definitely be celebrated. Here's what the cast of Scrubs is up to now.
Zach Braff (J.D.)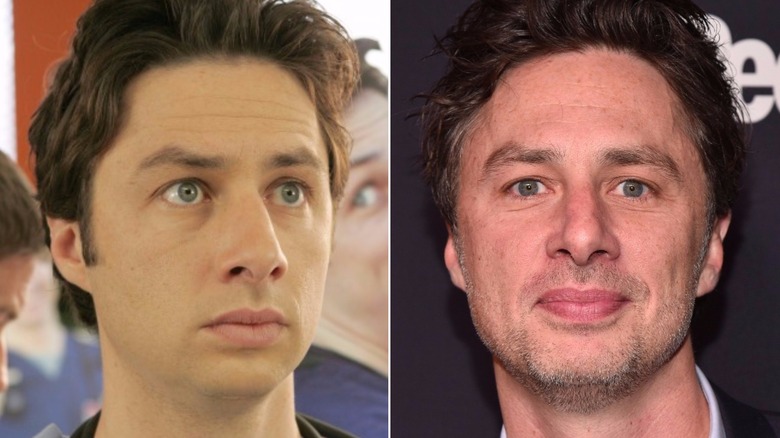 Zach Braff earned three Golden Globe nominations and an Emmy nod for his turn as the daydreaming doctor J.D. on Scrubs, but since the series ended, he's kept his talents mostly behind the camera. While he's made guest appearances in shows like Cougar Town, Undateable, and Inside Amy Schumer, his most notable work has been as a writer and director.
Those credits include 2014's Wish I Was Here, which Braff co-wrote, directed, and starred in. The movie was funded through a Kickstarter campaign, with Braff relying heavily on Scrubs fans to help him realize his dream. He followed that up with 2017's Going In Style, directing Morgan Freeman, Michael Caine, and Alan Arkin in a loose remake of the 1979 original. (Maybe next up he can start work on Dr. Acula?)
Braff's newest project will call on all of those talents, with the actor directing, executive producing, and starring in the TV series Alex, Inc. The show, based on the podcast StartUp, features Braff as Alex Schuman, a radio journalist who quits his job to start his own company. The show is set to premiere on ABC midway through the 2017-18 season, but for now, you can catch Braff hosting adorable reunions with his fellow former Scrubs stars.
Donald Faison (Turk)
Donald Faison and Zach Braff were inseparable as Turk and J.D. on Scrubs, and in real life, the two have remained close, frequently posting pictures together on their social media accounts. Faison also had a role in Braff's 2014 film Wish I Was Here, and Braff's California home provided a venue for Faison's 2012 wedding to CaCee Cobb, the mother of two of Faison's six children.
Faison has moved away from his Scrubs roots, though. After the show ended, he made some guest appearances and had a small role in Pitch Perfect before he landed a lead role in the TV Land comedy The Exes. The show ran for four seasons, during which time Faison was nominated for an NAACP Image Award, his seventh nomination.
More recently, Faison has occupied himself with guest roles and films, appearing on shows like Robot Chicken and House of Lies and movies like The Perfect Match. His upcoming roles include a part in Neflix's upcoming Adam Scott and Evangeline Lilly horror comedy Little Evil.
Sarah Chalke (Elliot)
Sarah Chalke played the uptight Dr. Elliot on Scrubs, and one of her biggest roles after the series ended also found her playing someone in the medical profession. Chalke starred as Dr. Stella Zinmann on CBS' How I Met Your Mother, playing one of Ted's primary love interests on the popular comedy.
While that was one of her more visible parts, Chalke has been all over the screen since Scrubs ended—although she's had some bad luck when it comes to launching her own series. She starred as one of the four friends at the center of CBS' Mad Love, which debuted as a midseason replacement but was canceled after just one season. Next came ABC's How to Live with Your Parents (For the Rest of Your Life), which was also canceled after just one season. She also had a recurring guest role on Rainn Wilson's Backstrom, which was, once again, canceled after one season.
While Chalke has yet to find a series that sticks, she's been a frequent guest star, appearing on shows like Cougar Town, Angie Tribeca, and Rick and Morty. The engaged mother of two will have another chance at making a series when she appears in the upcoming Roseanne reboot— although don't expect her to be playing Becky Conner.
John C. McGinley (Dr. Cox)
John C. McGinley was already an experienced actor when he signed on to star as the acerbic Dr. Cox on Scrubs, and he has continued to have success after the show. When the series ended, McGinley started filming on the big-budget action flick Alex Cross before signing on to a recurring role on the popular USA's popular spy series Burn Notice.
The father of two then booked roles in movies like 42 before gearing up to lead the TBS sitcom Ground Floor, created by Scrubs' Bill Lawrence. When the show went off the air, McGinley teamed up with Guardians of the Galaxy's James Gunn to star in his divisive, violent drama The Belko Experiment. Nowadays, the actor leads the IFC horror comedy series Stan Against Evil as the title character, a former sheriff now tasked with fighting demons.
Judy Reyes (Carla)
Getty Images
Judy Reyes won two ALMA Awards and was nominated for two more for her role as the smart and sassy nurse Carla on Scrubs, and she's continued to play strong women on the small screen since. After the show ended, Reyes spent a few years guesting on shows like Medium, Off the Map, and Happily Divorced before landing a lead role on the Lifetime dramedy Devious Maids.
Devious Maids ran for four seasons before being canceled, but Reyes wasn't off the air for long. She quickly landed a lead role on the TNT series Claws, which has been a critical favorite since it debuted in the summer of 2017. The show has already been renewed for a second season, so look out for Reyes in your new favorite summer soap again next summer. The actress has also had a recurring role on the CW's Jane the Virgin and appeared opposite Tom Hanks, John Boyega, and Emma Watson in the tech thriller The Circle.
Reyes hasn't just been busy on camera since the show went off the air, either. She had her first child in 2009 with her boyfriend, director George Valencia. Alongside Valencia, Reyes is an executive producer of the animated series La Golda, a show designed to teach kids about helping others and giving back. Carla would definitely approve.
Ken Jenkins (Dr. Kelso)
As everyone's favorite curmudgeon, Ken Jenkins was legendary as Dr. Kelso. The actor already had a long acting career before he took on the part of the hospital's not-so-friendly patriarch, and, although he's slowed down since the show went off the air, he's still had some major parts, including a recurring role on Cougar Town, from Scrubs creator Bill Lawrence.
Jenkins' other roles include a smattering of guest appearances, as well as a notable role in the high-profile HBO TV movie All the Way, which starred Bryan Cranston as Lyndon B. Johnston. And if you're a fan of Broadway, you've probably seen Jenkins' son, Daniel, a Tony-nominated actor who has appeared in shows like Big River, Mary Poppins, and Billy Elliot.
Neil Flynn (Janitor)
Getty Images
You can thank Neil Flynn for most of the Janitor's funniest lines, as it turns out that the actor was well known for improvising quite a bit on set. That talent for comedy is probably part of the reason the former Mean Girls star has had such a successful career since Scrubs, with the actor quickly signing on to star in the ABC comedy The Middle.
As family patriarch Mike, Flynn has led the Hecks through eight seasons of adventures, although the show is set to go off the air after its upcoming ninth season. Still, though, that's a pretty successful run for Flynn, who, while the show was on the air, also booked roles in Bob's Burgers, Undateable, Key and Peele, Vixen, and The Resurrection of Gavin Stone. It isn't quite as exciting as being the inventor of the knife-wrench, but we'd say Flynn has had a great career so far.
Sam Lloyd (Ted)
Sam Lloyd played Sacred Heart's hapless lawyer Ted on Scrubs, and, during the show, he frequently showed off his musical talents singing a capella with his group the Worthless Peons. As it turns out, the band is actually a carryover from Lloyd's real life, where the group is known as the Blanks. The quartet formed while Lloyd was a musical theater student at Syracuse University, and after Scrubs went off the air, they continued performing shows around the country.
While the Blanks have had no new shows listed on their website since 2012, Lloyd has still been busy, booking guest roles on shows like Medium, Cougar Town, The Middle, Bones, Modern Family, Shameless, Marry Me, Dr. Ken, and The Pet Squad Files. He's also found himself in the Butties, a Beatles cover band for which he plays bass and sings. (Fun fact: Lloyd is right-handed, but learned how to play bass left-handed because that's how Paul McCartney played.) Rock on.
Christa Miller (Jordan)
Getty Images
Christa Miller's Jordan was married (and then not married, and then married again) to John C. McGinley's Dr. Cox on Scrubs, but in real life, Miller finds herself in a much happier relationship— with Scrubs creator Bill Lawrence. The pair married in 1999 and have three children.
Miller frequently appears in Lawrence's work, and after Scrubs, she joined his next series, ABC and later TBS' Cougar Town, as a series regular and the music supervisor. (She also served as the music supervisor for some episodes of Scrubs.) She also appeared on his NBC sitcom Undateable as a guest star. Miller can next be seen in the home invasion thriller Breaking In, opposite Gabrielle Union.
Robert Maschio (Todd)
Robert Maschio was a scene stealer as the not-so-smart surgeon Todd on Scrubs, but since the show went off the air, he's stuck mostly to small roles as he builds his life offscreen. Maschio seems to be a fairly different from his character in real life, graduating from Columbia University before relocating to Los Angeles to become an actor. Nowadays, he uses that degree for his career as a real estate agent in Santa Monica.
Maschio hasn't stayed completely off camera, though, booking guest starring roles on shows like Cougar Town, Men at Work, Undateable, and Bones. He also frequently uses his social media to post callbacks to his time on Scrubs, so massive high five for that.
Eliza Coupe (Denise)
Getty Images
Eliza Coupe joined Scrubs in its later seasons as Sacred Heart's acerbic new doctor Denise, and the actress has been killing it in Hollywood ever since. Shortly after the series ended, Coupe booked a role in the Anna Faris comedy What's Your Number? and later landed a lead part on the ABC sitcom Happy Endings.
While Happy Endings unfortunately went off the air after three seasons, Coupe bounced back quickly, booking small parts in Anchorman 2: The Legend Continues, The Millers, and House of Lies before signing on to lead her own series in the USA legal comedy Benched. While the show didn't make it past the first season, Coupe was able to book roles in Superstore, The Mindy Project, Quantico, and Casual. She also has a role in James Franco's star-studded Tommy Wiseau biopic The Disaster Artist, in addition to a leading part on the upcoming Hulu sci-fi series Future Man, which is executive produced by Seth Rogen.
Kerry Bishe (Lucy)
Getty Images
Kerry Bishé gave her best at trying to replace J.D. as the lead of Scrubs, and, although for many fans it wasn't enough, she was still impressive in her role as Lucy on the show's ninth season. The talented actress has continued to build a successful career since her time on the show ended, signing on shortly after to join Ben Affleck in the Oscar-winning film Argo.
She's since appeared in a few other films, including Max Rose, Grand Piano, and The Ticket, and booked a lead role in the critically acclaimed AMC series Halt and Catch Fire. She's next set to appear in season three of Netflix's drama Narcos.