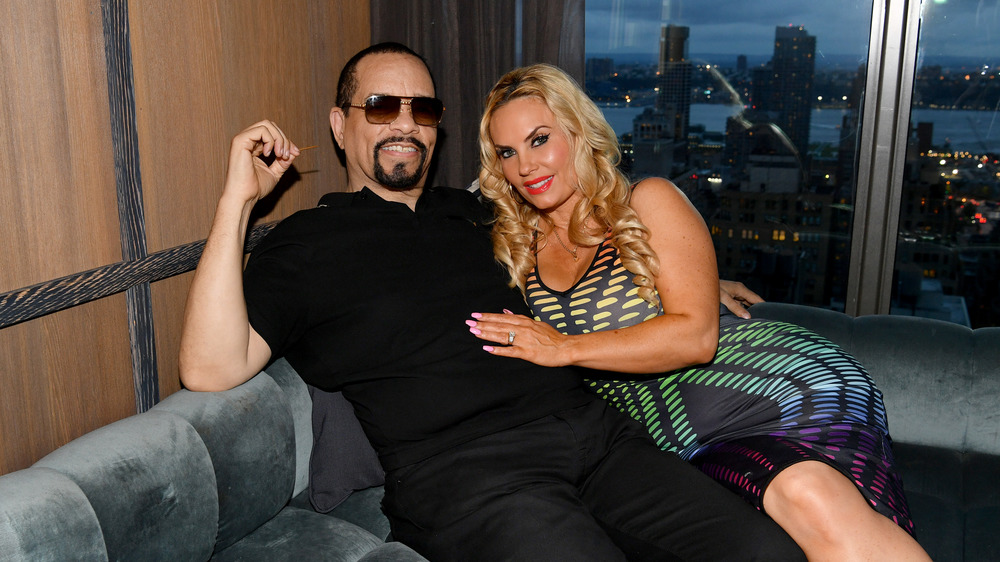 Hollywood has certainly had its share of lovably offbeat couples, but certainly among its most successful has been Ice-T and Coco Austin. The rapper, whose real name is Tracy Marrow, and the model named Nicole Natalie Austin got married in 2005 after meeting on a video set earlier that year (via the New York Daily News). And even though they're over 20 years apart in age, they still seem oddly perfect together every time we see them on TV.
Much of that perception came from the three seasons in which they co-starred on "Ice Loves Coco," an E! network original that ran from 2011 to 2013. It gave us an inside look at this unusual pair, and why they've succeeded when so many celebrity couples have failed.
However, the cameras only told us so much. So what is it, really, that makes Ice-T and Coco such an enviable couple? And what might we learn from them that could help in our own relationships? Here's a look at their story, and the secrets to their success.
Ice-T and Coco Austin met on the set of a music video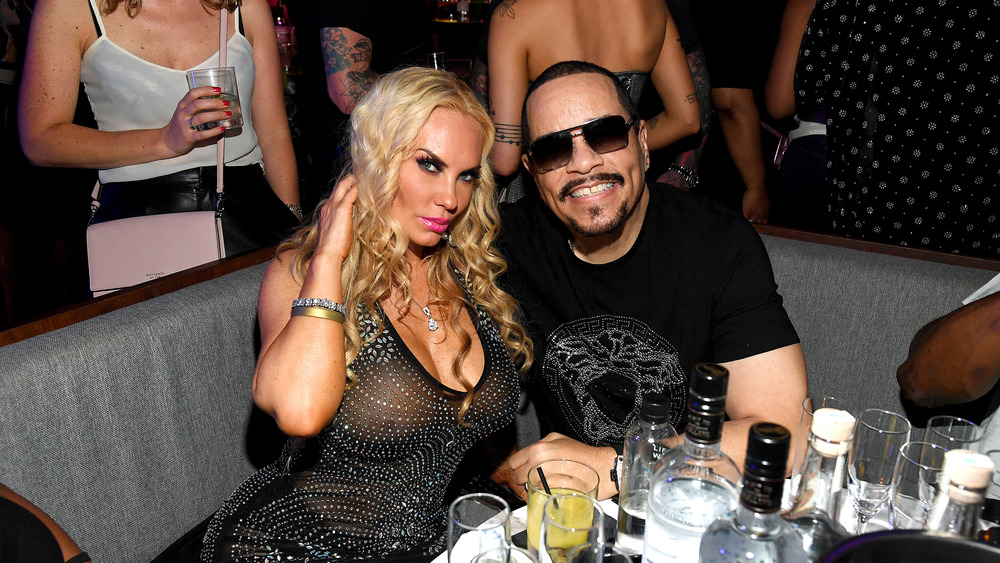 Lest we ever accuse Ice-T of being completely shallow, he admitted in an interview with Daily Mail that the first thing he noticed when he met his future wife, Coco Austin, wasn't her most obvious body part. He said it was her teeth. "And then I saw her boobs," he added. "And then when she turned around, that big butt." Ah, yes, that's the Ice-T we know.
The meeting happened on the set of a music video being filmed by one of Ice-T's friends, and as he recounted to Howard Stern, he'd been feeling grumpy that day. So his friends sent Coco over to try and cheer him up; the two struck up a conversation, and Ice-T asked Coco if she'd ever considered dating a gangster rapper. "If he's nice," she responded. To which the hip hop wordsmith replied, "Well, baby, you take the 'n' off 'nice' and you get 'Ice.'"
Interestingly, meeting on set runs in Coco's family. According to a HuffPost story, her parents also met while filming, this time on the set of the TV western Bonanza.
They got married in secret on New Year's Eve
Most fans of Ice-T and Coco Austin know that the couple has been together a long time — over 20 years, in fact. But when and where did they actually get married?
Well, it all happened quickly. A few months after the two met on the set of a music video in 2001, they were getting married in Las Vegas on New Year's Eve. Coco wrote on her blog, "We got married pretty fast. He became my best friend and this instantly was someone I didn't want to live without. We just knew we wanted to be together, we were like yin and yang, like peanut butter and jelly" (via People). As far as the wedding goes, the couple decided to keep things very low-key. "We didn't tell no body [sic], no family, no friends, we just kept it between us, we didn't want to hurt anyone's feelings so we just kept it to ourselves," Coco wrote. "I will never forget looking at him face to face just me and him no one else in the room but a priest and a pianist. He got choked up while he spoke which made me get choked up."
The fact that these two high-profile stars opted for a private Vegas wedding just makes their love story that much sweeter. And according to Coco, their little wedding was "the most romantic, beautiful moment ever."
Ice-T and Coco Austin's home life is surprisingly low drama
Homes that host reality television shows are supposed to be filled with drama, even when the cameras aren't rolling. For example, a quick look at the off-screen exploits of the Gypsy Sisters or a cursory glance at any headline including the word "Kardashian" is plenty proof of that. But surprisingly, the folks we welcomed into our living rooms as part of "Ice Loves Coco" really don't provide many sparks during their daily lives. "They thought I'd be burying bodies in the back garden and Coco would be off stripping at birthday parties," Ice-T told the Daily Mail. "But we're a normal couple with a normal relationship."
Their daily lives were so mundane, actually, Ice-T thought they wouldn't make for good television. The Daily Mail quotes Ice-T as saying because the couple didn't fight and never produced much drama that the show would be boring. But it took off, and three seasons later they both added "reality TV star" to their already-impressive resumes.
Ice-T was inspired to marry Coco Austin by a very unusual person
As a young playa bred in South Central, Ice-T didn't immediately seem like the "settle down and make a TV show" type. But when the man who literally had a hit song called "Sex" reached his early 40s, he was apparently ready to settle. "I was in a point in my life when I was ready to slow down," he told the Daily Mail. "I wanted a partner."
And though Coco Austin's kind demeanor and bubbly personality certainly helped the couple's cause, it was none other than the Prince of Darkness who truly inspired Ice-T to tie the knot. "I was studying Sharon Osbourne at the time," he told Howard Stern, wondering, "Would Ozzy have a house if it wasn't for Sharon?"
Two months later, Ice-T and Coco were married, but the Osbournes' inspiration didn't stop there. As Ice-T and Coco revealed to People, they likened themselves after Sharon and Ozzy Osborne. "I model myself after [Sharon]," Coco said. "You know she has a crazy husband that's totally off the wall, and she just sticks by him no matter what — that's me too."
Ice-T made Coco Austin more comfortable with her body
Though Coco Austin has become known for her … gifted backside, she wasn't always comfortable being so well-endowed. In an interview with the Daily Mail, she revealed that her grandmother put her in girdles as early as 9 years old, and her family used to call her "The Crystal Ball" as they claimed they could see the future in her behind. It continued into Coco's career in the modeling world, where directors constantly told her she needed to lose weight, even driving her to a brief bout with bulimia. She also got breast implants at 18, in an effort to even out her curves.
This changed when she met Ice-T, however, who made her feel more comfortable with her body. "My husband really turned it around," she told the publication. "He said: 'You have a uniqueness to you, why change it?'"
For his part, Ice-T says he told Coco that the relative fashion of women's bodies went in phases, citing the Victorian era when women would wear bustles to emphasize their backsides. "At some point some man said that the skinny shape was in … But Coco didn't need to change anything," he said.
Ice-T 'understands' his wife draws attention
Coco Austin is known for a few things: her career in the entertainment industry, and her figure. It's no surprise that someone as voluptuous as Austin would receive a good amount of attention, but what is surprising is how her husband, Ice-T, handles it. Instead of getting angry or possessive, as some people do when others stare at their partner, Ice-T takes the high road and laughs things off.
On Instagram, Ice-T posted a clip of the 2023 Grammys showing him and Coco at the ceremony. A man nearby looks at Ice-T, then gives Coco a long look — but instead of getting upset or calling the guy out, Ice-T captioned the video: "LOL … I love how the white dude looked at me then took time to check Coco out … I totally understand." It's likely Ice-T has gotten used to his wife getting stares. In any case, we're all for his sense of humor about the situation.
Ice-T and Coco Austin rarely spend time apart
Dimitrios Kambouris/Getty Images
Fun fact: Jennifer Lopez initially turned down "Hustlers" so she could spend more time with her man, A-Rod, and her kids (via Variety). Almost along the same lines, Coco Austin turned down a movie role to spend more time with a hustler, albeit of the New Jack variety. As we saw in an episode of "Ice Loves Coco," the voluptuous model declined a film role because it would have taken her away from the former Body Count frontman for too long (via HuffPost). That may seem odd if you're used to hearing about celebrity couples who cite time apart as the secret to their success. But it's not the least bit strange if you know much about Ice-T and Coco.
In a 2012 interview with the Daily Mail, Ice-T and Coco said they'd never been apart for more than a day, and the same story repeated in an episode of "Ice Loves Coco" during which she leaves for Arizona. The publication noted Ice-T looked particularly "forlorn," which might explain why taking a long-term film job wasn't such an obvious choice for her.
Ice-T and Coco Austin hosted a brief, bizarre daytime talk show
"Ice Loves Coco" wasn't the only TV show Ice-T and Coco Austin starred in. In 2015, the couple also starred in a talk show called "Ice & Coco," which the couple promised during a promotional interview with People would delve even further into their home lives while offering a free-wheeling, rock and roll addition to the typical daytime lineup.
Ice-T and Coco started the show off with a bang, announcing during their opening monologues that Coco was pregnant with their first child. And where, exactly, does an SVU star and his model wife go after starting with that kind of sensation? The Washington Post chronicled the debut in one of the greatest pieces of daytime TV criticism ever written, recounting how the hosts launched into "Wikipedia-like explanations of their lives" while their pet bulldogs ran around the set. That was followed by parenting advice from Snooki, an antique-pricing segment called "The Ice is Right," and a dog fashion show where Coco lamented the difficulty in dressing a bulldog.
While irreverent, the show didn't last long, airing only three episodes in August 2015.
Coco Austin convinced Ice-T to do Ice Loves Coco
If you've been married, or even in a relationship, you know it's not at all uncommon for one spouse to convince the other to try something new. Now, typically that "something new" doesn't involve inviting a camera crew into your house and broadcasting it to millions of people, but if it did, you might be well-served to listen to the voice of change. This, at least, was the case for Ice-T, who initially was hesitant to produce "Ice Loves Coco." "I've been offered this kind of [reality] show for a few years and I didn't really want to do it," Ice-T told the Daily Mail, "because I didn't want to ruin our relationship."
But Coco saw it differently. "I was getting sick of hearing the negative stuff about me," she explained. "I wanted them to see the other side — my family side, my wifey side." Coco ultimately talked Ice-T into filming a pilot for the show, and lo and behold Ice-T was into it. As he told People, "As long as we don't have to be mean and do dumb stuff, we'll do it!"
Ice-T and Coco Austin have one daughter together
Michael Loccisano/Getty Images
Bartenders take note: If you're thinking of a reality-TV inspired drink that mixes iced tea and cocoa, we've already got your name — Chanel. It'll be a pretty clever pop culture reference since that is, in fact, the name of Ice-T and Coco Austin's daughter, who was born November 28, 2015 (via Life & Style). The couple not only announced Coco's pregnancy during the premiere of their short-lived talk show, they also haven't been shy about having her in the public eye.
Additionally, in March 2020, Coco posted a picture of the almost 4-year-old Chanel breastfeeding on Instagram, promising to share the story of "what it's like to continue book time with a 4-year-old." While it's certainly a highly personal decision to nurse at that age, that didn't stop a deluge of comments and criticisms from flooding the internet, according to TMZ.
Of course, Ice-T and Coco are also incredibly doting parents, as Coco admitted to Entertainment Tonight that she enjoys dressing Chanel up in matching outfits. Ice-T told the same outlet that Chanel "has complete control over me, I can't lie."
Ice-T and Coco don't plan on having more kids
Coco Austin wasn't interested in having kids — that is, until she turned 35. "Coco didn't really want to have babies and then when she hit 35, she got the bug," Ice-T told Us Weekly. "She's like 'I gotta do it.' And so we had the baby."
But the couple didn't rush into parenthood; in fact, they were married about 14 years before Coco got pregnant. Ice-T already had two grown children from previous relationships, the oldest of which was born when Ice-T was in high school. Because of the timing, Ice-T wasn't as focused on fatherhood as he could have been. "When I had my first kid I was in the middle of the wildness of becoming Ice-T, all the people that were after me, and I had my head down," he told People. "I really wasn't concentrating on them, I was concentrating on survival."
But when Chanel was born in 2015, both Coco and Ice-T were ready for the adventure. "I'm 100% all in," Coco told People. "I think motherhood was always my calling. I wish I had let it happen earlier, but this is perfect. I'm dedicating my whole life to molding this little nugget into a fabulous person." And while they're both enjoying parenthood, they've decided they will not be having any more children. "We're one and done," Ice-T told Us Weekly.
Their secret to Ice-T and Coco Austin's marriage: great communication
Rob Kim/Getty Images
It shouldn't come as a surprise that a guy who made his mark writing rap lyrics and a model who carried a reality TV show would value communication. But as with so many couples, it's also very much the secret to their success. Ice-T and Coco Austin have been married since 2005 (via the New York Daily News) and weathered TV stardom, parenthood and, other pitfalls. But, as the couple revealed to Celebuzz, it all comes down to being on the same team. "We have great communication and I think that you gotta stay on the same team," Ice-T shared when asked the couple's secret. "A lot of time … both people have careers and they kind of create two teams that potentially work against each other, you gotta stay on the same team."
Ice-T went on to say that breaking up was "not part of the plan," and detailed that he and Coco don't fight or raise their voices at each other. It's important, he said, to show people that conflict can be dealt with in a functional way, as opposed to the usual reality TV dysfunction.
Ice-T and Coco Austin also have a great life in the bedroom
Similarly, no one should be surprised that a man who once started a song with "Sex in the morning, sex at night, sex in the afternoon's all right," would have a high sex drive. Nor should it shock anyone he'd find it satiated by a full-figured yet smart and savvy model, who may have "flung around on a stripper pole a while back," as Ice-T told Celebuzz. But how, exactly, do they do it?
During an appearance on "What Watch Happens Live," Ice-T and Coco told Andy Cohen she's totally submissive to the "Law & Order: SVU" star. "I think all women should do it," she said to the Bravo! host. "I'm a slave to him."
Ice-T also dished on the couple's intimate life during an interview with Howard Stern, crediting much of their longevity to "jungle sex." It's a term, he said, he learned from a frisky elderly couple he saw on TV, meaning "taking it a little bit further, just having a little fun with the buildup."
Coco Austin is obsessively clean, and when she gets mad, she cleans
We all have that family member who every time you go over to their house, they can't relax if one glass is sitting off a coaster, and won't even say hello until your coat is placed on the correct hanger. Coco Austin, apparently, falls into the same category of obsessively clean, as Ice-T revealed during an appearance on "Watch What Happens Live." "Coco is also OCD," he told host Andy Cohen. "So when she gets mad, she cleans."
We can only guess, then, that Coco must have been in a delightful mood on this particular afternoon in 2017. Because instead of furiously cleaning … whatever it was from a sidewalk in front of her and her daughter, she had a man with a portable vacuum cleaner sucking it up on the street in front of her. We're not sure if it was a publicity stunt, or some real, live, next-level "OCD" ish, but either way it certainly made plenty of people stop and capture whatever the heck it was that was going on.
Ice-T and Coco Austin threw a star-studded vow renewal in 2011
Tommaso Boddi/Getty Images
Ice-T and Coco Austin were married only a few months after first meeting on a music video set, according to the Daily Mail. But that, of course, was long before they were a full-fledged A-List couple. So in 2011, a more-befitting, star-studded vow renewal was in order, held at the swanky W hotel in Hollywood. The roster of guests included, according to the New York Daily News, Snoop Dogg, Flava Flav, and Tila Tequila — who was still famous at the time.
Snoop gave a touching speech, expressing his emotional sentiments in an impromptu freestyle, saying, "I'm so happy you're doing your thing in a big way, especially in the city of L.A." (via Us Magazine). Ice-T's son also took the mic, telling his step-mother he loved her and bringing her to tears. No report on whether his speech rhymed.
The vow renewal ceremony was filmed as part filming for "Ice Loves Coco," but we can deduce from Ice-T's comments it was done for love as much as TV. "The curtain drops, the crowd gives us great applause and we were feeling the love right there," he gushed.
Coco Austin and Ice-T don't coordinate costumes for Halloween
You know how people who regularly stay out until 5 a.m. on a Tuesday often take New Year's Eve as a chance to stay home and chill? That's kinda how Coco Austin and Ice-T look at Halloween, as the couple known for their outlandish matching outfits leave the cute couples costumes to the amateurs on October 31. "This is the one holiday we don't really like coordinating because we do it year-round," Coco told InTouch. "And everybody else, couple wise, try to coordinate on this particular holiday."
Make no mistake, Coco clarified that they both still dress up, they just don't talk about it ahead of time and have heavily coordinated outfits. She was also clear to denote the difference between matching and coordinating, in case you were wondering. "Matching is like you're on point with every single color, coordination is still in the vibe of each other without having to be too matchy match," she added.
Ice-T stands up for his wife Coco Austin every time
Perhaps nothing is more important in a relationship than the knowledge that your partner has your back. And in Coco Austin's case, she's well aware that Ice-T will always be her first supporter, as he's publicly stood up for her time and again. When Coco showed off her new braided hairstyle on Instagram, many people took offense. BET accused her of culturally appropriating a Black hairstyle, citing one commenter who called the look "Lemonade braids" after Beyoncé's similar do. But Ice-T was quick to stand up for his wife, responding on Twitter, "Wrong for what? Braiding her hair? You sound dumb."
The "Cop Killer" singer-turned-TV-cop also defended his wife when some on Instagram took issue with her breastfeeding Chanel when the child was nearly 4 years old. After the story broke, Ice-T was asked by reporters outside the Paley Center in New York for his thoughts on the suckling scandal. His response, as captured by TMZ, was vintage Ice-T, explaining that Chanel only breastfed when she wanted to feel close to her mom, and telling the crowd, "My baby eats f***ing cheeseburgers."
Coco has appeared on Ice-T's show, Law & Order: SVU
In 2000, Ice-T made his first appearance on "Law & Order: SVU," and since then, he's turned into one of the longest-running actors on the show. After almost 24 years acting, Ice-T feels pretty confident in his abilities. "To be on a show this long is like having gone to Harvard and grad school and getting my Ph.D, because every day I'm acting," he told Variety.
While most people know that Ice-T is a "Law & Order" vet, fewer know that his wife, Coco Austin, has also made a few appearances on the popular show. Coco first appeared on "Law & Order" in 2004. In one cameo appearance in 2012, in the "Theatre Tricks" episode, Coco's character plays Venus, the goddess of love, and was apparently given a somewhat shocking costume.
"I was actually surprised when the wardrobe people called me up and said, 'You need to come in for a fitting,'" Coco said to the Huffington Post. "I thought I was going to be in a rather cutesy outfit, but very regal and classy. When I walked in and on the hanger was this little bikini-style outfit that looked kind of like booty shorts, I was like, 'Wait, hold up! NBC is okay with this?'" Apparently so! Though Coco had a relatively small part in the show, she still was able to show off her acting chops alongside her husband.
Both Ice-T and Coco share an immense love for their daughter, Chanel
lev radin/Shutterstock
Though people on social media have had a lot to say about Ice-T and Coco's parenting skills, it's clear that the two love their daughter. In fact, having Chanel later in life renewed Ice-T's lease on life, and he was inspired to get healthy once his daughter was born.
"When my daughter was born," Ice-T told Distractify, "the first thing that came to my mind when Coco had the baby was, 'You cannot die.' I mean, if you don't think about yourself, think about the people that love you." Ice-T went on to explain that his recent partnership with Cheerios was one of the steps he took to get healthier, as the brand tends to focus on heart health. He also urges everyone to take their health seriously and see a doctor if anything comes up. "Take care of yourself before it's too late," he said.
As for Coco, she has spoken out against people who criticize her parenting abilities and said she is certain she's a good mom. She's also noted that Chanel is her number-one priority in life. "I've dedicated the last six years, putting everything aside, my career, everything, just for her," she said on "The Tamron Hall Show" (via YouTube).