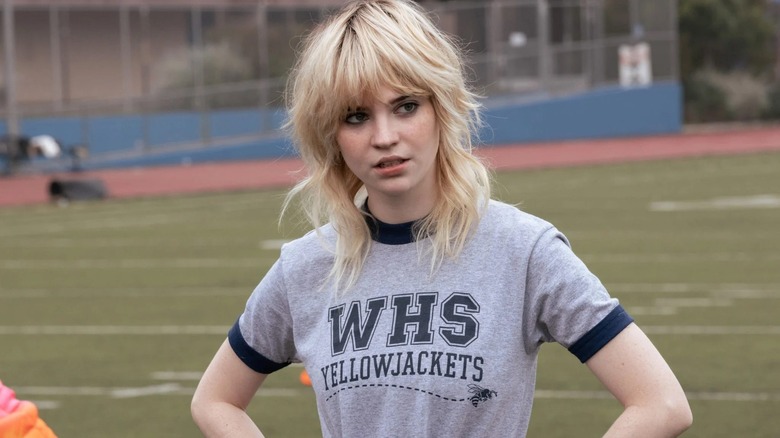 In November of 2021, a new show premiered on Showtime and took the world by storm. "Yellowjackets" follows a group of high school soccer players whose plane crashes in the middle of the woods in 1996. The show oscillates between two timelines -– one follows the weeks leading up to and the events immediately after the crash, while the other details the survivors' lives in 2021. The surviving team members are suspiciously quiet about what went on during the 19 months they spent stranded in the forest, and it's clear the trauma of their time there has taken a toll.
"Yellowjackets" has received rave reviews from critics and was certified 100% fresh on Rotten Tomatoes, with Brian Tallerico of RogerEbert.com calling it "one of the best ensembles of the season." With shocking twists and turns and plenty of mysteries still to be answered, it's no surprise the series became a breakout hit.
However, even though there's a lot we don't know about the Yellowjackets themselves -– and it's undoubtedly better that way –- there are still some things about the show's production that we'd like to learn more about. Questions like "who thought up this show to begin with?" and "how is the casting so perfect?" come to mind. Without answering any of your questions about what happened out there in the woods, we've taken a deep dive into the behind-the-scenes secrets of the production. Read on to find out everything you need to know about "Yellowjackets."
One director on the series has major horror cred
Arguably, the pilot is the most crucial episode of a TV show, and for "Yellowjackets" it's no different. Luckily, the producers of the series found the perfect person to helm the first episode. The pilot of "Yellowjackets" was directed by filmmaker Karyn Kusama, who also serves as an executive producer on "Yellowjackets." Kusama is most well-known for directing the 2009 horror film "Jennifer's Body," which, though initially panned upon its release, has since become a cult classic. Kusama has also directed several episodes of the series "Halt and Catch Fire."
The most horrific element of "Yellowjackets" is something Kusama is cinematically very familiar with. Speaking to The Ringer, Kusama has commented on the fact that both "Yellowjackets" and "Jennifer's Body" feature teen girls engaging in cannibalism. "You know what? I think what appeals to me more is the expression of hunger, and the ways that women are starved and [have] starved themselves. I mean that in a literal way and a metaphorical way." As an executive producer, Kusama was also involved in other processes of production, such as casting and writing, adding her own unique perspective to the mix.
The casting adds another layer to the story
Though it wasn't necessarily intentional, the casting of the older versions of the surviving Yellowjackets adds another layer to the already rich characterizations. Many of the current-day versions of the characters got their start as teenaged actresses in the 1990s, a happy coincidence that encourages fans to view them through a particular lens. Christina Ricci, who plays Misty, got her start in films like "Mermaids" and "The Addams Family." Juliette Lewis, who plays Natalie, was first seen in films like "Cape Fear" and "Natural Born Killers." Finally, New Zealand native Melanie Lynskey first appeared in Peter Jackson's "Heavenly Creatures."
In this way, the casting of the grown-up characters is kind of like the casting of the parents in "Riverdale," all of whom Glamour points out were famous as teens in the 1980s and 1990s. "I think they were really smart to tap into that '90s zeitgeist with all of us," Lewis told The New York Times. For her part, Ricci thinks her and her castmates' experiences in the '90s bonds them together as actors. "If you want to see fame as traumatic — I think it is — then perhaps you could say that we are all bonded by the trauma of having been very young and very famous."
Regardless of how intentional this casting was, it certainly adds more meaning to an already complex and rather profound show.
The creators of the show are a married couple
Sometimes the best creative partners also make the best life partners. This is definitely true for the creators of "Yellowjackets," who also happen to be a married couple, as noted by NPR. Co-creators Ashley Lyle and Bart Nickerson had worked on several successful shows before — "Narcos" and "The Originals," for example — but "Yellowjackets" was the first show they had created themselves. To help them along as first-time showrunners, they brought on Jonathan Lisco, who was suggested by executive producer and director Karyn Kusama, to be a co-showrunner.
If you're surprised to hear that Lyle and Nickerson are married in real life, you're not alone. Apparently, this fact also came as a surprise to some of the cast, who didn't know their relationship status until partway through filming the first season. As Lyle told Entertainment Weekly, during the shooting of Episode 3 she was having a conversation with Christina Ricci who asked if her husband would be coming to visit her now that COVID-19 restrictions were being lifted. Lyle responded that Nickerson was her husband, and Ricci was shocked. That's one more mystery that doesn't need solving.
The music wasn't an afterthought
The music on "Yellowjackets" is critical, especially since about half the series takes place in another decade. Most of the music on the series is from the 1990s, which was obviously an intentional move on the part of creators. Speaking to ScriptMag, Lyle and Nickerson revealed that they often write while listening to playlists they have curated to help set the mood.
For "Yellowjackets," several songs were "scripted in," which means they were written into the script from the start. This can be dangerous because securing the rights to songs is tricky and can be quite expensive, but Lyle and Nickerson felt strongly about their creative direction in this case. Some of the artists they scripted in were musicians like PJ Harvey and Liz Phair. Surprisingly (considering the subject matter), most of the artists they asked said yes, as revealed in an interview with The Hollywood Reporter.
Juliette Lewis, who is a musician and toured with her band "Juliette and the Licks" for many years, told Vulture that "every music cue is on point," which really adds to the setting and the tone of the series. Music is also very important to Lewis' character Natalie and was something Lewis and her younger counterpart, Sophie Thatcher, used to connect to the character.
Yellowjackets was inspired by skepticism about an all-female Lord of the Flies
Though "Yellowjackets" has often been compared to William Golding's "Lord of the Flies" and other survivalist stories, the show was actually inspired by a previous project that took on Golding's novel. Several years ago, co-creator Ashley Lyle read an article in the trade press about a proposed all-female reboot of "Lord of the Flies." The responses to the project were rather derisive, with commenters saying things like, "What are they going to do? Collaborate to death?"
Lyle took offense to the assumptions that girls were somehow less prone to brutality or violence because of some base feminine instinct. Responding to this commenter in her head, Lyle thought, "you were never a teenage girl, sir." She recalled one occurrence from her high school years, where one of her peers poisoned another girl's food "just for fun." Thus, the twisted world of "Yellowjackets" was born.
The show's creators know how they want the series to end
Before settling with Showtime, who seemed like the best fit for the direction they wanted the series to go in, creators Ashley Lyle and Bart Nickerson pitched "Yellowjackets" to several other studios. In their pitch for the series –- which was described by some of their colleagues as very "thorough" –- Lyle and Nickerson outlined their plans for the entire series, including how the series finale itself would unfold. Speaking to The Hollywood Reporter, Lyle and Nickerson described how they laid out the entire premise of the Season 1 finale in the pitch, which they say was filmed exactly how they described it in those initial pitch meetings.
"Yellowjackets" was pitched as a five-season idea, and Lyle and Nickerson say they know exactly how they want it to end, something they shared with studio heads in these meetings. For a show with as many twists and turns and mysteries to solve as "Yellowjackets," it makes sense that there's an endpoint in sight. Now it's just up to Showtime to allow these plans to become a reality.
The show was originally going to be set in the '70s and the '90s
Though the dual 1996 and 2021 setting of "Yellowjackets" seems like an obvious choice now, this wasn't always the case. Speaking to The Hollywood Reporter, co-creators Ashley Lyle and Bart Nickerson revealed their initial idea for the series. Lyle confessed that they originally had the idea to set the series in the 1970s and the 1990s instead. Initially, according to Lyle, they wanted the series to have a "dazed and confused quality to it."
However, when they signed on to produce the series, Showtime had other ideas, and convinced Lyle and Nickerson to change the time period to the 1990s and the present day. "That is a much smarter version of this," Lyle now concedes. The more contemporary time period also makes the most sense because Lyle and Nickerson grew up in the 1990s and are about the same age as the characters in the present day, so there are some experiences that they share.
Plus, as executives at Showtime argued, it's way harder to produce a show set in two different historical time periods than it is with only one. As most would probably agree, the people at Showtime clearly made the right call.
Many of the cast members don't know where the show is going
"Yellowjackets" is a mysterious and confounding show for viewers, but as it turns out, it's just as cryptic to some of the cast members. As Samantha Hanratty, who plays the teenaged Misty, explained to Hollywood Life, a lot of the cast were kept in the dark about the more mysterious elements of the show. For example, in the pilot episode, one of the girls falls to her death in a trap and is then presumably eaten by the other survivors. The audience doesn't know who this person is, and, as Hanratty tells it, neither does she.
Tawny Cypress, who plays the adult Taissa, told Vulture that she was similarly in the dark about what happens to the characters when she started filming the series. It wasn't until she spent time with hair and makeup each morning that she started learning key plot points that would happen to her character, many of which took her by surprise.
Apparently, Melanie Lynskey is the only cast member who knows the truth. In the same interview with Vulture, Lynskey revealed that she "grilled" the creators about what would happen got them to tell her their plan for the end of Season 5. According to Lynskey, she got them to reveal this information because she's "paranoid and anxious" and needed to know they had a plan before she signed on. The rest of the cast, however, was kept in the dark about where the series is headed.
Melanie Lynskey was the first to be cast
Casting is a hugely important part of production for any series, and for "Yellowjackets," this was no different. As co-creator Ashely Lyle revealed in an interview with The Hollywood Reporter, Melanie Lynskey was the first actor to be cast, and they knew from that point on that the series was on track because of how talented Lynskey is as an actress.
In general –- such as with Lynskey -– the creators tried to cast the adult versions of the characters before they found their younger counterparts, but the one exception was the character of Natalie. Unlike most of the actors, who auditioned in person, Sophie Thatcher sent in a self-tape that Lyle and Nickerson were so blown away by that they knew they had to cast her on the spot. This meant that Thatcher was actually cast before Juliette Lewis came on board as her grown-up counterpart.
Sophie Nélisse, who plays teenage Shauna (Lynskey's character), came on board after Lynskey was cast and had to undergo a bit of transformation to prepare for the part, as noted by Vulture. Nélisse is normally blonde and blue-eyed, and as such had to dye her hair brown and wear brown contacts to become Shauna. The casting was clearly a success, as Nélisse and Lynskey look eerily similar in the show, even as their real-life differences are apparent off-screen.
The show premiering on a weekly basis was important to the creators
While those of us born before the millennium remember a time when this was not the case, binge-watching is the name of the game in television right now. With all of the streaming services currently available, whole seasons of shows often premiere all at once, instead of on a weekly basis. "Yellowjackets," however, does use the weekly release model, and with great success.
Per Phillip Maciak in Slate, this weekly model is perfect for "Yellowjackets," as the thrill of seeing what comes next and trying to unravel the show's many mysteries is a big part of its appeal. As co-creator Bart Nickerson told The Hollywood Reporter, they wanted each episode to have "a beginning, a middle, and an end" and be its own contained story while also filling in the larger picture of the show. "It's not just a ten-hour movie to us," Nickerson explained.
The way Lyle and Nickerson describe it, each episode kind of poses a new question while still moving closer to answering some of the show's larger mysteries. Lyle and Nickerson both came up writing in network television on series like The CW's "The Originals," so they are familiar with the weekly format and working with cliffhangers, commercial breaks, and the like. As a part of their writing strategy, they broke up each episode into a four-act structure to tie all of the (seemingly) disparate threads together — a structure that could have been lost had fans been able to binge the entire season at once.
The actors collaborated on how to play the older and younger versions of their characters
Many of the actors on "Yellowjackets" had the interesting challenge of playing one version of a character and making sure it aligns with another portrayal of that character at a different age. To do this accurately, many of the actors convened with their counterparts to discuss how they saw their characters.
Jasmin Savoy Brown, who plays teenage Taissa, told Vulture that she would often call her modern-day counterpart, Tawny Cypress, while on set to ask her specific questions, like "do we say 'ee-ther' or 'eye-ther'?" for example. Samantha Hanratty and Christina Ricci, who both play Misty, found that they naturally embodied Misty's mannerisms –- such as the way she pushes her glasses up her nose –- in the exact same way without even discussing it with one another.
For Sophie Thatcher and Juliette Lewis, who both play Natalie, music was a huge part of the way they connected, as they discovered music is very important to both actors as well as the character. Speaking with Vulture, Thatcher noted that PJ Harvey was "a really big influence for Juliette," so Lewis –- a musician herself –- sent her some demos to dig even deeper into the music.
The plane crash scene was 'genuinely scary' to film
Frankly, there are a number of terrifying elements in "Yellowjackets" — from literal cannibalism to subtle supernatural undertones -– but the initial plane crash itself is pretty scary, too. As it turns out, filming the plane crash scene also took some guts on the part of the actors. As Ella Purnell, who plays Jackie, told Vulture, it was "genuinely scary" to film the scene because they were in a plane attached to a rig that would shake them back and forth, and they were always at an uneven angle.
The set for the plane crash itself was made from a real plane that had been cut in half, with sparks flying, luggage exploding — the works. Jasmin Savoy Brown explained to Vulture that they shot the crash scene over two days, and it involved a lot of crying and screaming for long periods, which was quite exhausting. "It was very immersive. It wasn't acting," Sophie Thatcher said. Sophie Nélisse, however, said she wasn't scared at all and that the plane "was kind of like a roller coaster." For those on the audience side of things, the crash looked pretty gnarly on screen, so we're glad no one got too traumatized during filming.
Yellowjackets was inspired by a tragic true story
A plane full of young athletes crashes on a remote mountain, and they can only survive if they eat their dead. While this might sound like someone explaining the plot of "Yellowjackets," this story is all too real — it describes the harrowing true events endured by survivors of Uruguayan Air Force Flight 571, which crashed in the Andes in 1972. Authorities looked for the wreckage, but the white plane was almost impossible to see in the snow. The official search party was called off after eight days, and the survivors spent around 70 days in the mountains with nothing but their street clothes and what remained of the plane's fuselage for protection.
The plight of the young rugby team inspired "Yellowjackets" co-creator Ashley Lyle, in part because the movie adaptation of the 1974 book "Alive" came out in 1993. Lyle, a '90s teen, couldn't resist the story. She told NPR that she and her fellow eighth-graders got their teacher to let them watch the movie in class after successfully arguing that it would be an educational experience. They watched the film in 15-minute increments over several days.
The survivors were discovered after spring came and the weather allowed for two of the group to hike across the mountains. It took them 10 days to reach civilization. There was initial outrage that the survivors had committed the taboo of cannibalism, and this stuck with Lyle. "Obviously, if you kill your friend, the moral problem there is very clear," she told NPR. "[But] why, in a survival situation … they've already expired, why we're so sort of avoidant of that — why it is such a taboo. Why is this such a line that is not to be crossed?"
What are the actors actually eating?
While it's not yet certain when the girls of "Yellowjackets" start eating their dead, the first episode seems to make it clear that it's really only a matter of time. It's not even clear who gets eaten first — all we know is that the girls who survive the '96 timeline aren't on the menu. Another big question that you might have asked yourself is what did the actors actually nibble on when filming these scenes?
Co-creator Ashley Lyle told the Television Critics Association (via The Wrap) that the actors ate either venison or Beyond Meat, depending on their dietary restrictions. Lyle also acknowledged that while the scenes that tease the girls' cannibalistic side makes viewers hungry for more, the girl-eat-girl gore isn't the point of the show. "We knew we didn't want this to be a show about what happened, but about why it happened," she said. "We wanted to strongly imply what happens so that the question is more 'How did they get from point A to point B?'"
Two Yellowjackets stars host a podcast together
While the relationship between '96 Van (Liv Hewson) and Taissa (Jasmin Savoy Brown) is complicated to say the least, their real-life dynamic seems a bit more low-key and stress-free. When they aren't riding the highs and lows of surviving romance and culty cannibals on the show, Hewson and Brown host and co-produce a podcast celebrating the LGBTQ+ experience.
"The Homo Schedule" is Netflix's first foray into LGBTQ+ podcasting. Created by lesbian actor Brown, who co-hosts with non-binary co-star Hewson, the podcast is "joyful, inquisitive, [and] welcoming," Brown told Tudum. "I think it's a real reflection of the LGBTQ+ community and I hope our listeners feel the same."
Hewson is happy to contribute to a sense of representation that they often missed growing up in Australia. "When I was younger it just wouldn't have occurred to me as a possibility," she told Advocate regarding non-binary representation on the screen. "The snatches of visibility and representation and things that I responded to that [I knew about], I clung to with all my life." Listeners have responded positively to the podcast, which has plenty of 5-star ratings on Pod Paradise.
One actor pitched a survivalist style choice
Jasmin Savoy Brown knows a bit about surviving on the screen. So far, she's managed to make it through "The Leftovers" and "Scream." So, when Brown had an idea for her character Taissa's hairstyle after her soccer team's crash in the wilderness, the "Yellowjackets" creative team listened. "I went, 'I need you to know. If I, Jasmin, was stranded in the woods, I would chop my hair off after a few weeks because it would just be in the way,'" Brown told The Hollywood Reporter.
Brown describes Taissa's haircut as a matter of practicality out in the wilderness, as well as an important shift in Taissa's post-crash identity. Taissa's hair is very important to her, and making the choice to cut it has bigger implications than even she might realize at first. "She doesn't know this, but it's also a matter of losing her identity," the actor added. "It's getting rid of excess, but it's also accepting that, 'Who I am is gone.'"
Elijah Wood already had links to two cast members when he joined for Season 2
The cast in both "Yellowjackets" timelines is impeccable. For Season 2, a new addition means a double reunion. Elijah Wood is cast as a citizen detective named Walter, who will share the screen with Christina Ricci's Misty in Season 2, promotional stills have revealed. He and Christina Ricci (Misty) were both child actors and they worked together as teenagers in Ang Lee's '70s-set drama "The Ice Storm." Elsewhere, Wood and Melanie Lynskey (Shauna) co-starred in Macon Blair's comedy thriller "I Don't Feel at Home in This World Anymore."
There are a few other ties between Wood and Lynskey, including some work on Cartoon Network's "Over the Garden Wall" and links to the person who (as they explained to Business Insider) introduced them: Peter Jackson. Wood famously starred in Jackson's "The Lord of the Rings" trilogy as Frodo Baggins, and Lynskey's debut film role was in fellow New Zealander Jackson's "Heavenly Creatures." The film is an exploration of a tragic true-life friendship between girls that leads to murder. Sounds familiar, doesn't it?