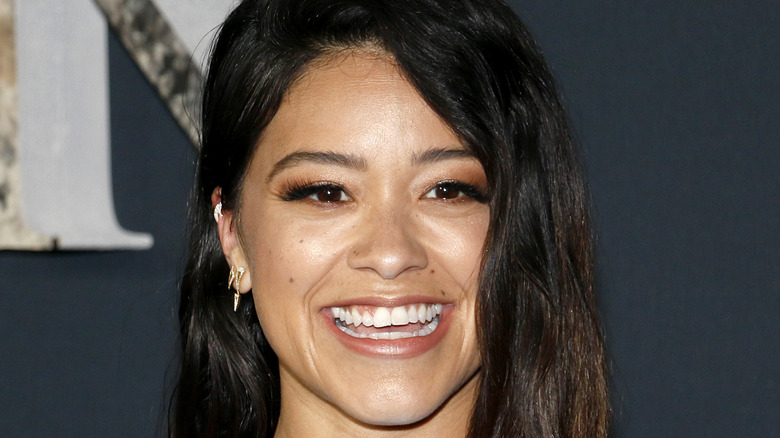 Gina Rodriguez shot to fame when she took on the role of sweet, neurotic Jane Villanueva on the acclaimed show "Jane the Virgin," beginning in 2014. The CW show lasted for five seasons, during which time Rodriguez won a Golden Globe and was nominated for two more (in addition to a number of other awards). While appearing on "Jane the Virgin," Rodriguez also took on a variety of movie roles, including the drama "Sticky Notes," the disaster flick "Deepwater Horizon," and the horror film "Annihilation." She frequently hit the press circuit hard, appearing on a slew of magazine covers, from Shape to Glamour to Marie Claire, and a whole bunch of talk shows. In just a handful of years, Rodriguez rose from obscurity to the A-list.
Around the time "Jane the Virgin" was wrapping up, Rodriguez starred in the action film "Miss Bala" and the Netflix romantic comedy "Someone Great," both of which further raised her profile. She also started voicing the titular character in Netflix's animated reboot, "Carmen Sandiego," and worked on a number of projects developed by her own production company. Rodriguez currently stars on "Not Dead Yet," an ABC comedy about a journalist who gets stuck writing obituaries and quickly realizes she can see the dead people she is tasked with writing about. Beyond her acting, Rodriguez is a producer, director, and advocate who leads a fascinating life. Here are 15 interesting facts about Gina Rodriguez — including why she has stepped back from the LA scene.
She ditched the LA scene – at least part-time
Given that the center of the entertainment business is Hollywood, a majority of big-name celebrities tend to live in or around Los Angeles. Some others opt to live in New York City, London, or other cities where show business is omnipresent. It's rarer for celebrities to move to places a bit more off the grid, but not completely unheard of. Celebrities like Matthew McConaughey (who lives in Texas) and Mark Wahlberg (who lives in Nevada) have maintained their thriving careers after leaving Tinseltown, and some people — like Jeff Daniels, who lives in Michigan — have managed to live elsewhere for the entirety of their careers. So, Gina Rodriguez is certainly not the first actor to leave Los Angeles, even if it is still not the norm.
For her part, Rodriguez is sort of half-in, half-out when it comes to the Los Angeles thing. She and her husband moved to Oregon during the pandemic, and it is there that they feel most comfortable (per Glamour). But the duo still need to split their time between locations, if only due to Rodriguez's current gig on "Not Dead Yet," filmed in the Los Angeles metro. Still, Rodriguez considers herself at least a part-time Oregonian. "After we started visiting friends in Bend, we fell in love with Oregon, which is now our second home. We try and spend half the year there," she told The New York Times. "It's such a beautiful state. There are so many different climates and things to see — the mountains, the coast, the woods."
She grew up in Chicago in a household influenced by her Puerto Rican roots
While both California and Oregon may be "home" for Gina Rodriguez nowadays, the actor actually grew up far from the West Coast altogether. She was born and raised in Chicago, in a neighborhood that she has described as being on the rougher side of the tracks. Per a Forbes piece from 2016, Rodriguez grew up in an area where gangs were dominant, and opportunities were scarce. She was raised in a Catholic household with a deep connection to her Puerto Rican heritage (per Bust), in a neighborhood (Belmont Cragin) that is 80% Hispanic, per the latest official data.
Rodriguez is one of four children — per a video she made for Wired, she has two sisters and a brother — and grew up in a family where education was prioritized. As the youngest child, she always felt she had big shoes to fill, especially after her older sisters became successful in investment banking and medicine (per Interview magazine). "For me, growing up in the inner city of Chicago in a low-income family that was very challenged financially, education was the means to creating opportunity and overcoming my circumstances," she explained in the Forbes article. "My parents did not graduate college, but they made sure that each and every one of us did. I am a product of that success because even as an actress, should I not have been able to get technically trained or become educated, I wouldn't be sitting here today."