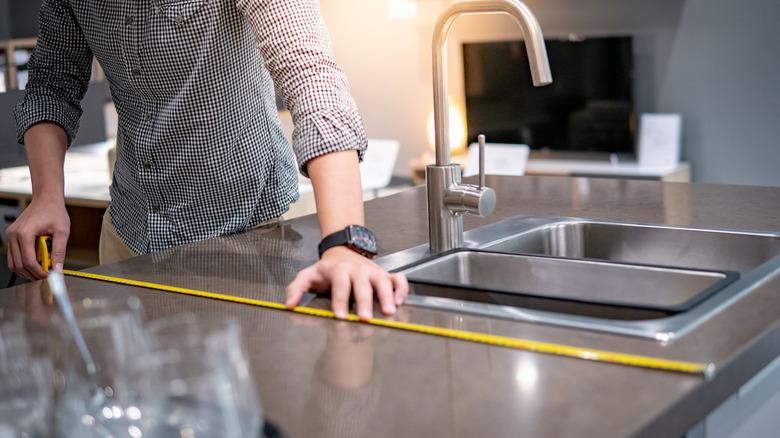 When it comes to beauty and durability, it is hard to beat quartz countertops. Although granite has been a favorite for a long time, it is no surprise that quartz countertops are getting the necessary attention today. This material is essentially an engineered fabric made from the combination of quartz and other polymer resins to come up with just the perfect countertop material (via Lets Get Stone'd). Quartz is an ideal material for a busy kitchen space because it is both heat and stain-resistant. Other than function and aesthetics, it is warming the hearts of homeowners because it's easy to maintain and doesn't require any sealant. This also makes these countertops sterile, which means they cannot be a breeding ground for bacteria.
There are so many reasons why installing a quartz countertop is the right choice for your next kitchen remodeling. However, before installing this material in your kitchen, you must consider some important factors, which will help you make an informed decision, especially for such a costly investment. Let's take a look at some of the things you need to think about before plunging ahead.
1. Installation cost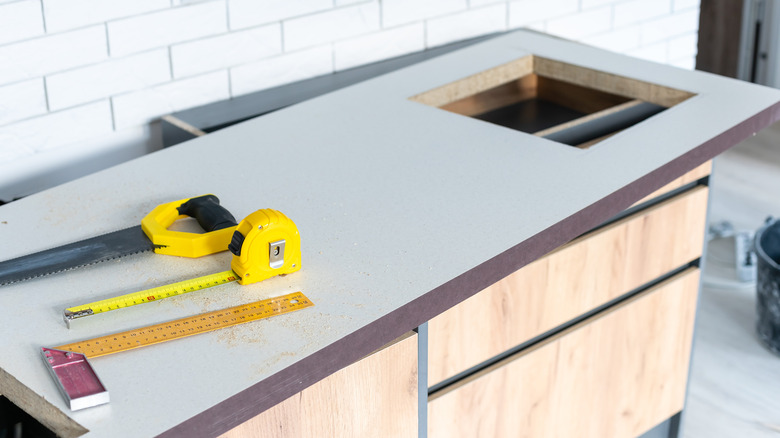 There is no doubt that installing quartz countertops for your kitchen or bathrooms is a worthy investment. However, for all the conveniences that this countertop brings your way, it is only normal for it to come with a huge price tag. When it comes to the cost, there are several determinant factors that influence it, for instance, the slab's quality and other secondary installation expenses that add up to the budget. According to Marble.com, quartz countertops range between $50 and 120 per square foot.
The manufacturing process of these engineered materials determines the quality, which ultimately influences the cost of the slab per square foot. But that is not all. If you factor in the installation price, expect to pay between $50 and $200 for every square foot. So if you decide to go for high-end quality, then you should be prepared to spend more than another homeowner who chooses to settle for medium or low-quality quartz countertops. To that end, ensure you budget accordingly and go for a plan that suits and makes the most financial sense to you.
2. Where is the countertop going?
Hendrickson Photography/Shutterstock
Before going ahead and installing quartz countertops in your home, first stop and think about exactly where they will be going. If you intend to upgrade your outdoor kitchen with quartz, then this might not be a good idea after all. While quartz surfaces are heat resistant, constant sun exposure might cause discoloration. Also, the combination of other elements of weather like the wind, rain, and the sun will take their toll on this material given enough time.
Arch City Granite & Marble advises that if you have to install quartz on your outdoor kitchen, ensure it has a deck. This material is best suited to an indoor kitchen. Nonetheless, while it is heat resistant, you should be aware that it can only take so much heat. Be cautious of the temperatures around the cooking surface as it can break down the binding material and cause irreversible damage (via MSI). Quartz is also a good option for the bathroom; it is water-resistant but also non-porous, making it a worthy consideration for your next upgrade.
3. Think about maintenance
sommthink/Shutterstock
Quartz countertops are nice and will instantly elevate the appeal of the kitchen or bathroom installed. However, how easy is it to maintain the bright and gleaming surface? By now, you are well aware that quartz countertop surfaces are chip, scratch, and stain resistant, but what does this have to do with care and maintenance? First off, quartz is a manufactured material that doesn't require sealing like its natural stone counterparts.
Cleaning is also a breeze when it comes to quartz — you only need dish soap and a soft, non-abrasive sponge to clean off the stains. When you are confronted with a sticky situation, don't be afraid to scrape off the food residue. Alternatively, you can also use a quartz-safe degreaser. While we have mentioned that this material is scratch resistant, you should, however, avoid slicing and dicing on a bare surface. Be sure to use a chopping board to avoid ugly marks, Superior Stone & Cabinet advises.
4. What finishes are available
Among the many reasons homeowners are choosing quartz countertops over others is the plenty of customization options available. Right from the colors, finishes, and edge treatments, you can be sure of a style that will be ideal for your kitchen or bathroom. The most common finish option is the reflective and gleaming surface. There are also plenty of color options that you can choose from, so do not feel tied down to the traditional gray or white hues — experiment and pick a tint that will complement your kitchen or bathroom décor.
A color other than the common ones might just be what you need to elevate the appeal of that particular room a notch higher. Academy Marble & Granite mentions that before selecting a particular type of finish, pay attention to the complementary care practices. For example, some surfaces will require regular wiping to remove fingerprint smudges, which can be quite annoying. Academy Marble & Granite further highlights that such smudges are more visible on matte surfaces that have bright and glossy finishes.
5. Get the right people for the job
In a bid to get the best contractor for the job, it is important to shop around and talk to different companies beforehand. This allows you to look at the variety of materials available from different professionals and also go for the best deal. Quartz is quite resistant and requires trained professionals to handle the installation. What's more, it is quite heavy and, therefore, could easily get damaged during installation.
While you might have some handy skills, it is worth mentioning that this fabric is not the most DIY-friendly countertop material you should take on. It is also quite expensive, and you wouldn't want to risk damages to such a costly investment. Let the professionals handle the transportation and installation to save yourself from unnecessary losses and heartaches. Daltile mentions that most manufacturers' warranties only cover installation done by professional contractors. Therefore, letting the experts handle that job is in your best interest. You would not want to miss a warranty that might come in handy.