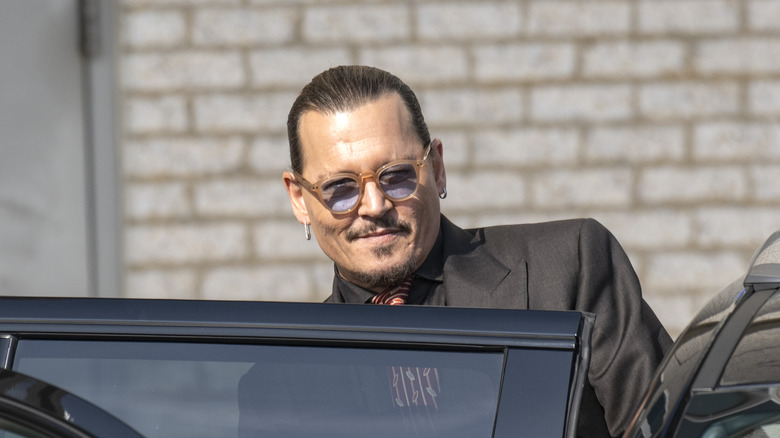 Johnny Depp might have rocketed to stardom as one of the most high-profile actors of his generation, but in recent years, he's drawn countless headlines thanks to his high-profile split (and resulting lawsuits) from ex-partner Amber Heard. In June 2022, a court ruled in Depp's favor in his defamation case, awarding him $15 million in damages against Ms. Heard, although also awarding her $2 million in a countersuit. The fallout from the case is still ongoing, with Heard claiming she'd been unfairly treated by both the jury and the media who reported on the trials.
The accusations made by both sides shocked onlookers across the country and around the world, but Depp's long-running trial proceedings did give a glimpse behind the curtain of the usually very secretive world of the Hollywood elite. Among those insights was the revelation that Depp used his huge income to maintain "at least 45 luxury vehicles," as well as spending millions on mansions, staff, and $30,000 each month on fine wines. Although, Depp argued that "it [was] insulting to say that [he] spent $30,000 on wine" as he spent "far more" than that. It turns out Depp is also quite the petrolhead, with a collection of cars that matches his eclectic personality. While he has never revealed the full extent of what's hidden away in his garage, even the few vehicles that he has been spotted driving are enough to make any Hollywood wannabes green with envy.
Chevrolet Corvette '59
The idea of work-related bonuses might be nothing new, but Johnny Depp's work on the 2011 film "The Rum Diary" was rewarded with a very unusual bonus: the 1959 Corvette that his character drives throughout the movie. The film's producer Graham King reportedly gave Depp the car as a reward for his hard work, with the actor being "blown away" by the gift. GM Authority reports that the Corvette was in mint condition in the film, although Depp hasn't been seen driving it in public since news of his "bonus" first got out.
"The Rum Diary" was a very personal project for Depp, as it was based on a book written by his close friend Hunter S. Thompson. Thompson died by suicide in 2005, with Depp later spending around $3 million to get his ashes shot out of a specially-made cannon, as per his friend's wishes. Given the personal connection Depp has with the film and the car he drove in it, it's unlikely that he'll ever sell the Corvette, even if he seemingly never drives it.
Rolls-Royce Wraith
Moving from a car he rarely drives to one that's the exact opposite, Depp's Rolls-Royce Wraith is allegedly one of his favorite vehicles. The Wraith is the Rolls-Royce for people who want to drive, rather than to be driven, as it only has two doors and sports a more athletic handling profile than other models in the brand's lineup. SlashGear drove the Wraith in 2016 and called just sitting in it "an event in and of itself," with its huge 17-foot silhouette turning heads wherever it went.
With a starting price that sits well north of $300,000, the Wraith is reserved for only the wealthiest driving enthusiasts, yet its 624 horsepower V12 engine has a very universal appeal to anyone that appreciates putting the pedal to the metal. It's still a refined beast, but it's a beast nonetheless, with our tester able to get into triple-digit speeds on the highway without the Rolls even breaking a sweat. The car is aimed at a younger, cooler audience than the brand's other models, so it makes sense that the famously fashion-conscious Depp would have one tucked away in his garage.