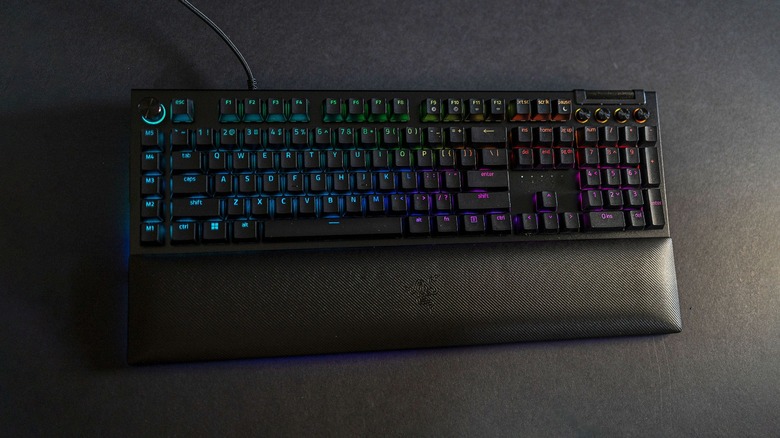 A quality keyboard is one of those things you don't realize how badly you need until you've got one — and I'm saying that both from gaming and general office productivity perspectives. I myself was getting by with a circa-2006 Logitech keyboard until just a couple of years ago. It was then that I finally convinced myself that keyboards aren't these timeless investments I once believed them to be, especially once you've decided to venture into desktop gaming.
One of the household names in that space is Razer. My first official "gaming keyboard" was, in fact, a Razer, and it's a keyboard that I would still happily put to use today if I weren't constantly reviewing new ones. Like many other competing hardware brands, Razer has come a long way in the years that gaming has bloomed in popularity, thanks in a big way to esports. Razer's most recent keyboard release is the BlackWidow V4 Pro, a board that clearly does not come to play — or rather, doesn't come to play and lose. I was, of course, quite intrigued by this powerhouse of a keyboard, so Razer sent me one for the purpose of this review.
A rundown of the physical features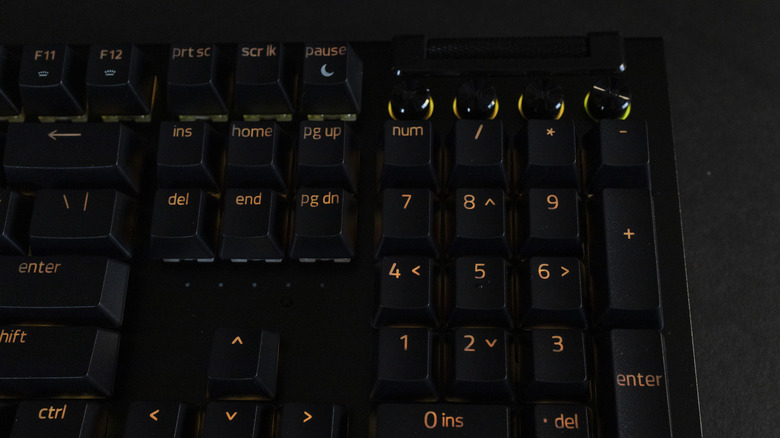 At first glance, it was plainly evident that the BlackWidow comes with an impressive build. It's an expansive board — it's full size and, with its additional row of macro keys, it'll take up a lot of space on your desk — but has a solid aluminum alloy body that feels like a quality frame capable of withstanding years of hard use. To the left is the Command Dial and five dedicated macros keys, plus three more macro buttons on the side. And over on the other side, we have a suite of media keys plus the multi-function roller.
The keyboard Razer provided me with was built with the Razer Green Switches, but this product is also available with Yellow Switches. Razer also says that the BlackWidow's keys are layered with specialized molding to prevent wear of the key labels — but I of course didn't test this keyboard long enough to put that claim under scrutiny.
I'll also make a brief mention of the handy USB passthrough and the generously-long connection cable, too. Lastly, the BlackWidow comes with a magnetic leather wrist rest that, honestly, was one of my favorite features of the keyboard … but I'm getting ahead of myself.
The RGB light show is what I expected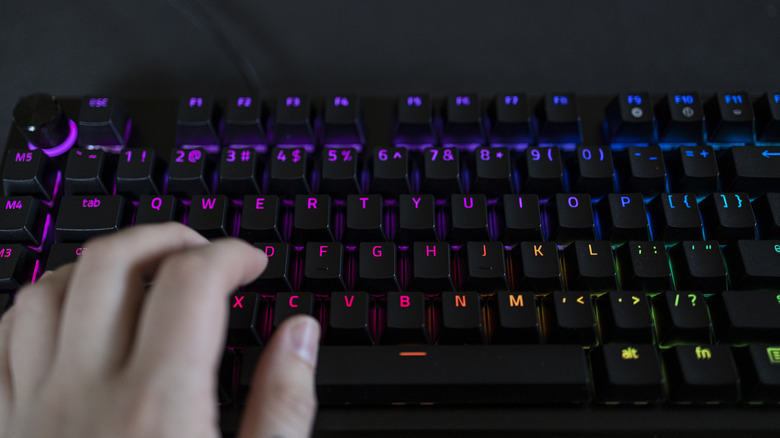 The Razer BlackWidow V4 Pro comes with all the chromatic features you'd expect out of a modern gaming keyboard. There's a full list of aesthetic RGB light functions that you're likely already familiar with if you've had a gaming keyboard before: ripples, waves, reactive touch, breathe, and so forth. The lights on the BlackWidow keys are deep and vibrant, not as bright at their brightest as other keyboards I've used, though. On SteelSeries boards, which I've also reviewed, the lights seem to spill and bleed out from underneath the keys, while the Razer lights are more focused on beaming up through the key cutouts.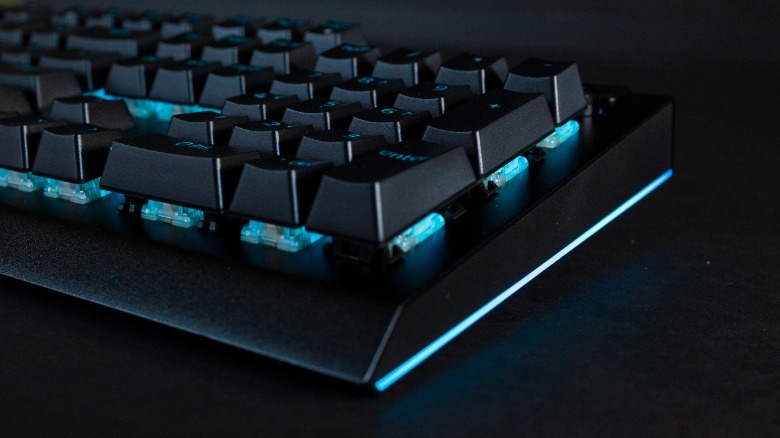 I liked the light bars on the undersides of the frame, too. They added a sense of luxe that sets the BlackWidow out in a "this looks high-end" way. The wrist rest is lined with lights, too — another nice touch.
Razer Green Switches vs. Yellow Switches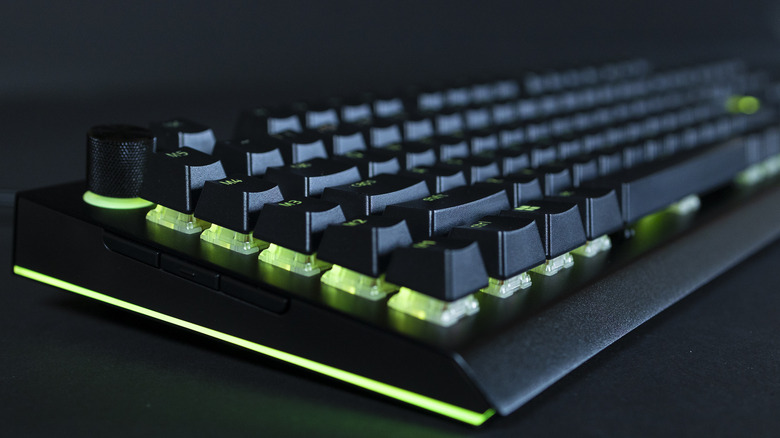 The original BlackWidow was the first-ever gaming keyboard to use mechanical switches, so I knew that whichever switches my board came with were going to be quite the experience. I'm not one to change out switches on a keyboard — I'm just not passionate enough about the minute differences — but I can appreciate having quality switches in the default build.
Razer advertises the Green Switches used in the keyboard I tested as clicky — an impeccably accurate adjective. These mechanical switches were springy, with a brisk recoil and a snappy clickety-clack staccato that I especially enjoyed as an ASMR experience when doing regular everyday office typing on the keyboard. The mechanical Green Switches are a sort of best of both worlds in terms of actuation capabilities and the audible experience of a keyboard. Not the best choice if you're after the shallowest actuation point possible, but even at 1.9 millimeters for an actuation depth I felt like the BlackWidow covered all of my needs as a casual gamer.
The linear mechanical Yellow Switches are a different breed, bred for a smoothly silent keystroke and speedy actuation. They cross only 1.2 millimeters of distance to actuate — and are built with sound dampeners to keep the clicky chorus to a minimum. While I do personally tend to opt for a more subdued keyboard like the Yellow Switches would deliver, I still found the Greens to be very pleasant even after prolonged use.
The companion software that does it all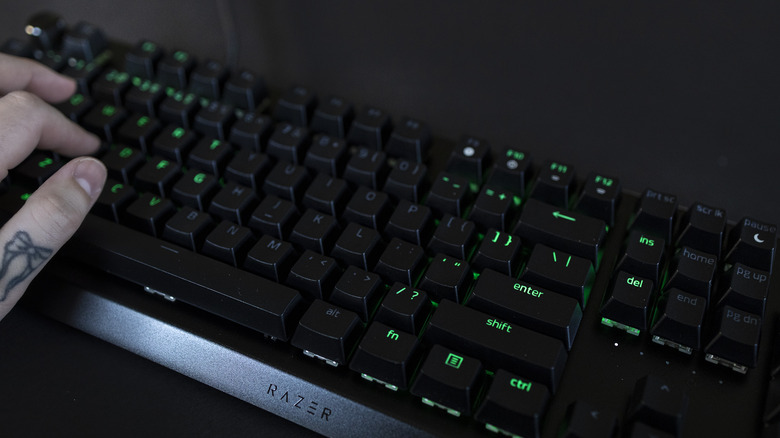 The support software for Razer hardware is dubbed Synapse — and the RGB-related portion of that is Chroma. Having used both Synapse and SteelSeries' comparable platform, Engine, I can confidently say that Synapse is the more mature one. It's generally more user-friendly than Engine, but some features are, of course, similar between the two. Setting different profiles is pretty much identical; while both brands allow for onboard memory storage of custom profiles in their modern gaming keyboards, the BlackWidow can save five custom profiles and an infinite amount in the companion software cloud, similar to the SteelSeries Apex's capabilities.
Razer Chroma also remains one of the most adaptive and entertaining bits of software for LED lights on the market. For instance, I downloaded the "Hogwarts Legacy" add-on and the keyboard's reactive illuminations enhanced my playing experience tenfold. It flashed red when I took damage, flashed yellow/purple/etc. depending on the type of spell I cast, and defaulted to a very ambient gradient of the colors of my Hogwarts House (Ravenclaw). Chroma really took my gaming enjoyment above and beyond in such a simple and understated way.
The placement of the M keys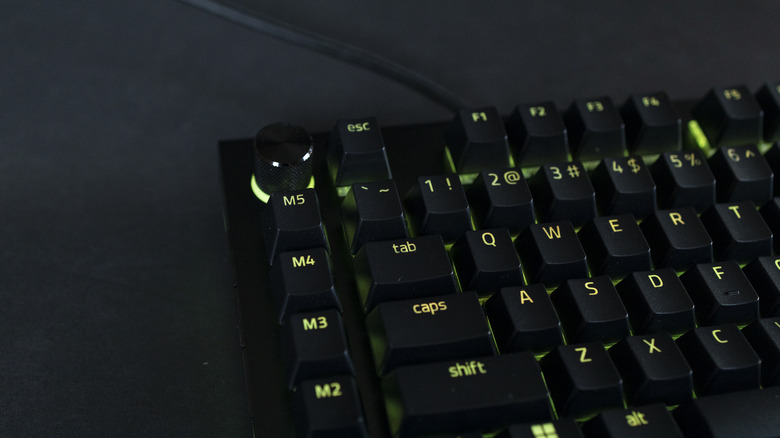 I enjoyed the placement of the macro suite on the BlackWidow infinitely more than I have on any other keyboard. On the SteelSeries Apex Pro full-size keyboard, for example, the M keys are over on the right between the number pad and the alphabet keys, which works out fine if letting go of your mouse or having two hands on the keyboard doesn't mess with your gameplay too much.
But I'm the type that likes to have most of the controls centralized to as small of a radius as possible (I blame having hands the size of an eight-year-old) so the M keys being all the way over on the left by the WASD really pleased me. (I also think this finally gives us lefties an advantage, too.) If you've got enough control and confidence in your pinky, accessing these M keys with your littlest finger is so easy that I can't imagine ever wanting to set macros anywhere else on the keyboard.
A keyboard loaded with bells and whisltes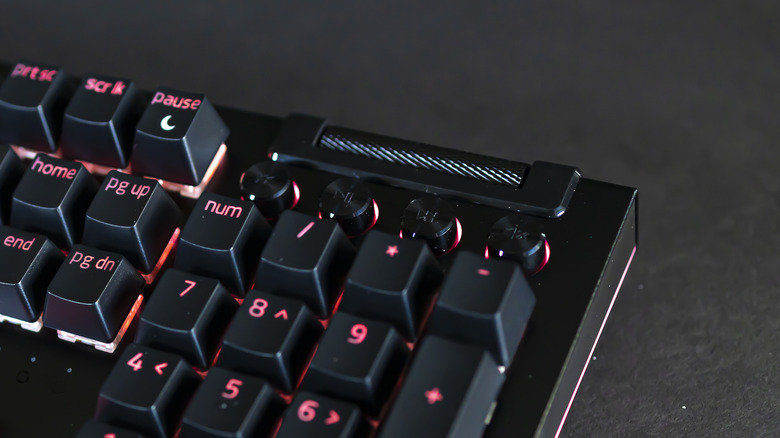 Adjacent to the subject of the macro suite is that handy dial up there in the top-left corner. The usefulness of the Command Dial cannot be understated. This 30-step dial controls eight default modes — keyboard brightness, windows zoom, switch applications, track jogging, track selector, vertical scrolling, horizontal scrolling, and switch browser tabs — and can recall up to 100 custom modes created in Synapse, according to Razer's BlackWidow V4 Pro product listing. And over on the other side of the keyboard, the media keys are pretty what-you-see-is-what-you-get; they can be remapped to whatever you want but because they're labeled with media controls I left them so as not to confuse myself.
The large roller in the top right brings even more customization. This roller defaults to volume but can be customized to control the microphone, windows or office zoom, and scrolling. Overall, it took some time to get used to the different form factors and key presses. I had fully integrated myself into using the keyboard without many mis-inputs after maybe three or four hours. Typing can be challenging at times as you get used to the pressure, but it's still very manageable.
I do have to make one note: Despite Razer's claim about the 100 customizations available for the Command Dial, my Synapse application told me that it was not a customizable dial. I don't know if this is a software issue for the new keyboard or if it's some sort of paid add-on, which wasn't mentioned on Razer's site.
Closing thoughts, and is the BlackWidow V4 Pro worth it?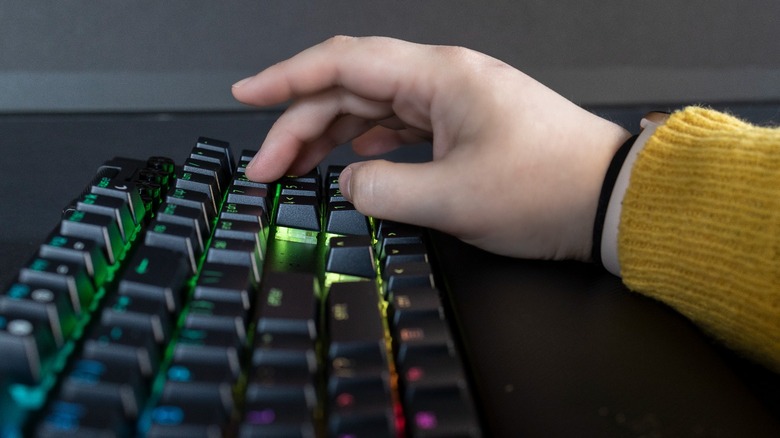 So this is not a quiet keyboard. I hope I've firmly established that. But if you really love that clicky experience — what I like to call textured sound — this is absolutely the best fit for you. I used the BlackWidow for day-to-day office use too and, being a writer, the sound did become a bit too reminiscent of an old-school typewriter for my enjoyment. I also enjoyed the plush wrist rest so much more than the one that came with my SteelSeries keyboards, and even the third-party one that I specifically bought for comfort. It has tons of give and cushioning, perfect for long gaming sessions and even work-from-home daily computer use. The three-sided under-glow is such a sleek upgrade, as well.
Overall, it's always been very difficult for me to give an all-encompassing recommendation of a product to every single reader out there — I am not going to recommend you run out and buy something if you're perfectly content with what you have. But if you have even just an inkling of curiosity about what more advanced, more thoughtfully-designed keyboards can do for your gaming performance and comfort … you should definitely consider Razer's BlackWidow V4 Pro. The BlackWidow is no casual investment at $229.99 from Razer's online store but the lifer quality of this build and the omnipotent suite of features will return on your investment many times over.